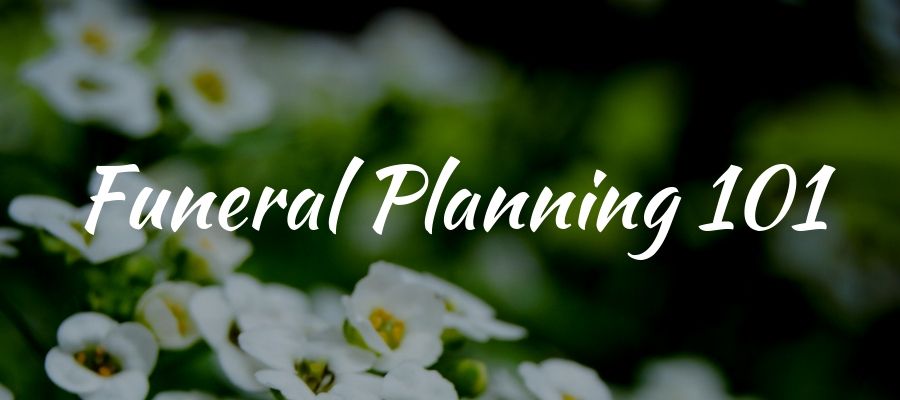 Planning a funeral, whether for yourself or a loved one, is not an easy task.
There are many details that need to be organized, such as whether you choose burial or cremation, what casket or urn to purchase, which cemetery to choose, where to hold the service, what to include in the program, what music to play, where to purchase flowers, and who will deliver the eulogy.
This all may seem very overwhelming and you may not know where to begin. For this reason, many people choose to plan their funeral service with the assistance of a funeral home.
Working with a funeral home provides you with guidance and expert advice from industry professionals as you navigate through all the steps of the funeral planning process.
It is the job of the funeral home to coordinate all funeral arrangements including preparation of the body.
They will also help you decide on which products or services you may need for the funeral or memorial service, burial; or cremation.
We've also created a helpful graphic that illustrates some of the different products and services you may require based on the type of service you are planning and whether you choose soil burial or cremation, along with the estimated costs.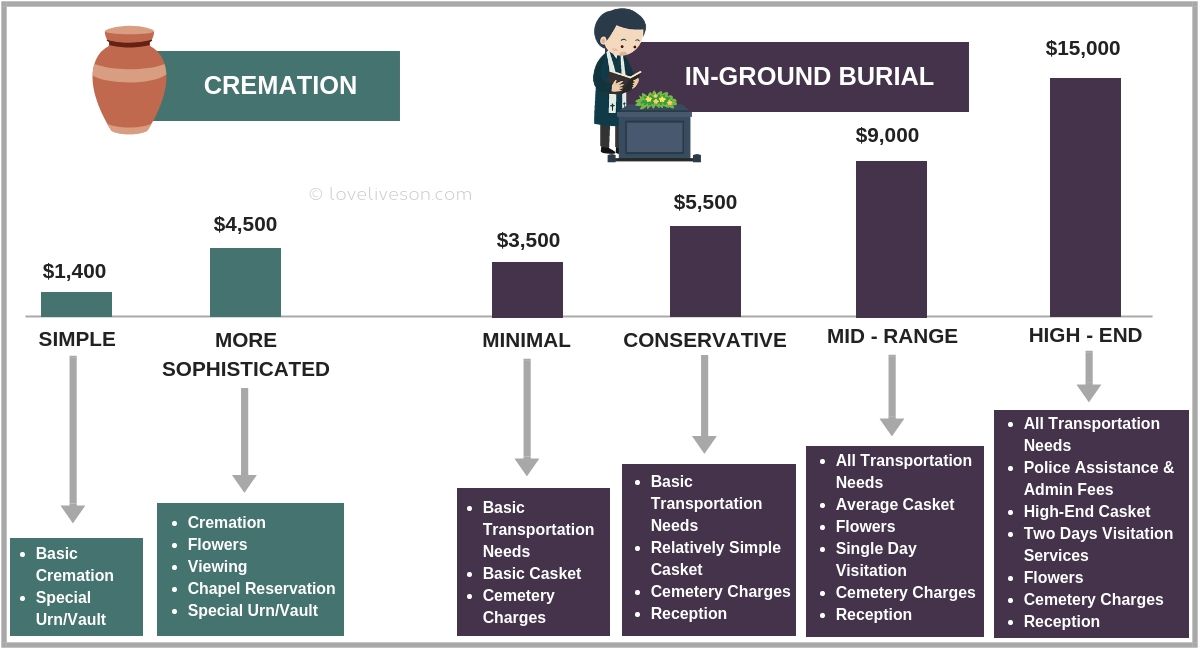 It is important to remember that funeral home staff are experts in their field. You hire them to help alleviate stress during the funeral planning process.
Allow them to guide you so that you do not bear the entire burden of this ominous task.
This article will provide you with tips on how you can work with the funeral home to make the funeral planning process go as smoothly as possible.
Having a good working relationship with the funeral home will create the best funeral or memorial service for your loved one.
What is the Role of the Funeral Home in the Funeral Planning Process?
The funeral home and its staff play a very critical role in the planning and implementation of a funeral or memorial service. These establishments are intimately familiar with the industry and the funeral planning process.
They have experience in providing advice and assistance to grieving families who have difficult and important decisions to make.
Their fundamental role is to help you create a unique and beautiful service that fits your needs and values and celebrates the life of your loved one.
Funeral directors have extensive training, knowledge, and experience. They are extremely well-equipped to help families understand various burial options and to explain the different products and services available.
Funeral directors assist the family before, during and after the funeral or memorial service.
They arrange for removal of the body after the death, prepare loved ones for the viewing of the body, obtain all the necessary legal documents, plan the service, arrange final disposition of the body, provide the facilities for the visitation and funeral or memorial service, and transport the deceased and mourners from the location of the service to the final burial site.
The funeral home staff have a great deal of experience and training in helping mourners through the grieving process in an environment that promotes healing.
What is Your Role in the Funeral Planning Process? 
The role of a funeral director is to provide you with expert advice and to guide you through the many decisions of planning a funeral or memorial service that honours your loved one. Your choices should be respected in every step of the process.
This includes decisions about body disposition, where the funeral service will take place, the cemetery the interment will occur, choosing the main floral tribute and who will provide this service, choosing the pallbearers, selecting the officiant, what music, hymns or text will be included in the service, creating the order of the service leaflets, and selecting memorial cards or programs.
If you are feeling overwhelmed by all these tasks, you can ask the funeral director to assist you with your decisions. In some circumstances, this may be your best option.
It is therefore important that you select a funeral home that has a funeral director and staff with whom you trust and feel comfortable.
When you need to decide about features and costs related to features and costs related to caskets, casket liners, vaults, choosing a cemetery and cemetery plots, simply trusting the expert advice of the funeral director may help to alleviate some stress during this difficult time.
Many people feel as though they need to make every decision in the funeral planning process. These are difficult decisions and it is an emotional time.
It is best to trust the expertise of a professional who works in the industry and has planned numerous funerals. At times people try to plan every detail of the funeral or memorial service and in the process become overwhelmed and indecisive.
This can lead to a breakdown in the relationship with your funeral director. It is important to trust that your funeral service provider has your best interests at heart.
4 Tips for Working with a Funeral Service Provider
The following are some helpful tips that you can use to ensure that you maintain a positive relationship with your funeral service provider.
1) Pick the Right Funeral Home
The most important thing that you can do to ensure that you have a positive experience when working with a funeral home is to select the right funeral home for you. Do your research and meet with the funeral director and staff before you commit to a funeral provider.
Working with a funeral director that you feel comfortable with, one who is knowledgeable, and whose input you trust is key to a successful relationship. Trust your gut! If you don't feel comfortable with a particular funeral home then look elsewhere.

Related Articles

2) Ask Lots of Questions
Some individuals may feel that funeral homes are out to take advantage of people in vulnerable situations and charge them far more money than is necessary.
This misconception stems from the fact that people do not understand the different products and services that funeral homes provide. When they receive a large bill they can be upset and confused.
If you feel that your funeral service quote is high, or you don't understand why you need to spend money on something like a casket liner, ask your funeral provider to explain the associated costs.
Ask them to review the itemized price list for the entire funeral; you will see that many of the costs charged are paid out to external vendors such as florists and newspapers for obituaries.
Often, people just do not understand the purpose for some of the auxiliary products suggested by the funeral providers. These are not decisions you are faced with every day.
By asking for clarification you will put your mind at ease and facilitate a trusting relationship.
3) Know When to Take a Step Back
It is important to know when to take a step back and let your funeral service provider take the lead on certain decisions.
If the decisions you are making have personal significance to the deceased or are ways you want to personalize the funeral service to reflect the life of the deceased, you should take the lead and explain why a certain product, service or preference is important to you.
However, if you are looking at alternatives, such as purchasing a particular type of casket based on your Google research, it might be best to take a step back and listen to the advice of the funeral director. They are experts and have the experience in making these kinds of decisions.
4) Be Prepared, But Not Too Prepared
It is important to understand your role in the funeral planning process so that you can start to gather information and create questions to ask your funeral service provider that will help you make some difficult decisions.
If you begin the planning process with no idea about what decisions you have to make, you may be so overwhelmed with new information that you find it extremely difficult to make a decision.
However, you don't want to be so prepared that you have every detail planned out. You may start to second-guess and disregard the advice of the funeral director.
Although you may think that you have priced everything properly and have organized every detail the way you want it, there may be reasons that these arrangements are not practical. It is important to listen to the suggestions provided by the professionals. That is why you hired them.

Additional Resources
Did you know that Love Lives On has a comprehensive library of articles on funeral planning, grieving, and celebrating your loved one's life in unique ways?
Here are some other popular posts on our website:
Remember…
A positive working relationship with a funeral home can relieve some of your stress during the funeral planning process. It will allow for the funeral or memorial service of your loved one to proceed as smoothly as possible.
Knowing what to expect on your part as well as from the funeral service provider, and what you can do to make this relationship as positive as possible, is an important part of the funeral planning process.
If you found this post on funeral planning helpful, subscribe to our YouTube channel for more practical resources, expert interviews & inspiring ideas.
You can also pin this post for later and follow our Pinterest board for more funeral planning resources.