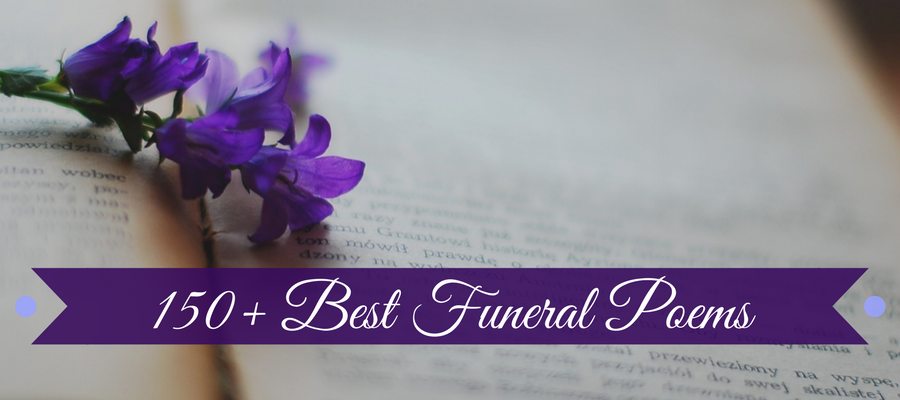 We have assembled the ultimate collection of the most beautiful funeral poems to help you celebrate the life and legacy of a loved one who has passed away.
To make it easy to find the sentiment that you are looking for in a funeral poem, we have organized our collection by themes:
At the end of our post, we have links to our Pinterest board and Facebook where you can find more images with your favourite quotes from funeral poems created especially for you.

Inspirational Funeral Poems
These inspiring funeral poems articulate how lucky we feel to have had our lived one in our lives, even if it was only for a little while.  The beautiful memories we hold on to far outweigh the pain of his or her passing.
Inspirational funeral poems remind us to live our lives in a way that honours his or her enduring love and legacy.  Any one of these poems would be a beautiful addition to a funeral or memorial service, or a celebration of life ceremony.
Your Spirit
By Tram-Tiara T. Von Reichenbach
I know that no matter what
You will always be with me.
When life separates us
I'll know it is only your soul
Saying goodbye to your body
But your spirit will be with me always.
When I see a bird chirping on a nearby branch
I will know it is you singing to me.
When a butterfly brushes gently by me so care freely
I will know it is you assuring me you are free from pain.
When the gentle fragrance of a flower catches my attention
I will know it is you reminding me
To appreciate the simple things in life.
When the sun shining through my window awakens me
I will feel the warmth of your love.
When I hear the rain pitter patter against my window sill
I will hear your words of wisdom
And will remember what you taught me so well'
That without rain trees cannot grow
Without rain flowers cannot bloom
Without life's challenges I cannot grow strong.
When I look out to the sea
I will think of your endless love for your family.
When I think of mountains, their majesty and magnificence
I will think of your courage for your country.
No matter where I am
Your spirit will be beside me
For I know that no matter what
You will always be with me.
~
Do Not Go Gentle Into That Good Night
By Dylan Thomas
Do not go gentle into that good night,
Old age should burn and rave at close of day;
Rage, rage against the dying of the light.
Though wise men at their end know dark is right,
Because their words had forked no lightning they
Do not go gentle into that good night.
Good men, the last wave by, crying how bright
Their frail deeds might have danced in a green bay,
Rage, rage against the dying of the light.
Wild men who caught and sang the sun in flight,
And learn, too late, they grieved it on its way,
Do not go gentle into that good night.
Grave men, near death, who see with blinding sight
Blind eyes could blaze like meteors and be gay,
Rage, rage against the dying of the light.
And you, my father, there on the sad height,
Curse, bless, me now with your fierce tears, I pray.
Do not go gentle into that good night.
Rage, rage against the dying of the light.
~
(Click Infographic to Enlarge)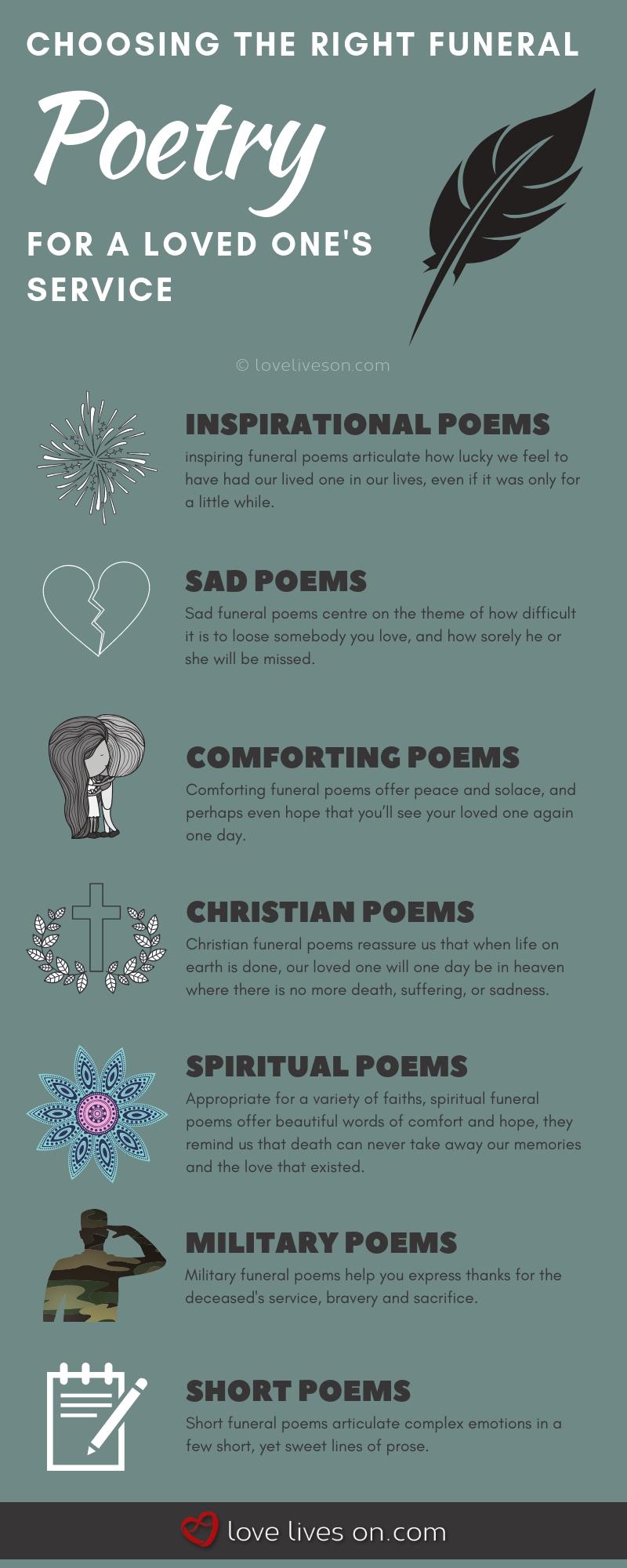 Like our Infographic? Use it on your site by copying this embed code:
~
Epitaph
By Merrit Malloy
When I die
give what's left of me away
to children
and old men that wait to die.
And if you need to cry,
cry for your brother
walking the street beside you.
And when you need me,
put your arms
around anyone
and give them
what you need to give to me.
I want to leave you something,
something better
than words
or sounds.
Look for me
in the people I've known
or loved,
and if you cannot give me away,
at least let me live on your eyes
and not on your mind.
You can love me most
by letting
hands touch hands,
by letting
bodies touch bodies,
and by letting go
of children
that need to be free.
Love doesn't die,
people do.
So, when all that's left of me
is love,
give me away.
I'll see you at home
in the earth.
~
Her Smile
Author Unknown
(This poem can be modified for gender)
Though her smile is gone forever
and her hand I cannot touch
I still have so many memories
Of the one I loved so much.
Her memory is now my keepsake
Which with I'll never part.
God has her in her keeping
I have her in my heart.
Sadly missed, but never forgotten.
~
His Journey's Just Begun
By Ellen Brenneman
(This poem can be modified for gender)
Don't think of him as gone away
his journey's just begun,
life holds so many facets
this earth is only one.
Just think of him as resting
from the sorrows and the tears
in a place of warmth and comfort
where there are no days and years.
Think how he must be wishing
that we could know today
how nothing but our sadness
can really pass away.
And think of him as living
in the hearts of those he touched…
for nothing loved is ever lost
and he was loved so much.
~
Life Goes On
By Joyce Grenfell
If I should go before the rest of you
Break not a flower
Nor inscribe a stone
Nor when I am gone
Speak in a Sunday voice
But be the usual selves
That I have known
Weep if you must
Parting is hell
But life goes on
So…sing as well
~
There is No Light Without a Dawning
By Helen Steiner Rice
No winter without a spring
And beyond the dark horizon
Our hearts will once more sing…
For those who leave us for a while
Have only gone away
Out of a restless, care worn world
Into a brighter day.
~
I Carry Your Heart With Me (I Carry It In My Heart)
By E. E. Cummings
I carry your heart with me (I carry it in my heart)
I am never without it (anywhere
I go you go, my dear; and whatever is done
by only me is your doing, my darling)
I fear no fate (for you are my fate, my sweet)
I want no world (for beautiful you are my world, my true)
and it's you are whatever a moon has always meant
and whatever a sun will always sing is you
here is the deepest secret nobody knows
(here is the root of the root and the bud of the bud
and the sky of a tree called life; which grows
higher than soul can hope or mind can hide)
and this is the wonder that's keeping the stars apart
I carry your heart (I carry it in my heart).
~
He is Gone (Remember Me)
By David Harkins
(This poem can be modified for gender)
You can shed tears that he is gone,
Or you can smile because he lived,
You can close your eyes and pray that he will come back,
Or you can open your eyes and see all that he has left.
Your heart can be empty because you can't see him
Or you can be full of the love that you shared,
You can turn your back on tomorrow and live yesterday,
Or you can be happy for tomorrow because of yesterday.
You can remember him and only that he is gone
Or you can cherish his memory and let it live on,
You can cry and close your mind be empty and turn your back,
Or you can do what he would want: smile, open your eyes,
love and go on.
~
In My Mind
By Jenn Farrell
Somewhere in my dreams tonight
I'll see you standing there
You look at me with a smile
"Life isn't always fair"
You say you were chosen for his garden
His preciously hand picked bouquet
"God really needed me,
That's why I couldn't stay"
It's said to be that angels
Are sent from above
I've always had my angel
My [relation to deceased] — whose heart was filled with love
Wherever the ocean meets the sky
There will be memories of you and I
When I look up at the sky so blue
All I see are visions of you
"While there's a heart in me, you'll be a part of me."
~
After Glow
Author Unknown
I'd like the memory of me
to be a happy one.
I'd like to leave an after glow
of smiles when life is done.
I'd like to leave an echo
whispering softly down the ways,
Of happy times and laughing times
and bright and sunny days.
I'd like the tears of those who grieve,
to dry before the sun
of happy memories
that I leave when life is done
~
When I Must Leave You
By Helen Steiner Rice
When I must leave you
For a little while;
Please do not grieve
And shed wild tears
And hug your sorrow to you
Through the years,
But start out bravely
With a gallant smile;
And for my sake
And for my name
Live on and do
all things the same,
Feed not your loneliness
On empty days,
But fill each waking hour
In useful ways,
Reach out your hand
In comfort and in cheer
And I in turn will comfort you
And hold you near;
And never, never
Be afraid to die
For I am waiting for you in the sky!
~
It Will Never Be Goodbye…
Author Unknown
If I should go tomorrow
It would never be goodbye,
For I have left my heart with you,
So don't you ever cry.
The love that's deep within me,
Shall reach you from the stars,
You'll feel it from the heavens,
And it will heal the scars.
~
The Broken Chain
By Ron Tranmer
We little knew the day that
God was going to call your name.
In life we loved you dearly,
In death we do the same.
It broke our hearts to lose you
But you didn't go alone.
For part of us went with you
The day God called you home.
You left us peaceful memories.
Your love is still our guide,
And though we cannot see you
You are always at our side.
Our family chain is broken
and nothing seems the same,
but as God calls us one by one
the chain will link again.
~
Away
By James Whitcomb Riley
(Poem can be modified for gender)
I cannot say and I will not say
That he is dead, he is just away.
With a cheery smile and a wave of hand
He has wandered into an unknown land;
And left us dreaming how very fair
Its needs must be, since he lingers there.
And you — oh you, who the wildest yearn
From the old-time step and the glad return —
Think of him faring on, as dear
In the love of there, as the love of here
Think of him still the same way, I say;
He is not dead, he is just away.
~
She's in the Sun, the Wind, the Rain
By Christy Ann Martine
(This poem can be modified for gender)

She's in the sun, the wind, the rain,
she's in the air you breathe
with every breath you take.
She sings a song of hope and cheer,
there's no more pain, no more fear.
You'll see her in the clouds above,
hear her whisper words of love,
you'll be together before long,
until then, listen for her song.
~
Not How Did He Die, But How Did He Live?
Author Unknown
(This poem can be modified for gender)
Not how did he die, but how did he live?
Not what did he gain, but what did he give?
These are the units to measure the worth
Of a man as a man, regardless of birth.
Not, what was his church, nor what was his creed?
But had he befriended those really in need?
Was he ever ready, with word of good cheer,
To bring back a smile, to banish a tear?
Not what did the sketch in the newspaper say,
But how many were sorry when he passed away.
~
I'll Be There
Author Unknown
There was no time to say goodbye
But this I ask – please do not cry
Remember me as you think best
The happy time – forget the rest.
Look for me and I'll be there
And you will find me everywhere
In the gentle touch of breeze
That cools the skin or swirls the leaves.
In the scent and colour of flowers
That gave to me such happy hours
On sunny days under sunny skies of blue
Just think of me, I'll be with you.
In winter when there's cloud or mist
The rain will give to you my kiss
As wood smoke lingers in the air
Look for me and I'll be there.
Where seagulls cry above the sea
And surf rolls in so endlessly
Among towering trees that soar above
In all these things that i once loved
Look for me and I'll be there
You'll feel my presence everywhere.
~
When Tomorrow Starts Without Me
By David M. Romano
When tomorrow starts without me and I am not here to see
If the sun should rise and find your eyes all filled with tears for me
I know how much you love me as much as I love you
And each time you think of me I know you'll miss me too.
But when tomorrow starts without me please try to understand
That Jesus came and called my name and took me by the hand.
He said my place is ready in heaven far above
And that I have to leave behind all those I dearly love.
But as I turned to walk away a tear fell from my eye
For all my life I'd always thought it wasn't my time to die.
I had so much to live for and so much yet to do
It seems almost impossible that I was leaving you.
I thought of all the yesterdays the good ones and the bad
I thought of all the love we shared and all the fun we had.
If I could have stayed for just a little while
I'd say goodbye and kiss you and maybe see you smile.
But then I fully realize that this could never be
For emptiness and memories would take the place of me.
And when I thought of worldly things that I'd miss come tomorrow
I thought of you and when I did my heart was filled with sorrow.
But when I walked through Heaven's gate and felt so much at home
As God looked down and smiled at me from his great golden throne.
He said This is eternity And all I've promised you
Today your life on earth is past but here it starts anew.
I promise no tomorrow but today will always last
And since each day's the same here there's no longing for the past.
So when tomorrow starts without me don't think we're far apart,
For every time you think of me I'm right here in your heart.
~
Fallen Limb
Author Unknown
A limb has fallen from the family tree.
I keep hearing a voice that says, "Grieve not for me".
Remember the best times, the laughter, the song.
The good life I lived while I was strong.
Continue my heritage, I'm counting on you.
Keep smiling and surely the sun will shine through.
My mind is at ease, my soul is at rest.
Remembering all, how I truly was blessed.
Continue traditions, no matter how small.
Go on with your life, don't worry about falls
I miss you all dearly, so keep up your chin.
Until the day comes we're together again.
~
Crossing the Bar
By Lord Alfred Tennyson
Sunset and evening star,
And one clear call for me!
And may there be no moaning of the bar,
When I put out to sea,
But such a tide as moving seems asleep,
Too full for sound and foam,
When that which drew from out the boundless deep
Turns again home.
Twilight and evening bell,
And after that the dark!
And may there be no sadness of farewell,
When I embark;
For tho' from out our bourne of Time and Place
The flood may bear me far,
I hope to see my Pilot face to face
When I have crost the bar.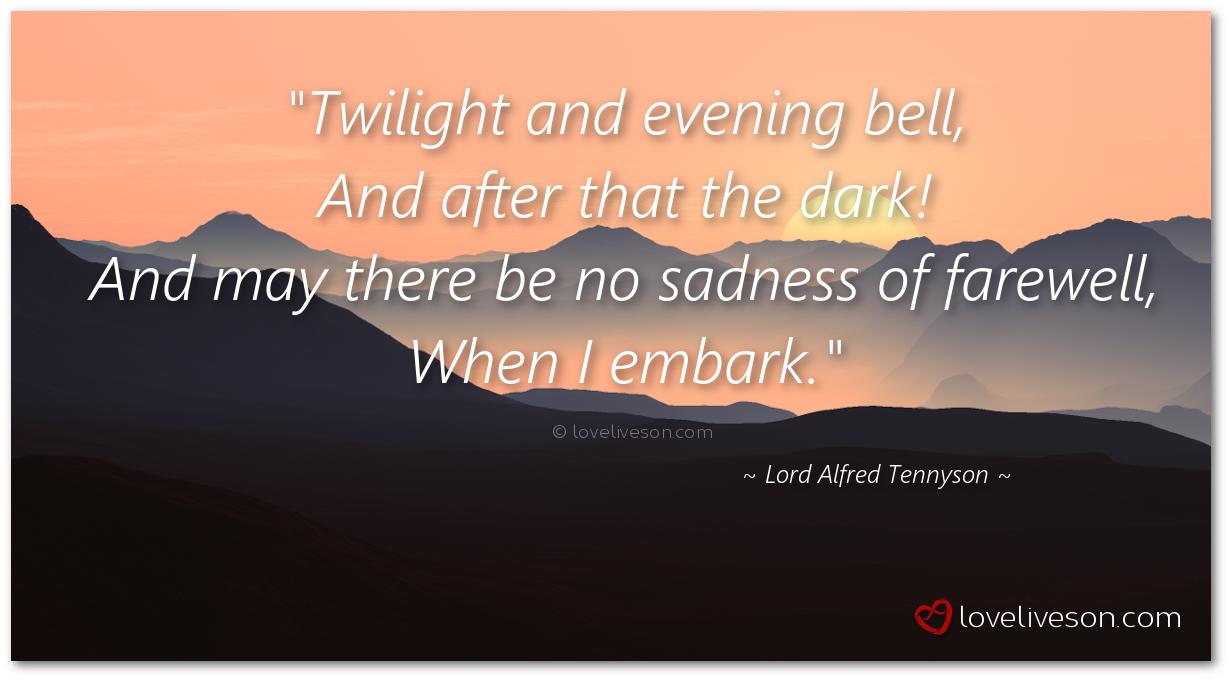 ~
Should You Go First
By A.A. Rowswell
Should you go first and I remain
to walk the road alone
I'll live in memory's garden, dear
with happy days we've known
in Spring I'll wait for roses red,
when fades the lilacs blue,
in early fall, when brown leaves call
I'll catch a glimpse of you
Should you go first, and I remain
for battles to be fought,
each thing you've touched along the way
will be a hallowed spot
I'll hear your voice;
I'll see your smile,
though blindly I may grope
the memory of your helping hand
will buoy me on with hope
Should you go first and I remain
to finish with the scroll,
no length'ning shadows ahall creep in
to make this life seem droll
We've known so much of happiness
we've had our cup of joy,
and memory is one gift of God
that death cannot destroy
Should you go first and I remain,
one thing I'd have you do;
walk slowly down that long, lone path,
for soon I'll follow you
I'll want to know each step you take
that I may walk the same,
for some day down that lonely road
you'll hear me call your name
~
Warm Summer Sun
By Mark Twain
Warm summer sun, shine kindly here;
Warm southern wind, blow softly here;
Green sod above, lie light, lie light;
Good night, dear heart, good night, good night.
~
Memories in the Heart
Author Unknown
(This poem can be modified for gender)

Feel no guilt in laughter, she knows how much you care
Feel no sorrow in a smile that she's not here to share
You cannot grieve forever, she would not want you to
She'd hope that you can carry on, the way you always do
So talk about the good times and the ways you showed you cared
The days you spent together, all the happiness you shared
Let memories surround you.
A word someone may say
Will suddenly recapture a time, an hour, a day
That brings her back as clearly as though she were still here
And fills you with the feelings that she is always near
For if you keep these moments, you will never be apart
And she will live forever locked safe within your heart
~
Consolation
By Robert Louis Stevenson
(This poem can be modified for gender)

Though he, that ever kind and true,
Kept stoutly step by step with you,
Your whole long, gusty lifetime through,
Be gone a while before,
Be now a moment gone before,
Yet, doubt not, soon the seasons shall restore
Your friend to you.
He has but turned the corner — still
He pushes on with right good will,
Through mire and marsh, by heugh and hill,
That self-same arduous way —
That self-same upland, hopeful way,
That you and he through many a doubtful day
Attempted still.
He is not dead, this friend — not dead,
But in the path we mortals tread
Got some few, trifling steps ahead
And nearer to the end;
So that you too, once past the bend,
Shall meet again, as face to face, this friend
You fancy dead.
Push gaily on, strong heart! The while
You travel forward mile by mile,
He loiters with a backward smile
Till you can overtake,
And strains his eyes to search his wake,
Or whistling, as he sees you through the brake,
Waits on a stile.
~

Sad Funeral Poems
If you are struggling with grief, these sad funeral poems may help you articulate feelings that are too painful to put into words.
Sad funeral poems centre on the theme of how difficult it is to loose somebody you love, and how sorely he or she will be missed.
These poems are popular readings for both traditional funeral services, and more informal memorial services and celebration of life gatherings.
Grief
By Stephen Dobyns
Trying to remember you
is like carrying water
in my hands a long distance across sand.
Somewhere people are waiting.
They have drunk nothing for days.
Your name was the food I lived on;
now my mouth is full of dirt and ash.
To say your name was to be surrounded
by feathers and silk; now, reaching out,
I touch glass and barbed wire.
Your name was the thread connecting my life;
now I am fragments on a tailor's floor.
I was dancing when I
learned of your death; may
my feet be severed from my body.
~
Death Be Not Proud
By John Donne
Death, be not proud, though some have called thee
Mighty and dreadful, for thou art not so;
For those whom thou think'st thou dost overthrow
Die not, poor Death, nor yet canst thou kill me.
From rest and sleep, which but thy pictures be,
Much pleasure; then from thee much more must flow,
And soonest our best men with thee do go,
Rest of their bones, and soul's delivery.
Thou art slave to fate, chance, kings, and desperate men,
And dost with poison, war, and sickness dwell,
And poppy or charms can make us sleep as well
And better than thy stroke; why swell'st thou then?
One short sleep past, we wake eternally
And death shall be no more; Death, thou shalt die.
~
I Was Left Diminished
By Paul Curtis
I was left diminished
When your light went out
It left a shadow on my soul
And my heart was left
As an empty vessel
By your absence
You now walk
In heavens light
Surrounded by Gods love
With angels song
On the scented air
As I sit cold and alone
In the home we shared
A place full of memories
Where once I felt so at home
Now I wish to be there no more
Reminded every waking moment
Of my cruel loss
So I sit alone and crave
The moment of my own passing
So our souls will be reunited
And we can be together once more
~
Seasons of Grief
By Belinda Stotler
Shall I wither and fall like an autumn leaf,
From this deep sorrow — from this painful grief?
How can I go on or find a way to be strong?
Will I ever again enjoy life's sweet song?
Sometimes a warm memory sheds light in the dark
And eases the pain like the song of a Meadow Lark.
Then it flits away on silent wings and I'm alone;
Hungering for more of the light it had shone.
Shall grief's bitter cold sadness consume me,
Like a winter storm on the vast angry sea?
How can I fill the void and deep desperate need
To replant my heart with hope's lovely seed?
Then I look at a photo of your playful smiling face
And for a moment I escape to a serene happy place;
Remembering the laughter and all you would do,
Cherishing the honest, caring, loving spirit of you.
Shall spring's cheerful flowers bring life anew
And allow me to forget the agony of missing you?
Will spring's burst of new life bring fresh hope
And teach my grieving soul how to cope?
Sometimes I'll read a treasured card you had given me
And each word's special meaning makes me see,
The precious gift of love I was fortunate to receive,
And I realize you'd never want to see me grieve.
Shall summer's warm brilliant sun bring new light,
And free my anguished mind of its terrible plight?
Will its gentle breezes chase grief's dark clouds away,
And show me a clear path towards a better day?
When I visit the grave where you lie in eternal peace,
I know that death and heaven brought you release;
I try to envision your joy on that shore across the sea,
And, until I join you, that'll have to be enough for me.
For all the remaining seasons of my life on earth,
There'll be days I'll miss your merriment and mirth,
And sometimes I'll sadly long for all the yesterdays;
Missing our chats and your gentle understanding ways.
Yet, the lessons of kindness and love you taught me,
And the good things in life you've helped me to see;
Linger as lasting gifts that comfort and will sustain,
Until I journey to that peaceful shore and see you again.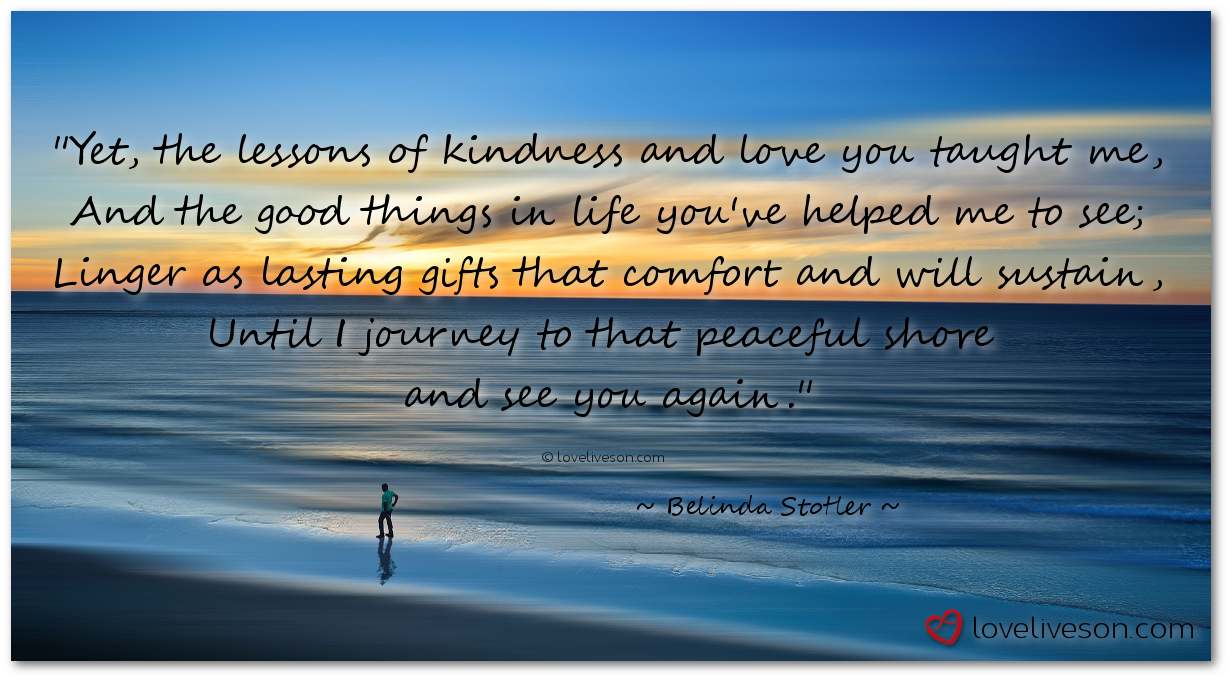 ~
It's a Time of Heartfelt Sadness
By Ron Tranmer
(This poem can be modified for gender)
It's a time of heartfelt sadness
When a loved one passes on
But know your loved one lives in joy
And peace where he (or she) has gone
Oh how much he will be missed
That's where the sadness lies
But others who have missed him
now rejoice in Heaven's skies
We know one day we'll join him
Because our time on earth will flee
We'll then live with him forever
Throughout all eternity.
~
After the Funeral
By Kelly Roper
The funeral is over,
And everyone has gone home.
It's just me and my thoughts now,
And I'm sitting here alone.
The house seems so quiet,
and I'm not sure what to do.
I can't remember how I lived
Before the day that I met you.
Maybe I should just stop thinking.
And take myself to bed.
I'll crawl beneath the covers,
And lay down my weary head.
Tomorrow is a new day,
The first of many that I'll face
Without you here beside me,
Without your strength, your wit, your grace.
I'll try to carry on
Or at least I'll try to exist.
Until one day you reach for me,
And guide me into death's mist.
~
Time Does Not Bring Relief
By Edna St. Vincent Millay
(This poem can be modified for gender)

Time does not bring relief; you all have lied
Who told me time would ease me of my pain!
I miss him in the weeping of the rain;
I want him at the shrinking of the tide;
The old snows melt from every mountain-side,
And last year's leaves are smoke in every lane;
But last year's bitter loving must remain
Heaped on my heart, and my old thoughts abide.
There are a hundred places where I fear
To go — so with his memory they brim.
And entering with relief some quiet place
Where never fell his foot or shone his face I say,
'There is no memory of him here!'
And so stand stricken, so remembering him.
~
Song
By Christina Rossetti
When I am dead, my dearest,
Sing no sad songs for me;
Plant thou no roses at my head,
Nor shady cypress tree:
Be the green grass above me
With showers and dewdrops wet;
And if thou wilt, remember,
And if thou wilt, forget.
I shall not see the shadows,
I shall not feel the rain;
I shall not hear the nightingale
Sing on, as if in pain:
And dreaming through the twilight
That doth not rise nor set,
Happily I may remember,
And happily may forget.
~
You've Just Walked On Ahead of Me
Author Unknown
And I've got to understand
You must release the ones you love
And let go of their hand.
I try and cope the best I can
But I'm missing you so much
If I could only see you
And once more feel your touch.
Yes, you've just walked on ahead of me
Don't worry I'll be fine
But now and then I swear I feel
Your hand slip into mine.
~
In Our Minds
Author Unknown
We stand motionless,
consumed in grief.
Sorrow has arrived,
with smiles thief.
We're gathered here,
to mourn and cry.
Our questions pointing,
at the clear blue sky.
Why did you go,
why did you leave,
Life without you,
is so hard to conceive.
Our hearts are damaged,
and scarred severely.
We shall miss you,
much more than dearly.
For having you in our lives,
we've all been blessed.
But now the time has arrived,
for you to rest.
We promise to cherish,
our memories of you.
You shall live in our minds,
and all that we do.
~
Too Soon
By Mary Yarnall
This was a life
that had hardly begun
No time to find
your place in the sun
No time to do
all you could have done
But we loved you enough for a lifetime
No time to enjoy
the world and its wealth
No time to take life
down off the shelf
No time to sing
the song of yourself
Though you had enough love for a lifetime
Those who live long
endure sadness and tears
But you'll never suffer
the sorrowing years
No betrayal, no anger
No hatred, no fear
Just love — only love — in your lifetime.
~
As I Look Up to the Skies Above
Author Unknown
(This poem can be modified for gender)
As I look up to the skies above,
The stars stretch endlessly –
But somehow all those rays of light
Seem dimmer now to me.
As I watch the morning sun appear,
The shadows still don't fade —
As if the brightest light of all
Was somehow swept away.
Though I see the branches swaying,
And watch their dancing leaves –
The echoes carried on the wind
Don't sound the same to me.
As I listen to the morning birds
Sing softly from afar –
It seems to be a mournful tune
That echoes in my heart.
Another day has come again,
As time moves surely on –
But nothing now seems quite the same,
To know that he is gone.
The days and weeks and months ahead
Will never be the same –
Because a treasure beyond words
Can never be replaced.
The loss cannot be measured now,
The void cannot be filled –
And though someday the grief may fade,
His mark will live on still.
For even with my heavy heart,
I know that I've been blessed
To have been one who's life he touched
With warmth so infinite.
~
Absolutely Clear
By Shams al-Din Hafiz Shirazi
Don't surrender your loneliness so quickly
let it cut more deep.
Let it ferment and season you
as few human or even divine ingredients can.
Something missing in my heart tonight
has made my eyes so soft
my voice so tender
my need of God
absolutely clear.
~
In Blackwater Woods
By Mary Oliver
To live in this world
you must be able to do three things:
to love what is mortal;
to hold it against your bones knowing
your own life depends on it;
and, when the time comes to let it go,
to let it go.
~
The Trees
By Philip Larkin
The trees are coming into leaf
Like something almost being said;
The recent buds relax and spread,
Their greenness is a kind of grief.
Is it that they are born again
And we grow old? No, they die too,
Their yearly trick of looking new
Is written down in rings of grain.
Yet still the unresting castles thresh
In full grown thickness every May.
Last year is dead, they seem to say,
Begin afresh, afresh, afresh.
~
Frozen
Author Unknown
When we lose those we love,
You must understand
That it takes time
To learn to feel again –
For nothing
Can touch the heart
Which is frozen with grief.
~
Promises
By David Chadwick
You promised me you'd always be there.
You sat there, in that chair and promised me.
Large as life, ebullient, robust;
they were the words that sealed your promise
You stood by the shore
As we laughed and squealed with delight as
you picked up rocks and tossed them with ease
Splashing us with expectations of your invincibility.
You were invincible. Weren't you [Insert Loved One's Name]?
Or was it just a trick of time
That made me believe that you could live forever?
~
Nothing Gold Can Stay
By Robert Frost
Nature's first green is gold,
Her hardest hue to hold.
Her early leaf's a flower;
But only so an hour.
Then leaf subsides to leaf.
So Eden sank to grief,
So dawn goes down to day.
Nothing gold can stay.
~
Annabel Lee
By Edgar Allen Poe
It was many and many a year ago,
In a kingdom by the sea,
That a maiden there lived whom you may know
By the name of Annabel Lee;
And this maiden she lived with no other thought
Than to love and be loved by me.
I was a child and she was a child,
In this kingdom by the sea,
But we loved with a love that was more than love —
I and my Annabel Lee —
With a love that the wingèd seraphs of Heaven
Coveted her and me.
And this was the reason that, long ago,
In this kingdom by the sea,
A wind blew out of a cloud, chilling
My beautiful Annabel Lee;
So that her highborn kinsmen came
And bore her away from me,
To shut her up in a sepulchre
In this kingdom by the sea.
The angels, not half so happy in Heaven,
Went envying her and me —
Yes! — that was the reason (as all men know,
In this kingdom by the sea)
That the wind came out of the cloud by night,
Chilling and killing my Annabel Lee.
But our love it was stronger by far than the love
Of those who were older than we —
Of many far wiser than we —
And neither the angels in Heaven above
Nor the demons down under the sea
Can ever dissever my soul from the soul
Of the beautiful Annabel Lee;
For the moon never beams, without bringing me dreams
Of the beautiful Annabel Lee;
And the stars never rise, but I feel the bright eyes
Of the beautiful Annabel Lee;
And so, all the night-tide, I lie down by the side
Of my darling — my darling — my life and my bride,
In her sepulchre there by the sea —
In her tomb by the sounding sea.
~
The Bustle in the House
By Emily Dickinson
The bustle in a house
The morning after death
Is solemnest of industries
Enacted upon earth.
The sweeping up the heart
And putting love away
We shall not want to use again
Until eternity.
~
The Day is Done
By Henry Wadsworth Longfellow
The day is done, and the darkness
Falls from the wings of Night,
As a feather is wafted downward
From an eagle in his flight.
I see the lights of the village
Gleam through the rain and the mist,
And a feeling of sadness comes o'er me
That my soul cannot resist:
A feeling of sadness and longing,
That is not akin to pain,
And resembles sorrow only
As the mist resembles the rain.
Come, read to me some poem,
Some simple and heartfelt lay,
That shall soothe this restless feeling,
And banish the thoughts of day.
Not from the grand old masters,
Not from the bards sublime,
Whose distant footsteps echo
Through the corridors of Time.
For, like strains of martial music,
Their mighty thoughts suggest
Life's endless toil and endeavor;
And to-night I long for rest.
Read from some humbler poet,
Whose songs gushed from his heart,
As showers from the clouds of summer,
Or tears from the eyelids start;
Who, through long days of labor,
And nights devoid of ease,
Still heard in his soul the music
Of wonderful melodies.
Such songs have power to quiet
The restless pulse of care,
And come like the benediction
That follows after prayer.
Then read from the treasured volume
The poem of thy choice,
And lend to the rhyme of the poet
The beauty of thy voice.
And the night shall be filled with music,
And the cares, that infest the day,
Shall fold their tents, like the Arabs,
And as silently steal away.
~
Rain on a Grave
By Thomas Hardy
Clouds spout upon her
Their waters amain
In ruthless disdain, –
Her who but lately
Had shivered with pain
As at touch of dishonour
If there had lit on her
So coldly, so straightly
Such arrows of rain:
One who to shelter
Her delicate head
Would quicken and quicken
Each tentative tread
If drops chanced to pelt her
That summertime spills
In dust-paven rills
When thunder-clouds thicken
And birds close their bills.
Would that I lay there
And she were housed here!
Or better, together
Were folded away there
Exposed to one weather
We both, – who would stray there
When sunny the day there,
Or evening was clear
At the prime of the year.
Soon will be growing
Green blades from her mound,
And daisies be showing
Like stars on the ground,
Till she form part of them –
Ay – the sweet heart of them,
Loved beyond measure
With a child's pleasure
All her life's round.
~
If We Could Bring You Back Again
By Joanna Fuchs
If we could bring you back again,
For one more hour or day,
We'd express all our unspoken love;
We'd have countless things to say.
If we could bring you back again,
We'd say we treasured you,
And that your presence in our lives
Meant more than we ever knew.
If we could bring you back again,
To tell you what we should,
You'd know how much we miss you now,
And if we could, we would.
~
Unwelcome News
By Paul Curtis
At once she understood
When she heard the words
Their meaning clear
And in that instant
Her voice broke
And then in her throat
A lump formed
Behind her eyes
She felt the stinging
And a tear formed
Then rolled down her cheek
Followed by another
Then another
The salt taste was in her mouth
Her shoulders shook
Uncontrollably
And her mouth opened wide
But know sound escaped
Tears continued down her cheeks
And her nose
Then her legs buckled
And she fell to her knees
In total despair
Now the sound came
Uncontrollable
With her love lost
Her heart was broken
With her love betrayed
Her heart was discarded
But with all the weeping
She knew inside
That all her tears
Would never extinguish her love
~
Epitaph
By Katherine Philips

What on Earth deserves our trust?
Youth and Beauty both are dust.
Long we gathering are with pain,
What one moment calls again.
Seven years childless marriage past,
A Son, a son is born at last:
So exactly lim'd and fair,
Full of good Spirits, Meen, and Air,
As a long life promised,
Yet, in less than six weeks dead.
Too promising, too great a mind
In so small room to be confined:
Therefore, as fit in Heaven to dwell,
He quickly broke the Prison shell.
So the subtle Alchemist,
Can't with Hermes Seal resist
The powerful spirit's subtler flight,
But t'will bid him long good night.
And so the Sun if it arise
Half so glorious as his Eyes,
Like this Infant, takes a shrowd,
Buried in a morning Cloud.
~
I Measure Every Grief I Meet
By Emily Dickinson
I measure every Grief I meet
With narrow, probing, eyes –
I wonder if It weighs like Mine –
Or has an Easier size.
I wonder if They bore it long –
Or did it just begin –
I could not tell the Date of Mine –
It feels so old a pain –
I wonder if it hurts to live –
And if They have to try –
And whether – could They choose between –
It would not be – to die –
I note that Some – gone patient long –
At length, renew their smile –
An imitation of a Light That has so little Oil –
I wonder if when Years have piled –
Some Thousands – on the Harm –
That hurt them early – such a lapse
Could give them any Balm –
Or would they go on aching still
Through Centuries of Nerve –
Enlightened to a larger Pain –
In Contrast with the Love –
The Grieved – are many – I am told –
There is the various Cause –
Death – is but one – and comes but once –
And only nails the eyes –
There's Grief of Want – and grief of Cold –
A sort they call "Despair" –
There's Banishment from native Eyes –
In sight of Native Air –
And though I may not guess the kind –
Correctly – yet to me
A piercing Comfort it affords
In passing Calvary –
To note the fashions – of the Cross –
And how they're mostly worn –
Still fascinated to presume
That Some – are like my own –
~

Comforting Funeral Poems
If you are looking for comforting funeral poems to read at your loved one's memorial or funeral service, look no further.
This comprehensive collection of comforting funeral poems is sure to have a poem that offers you peace and solace, and perhaps even hope that you'll see your loved one again one day.
Love Lives On
Author Unknown
Those we love remain with us
for love itself lives on,
and cherished memories never fade
because a loved one's gone.
Those we love can never
be more than a thought apart,
far as long as there is memory,
they'll live on in the heart.
~
And Death Shall Have No Dominion
By Dylan Thomas
And death shall have no dominion.
Dead man naked they shall be one
With the man in the wind and the west moon;
When their bones are picked clean and the clean bones gone,
They shall have stars at elbow and foot;
Though they go mad they shall be sane,
Though they sink through the sea they shall rise again;
Though lovers be lost love shall not;
And death shall have no dominion.
And death shall have no dominion.
Under the windings of the sea
They lying long shall not die windily;
Twisting on racks when sinews give way,
Strapped to a wheel, yet they shall not break;
Faith in their hands shall snap in two,
And the unicorn evils run them through;
Split all ends up they shan't crack;
And death shall have no dominion.
And death shall have no dominion.
No more may gulls cry at their ears
Or waves break loud on the seashores;
Where blew a flower may a flower no more
Lift its head to the blows of the rain;
Though they be mad and dead as nails,
Heads of the characters hammer through daisies;
Break in the sun till the sun breaks down,
And death shall have no dominion.
~
They That Love Beyond the World
By William Penn
They that love beyond the world cannot be separated by it,
death cannot kill what never dies.
Nor can spirits ever be divided that love
and live in the same divine principle,
the root and record of their friendship.
If absence be not death, neither is theirs.
Death is but crossing the world, as friends do the seas;
they live in one another still.
For they must needs be present,
that love and live in that which is ominipresent.
In this divine glass, they see face to face;
and their converse is free as well as pure.
This is the comfort of friends,
that though they may be said to die,
yet their friendship and society are,
in the best sense, ever present, because immortal.
~
In Memoriam
By William Morecomb
For a second you were flying
Like you always wanted to
Now you'll fly forever
In skies of azure blue
We'll see your smile in every ray
Of sunshine after rain
And hear the echo of your laughter
Over all the pain
The world's a little quieter now
The colours have lost their hue
The birds are singing softly
And our hearts are missing you
Each time we see a little cloud
Or a rainbow soaring high
We'll think of you and gently
Wipe a tear from our eye.
~
I Have Not Gone
Author Unknown 
You think I've gone, that I am dead, and life has lost its will,
But look around, I am right there, living with you still
I watch your tears, I feel your pain – I see the things you do
I weep as well, each time you cry, my soul, it lives with you
It gives such joy to hear you laugh, and do the things you do
And when you smile o'er by gone days, I smile right with you too
For we're still one, just you and me, one mind, one soul, one being
Walking forward into life, though only you are seen
And in the stillness of the night, when the pain it really starts
Stretch out a little with your mind and draw me to your heart
For I am always right in there, always by your side
For you have been, all my life's days, my joy, my love my pride.
~
There is No Death
Author Unknown
There is a plan far greater than the plan you know;
There is a landscape broader than the one you see.
There is a haven where storm-tossed souls may go —
You call it death — we, immortality.
You call it death — this seemingly endless sleep;
We call it birth — the soul at last set free.
'Tis hampered not by time or space — you weep.
Why weep at death? 'Tis immortality.
Farewell, dear Voyageur — 'twill not be long.
Your work is done — now may peace rest with thee.
Your kindly thoughts and deeds — they will live on.
This is not death — 'tis immortality.
Farewell, dear voyageur — the river winds and turns;
The cadence of your song wafts near to me,
And now you know the thing that all men learn:
There is no death — there's immortality.
~
Weep Not For Me
Author Unknown
Weep not for me though I have gone
Into that gentle night
Grieve if you will, but not for long
Upon my soul's sweet fight
I am at peace, my soul's at rest
There is no need for tears
For with your love I was so blessed
For all those many years
There is no pain, I suffer not
The fear is now all gone
Put now these things out of your thoughts
In your memory I live on
Remember not my fight for breath
Remember not the strife
Please do not dwell upon my death
But celebrate my life
~
Miss Me But Let Me Go
Author Unknown
When I come to the end of the road
And the sun has set for me,
I want no rites in a gloom-filled room,
Why cry for a soul set free!
Miss me a little — but not for long
And not with your head bowed low.
Remember the love that we once shared,
Miss me, but let me go.
For this journey that we all must take
And each must go alone;
It's all a part of the Master's plan
A step on the road to home.
When you are lonely and sick at heart
Go to the friends we know,
And bury your sorrows in doing good deeds.
Miss me, but let me go.
~
Do Not Stand By My Grave and Weep
By Mary Elizabeth Frye
Do not stand at my grave and weep,
I am not there, I do not sleep.
I am in a thousand winds that blow,
I am the softly falling snow.
I am the gentle showers of rain,
I am the fields of ripening grain.
I am in the morning hush,
I am in the graceful rush
Of beautiful birds in circling flight,
I am the starshine of the night.
I am in the flowers that bloom,
I am in a quiet room.
I am in the birds that sing,
I am in each lovely thing.
Do not stand at my grave and cry,
I am not there. I did not die.
~
The White Chariot
By Julie Johnson
During your journey on your final flight home.
White wings will carry you and you will be flown.
To the pearly gates of Heaven, where they will usher you in.
To the feet of your Lord, your Saviour, and your friend.
He will hold you in his arms and the angels will sing.
As another one of His children is delivered by white wings.
~
God's Garden
By Melissa Shreve
God looked around his garden and found an empty place
He then looked down upon the Earth and saw your tired face
He put his arms around you and lifted you to rest
With the help of his angels they flew you to your heavenly place
Gods garden must be beautiful, he always takes the best
He knew you were suffering, he knew you were in pain
He knew that you would never get well on Earth again
He saw the road was getting rough and the hills too hard to climb
He closed your weary eyelids and whispered "Peace be Thine"
It broke our hearts to lose you but you didn't go alone
For part of us went with you the day God called you home.
~
Time Will Ease the Hurt
By Bruce Wilmer
The sadness of the present days
Is locked and set in time,
And moving to the future
Is a slow and painful climb.
But all the feelings that are now
So vivid and so real
Can't hold their fresh intensity
As time begins to heal.
No wound so deep will ever go
Entirely away;
Yet every hurt becomes
A little less from day to day.
Nothing else can erase the painful
Imprints on your mind;
But there are softer memories
That time will let you find.
Though your heart won't let the sadness
Simply slide away,
The echoes will diminish
Even though the memories stay.
~
The Final Flight
Author Unknown
Don't grieve for me, for now I'm free,
I'm following the path God laid for me.
I took his hand when I heard his call,
I turned my back and left it all.
I could not stay another day,
To laugh, to love, to work, to play.
Tasks left undone must stay that way,
I've found that peace at the end of the day.
If my parting has left a void,
Then fill it with remembered joy.
A friendship shared, a laugh, a kiss,
Ah, yes, these things too I will miss.
Be not burdened with times of sorrow,
I wish you the sunshine of tomorrow.
My Life's been full, I savoured much,
Good friends, good times, a loved one' touch.
Perhaps my time seemed all too brief,
Don't lengthen it now with undue grief.
Lift up your heart and share with me,
God wanted me now, He set me free.
~
When At Heart You Should Be Sad
By Sir Walter Raleigh
When at heart you should be sad,
Pondering the joys we had,
Listen and keep very still.
If the lowing from the hill
Or the toiling of a bell
Do not serve to break the spell,
Listen: you may be allowed
To hear my laughter from a cloud.
~
I Wrote Your Name
Author Unknown
I wrote your name in the sand,
but the waves washed it away.
I wrote your name in the sky,
but the wind blew it away.
So I wrote your name in my heart,
and that's where it will stay, always.
~
Traditional Irish Blessing
Author Unknown
May the road rise up to meet you.
May the wind be always at your back.
May the sun shine warm upon your face;
the rains fall soft upon your fields.
And until we meet again,
May God hold you in the palm of His hand.
May the road rise up to meet you
May the wind be always at your back
May the warm rays of sun fall upon your home
And may the hand of a friend always be near.
May green be the grass you walk on,
May blue be the skies above you,
May pure be the joys that surround you,
May true be the hearts that love you.
~
How Grateful I Would Be to Just Have One More Day
By Kathy J. Parenteau
If I could have just one more day and
wishes did come true,
I'd spend every glorious moment
side by side with you.
Recalling all the years we shared
and memories we made,
how grateful I would be
to have just one more day.
Where the tears I've shed are
not in vain and only fall in bliss,
so many things I'd let you know
about the days you've missed.
I wouldn't have to make pretend
you never went away,
how grateful I would be to
have just one more day.
When that day came to a close
and the sun began to set,
a million times I'd let you know
I never will forget.
The heart of gold you left behind
when you entered Heaven's gate,
how grateful I would be to
have just one more day.
~
A Silent Tear
By Gaynor Llewellyn
Just close your eyes and you will see
All the memories that you have of me
Just sit and relax and you will find
I'm really still there inside your mind
Don't cry for me now I'm gone
For I am in the land of song
There is no pain, there is no fear
So dry away that silent tear
Don't think of me in the dark and cold
For here I am, no longer old
I'm in that place that's filled with love
Known to you all, as "UP ABOVE".
~
My Angel
By CJR
I wake up in the morning,
And I look up to the sky.
I wonder why he took you,
before I said good-bye.
I look up to the stars at night,
And know you're looking down.
I'd like to think you're proud of me,
But I'm just stumbling round.
I crawl in bed and close my eyes,
And realize that you're gone.
Then comes the fears and then the tears,
And life just seems so wrong.
I glance up at the heavens,
And I know you're flying by.
My Angel's watching over me,
I'm happy as I cry.
~
Death is Nothing at All
By Canon Henry Scott-Holland
Death is nothing at all
I have only slipped away into the next room
I am I and you are you
Whatever we were to each other
That we are still
Call me by my old familiar name
Speak to me in the easy way you always used
Put no difference into your tone
Wear no forced air of solemnity or sorrow
Laugh as we always laughed
At the little jokes we always enjoyed together
Play, smile, think of me, pray for me
Let my name be ever the household word that it always was
Let it be spoken without effort
Without the ghost of a shadow in it
Life means all that it ever meant
It is the same as it ever was
There is absolute unbroken continuity
What is death but a negligible accident?
Why should I be out of mind
Because I am out of sight?
I am waiting for you for an interval
Somewhere very near
Just around the corner
All is well.
Nothing is past; nothing is lost
One brief moment and all will be as it was before
How we shall laugh at the trouble of parting when we meet again!
~
Our Memories Build a Special Bridge
By Emily Mathews
When loved ones have to part
To help us feel were with them still
And soothe a grieving heart
They span the years and warm our lives
Preserving ties that bind
Our memories build a special bridge
And bring us peace of mind.
~
Turn Again to Life
By Mary Lee Hall
If I should die and
Leave you here awhile
Be not like others sore undone,
Who keep long vigils
By the silent dust and weep.
For my sake turn again
To life and smile
Nerving thy heart
And trembling hand to do
Something to comfort
Other hearts than thine.
Complete these dear
Unfinished Tasks of mine,
And I, perchance
May therein comfort you.
~
When I'm Gone
By Mrs. Lyman Hancock
When I come to the end of my journey
And I travel my last weary mile
Just forget if you can, that I ever frowned
And remember only the smile
Forget unkind words I have spoken
Remember some good I have done
Forget that I ever had heartache
And remember I've had loads of fun
Forget that I've stumbled and blundered
And sometimes fell by the way
Remember I have fought some hard battles
And won, ere the close of the day
Then forget to grieve for my going
I would not have you sad for a day
But in summer just gather some flowers
And remember the place where I lay
And come in the shade of evening
When the sun paints the sky in the west
Stand for a few moments beside me
And remember only my best.
~
Because I Could Not Stop For Death
By Emily Dickinson
Because I could not stop for death
He kindly stopped for me
The carriage held but just ourselves
And immortality.
We slowly drove — he knew no haste
And I had put away
My labor and my leisure too,
For his civility
We passed the school, where children strove
At recess — in the ring
We passed the fields of gazing grain
We passed the setting sun
Or rather — he passed us
The dews drew quivering and chill
For only gossamer, my Gown
My tippet — only tulle
We paused before a house that seemed
A swelling of the ground
The roof was scarcely visible
The cornice — in the Ground
Since then — 'tis centuries — and yet
Feels shorter than the day
I first surmised the horses' heads
Were toward eternity
~
To Those Whom I Love and Those Who Love Me
Author Unknown
When I am gone, release me, let me go
I have so many things to see and do
You must not tie yourself to me with tears
Be happy that I have had so many years
I gave you my love, you can only guess
How much you gave me in happiness
I thankyou for the love each have shown
But now it is time I travelled on alone
So grieve a while for me, if grieve you must
Then let your grief be comforted by trust
It is only for a while that we must part
So bless the memories in your heart
I will not be far away, for life goes on
So if you need me, call and I will come
Though you cannot see or touch me, I will be near
And if you listen with your heart, you will hear
All of my love around you soft and clear
Then, when you must come this way alone
I will greet you with a smile and a Welcome Home
~
A Child of Mine
Author Unknown
I'll lend you for a little while
A child of mine, God said
For you to love the while she lives
And mourn for when she's dead
It may be six or seven years,
Or forty-two or three
But will you, till I call her back
Take care of her for me?
She'll bring her charms to gladden you
And — should her stay be brief,
You'll have her lovely memories
As a solace for your grief
I cannot promise she will stay
For all from earth returns
But there are lessons taught below
I want this child to learn.
I've looked the whole world over
In my search for teachers true
And from all beings that crowd life's land
I have chosen you
Now, will you give her all your love
Nor think the labor vain.
Nor hate me when I come to take
This lent child back again
I fancied that I heard you say
"Dear Lord, Thy will be done.
For all the joys Thy child will bring
The risk of grief we'll run
We will shelter her with tenderness
We'll love her while we may —
And for the happiness we have now know
Forever grateful stay."
But should the angels come for her
Much sooner than we'd planned,
We'll brave the bitter grief that comes
And try to understand.
~
To Those I Love
By Isla Paschal Richardson
If I should ever leave you whom I love
To go along the Silent Way, grieve not,
Nor speak of me with tears, but laugh and talk
Of me as if I were beside you there,
(I'd come… I'd come, could I but find a way!
But would not tears and grief be barriers?)
And when you hear a song or see a bird I loved,
Please do not let the thought of me be sad…
For I am loving you just as I always have…
You were so good to me!
There are so many things I wanted still to do…
So many things to say to you…
Remember that I did not fear…
It was just leaving you that was so hard to face…
We cannot see Beyond… But this I know;
I loved you so…
'Twas heaven here with you!
~
Last Journey
By Timothy Coote
There is a train at the station
With a seat reserved just for me
I'm excited about its destination
As I've heard it sets you free
The trials and tribulations
The pain and stress we breathe
Don't exist were I am going
Only happiness I believe
I hope that you will be there
To wish me on my way
It's not a journey you can join in
It's not your time today
There'll be many destinations
Some are happy, some are sad
Each one a brief reminder
Of the great times that we've had
Many friends I know are waiting
Who took an earlier train
To greet and reassure me
That nothing has really changed
We'll take the time together
To catch up on the past
To build a new beginning
One that will always last
One day you'll take your journey
On the train just like me
And i promise that I'll be there
At the station and you will see
That Life is just a journey
Enriched by those you meet
No one can take that from you
It's always yours to keep'
But now as no seat is vacant
You will have to muddle through
Make sure you fulfill your ambitions
As you know I'll be watching you
And if there's an occasion
To mention who you knew
Speak kindly of that person
As one day it will be you
Now i can't except this ending
And as it's time for me to leave
Please make haste to the reception
To enjoy my drinks, they're free!
~

Related Articles


Christian Funeral Poems
These Christian funeral poems reassure us that when life on earth is done, our loved one will one day be in heaven where there is no more death, suffering, or sadness.
Given the theme of eternal life in these Christian funeral poem, they are appropriate for a religious funeral or memorial service.
She Shall Be Praised
Proverbs 31: 10, 25-31
Who can find a virtuous woman? For her price is far above rubies.
Strength and honor are her clothing; and she shall rejoice in time to come.
She openeth her mouth with wisdom; and in her tongue is the law of kindness.
She looketh well to the ways of her household, and eateth no the bread of idleness.
Her children arise up, and call her blessed; her husband also, and he praiseth her.
Many daughters have done virtuously, but thou excellest them all.
Favor is deceitful, and beauty is vain: but a woman that feareth the Lord, she shall be praised.
Give her the fruit of her hands; and let her own works praise her in the gates.
~
Another Leaf Has Fallen
Author Unknown
(This poem can be modified for gender)
Another leaf has fallen,
another soul has gone.
But still we have God's promises,
in every robin's song.
For he is in His heaven,
and though He takes away,
He always leaves to mortals,
the bright sun's kindly ray.
He leaves the fragrant blossoms,
and lovely forest, green.
And gives us new found comfort,
when we on Him will lean.
~
Life
Author Unknown
(This poem can be modified for gender)

Life is just a stepping-stone
A pause before we make it home
A simple place to rest and be,
Until we reach eternity.
Everyone has a life journey,
A path to take with lots to see
God guides our steps along the way,
But we were never meant to stay.
Our final destination is a place
Filled with love, His majesty and grace.
Today we celebrate the life of a loved one
Who has gone before us, the race he has won.
His journey has now ended,
His spirit has ascended
Claiming the great reward
With Jesus, our Lord.
~
In Pastures Green
By H.H. Barry
In pastures green? Not always; sometimes He
Who knoweth best, in kindness leadeth me
In weary ways, where heavy shadows be.
And by still waters? No, not always so;
Oftimes the heavy tempests round me blow,
And o'er my soul the waves and billows go.
But when the storms beat loudest, and I cry
Aloud for help, the Master standeth by,
And whispers to my soul, "Lo, it is I."
So where He leads me I can safely go,
And in the blest hereafter I shall know
Why in His wisdom He hath led me so.
~
I Am Free
Author Unknown
Don't grieve for me, for now I'm free,
I'm following paths God made for me
I took his hand, I heard him call
Then turned, and bid farewell to all
I could not stay another day
To laugh, to love, to sing, to play
Tasks left undone must stay that way
I found my peace … at close of play
And if my parting left a void
Then fill it with remembered joy
A friendship shared, a laugh, a kiss
Ah yes, these things I too will miss.
Be not burdened… deep with sorrow
I wish you sunshine of tomorrow
My life's been full I've savoured much
Good friends, good times
A loved one's touch
Perhaps my time seemed all too brief,
Don't lengthen it now with undue grief.
Lift up your hearts and peace to thee
God wanted me now
He set me free.
~
John 6: 35-40
Jesus said to them, 'I am the bread of life.
Whoever comes to me will never be hungry,
and whoever believes in me will never be thirsty.
But I said to you that you have seen me and yet do not believe.
Everything that the Father gives me will come to me,
and anyone who comes to me I will never drive away;
For I have come down from heaven,
not to do my own will, but the will of him who sent me.
And this is the will of him who sent me, that I should lose nothing of all
that he has given me, but raise it up on the last day.
This is indeed the will of my Father, that all who see the Son
and believe in him may have eternal life;
and I will raise them up on the last day.
~
Dying Hymn
By Alice Cary
My soul is full of whispered song;
My blindness is my sight;
The shadows that I feared so long
Are all alive with light.
~
Ecclesiastes 3: 1-8
To every thing there is a season, and a time to every purpose under the heaven:
A time to be born, and a time to die; a time to plant, and a time to pluck up that which is planted;
A time to kill, and a time to heal; a time to break down, and a time to build up;
A time to weep, and a time to laugh; a time to mourn, and a time to dance;
A time to cast away stones, and a time to gather stones together;
a time to embrace, and a time to refrain from embracing;
A time to get, and a time to lose; a time to keep, and a time to cast away;
A time to rend, and a time to sew; a time to keep silence, and a time to speak;
A time to love, and a time to hate; a time of war, and a time of peace.
~
Gates of Prayer
At the rising sun and at its going down we remember them.
At the blowing of the wind and in the chill of winter we remember them.
At the opening of the buds and in the rebirth of spring we remember them.
At the blueness of the skies and in the warmth of summer we remember them.
At the rustling of the leaves and in the beauty of the autumn we remember them.
At the beginning of the year and when it ends we remember them.
As long as we live, they too will live, for they are now a part of us.
As we remember them. When we are weary and in need of strength we remember them.
When we are lost and sick at heart we remember them.
When we have decisions that are difficult to make we remember them.
When we have joy we crave to share we remember them.
When we have achievements that are based on theirs we remember them.
For as long as we live, they too will live,
For they are now a part of us, as we remember them.
~
Psalm 23: 1-6
The Lord is my shepherd; I shall not be in want.
He makes me lie down in green pastures,
he leads me beside quiet waters,
He restores my soul.
He guides me in paths of righteousness
for his name's sake.
Even though I walk through the valley of the shadow of death,
I will fear no evil, for you are with me;
your rod and your staff, they comfort me.
You prepare a table before me the presence of my enemies.
You anoint my head with oil;
my cup overflows.
Surely goodness and love will follow me all the days of my life,
and I will dwell in the house of the Lord
forever.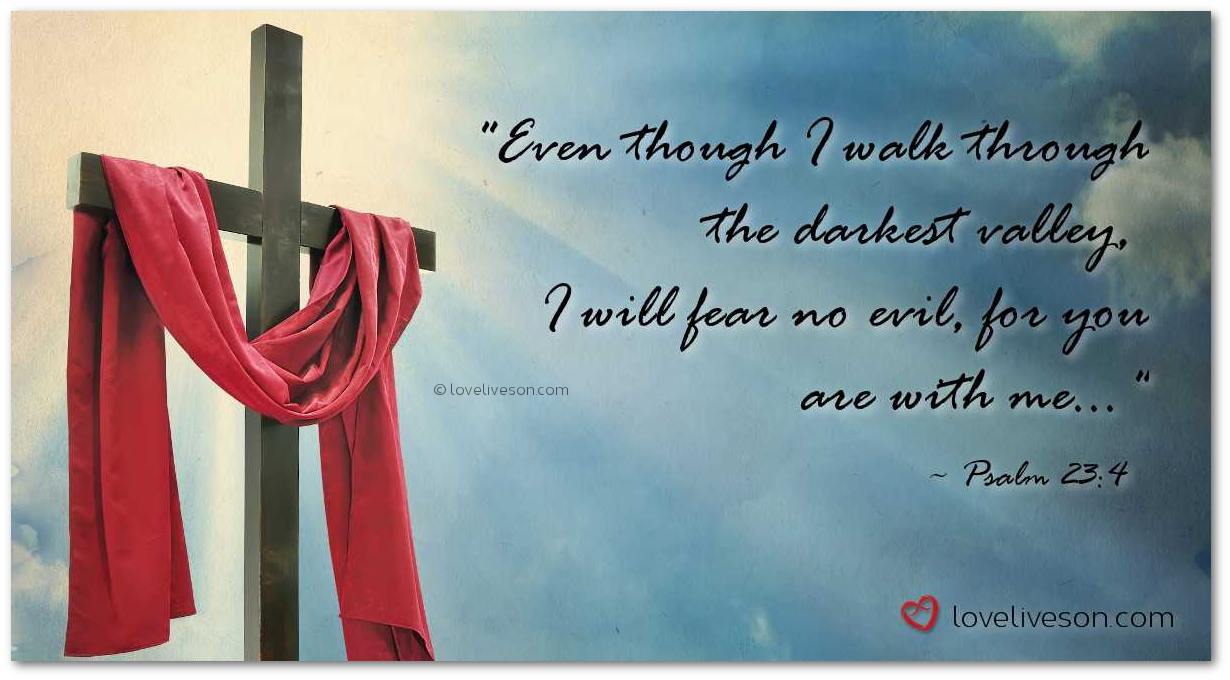 ~
Psalms 90: 1-17
Lord, you have been our dwelling place in all generations.
Before the mountains were brought forth,
or ever you had formed the earth and the world,
from everlasting to everlasting you are God.
You return man to dust
and say, "Return, O children of man!"
For a thousand years in your sight
are but as yesterday when it is past,
or as a watch in the night.
You sweep them away as with a flood; they are like a dream,
like grass that is renewed in the morning:
in the morning it flourishes and is renewed;
in the evening it fades and withers.
For we are brought to an end by your anger;
by your wrath we are dismayed.
You have set our iniquities before you,
our secret sins in the light of your presence.
For all our days pass away under your wrath;
we bring our years to an end like a sigh.
The years of our life are seventy,
or even by reason of strength eighty;
yet their span is but toil and trouble;
they are soon gone, and we fly away.
Who considers the power of your anger,
and your wrath according to the fear of you?
So teach us to number our days
that we may get a heart of wisdom.
Return, O LORD! How long?
Have pity on your servants!
Satisfy us in the morning with your steadfast love,
that we may rejoice and be glad all our days.
Make us glad for as many days as you have afflicted us,
and for as many years as we have seen evil.
Let your work be shown to your servants,
and your glorious power to their children.
Let the favor of the Lord our God be upon us,
and establish the work of our hands upon us;
yes, establish the work of our hands!
~
Psalm 103: 8-17
The Lord is compassionate and gracious,
Slow to anger, abounding in love.
He will not always accuse,
Nor will he harbour his anger for ever;
He does not treat us as our sins deserve
Or repay us according to our iniquities.
For as high as the heavens are above the earth,
So great is his love for those who fear him;
As far as the east is from the west,
So far has he removed our transgressions from us.
As a father has compassion on his children,
So the Lord has compassion on those who fear him;
For he knows how we are formed,
He remembers that we are dust.
As for man, his days are like grass,
He flourishes like a flower of the field;
The wind blows over it and it is gone,
And its place remembers it not more.
But from everlasting to everlasting
The Lord's love is with those who fear him.
~
Prayer of Faith
Author Unknown
We trust that beyond absence there is a presence.
That beyond the pain there can be healing.
That beyond the brokenness there can be wholeness.
That beyond the anger there may be peace.
That beyond the hurting there may be forgiveness.
That beyond the silence there may be the word.
That beyond the word there may be understanding.
That through understanding there is love.
~
Life is But a Stopping Place
Author Unknown
Life is but a stopping place,
A pause in what's to be,
A resting place along the road,
to sweet eternity.
We all have different journeys.
Different paths along the way,
We all were meant to learn some things,
but never meant to stay…
Our destination is a place,
Far greater than we know.
For some the journey's quicker,
For some the journey's slow.
And when the journey finally ends,
We'll claim a great reward,
And find an everlasting peace,
Together with the Lord.
~
Goodbye…
By N. Taylor
The church is full of people who have come to say goodbye
But no one wants to see you go and we're all left asking why
In our pain and tears we share a heartache that cannot heal
But in our minds we will keep Memories no one can steal
We all can feel your hand in ours and see your loving face
You haven't gone I feel you here a love I cant replace
You meant so much to each of us and in our hearts your always be
I hope you can see how precious you were To them, to us, to me.
~
The Blessing of St. Francis of Assisi
The Lord bless you
and keep you.
May He show His face
to you and have mercy.
May He turn His countenance
to you and give you peace.
The Lord bless you!
~
God Saw You Getting Tired
Author Unknown
God saw you getting tired and a cure was not to be
so he put his arms around you and whispered,
"Come to Me"
With tearful eyes we watched you
and saw you pass away
and although we love you dearly
we could not make you stay.
A golden heart stopped beating
hard working hands at rest.
God broke our hearts to prove to us
He only takes the best
~
1 Thessalonians 4:13-14
Brothers and sisters, we do not want you to be uninformed about those who sleep in death,
so that you do not grieve like the rest of mankind, who have no hope.
For we believe that Jesus died and rose again, and so we believe that
God will bring with Jesus those who have fallen asleep in him.
~
2 Corinthians 1:3-4
Praise be to the God and Father of our Lord Jesus Christ,
the Father of compassion and the God of all comfort, who comforts us in all our troubles,
so that we can comfort those in any trouble with the comfort we ourselves receive from God.
~
Isaiah 43:2
When you pass through the waters, I will be with you;
and when you pass through the rivers, they will not sweep over you.
When you walk through the fire, you will not be burned; the flames will not set you ablaze.
~
Psalm 46: 1-10
God is our refuge and strength, an ever-present help in trouble.
Therefore we will not fear, though the earth give way and the mountains fall into the heart of the sea,
though its waters roar and foam and the mountains quake with their surging.
There is a river whose streams make glad the city of God, the holy place where the Most High dwells.
God is within her, she will not fall; God will help her at break of day.
Nations are in uproar, kingdoms fall; he lifts his voice, the earth melts.
The LORD Almighty is with us; the God of Jacob is our fortress.
Come and see what the LORD has done, the desolations he has brought on the earth.
He makes wars cease to the ends of the earth.
He breaks the bow and shatters the spear; he burns the shields with fire.
He says, "Be still, and know that I am God; I will be exalted among the nations,
I will be exalted in the earth.
~
1 Corinthians 15: 50-57
I declare to you, brothers and sisters,
that flesh and blood cannot inherit the kingdom of God,
nor does the perishable inherit the imperishable.
Listen, I tell you a mystery: We will not all sleep,
but we will all be changed —in a flash,
in the twinkling of an eye, at the last trumpet.
For the trumpet will sound, the dead will be raised imperishable,
and we will be changed.
For the perishable must clothe itself with the imperishable,
and the mortal with immortality.
When the perishable has been clothed with the imperishable,
and the mortal with immortality,
then the saying that is written will come true:
"Death has been swallowed up in victory."
"Where, O death, is your victory? Where, O death, is your sting?"
The sting of death is sin, and the power of sin is the law.
But thanks be to God!
He gives us the victory through our Lord Jesus Christ.
~
Romans 8:35-39
Who shall separate us from the love of Christ?
Shall trouble or hardship or persecution or
famine or nakedness or danger or sword?
As it is written: "For your sake we face death all day long;
we are considered as sheep to be slaughtered."
No, in all these things we are more than conquerors through
Him who loved us.
For I am convinced that neither death nor life,
neither angels nor demons, neither the
present nor the future, nor any powers,
neither height nor depth, nor anything else in all creation,
will be able to separate us from the love of God
that is in Christ Jesus our Lord.
~
John 14: 1-3
Do not let your hearts be troubled.
You believe in God; believe also in me.
My Father's house has many rooms; if that were not so,
would I have told you thatI am going there to prepare a place for you?
And if I go and prepare a place for you,
I will come back and take you to be with me
that you also may be where I am.
~
Revelation 21: 1-7
I, John, saw a new heaven and a new earth; for the first heaven and the first earth had passed away,
and the sea was no more. And I saw the holy city, the new Jerusalem, coming down out of heaven from God,
prepared as a bride adorned for her husband. And I heard a loud voice from the throne saying,
'See, the home of God is among mortals.
He will dwell with them;
they will be his peoples,
and God himself will be with them;
he will wipe every tear from their eyes.
Death will be no more;
mourning and crying and pain will be no more,
for the first things have passed away.'
And the one who was seated on the throne said, 'See, I am making all things new.'
Also he said, 'Write this, for these words are trustworthy and true.'
Then he said to me, 'It is done! I am the Alpha and the Omega, the beginning and the end.
To the thirsty I will give water as a gift from the spring of the water of life.
Those who conquer will inherit these things, and I will be their God and they will be my children.'
~
Isaiah 25: 7-9
And He will destroy on this mountain
The surface of the covering cast over all people,
And the veil that is spread over all nations.
He will swallow up death forever,
And the Lord God will wipe away tears from all faces;
The rebuke of His people
He will take away from all the earth;
For the Lord has spoken.
And it will be said in that day:
"Behold, this is our God;
We have waited for Him, and He will save us.
This is the Lord;
We have waited for Him;
We will be glad and rejoice in His salvation."
~

Spiritual Funeral Poems
These spiritual funeral poems are appropriate for a variety of faiths in addition to Christianity.
Not only do these spiritual funeral poems offer beautiful words of comfort and hope, they remind us that death can never take away our memories and the love that existed.
Reading from "The Prophet"
By Kahlil Gibran
Then Almitra spoke, saying,
We would ask now of Death.
And he said: You would know the secret of death.
But how shall you find it unless you seek it in the heart of life?
The owl whose night-bound eyes are blind unto the day cannot unveil the mystery of light.
If you would indeed behold the spirit of death, open your heart wide unto the body of life.
For life and death are one, even as the river and the sea are one.
In the depth of your hopes and desires lies your silent knowledge of the beyond;
And like seeds dreaming beneath the snow your heart dreams of spring.
Trust the dreams, for in them is hidden the gate to eternity.
Your fear of death is but the trembling of the shepherd when he stands before the king
whose hand is to be laid upon him in honour.
Is the shepherd not joyful beneath his trembling, that he shall wear the mark of the king?
Yet is he not more mindful of his trembling?
For what is it to die but to stand naked in the wind and to melt into the sun?
And what is it to cease breathing but to free the breath from its restless tides
that it may rise and expand and seek God unencumbered?
Only when you drink from the river of silence shall you indeed sing.
And when you have reached the mountaintop, then you shall begin to climb.
And when the earth shall claim your limbs, then shall you truly dance.
~
Idyll
By Siegfried Sassoon
In the grey summer garden I shall find you
With day-break and the morning hills behind you.
There will be rain-wet roses; stir of wings;
And down the wood a thrush that wakes and sings.
Not from the past you'll come, but from that deep
Where beauty murmurs to the soul asleep:
And I shall know the sense of life re-born
From dreams into the mystery of morn
Where gloom and brightness meet. And standing there
Till that calm song is done, at last we'll share
The league-spread, quiring symphonies that are
Joy in the world, and peace, and dawn's one star.
~
Death is a Journey
By Sri Chinmoy
Death is at once
The end of the body's
Old journey
And the beginning of the soul's
New journey.
~
When I Die
By Rumi
When my coffin is being taken out
you must never think
I am missing this world
Don't shed any tears
Don't lament or
Feel sorry
I'm not falling
Into a monster's abyss
When you see
My corpse is being carried
Don't cry for my leaving
I'm not leaving
I'm arriving at eternal love
When you leave me
In the grave
Don't say goodbye
Remember a grave is
Only a curtain
For the paradise behind
You'll only see me
Descending into a grave
Now watch me rise
How can there be an end
When the sun sets or
The moon goes down
It looks like the end
It seems like a sunset
But in reality it is a dawn
When the grave locks you up
That is when your soul is freed
Have you ever seen
A seed fallen to earth
Not rise with a new life
Why should you doubt the rise
Of a seed named human
Have you ever seen
A bucket lowered into a well
Coming back empty
Why lament for a soul
When it can come back
Like Joseph from the well
When for the last time
You close your mouth
Your words and soul
Will belong to the world of
No place no time.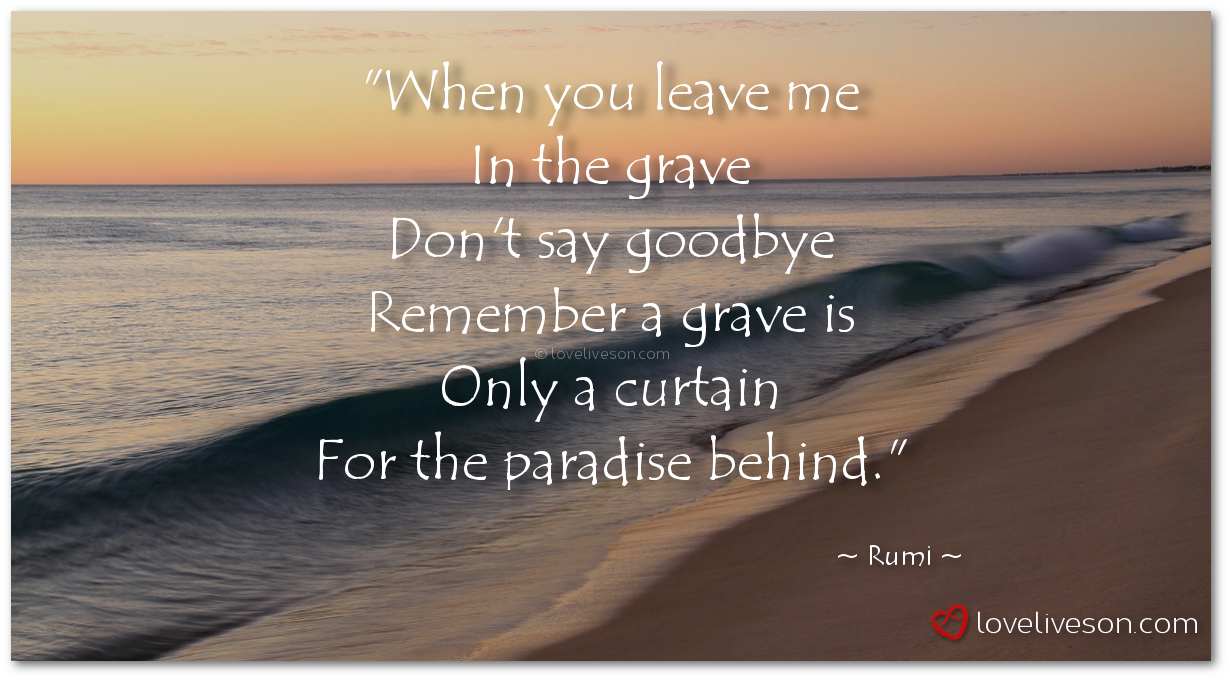 ~
Say Not, They Die, Those Splendid Souls
Author Unknown
Say not, they die, those splendid souls,
Whose life is winged with purpose fine;
Who leave us, pointed to the goals;
Who learn to conquer and resign.
Such cannot die; they vanquish time,
And fill the world with glowing light,
Making the human life sublime
With memories of their secret might.
They cannot die whose lives are part
Of the great life that is to be;
Whose hearts beat with the world's great heart,
And throb with its high intensity.
Those souls are great, who, dying, gave
A gift of greater life to man;
Death stands abashed before the brave;
They own a life death cannot ban.
~
While Waiting for Thee
By Helen Steiner Rice
Don't weep at my grave,
For I am not there,
I've a date with a butterfly
To dance in the air.
I'll be singing in the sunshine,
Wild and free,
Playing tag with the wind,
While I'm waiting for thee.
The Comfort and Sweetness of Peace
After the clouds, the sunshine,
after the winter, the spring,
after the shower, the rainbow,
for life is a changeable thing.
After the night, the morning,
bidding all darkness cease,
after life's cares and sorrows,
the comfort and sweetness of peace.
~
High Flight
By John Gillespie Magee, Jr
Oh! I have slipped the surly bonds of Earth
And danced the skies on laughter-silvered wings;
Sunward I've climbed, and joined the tumbling mirth
Of sun-split clouds, — and done a hundred things
You have not dreamed of — wheeled and soared and swung
High in the sunlit silence. Hov'ring there,
I've chased the shouting wind along, and flung
My eager craft through footless halls of air. . . .
Up, up the long, delirious burning blue
I've topped the wind-swept heights with easy grace
Where never lark, or ever eagle flew —
And, while with silent, lifting mind I've trod
The high untrespassed sanctity of space,
Put out my hand, and touched the face of God.
~
They Are Not Dead
Author Unknown
They are not dead,
Who leave us this great heritage
Of remembered joy.
They still live in our hearts,
In the happiness we knew,
In the dreams we shared.
They still breathe,
In the lingering fragrance windblown,
From their favourite flowers.
They still smile in the moonlight's silver
And laugh in the sunlight's sparkling gold.
They still speak in the echoes of words.
We're heard them say again and again.
They still move,
In the rhythm of waving grasses,
In the dance of the tossing branches.
They are not dead;
Their memory is warm in our hearts,
Comfort in our sorrow.
They are not apart from us,
But a part of us
For love is eternal,
And those we love shall be with us
Throughout all eternity.
~
Traditional Gaelic Blessing
Author Unknown
May the road rise up to meet you.
May the wind be always at your back.
May the sun shine warm upon your face;
the rains fall soft upon your fields
and until we meet again,
may God hold you in the palm of His hand.
~
Is My Soul Asleep?
By Antonio Machado
Is my soul asleep?
Have those beehives that work
in the night stopped? And the water —
wheel of thought, is it
going around now, cups
empty, carrying only shadows?
No, my soul is not asleep.
It is awake, wide awake.
It neither sleeps nor dreams, but watches,
its eyes wide open
far-off things, and listens
at the shores of the great silence.
~
Military Funeral Poems
Looking for military funeral poems to honour the life and legacy of a fallen solider?
Whatever branch of the military your loved one served in, you'll find the perfect poem here to express thanks for his or her service, bravery and sacrifice.
These military funeral poems also speak of the loyalty and comradeship of soldiers, and their willingness to die for their brothers and sisters in arms.
The Soldier
By Rupert Brooke
If I should die, think only this of me:
That there's some corner of a foreign field
That is forever England. There shall be
In that rich earth a richer dust concealed;
A dust whom England bore, shaped, made aware,
Gave, once, her flowers to love, her ways to roam,
A body of England's, breathing English air,
Washed by the rivers, blessed by sons of home.
And think, this heart, all evil shed away,
A pulse in the eternal mind, no less
Gives somewhere back the thoughts by England given;
Her sights and sounds; dreams happy as her day;
And laughter, learnt of friends; and gentleness,
In hearts at peace, under an English heaven.
~
In Flanders Fields
By Lieutenant-Colonel John McCrae
In Flanders fields the poppies blow
Between the crosses, row on row,
That mark our place; and in the sky
The larks, still bravely singing, fly
Scarce heard amid the guns below.
We are the Dead. Short days ago
We lived, felt dawn, saw sunset glow,
Loved and were loved, and now we lie
In Flanders fields.
Take up our quarrel with the foe:
To you from failing hands we throw
The torch; be yours to hold it high.
If ye break faith with us who die
We shall not sleep, though poppies grow
In Flanders fields.
~
Dulce et Decorum Est
By Wilfred Owen
Bent double, like old beggars under sacks,
Knock-kneed, coughing like hags, we cursed through sludge,
Till on the haunting flares we turned our backs
And towards our distant rest began to trudge.
Men marched asleep. Many had lost their boots
But limped on, blood-shod. All went lame; all blind;
Drunk with fatigue; deaf even to the hoots
Of tired, outstripped Five-Nines that dropped behind.
Gas! Gas! Quick, boys!–An ecstasy of fumbling,
Fitting the clumsy helmets just in time;
But someone still was yelling out and stumbling
And flound'ring like a man in fire or lime…
Dim, through the misty panes and thick green light,
As under a green sea, I saw him drowning.
In all my dreams, before my helpless sight,
He plunges at me, guttering, choking, drowning.
If in some smothering dreams you too could pace
Behind the wagon that we flung him in,
And watch the white eyes writhing in his face,
His hanging face, like a devil's sick of sin;
If you could hear, at every jolt, the blood
Come gargling from the froth-corrupted lungs,
Obscene as cancer, bitter as the cud
Of vile, incurable sores on innocent tongues,–
My friend, you would not tell with such high zest To children ardent for some desperate glory,
The old Lie: Dulce et decorum est Pro patria mori.*
* Translation: "It is sweet and right to die for your country."
~
There Will Come Soft Rains
By Sara Teasdale
There will come soft rains and the smell of the ground,
And swallows circling with their shimmering sound;
And frogs in the pools singing at night,
And wild plum-trees in tremulous white;
Robins will wear their feathery fire
Whistling their whims on a low fence-wire;
And not one will know of the war, not one
Will care at last when it is done.
Not one would mind, neither bird nor tree
If mankind perished utterly;
And Spring herself, when she woke at dawn,
Would scarcely know that we were gone.
~
My Father
By Anita Guindon
He was a jolly little man full of fun and laughter,
He played jokes on his fellow men
And to him it did not matter.
Education he had not,
But what he learned he never forgot.
He wrote what he knew all about cancer
so that someday, there will be an answer.
He joined the Canadian Medical Corps.
And served in the Second World War.
He risked his life, to save others,
This man, that I call my Father.
Seein' my Father in me is the title of a song
Which I can relate to as I do see my Father in me.
I have a French accent just like my Father,
I love walking, just like my Father,
I love being with people, just like my father.
But most of all, is my love for children, like my Father.
~
The Soldier's Prayer
(From an inscription on a marine grave on Guadalcanal, 1942)
And When He Gets To Heaven,
To Saint Peter He Will Tell;
One More Marine Reporting Sir,
I've Served My Time In Hell.
~
The Old Salt
By Mac McGovern
The Old Salt was a special man
who came along in a time
when he was needed most.
A time that is now gone forever.
When men believed and sacrificed,
when hero's walked the earth in mass.
When patriotism was not just a word
but,
by what men lived and judged
the worth of each,
a man who lived a life
most of us cannot comprehend.
An era now gone
as this warriors tour of duty ends
at this station, and begins anew
in the heavenly fleet.
Sail on Sailor into your unaccompanied tour,
we salute you.
What greater honor, that when a man moves forward,
he leaves behind in each of us
the best of what he was.
A defender, protector, supporter, victor, a warrior,
the last of the breed from an era
when ships were made of wood
and men were made of steel.
The Old Salt has reported for duty
that takes him away from us for now.
Those of us who remain behind,
remember, and will continue to remember,
because he now resides forever in our hearts.
As I look up at night, I envision The Old Salt,
a beret draped just above the eye,
as he draws upon his pipe,
quietly he waits.
The guardian of heaven's gate.
~
A Soldier Came Home Today
By Rev. Bob Leonard
Today a soldier came home
not marching down the street
to waves and cheers
but in a box covered
with a flag of Red, White and Blue
the flags are at half staff
And the people line the road home
with bowed heads
and tears in their eyes
For a soldier came home today
As the hearse came to its final stop
His brothers in olive green gathered round
They gently lifted that flag draped box
and then carried him, and gently put him down
Mother, Father and family followed in
with tears flowing down
There was a silence, that screamed with pain
for all knew a great loss
for a soldier came home today
Why did he have to die,
the question rings out
He was so full young and full of life
There was so much he had to offer,
And yet he went to fight for what
he felt was right
always knowing full well
that he might be asked to make
that supreme sacrifice
He is home now and soon
He will lie with those other
Honored dead in that hallowed ground
Called Arlington
A soldier has come home today
~
Fallen Heroes
By Joyce Atkinson
From the time I was conceived God had for me a plan
He wanted me to get involved to help my fellow man
I know some were against it but God knows what is best
Since the day He took me home I've had perfect rest
Heaven is so beautiful I'm walking streets of gold
Now I'm serving others including saints of old
I know some still have anger about the way I died
But God and I both have seen the many tears you've cried
He is a God of comfort whose love will never cease
Give your feelings to Him and He will give you peace
As difficult as it may be please don't hold a grudge
Remember this my loved ones God alone will judge
Then on that resurrection day when all the dead will rise;
the Lord will reunite us together in the skies
So don't give up my loved ones my memory is still alive
Put your trust in the Lord; I know you will survive!
~
In Your Honour
Author Unknown
Unselfishly, you left your fathers and your mothers,
You left behind your sisters and your brothers.
Leaving your beloved children and wives.
On foreign soil, you found yourself planted
To fight for those whose freedom you granted.
Without your sacrifice, their cause would be lost
But you carried onward, no matter the cost.
Many horrors you had endured and seen.
Many faces had haunted your dreams.
You cheered as your enemies littered the ground;
You cried as your brothers fell all around.
When it was over, you all came back home,
Some were left with memories to face all alone;
Some found themselves in the company of friend
As their crosses cast shadows across the land.
Those who survived were forever scarred
Emotionally, physically, permanently marred.
Those who did not sleep eternally
'Neath the ground they had given their lives to keep free.
With a hand upon my hear, I feel the pride and respect;
my reverence is revealed
In the tears that now stream down my upturned face
As our flag waves above you, in her glory and grace.
Freedom was the gift that you unselfishly gave
Pain and death was the price that you ultimately paid.
Every day, I give my utmost admiration
To those who had fought to defend our nation.
~
Why
Author Unknown
Far above the storm clouds gathering
Far above that midnight sky
Looking out just past the rainbow
Where eagles dare not fly
Out among the ashes
Of heroes long since past
I will take my place among them
When that final die is cast
Let not your heart be troubled
That's what I've always heard
But I stood for what I believed in
With these my final words
For in this life but few things matter
In this short time that we have here
Leaving nothing behind but our honor
The thing we hold most dear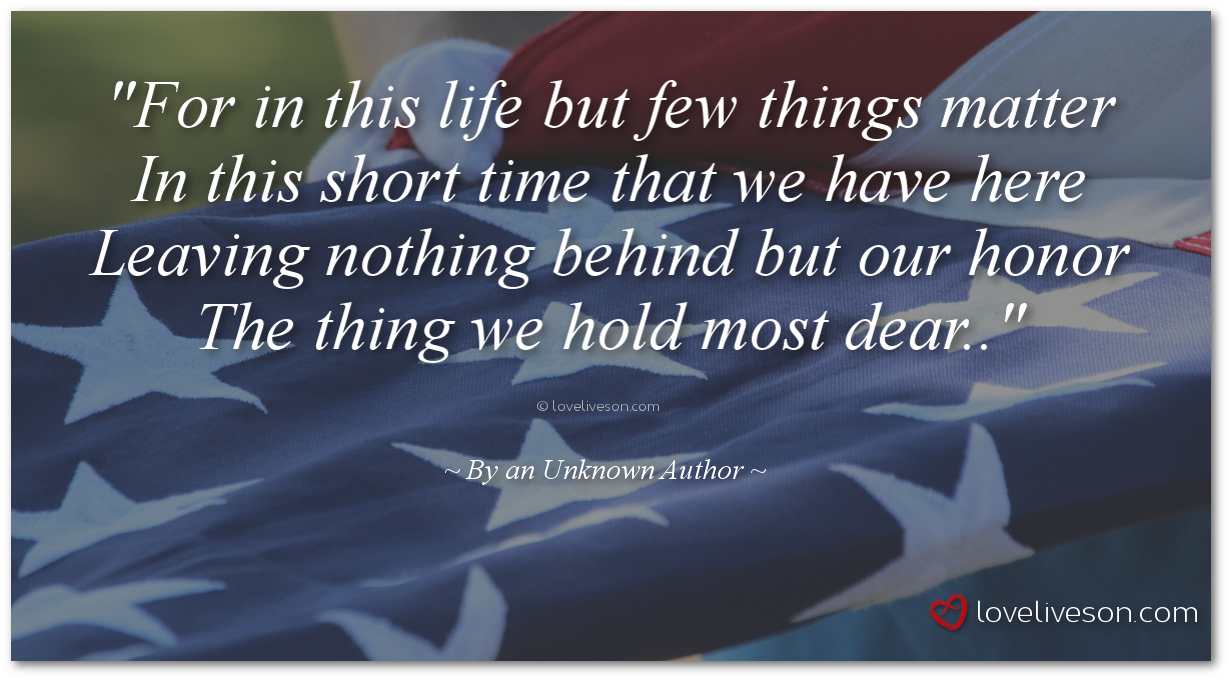 ~
The Stranger
By Callie Crofts
One lovely summer day
As I was walking through the grass
Reflecting on the very fondest
Memories of my past
I pass an unfamiliar place
And stopped a while to see
Completely unsuspecting
Of the change this place would bring
I stood before a wall of names
Two hundred and fifty-one
Engraved upon a monument
That pierced the shining sun
And though, to all these names
I was a stranger passing by
I looked upon these names
And there was one that caught by eye
It may have been a moment
Or an hour, or a y ear
I walked up to the name
And leaned in close so I could hear
I closed my eyes and listened
To the pure and priceless truth
And came to understand the love
Of which, this wall is proof
It's sad that he who bears
The very greatest love of all
Will sacrifice his life
Before he'll see a dear friend fall
Though people often wonder
Whether such a man is real
I see him now
Through these engraved letters I feel
He's sitting with his brother
telling stories as they laugh
Of the greatest games he'll ever pitch
Of the biggest fish he'll catch
He's standing by his colors
On a hillside far away
He's diving through the amber fire
While others run away
I search through all my memories
Of the noble and the grand
The courage and the truth
That I've been taught to understand
Of all the stories that are told
This shall be told of you
Dear soldier, how you gave your life
For those you never knew.
~
For The Fallen
By Laurence Binyon
With proud thanksgiving, a mother for her children,
England mourns for her dead across the sea.
Flesh of her flesh they were, spirit of her spirit,
Fallen in the cause of the free.
Solemn the drums thrill: Death august and royal
Sings sorrow up into immortal spheres.
There is a music in the midst of desolation
And a glory that shines upon our tears.
They went with songs to the battle, they were young,
Straight of limb, true of eye, steady and aglow.
They were staunch to the end against odds uncountered:
They fell with their faces to the foe.
They shall grow not old, as we that are left grow old:
Age shall not weary them, nor the years condemn.
At the going down of the sun and in the morning
We will remember them.
They mingle not with their laughing comrades again;
They sit no more at familiar tables at home;
They have no lot in our labour of the day-time;
They sleep beyond England's foam.
But where our desires are and our hopes profound,
Felt as a well-spring that is hidden from sight,
To the innermost heart of their own land they are known
As the stars are known to the Night;
As the stars that shall be bright when we are dust,
Moving in marches upon the heavenly plain;
As the stars are starry in the time of our darkness,
To the end, to the end they remain.
~
He Heard The Call of His Country
Author Unknown
He heard the call of his country;
And answered it brave and true;
"I'll be a man to do or die;|
I'm going to help them through."
The Great Commander has written his name;|
On the roll of him who gave;
His Only Begotten Son;
And died that we might live.
He paid his debt to his country;
In the fight for right he has won;
And the King of Kings has spoken:
"Thou faithful one, well done."
~
Soldier, Rest
Author Unknown
Soldier, rest, thy warfare o'er;
Sleep the sleep that knows no breaking;
Dream of battlefields no more;
Days of danger, nights of waking.
Tranquil you lie;
Your nightly virtue proved;
Your memory hallowed;
In the land you loved.
~
Honoured
Author Unknown
Honoured among the nation's heroes
lies our loved one;
Beneath a simple wooden cross,
his crown;
And we who knew and loved him here,
can say:
A simple love, a simple trust,
a simple duty done.
He died as brave men have a chance
do die;
Fighting for God, and right, and liberty.
~
Flying Hero
By Michael Sander
You came home yesterday.
On that silver winged bird.
It wasn't that long ago that you left.
You are back so soon.
But you have done so much.
The colors you are wearing, so familiar.
The colors explain everything.
Why you left, the price you paid, the sacrifice you made.
Pride. Honor. Freedom.
You have made your mark hero.
The colors you wear draped over your casket tell your story.
You did it for me.
You did it for our country.
You did it for FREEDOM.
You will never be seen as a fallen hero.
You will forever fly proud.
As will the colors you died for.
~
For The Brave and the Fallen
By Anna Lee
For The Brave And Fallen
All those young men gone to war,
All those brave souls that never came back,
We mourn them til the end.
They went to war with songs in their hearts,
And memories in their minds,
Never again will they mingle with their comrades.
All wishing to be heroes,
Little did they know about the horrors of war,
Never again will they sit at the familiar tables of home.
With our proud thanksgiving like a mother for her child,
The world mourns for her dead across the seven seas,
Flesh of her flesh, they were, spirit of her spirit.
Sing sorrows up into our hearts,
There is music in the midst of dissolution,
And a glory that shines upon our tears.
As stars will they fight for where they are now dust,
Moving in marches across the heavenly sky,
As the guiding stars in our times of darkness.
Forever may they be in our hearts
~
Going to Heaven
Author Unknown
A soldier stood at the gates of heaven,
his face was worn and old.
He had come before St Peter for admission to the fold.
"What have you done" St Peter said "to be admitted here?"
"I served in the Royal Leicesters for many a year."
St Peter nodded wisely and turned and pressed a bell
saying "step forward my son you've had your taste of hell."
~
To Honour Our Fallen
By Mary Akey
We will pray for peace
We will remember their sacrifices
We will cry for their loss
To honor our fallen
We will hold their memory gently
In the palms of our hands
To Honor our fallen
Our grief will flow to the depths
Of our souls, yet make us proud
To honor our fallen
We will salute our flag
We will stand for what is right
To honor our fallen
We will support the ideals
Of one nation under God
To honor our fallen
we will support our military
Protectors of our nation
To honor our fallen
We will stand to salute them
And kneel to pray for them
~

Short Funeral Poems
In these short funeral poems, poets articulated complex emotions in a few short, yet sweet lines of prose.
You may find that one of these short funeral poems would make a great addition to a sympathy card or condolence message for someone grieving the loss of a loved one.
I Will Love Death
By Sri Chinmoy
I know I will love death.
Why?
Because death too
Is God's creation
And because death reminds me
Of the existence of her sister:
Infinity's Life immortal.
~
Death
By Rainer Maria Rilke
Before us great Death stands
Our fate held close within his quiet hands.
When with proud joy we lift Life's red wine
To drink deep of the mystic shining cup
And ecstasy through all our being leaps —
Death bows his head and weeps.
~
For Katrina's Sun Dial
By Henry Van Dyke
Time is too slow for those who wait,
Too swift for those who fear,
Too long for those who grieve,
Too short for those who rejoice,
But for those who love, time is
Eternity.
~
A Parting Guest
By James Whitcomb Riley
What delightful guests are they
Life and Love!
Lingering I turn away,
This late hour, yet glad enough
They have not witheld from me
Their high hospitality.
So with face lit with delight
And all gratitude, I stay
Yet to press their hands and say,
"Thanks. So fine a time! Goodnight.
~
Turn Again to Life
By Mary Lee Hall
If I should die and leave you here a while,
be not like others sore undone,
who keep long vigil by the silent dust.
For my sake turn again to life and smile,
nerving thy heart and trembling hand
to do something to comfort other hearts than mine.
Complete these dear unfinished tasks of mine
and I perchance may therein comfort you.
~
How Wonderful is Death
From Queen Mab, Percy Byssche Shelley
How wonderful is Death,
Death, and his brother Sleep!
One, pale as yonder waning moon
With lips of lurid blue;
The other, rosy as the morn
When throned on ocean's wave
It blushes o'er the world;
Yet both so passing wonderful!
~
If I Should Go
By Joyce Grenfell
If I should go before the rest of you
Break not a flower nor inscribe a stone
Nor when I'm gone speak in a Sunday voice
But be the usual selves that I have known
Weep if you must
Parting is hell
But life goes on
So sing as well.
~
All Nature Has a Feeling
By John Clare
All nature has a feeling: woods, fields, brooks
Are life eternal: and in silence they
Speak happiness beyond the reach of books;
There's nothing mortal in them; their decay
Is the green life of change; to pass away
And come again in blooms revivified.
Its birth was heaven, eternal it its stay,
And with the sun and moon shall still abide
Beneath their day and night and heaven wide.
~
Inside Our Dreams
By Jeanne Willis
Where do people go to when they die?
Somewhere down below or in the sky?
'I can't be sure,' said Grandad, 'but it seems
They simply set up home inside our dreams.'
~
Farewell
By Anne Bronte
Farewell to Thee! But not farewell
To all my fondest thoughts of Thee;
Within my heart they still shall dwell
And they shall cheer and comfort me.
Life seems more sweet that Thou didst live
And men more true Thou wert one;
Nothing is lost that Thou didst give,
Nothing destroyed that Thou hast done.
~
He That Is Down Needs Fear No Fall
By John Bunyan
He that is down needs fear no fall,
He that is low, no pride;
He that is humble ever shall
Have God to be his guide.
I am content with what I have,
Little be it or much;
And, Lord, contentment will I crave,
Because Thou savest such.
Fullness to such a burden is
That go on pilgrimage:
Here little, and hereafter bliss,
Is best from age to age.
~
If Only
Author Unknown
If only we could see the splendour of the land
To which our loved ones are called from you and me
We'd understand
If only we could hear the welcome they receive
From old familiar voices all so dear
We would not grieve
If only we could know the reason why they went
We'd smile and wipe away the tears that flow
And wait content.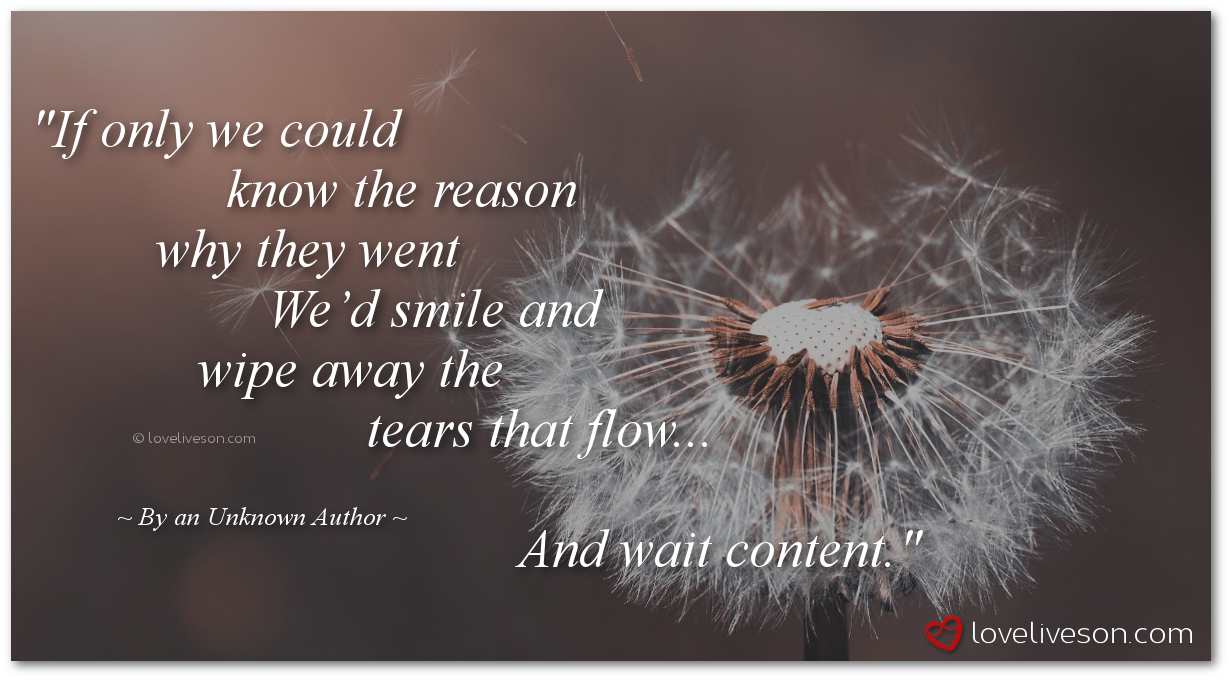 ~
I Fall Asleep
By Samuel Butler
I fall asleep in the full and certain hope
That my slumber shall not be broken;
And that though I be all-forgetting,
Yet shall I not be forgotten,
But continue that life in the thoughts and deeds
of those I loved.
~
If I Should Go Tomorrow
Author Unknown
If I should go tomorrow
It would never be goodbye,
For I have left my heart with you,
So don't you ever cry.
The love that's deep within me,
Shall reach you from the stars,
You'll feel it from the heavens,
And it will heal the scars.
~
Light
By Francis Bourdillon
The night has a thousand eyes.
And the day but one;
Yet the light of the bright world dies
With the dying sun.
The mind has a thousand eyes.
And the heart but one:
Yet the light of a whole life dies
When love is done.
~
No Night Without You
By Helen Steiner Rice
There is no night without a dawning
No winter without a spring
And beyond the dark horizon
Our hearts will once more sing…
For those who leave us for a while
Have only gone away
Out of a restless, care worn world
Into a brighter day.
~
Peace My Heart
By Rabindranath Tagore
Peace, my heart, let the time for the parting be sweet.
Let it not be a death but completeness.
Let love melt into memory and pain into songs.
Let the flight through the sky end in the folding of the wings over the nest.
Let the last touch of your hands be gentle like the flower of the night.
Stand still, O Beautiful End, for a moment, and say your last words in silence.
I bow to you and hold up my lamp to light your way.
~
Songs of the Death of Children
By Friedrich Ruckert
You must not shut the night inside you,
But endlessly in light the dark immerse.
A tiny lamp has gone out in my tent –
I bless the flame that warms the universe.
~
Silent Tear
Author Unknown
Each night we shed a silent tear,
As we speak to you in prayer.
To let you know we love you,
And just how much we care.
Take our million teardrops,
Wrap them up in love,
Then ask the wind to carry them,
To you in heaven above.
~
The New Life's Salutation
By Anna Barabauld
Life, we've been long together
Through pleasant and through cloudy weather;
'Tis hard to part when friends are dear,
Perhaps 'twill cost a sigh, a tear;
Then steal away, give little warning,
Choose thine own time:
Say not "Good night," but in some brighter clime
Bid me "Good morning."
~

Additional Resources
Did you know that Love Lives On has a comprehensive library of articles on funeral planning, grieving, and celebrating your loved one's life in unique ways?
Here are some other popular posts on our website:
It Helps to Share…
If you found this post on 150+ heartfelt funeral poems helpful, follow Love Lives On on Facebook or subscribe to our YouTube channel for more inspiring ideas to help you celebrate his or her wonderful life and legacy.
You can also check out our funeral poems Pinterest Board for more stunning images (with quotes) that you can keep and share online with family and friends. We made them for you and all our readers to enjoy.
Use the comment box below to let us know if you have a suggestion of funeral poems we should add to this post.  At Love Lives On, we're always listening.