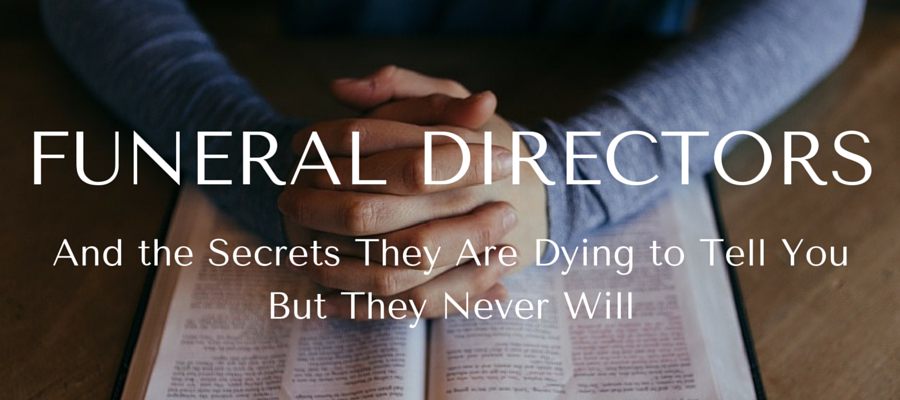 Do you think that funeral directors are scam artists who push you into buying as much overpriced merchandise as possible? Do you think they cut corners in order to boost their already fat profit margins? Do you think that they are heartless sales people?
Let's be honest, funeral directors often get a bad rap.  What is interesting, however, is that people's opinions of funeral directors are usually positive once they have actually worked with a professional to plan a loved one's funeral. 
They soon realize that most funeral directors are friendly, compassionate people who genuinely try to help grieving families.
We have compiled a list of the top 11 things that funeral directors are too modest to tell you, but that you really should know.
You'll also find a helpful infographic summarizing the main points that you can easily save to Pinterest or share on social media.
1.
  Your 

Funeral Director Genuinely Cares

Even though funeral directors are exposed to death every day, they are still sensitive when families have suffered a loss. 

They find the deaths of children particularly difficult to deal with, or deaths that occurred as a result of violent crime. 

They are, after all, only human. 

Funeral directors have often lost people they loved themselves, so they are able to truly empathize with how you are feeling.

Like doctors and nurses, funeral directors have to be professional when they work with you, meaning that they have to put their own emotions aside so that they can better serve you.  So do not misperceive their lack of tears when you speak about your loss as a lack of caring.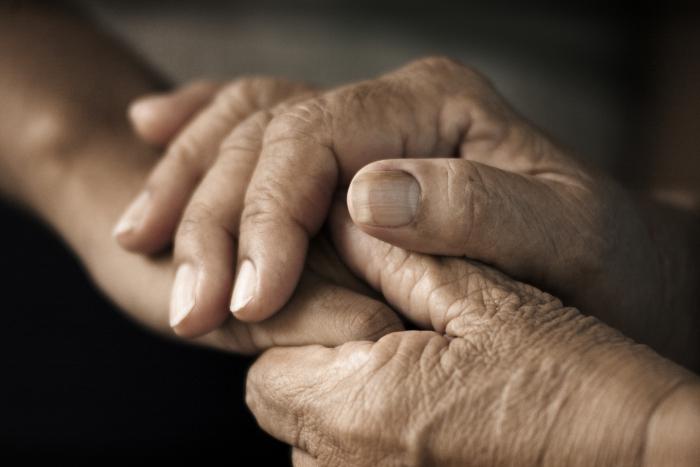 You should also know that many funeral homes have funeral services for homeless people or elderly people with no family without receiving any financial remuneration. 
The funeral directors from the home will host and attend the service and say a few poignant words because they believe that every life is important and deserves to be acknowledged.
Gerry Connelly, Funeral Director and President of Connelly-McKinley Funeral Homes in Edmonton states:  "When we come across a deceased person that has no family and friends, we will organize a funeral service ourselves and pick up the costs. 
"We try and find out the deceased person's religion so that we can organize someone from that religion to come and speak at the service.  If they didn't have a religion, we then get a celebrant. 
"But we never let anyone go the cemetery or the crematorium without some words being said.  Sometimes, it's only our staff and the minister at the service. 
   But we feel that a proper service is important.

 

Everybody that dies is either somebody's mother, father, brother, sister or child.

 

What we do is about respecting human dignity."
2.
  Your 

Funeral Director Isn't a Money Hungry Sales Person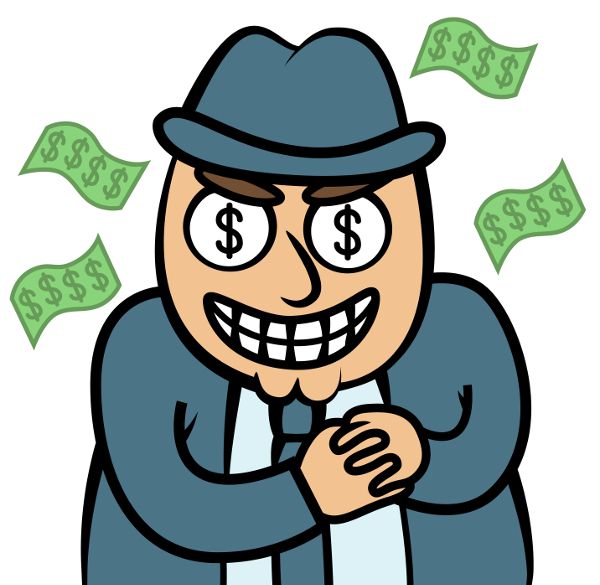 Some people imagine that funeral directors rub their hands in glee when they hear about a death because they relish the opportunity to milk as much money as possible from a grieving family. 
Nothing could be further from the truth. 
Like any other profession that requires compassion and caring, funeral directors are inherently kind and thoughtful people.
They see their primary role as serving you and your family during a difficult time, and caring for the body of the person who passed away. 
The overwhelming majority of their time and attention is spent on providing personalized service, rather than explaining products that are available for purchase. 
A professional funeral director will support your choices, rather than try and sell you products that you don't want.
3.
 

Funeral Directors Aren't Stodgy Old Men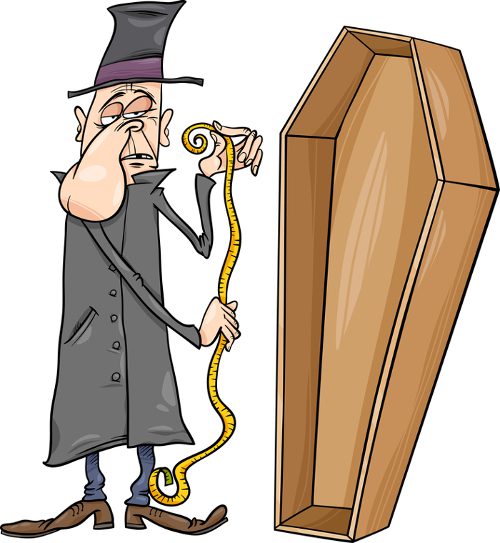 The stereotype of funeral directors is that they are all stodgy old men who skulk around in black suits, no matter how hot the weather.
The extreme version of this stereotype is often seen in classic movies, where the undertaker is a gaunt old man who is totally joyless, and who lurks around in a way that's frankly creepy.
The stereotype of a funeral director likely came about because funeral homes were historically male-dominated. 
They used to all be family owned, with firms passed on from one generation to the next.
Today, however, young people and women are becoming funeral directors and changing the face of the profession.  People who didn't grow up in a funeral home are choosing it as a first or second career and finding it very rewarding.
Currently, around 57% of mortuary science students in the United States are women.  Women are attracted to the skills and traits needed to be an effective funeral director, including good listening skills, compassion, organization, and event-planning.
Connelly states: "More and more women are entering the funeral director profession, and they are having a hugely positive impact.  Women do a wonderful job of nurturing the families they serve and creating an emotional bond with them.
   The influx of women into the profession is greatly contributing to a change in the public's perception of funeral directors and how they deal with death."
"In the past, when you told a person that you were a funeral director, they would quickly clean their hands after shaking yours, as if to get 'bad luck' off them. 
"But now they want to talk to you, and are also open to talking about death amongst their group of friends.  So we really appreciate having more women in the profession."
4.
 

Being a Funeral Director Isn't Easy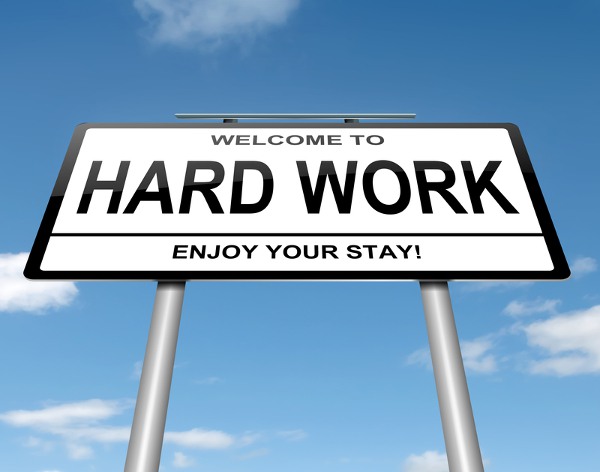 You might think that being a funeral director is another 9-to-5 job.  Nothing could be further from the truth. 
They are on call 24 hours a day, 7 days a week, 365 days a year.  Few professions are always on call.
A funeral director may have to leave a Christmas dinner, his or her child's birthday party or soccer game, or a family wedding, because he or she received a call from a family that needs them. 
The reality is that other people's needs are prioritized higher than the funeral director's needs, or even the needs of his or her own family.
Funeral directors feel that their very purpose in life is to serve others.  It really is a selfless job that not everyone is equipped to do. 
Connelly often tells young people entering the profession: "Being a funeral director is not a vocation.  It's a calling.  If your goal in life is to make lots of money, don't become a funeral director!"
5.
  Your 

Funeral Director Doesn't Have a Bloated Bank Account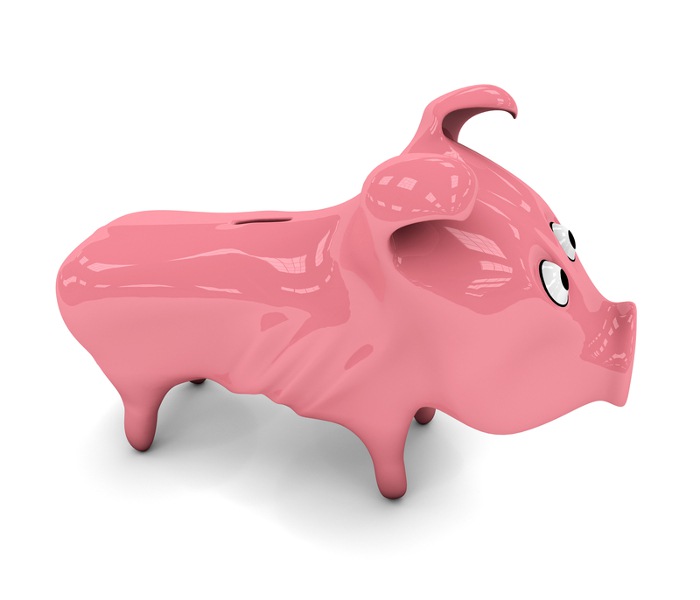 There is a huge misconception that funeral homes make so much money that they never have to worry about going out of business.  In reality, this is not the case.
With cremation on the rise, many services traditionally offered by funeral directors, such as embalming, are on the decline.
Funeral homes have always had significant overheads, as it is a very labour intensive business.
Your funeral director, as well as the support staff at the funeral home, work long hours, which leads to high labour costs.
Many people mistakenly assume that the funeral home profits from all the services included in the final bill. The funeral home will take care of dealing with other vendors on your behalf (for example, by placing death notices in newspapers, or purchasing a grave marker), in order to make your life easier. 
But you need to remember, that many line items on the final bill doesn't benefit the funeral home or your funeral director's wallet.
Connelly states: 
   All of these extra costs factor into the bottom line of a bill, and funeral homes sometime get a bad rap because people don't realize, or forget, that half or three-quarters of the bill had nothing to do with the funeral home."
Funeral homes may also have to wait for quite some time to get paid.  There are, unfortunately, unscrupulous people who try and get out of paying what they rightfully owe.
They were quick to request all the services and order the best products, but after the funeral is done, they renege on their promise to pay.  They now expect the funeral home to absorb the financial loss.
6.
  A F

uneral Director Makes Your Life Easier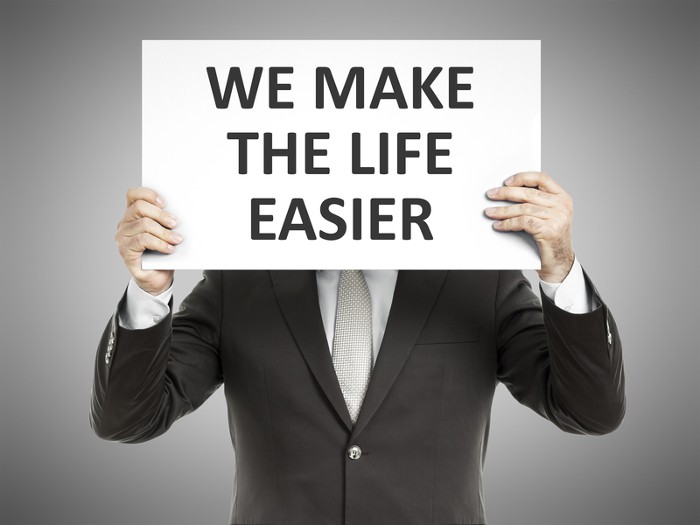 The reason you hire a funeral director is to help you take care of all details that need to be attended to when a loved one passes away.
Funeral directors are the true experts when it comes to caring for a deceased person, caring for you and for your family, and organizing a funeral or memorial service.
A funeral director will help when you are overwhelmed with the many decisions that you need to make. 
Do you bury your loved one or have him cremated? What cemetery should you choose, and is there availability? 
What kind of casket do you want? Where should the service be held? 
What kinds of flowers should be ordered? Which newspapers should you place the death notice in?
These are just a few of the issues you will need to consider. But take heart, a funeral director is an invaluable source of expert advice.  He or she is there to guide you through the process, and to take care of worrying about all the details, so that you don't have to.
7.
  Your 

Funeral Director Doesn't Want You to Live With Regret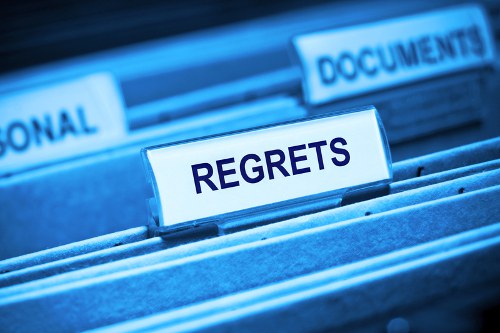 Funeral directors encourage all their clients to have a funeral or memorial service for good reason. 
In their experience, clients that didn't have a service, (because they either didn't want to spend money or because they didn't want to deal with organizing a service), usually regret it in the long run.
Connelly says that clients that opted out of having any type of service usually tell him 6 months later that they regret their decision. 
"Having a service is so important for closure and for basic human respect—you cannot just discard someone," he says.
Having an opportunity to say goodbye to someone who has passed away is not just important for the immediate family, but for his or her community. 
Connolly notes that when a family has opted not to have a service, his funeral home will often get phone calls from the deceased's friends and neighbours who are upset with the family's decision.
"The funeral is really for the living," says Connelly. 
"A service allows people to come together and talk about the person that they loved and cared about and share that person's life story.  It gives them an opportunity to express how thankful they are for the opportunity to have known that person."
A funeral or memorial service does not need to be expensive.  A professional funeral director can work with a family to create a service that honours the person that passed away, and that fits within the family's budget.
8.
 

To a Funeral Director, You Are Not Just Another Client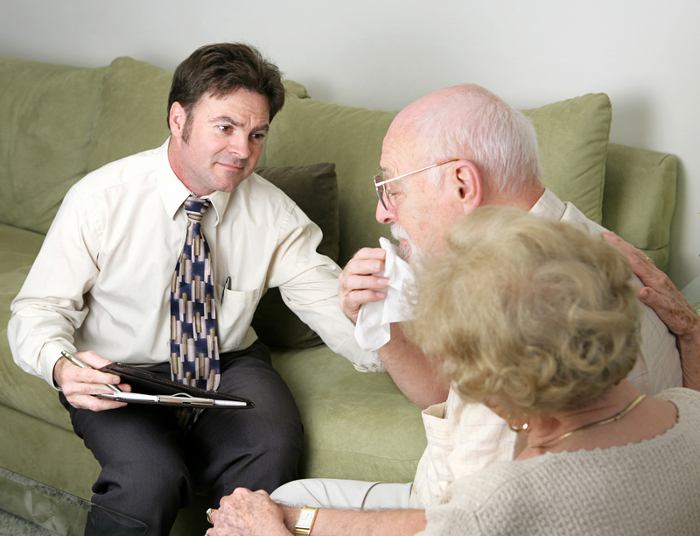 Funeral directors from reputable funeral homes truly care about the families they serve. 
Your funeral director wants you to be happy with the support he or she provides, and for your loved one to have a funeral service that truly honours him or her. 
Your funeral director's care and concern for you and your family continues well after you have paid the final bill.
For example, at no extra cost, funeral directors at Connelly-McKinley Funeral Home help their clients with the simple aspects of settling an estate, like closing bank accounts and applying for Canada pension death benefits. 
"Bereaved families really appreciate all the extra help and attention that we give them after the funeral," says Connolly.
Connelly-McKinley Funeral Homes also hosts an annual Christmas Candlelight Service for past clients. At the service, Christmas carols are sung, and a minister says a few poignant words. 
The main event is when the deceased's picture comes up on a screen and a family member goes up to the Christmas tree at the front of the church and lights a candle for him or her. 
This service is held at the funeral home's two chapels, with a luncheon afterwards. The services are very popular, with around 500 people attending each location. "Some families have been coming to this service for about 20 years," notes Connelly.
As another example, Humphrey Funeral Home A.W. Miles-Newbigging Chapel Ltd ("Humphrey Funeral Home"), a funeral home in Toronto, offers ongoing and extensive bereavement support to the families they serve.
There is no doubt that your funeral director is there to support you before, during, and after the funeral service for your loved one.
9.
 

Funeral Directors Don't Like Low-Price Discounters for Good Reasons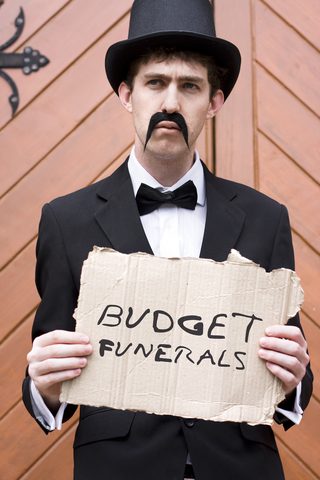 In recent years, many discount funeral businesses have popped over all over the country. 
These businesses usually have nothing more than a storefront and a telephone.
They usually do not have their own body preparation facilities or their own chapel.  Instead, they outsource all the major work. 
For example, they will have another funeral home do the embalming of the body for them, and will rent another funeral home's chapel or a hall.
Consumers may be tempted to go with a business that promises low costs.  After all, who doesn't want to save a dollar?
There are many potential problems with low-end discounters. 
First, outsourcing means that there is no quality control.  One person is not taking responsibility for providing all the services that are needed. 
Second, with just a storefront, families are forced to travel to different locations, depending on what stage the funeral planning is at. 
Third, in order to offer cheap prices, discounters may have to hire unqualified people and take short-cuts. 
Fourth, discount firms may also be a "fly-by-night" operation, instead of a reputable firm with professional funeral directors that has faithfully served a community for decades.
One example of low-price funeral homes that have treated the dead and their families with egregious disrespect are Funeraria Latina Nacional and One Price Funerals, Miami funeral homes owned and operated by Rafaiy Alkhalifa. 
His homes offer low-price funeral services for $5,600 in Miami Dade County, where the price of the average funeral is in the $8,000 to $30,000 range.
An online report published by Miami New Times says that Alkhalifa and his businesses are facing multiple lawsuits because of the funeral home's long history of mixing up bodies and burying or cremating the wrong person. 
There are also claims the funeral homes have not properly cleaned and prepared bodies, have stuffed bodies sideways into caskets because the casket is too small, and left bodies rotting in the hot sun, which caused an insufferable stench in the neighbourhood. 

Related Articles

The police found the funeral homes' facilities to be absolutely filthy, looking like a set in a horror movie.
In addition to lawsuits filed by distraught families, Alkhalifa's business practices were investigated by the Department of Business and Professional Regulation. 
As a result of the investigation, Alkhalifa pled guilty to stealing $500,000 from Florida's pre-need trust fund, which allows low-income families to finance loved ones' funerals with a down payment and monthly instalments.
Despite being found guilty on criminal charges, losing his funeral director's license, and receiving ten years' probation, Alkhalifa is still in business. And it appears that business is booming. 
He boasted to the Miami New Times that he signed up 7 new customers that very morning and recently purchased a Bentley.
Unfortunately, Alkhalifa is not a rarity in the world of low-price discounters. 
"Be aware of who you are dealing with," warns Connolly.  "Are you in fact getting value for your money?   The price discounters do not respect the dead or their families.  They just want to make a quick buck."
10.
 

Funeral Directors are Committed to Community Service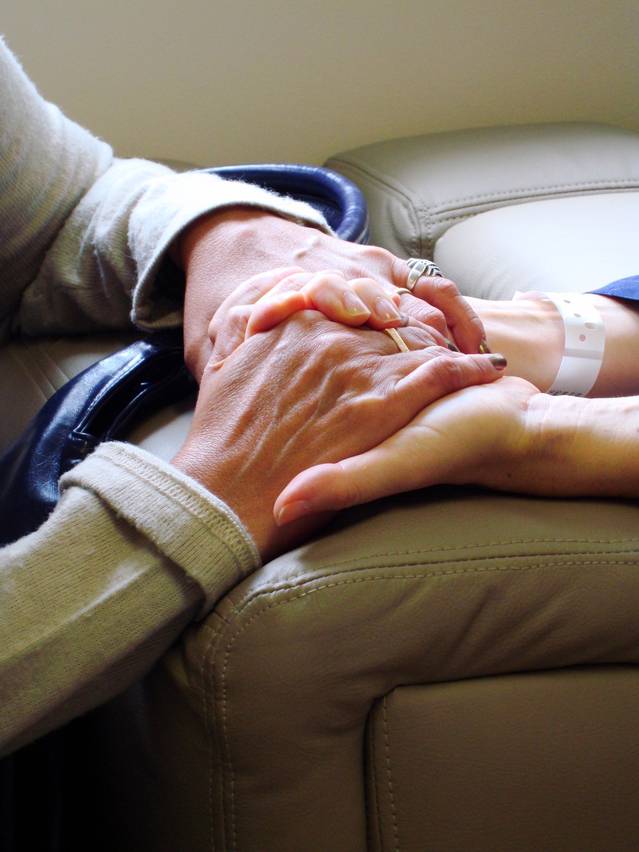 Although most people might not realize this, many funeral directors are actively involved in community service and charity work.
For example, Bruce Humphrey, President and CEO of Humphrey Funeral Home, has been very active in many community organizations, including fundraising for the Hospital for Sick Children. 
Rick Evans, who works at the same home, has worked with Hands Across the Nations to build schools in Africa and South America. 
In fact, if you read the biographies of all the funeral directors at Humphrey Funeral Home, they have all been extensively involved in community service and charity work.
Funeral directors truly are compassionate people who care and who want to improve the lives of people in need.
Ask your funeral director about the community service work he or she has done over the years.  You will be surprised how much funeral directors contribute to the community they live in.
11.
 

Your Thanks Means the World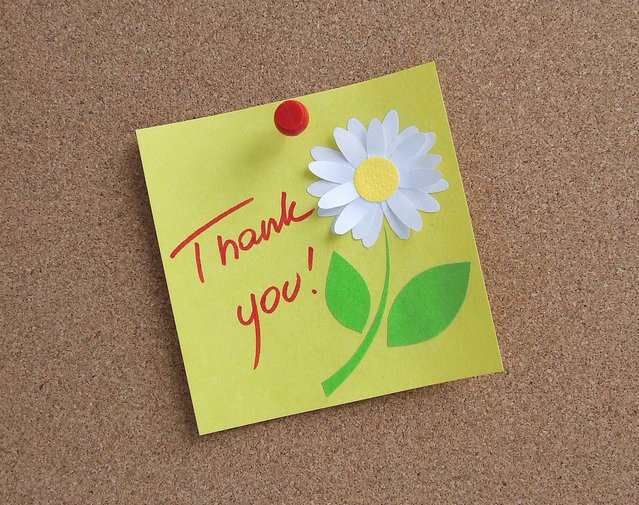 Funeral directors at a reputable funeral home do their utmost to support you and your family during a difficult time. 
It means so much to them when you take the time to thank them properly for their care.
Humphrey states: "We are on call 24 hrs a day, 7 days a week, and we work long, long hours. But it's all worth it when we get a nice card from a family expressing gratitude for helping them get through a tough time."
So for everything funeral directors do for the community and for bereaved families, hug a funeral director today!
Like what you learned and want to share? We've summarized these 11 secret truths about funeral directors into a helpful that you can easily save to your Pinterest page or share across social media.

(Click infographic to enlarge)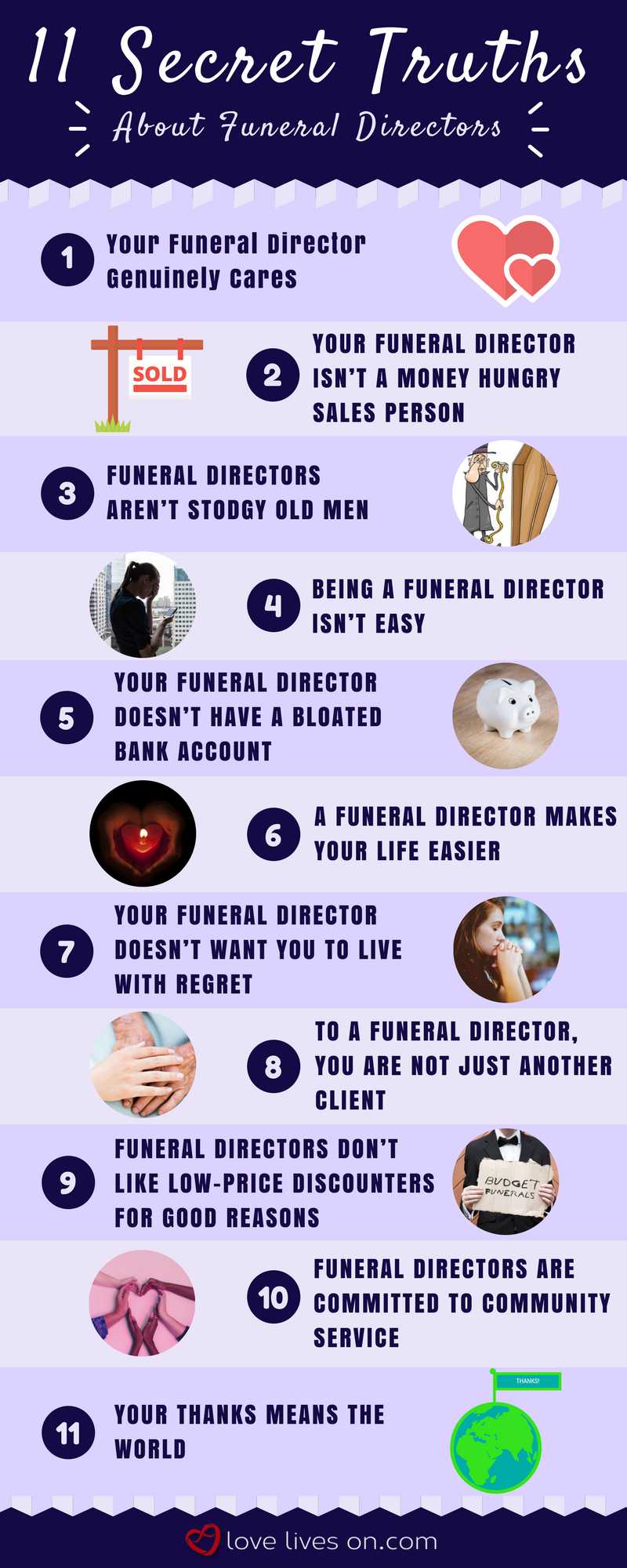 Like our infographic? Use it on your site by copying this code:
If you got some value from our post, subscribe to our YouTube channel for more practical resources, expert interviews & inspiring ideas.