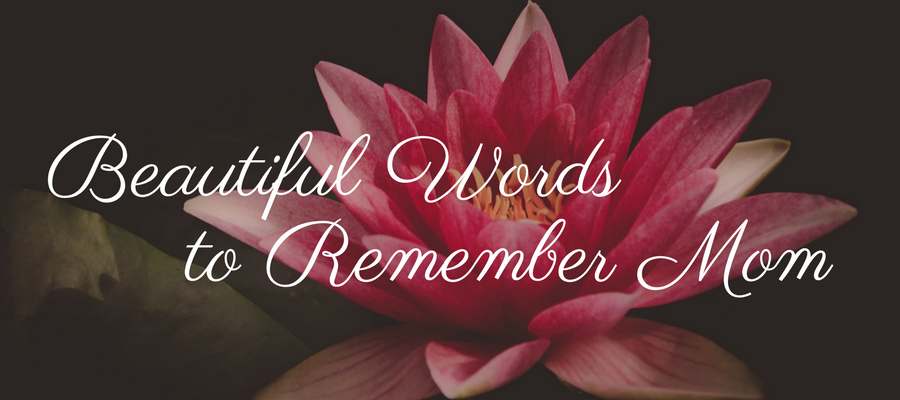 We have assembled a collection of 21+ of the most beautiful 'Remembering Mom' quotes to help you celebrate her life and her enduring love.
These quotes for Mom can be used in a eulogy, as a reading at a funeral or memorial service, or at a celebration of life ceremony, or in a sympathy card or funeral reception invitation.
For ease of reference, we have divided up our quotes into the following categories:
At the end of our post, we have links to our Pinterest board and Facebook page where you can find more images with the best funeral quotes for a mother that can be easily shared with family and friends.

Tribute to a Mother Who Passed Away

We are who we are because of our mom, who gave us everything she could.  Let our memories of our mother live on forever.
When You Speak of Her
Author Unknown 
"When you speak of her,
speak not with tears,
for thoughts of her should not be sad.
Let memories of the times you shared
give you comfort,
for her life was rich
because of you."
~
British writer  J. K. Rowling is the world's most famous author, having penned the Harry Potter series.
One of the important themes in this best-selling series is how a mother's love protects us throughout our lives, and even after she has passed away.
Loved So Deeply
By J. K. Rowling

"Love as powerful as your mother's
for you leaves its own mark.
To have been loved so deeply,
even though the person who loved us is gone,
will give us some protection forever."
~
In her book, The Goodbye Quilt, contemporary author Susan Wiggs puts into words the effect that the loss of a mother can have.
Losing a Mother
By Susan Wiggs
"There is something about losing a mother
that is permanent and inexpressible
– a wound that will
never quite
heal."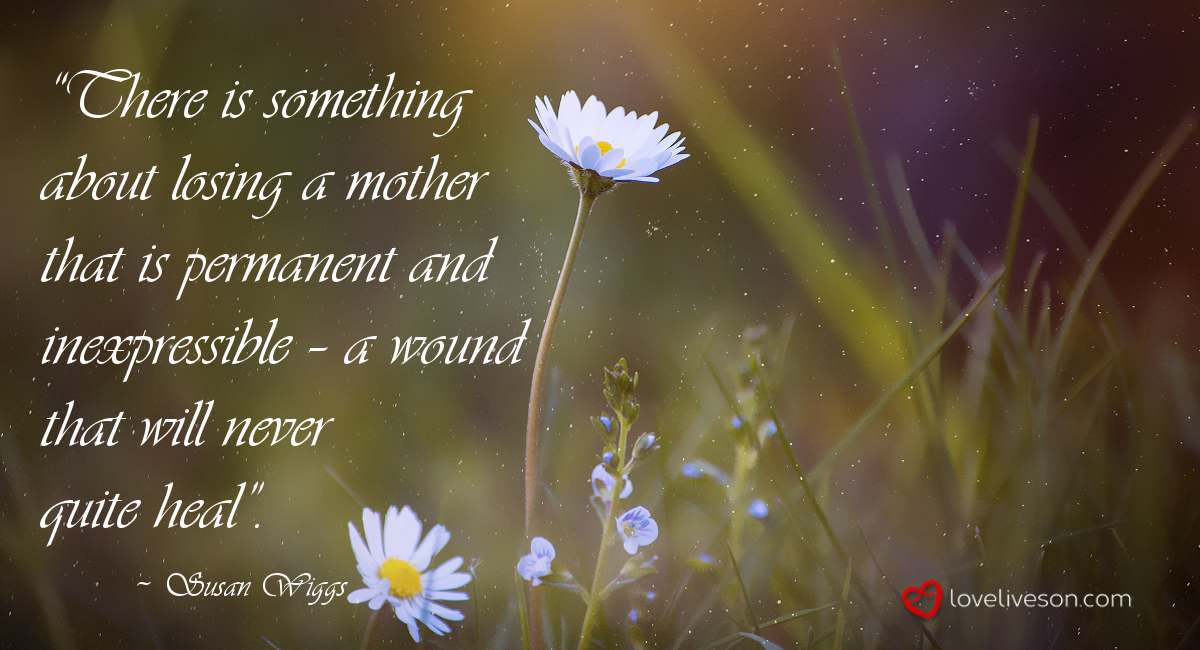 ~
Laura Ingles Wilder, author of the Little House on the Prairie series of books, reminds us in this quote about how much joy a mother brings to our life.  Even after she has passed away, the memory of that joy never ends.
Remember Me
By Laura Ingles Wilder

"Remember me with smiles and laughter,
for that is how I will remember you all.
If you can only remember me with tears,
then don't remember me at all."

Funeral Quotes For Mother
British poet Robert Browning's simple funeral quote captures the essence of a mother's everlasting love.  This beautiful quote could be read at a funeral or memorial service, or even a celebration of life ceremony.
Mom's Hug
Author Unknown

"A mom's hug lasts long after she lets go."
~
A beautiful quote about the strong bond we have with our Mother.
I Still Need My Mom
"I still need you close to me."
~
Browning obviously loved his mother very much, and often wrote about the positive impact she has on his life.  Here is another quote by Browning that would be perfect for a funeral or memorial service.
Motherhood
By Robert Browning

"Motherhood:
All love begins
and ends there."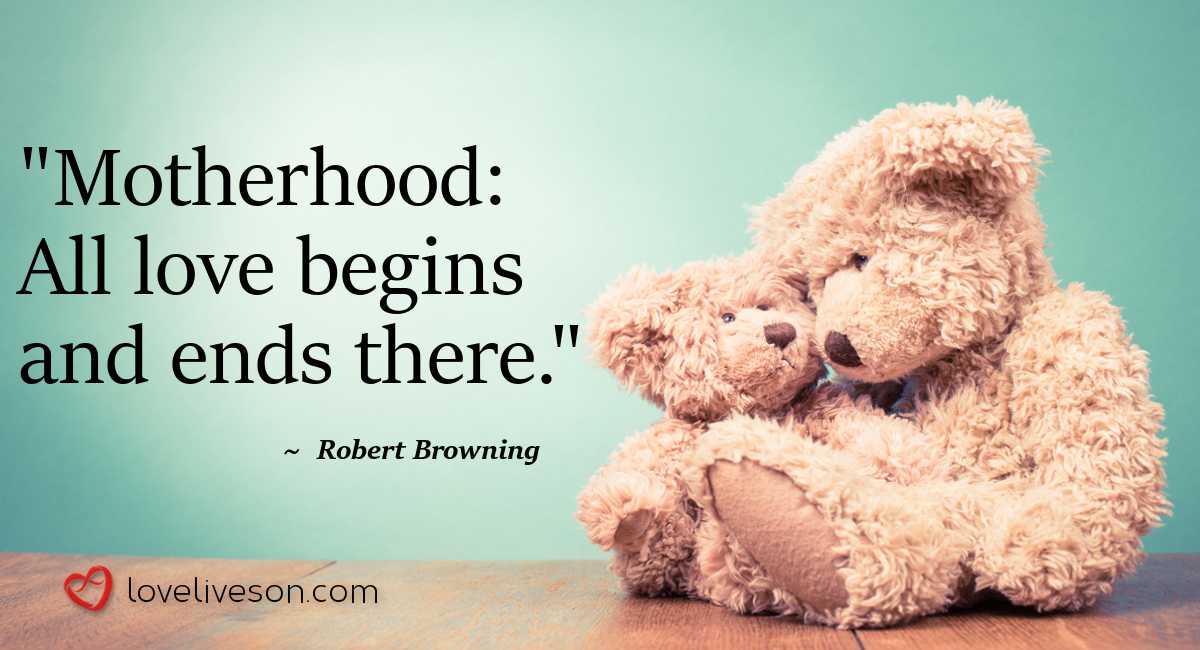 ~
This tribute to a mother who has passed away was penned by famed American short story writer Washington Irving.  He admonishes us to be bold in our grief, and that sorrow speaks just as much to love as it does to heartache.
Sacredness in Tears
By Washington Irving
"There is a sacredness in tears.
They are not the mark of weakness,
but of power.
They speak more eloquently
than ten thousand tongues.
They are messengers
of overwhelming grief
and unspeakable love."
~
American author Leo Buscaglia's short poem is filled with many beautiful quotes about how our mother's love created lasting memories that define us, and lives on as we love others.
We love the line, "I know for certain that we will never lose her…our mom's love leaves an indelible imprint
in our memories," (paraphrased).
Their Love Leaves an Indelible Imprint
By Leo Buscaglia
"I know for certain
that we never lose the people we love,
even to death.
They continue to participate in every act,
thought and decision we make.
Their love leaves an indelible imprint
in our memories.
We find comfort in knowing
that our lives have been enriched
by having shared their love."
~
A beautiful quote for a beautiful mother.
Beautiful Soul
Author Unknown
"Wherever a beautiful soul has been
there is a trail of beautiful memories."
~
This popular country music song is appropriate when anyone we love has passed away.  It beautifully expresses the sentiment that we wish we had just one more day to spend with her.
One More Day
By Diamond Rio

"One more day
one more time
one more sunset,
maybe I'll be satisfied.
But then again
I know what it would do
Leave me wishing still,
for one more day with you."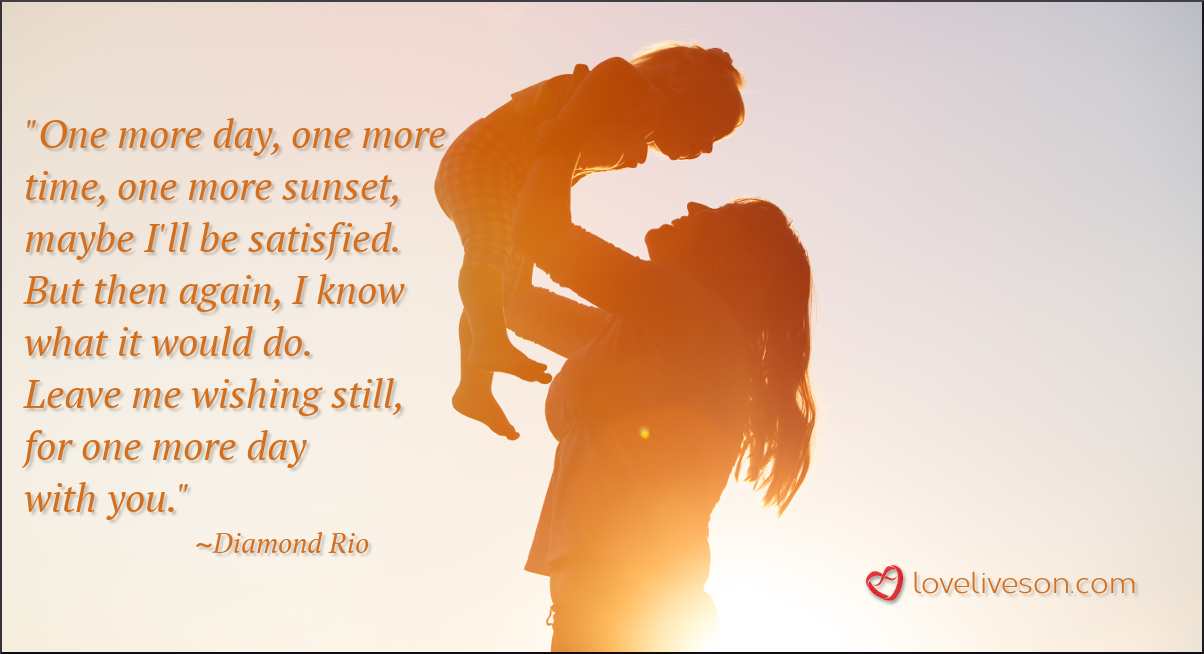 ~
Celebrated American poet Emily Dickinson succinctly describes how our love for our mothers does not end with death.  This quote is short, but sweet, and could easily be used in a eulogy, condolence card, or in a funeral reception invitation.
Love is Immortality
By Emily Dickinson
"Unable are the loved to die,
for love is immortality."
~
American poet and playwright E. E. Cummings gives a wonderful tribute to a mother who has passed away with this next famous poem.
It not only speaks to the love the poet had for his mother, but also to the love that his father had for his wife.  She will always be the centre of the family.
If There Are Any Heavens
By E. E. Cummings
"There are any heavens my mother will (all by herself) have one.
It will not be a pansy heaven nor a fragile heaven of lilies-of-the-valley
but it will be a heaven of blackred roses
my father will be (deep like a rose
tall like a rose)
standing near my
(swaying over her silent)
with eyes which are really petals and see
nothing with the face of a poet really which
is a flower and not a face with
hands
which whisper
This is my beloved my
(suddenly in sunlight
he will bow,
& the whole garden will bow)"
~
Beloved American author and poet Mark Twain talks about how his mother's generosity knew no bounds.
This quote could be used at a funeral, memorial service, or celebration of life ceremony for a mom that was known for her volunteer work and for giving her time to those in need.
A Heart So Large
By Mark Twain
"My mother had a slender, small body,
but a large heart
—a heart so large
that everybody's joys found welcome in it,
and hospitable accommodation."
~

Related Articles


Losing a Mother Quotes From Daughter
American actress Mariska Hargitay's quote about the loss of her mother, Jane Mansfield, reminds us how mothers shape us, both in life and in death.
Losing My Mother
By Mariska Hargitay
"Losing my mother at such an early age
is the scar of my soul.
But I feel like it ultimately made me
into the person I am today;
I understand the journey of life.
I had to go through what I did
to be here."
~
Mitch Albom, American author of Tuesday's with Morrie, as well as other books on grief and loss, describes how our love does not end, but transforms after death.
This quote expresses how a daughter, (as well as a son), feels about losing a beloved mother.
I Love You Everyday
By Mitch Albom
"I love you every day.
And now
I will miss you every day."
~
If your mother loved flowers, gardening or the outdoors, this short, yet elegant quote would be perfect for a funeral or memorial service.
It could be read by her daughter at the service, no matter what her age, provided she wants to have a speaking role.
This special quote could also be added to a condolence card, or a note accompanying a bouquet of sympathy flowers.
If I Had A Flower
By Claudia Ghandi

"If I had a single flower
for every time I think about you,
I could walk forever in my garden."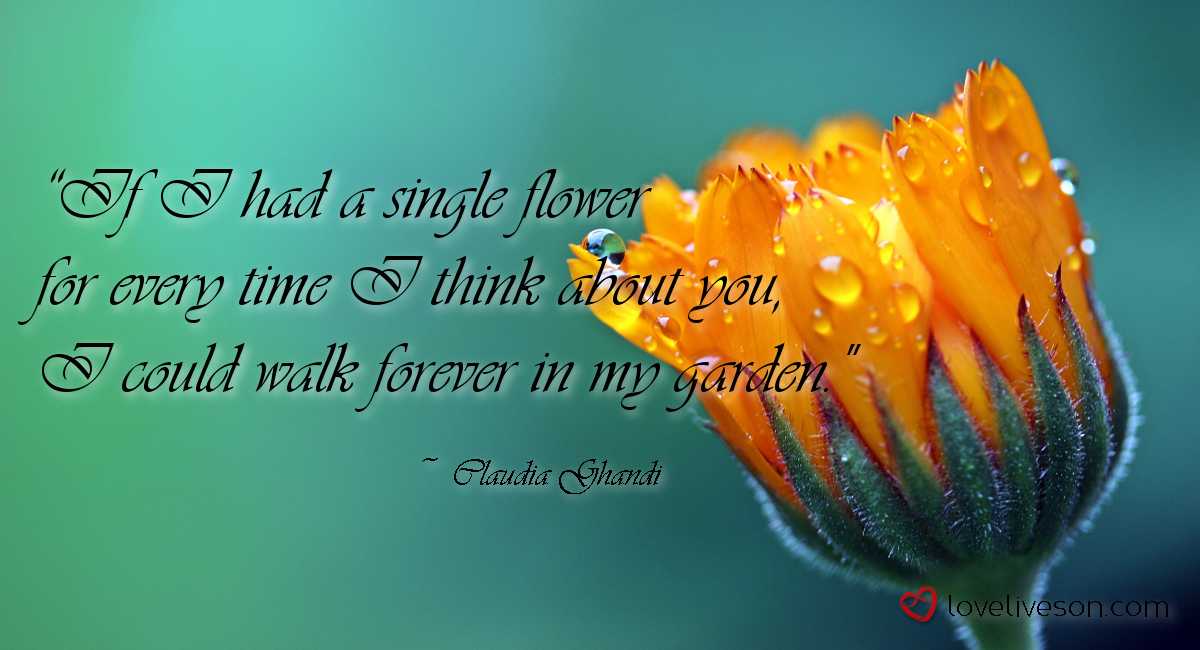 ~
Chilean-American author Isabel Allende's funeral quote about her mother is both simple and beautiful.  A mother reminds her daughter that death cannot separate them if the love they shared is always remembered.
My Mother Explained
By Isabel Allende
"There is no death, daughter.
People only die when we forget them,"
my mother explained
shortly before she left me.
If you can remember me,
I will be with you always."
~
If you have siblings, you will appreciate this next funeral quote.  It is amazing how Mom always seemed to find time for each of her daughters and sons, sneaking in a hug or a kiss when no one was looking.
She managed to make each child feel like they were number 1.
All Her Love
Author Unknown
"For a mother is the only person on earth
Who can divide her love among 10 children
And each child still have all her love."

Missing Mom Quotes From Son
Famed English poet John Milton elegantly captures both the inner and outer beauty that we all see in our mothers in this touching funeral quote from a son.
Heaven in Her Eye
By John Milton
"Grace was in all her steps,
heaven in her eye,
in every gesture,
dignity and love."
~
This special funeral quote reminds us that mothers leave an incredible mark on our lives, one that stays with us, and can never be erased.  It perfectly captures how much a son, (or a daughter), misses Mom after she is gone.
Hearts Forever
Author Unknown

"A mother holds
her children's hands for a while,
their hearts forever."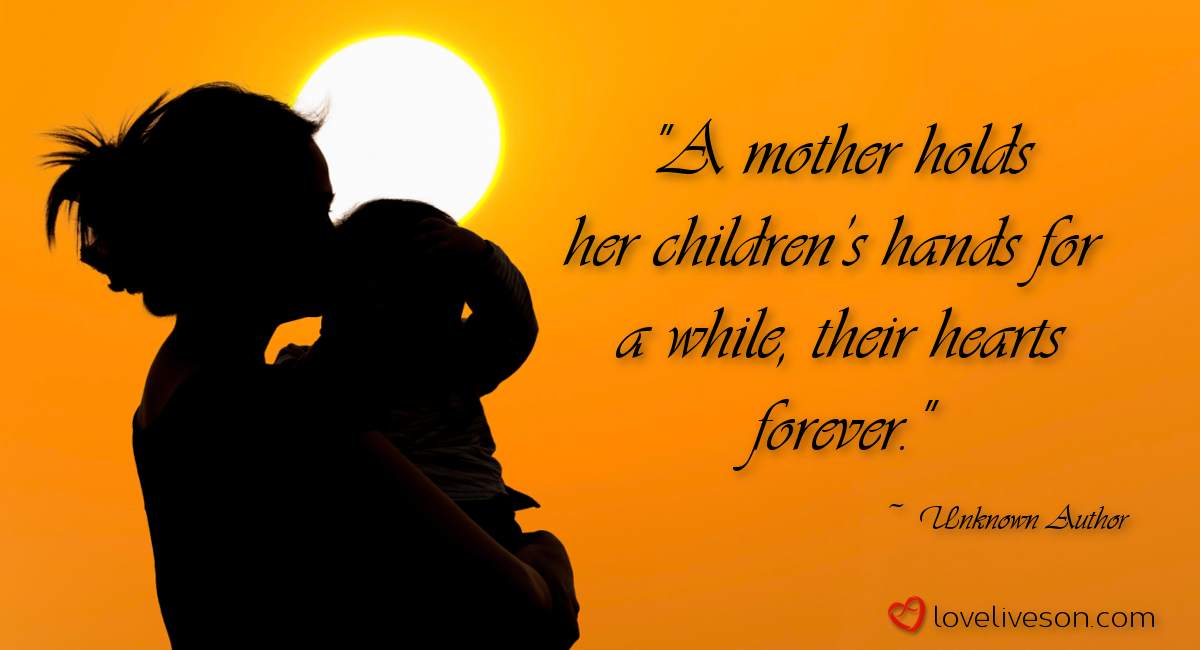 ~
Mahatma Gandhi, who was an Indian peace activist and politician, was clearly a son who loved his mother.  He shares these wise words in this comforting quote.
Always in My Heart
By Mahatma Gandhi
"There are no good-byes,
wherever you are,
you will always be in my heart."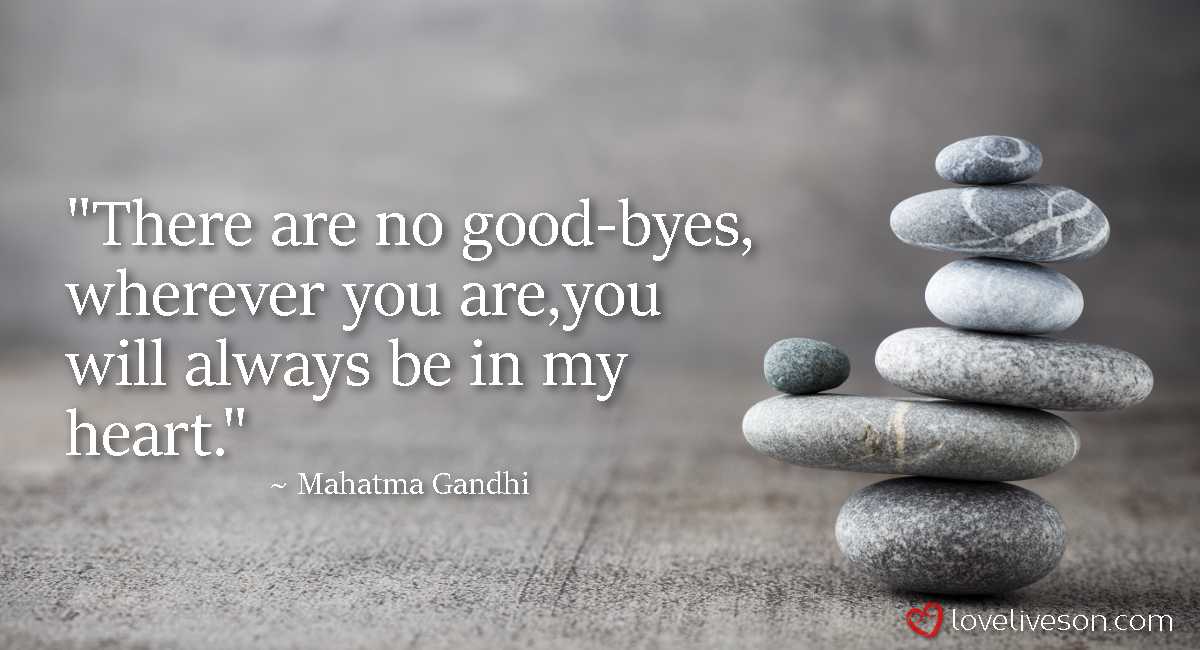 ~
This next funeral quote, from American poet and novelist Langston Hughes, describes the hard life some mothers face, and how they overcome such adversary and push their sons to strive for something better.
What a wonderful tribute to a mother who has passed away from a son who has benefited from her care and guidance.
Mother to Son
By Langston Hughes
"Well, son, I'll tell you:
Life for me ain't been no crystal stair.
It's had tacks in it,
And splinters,
And boards torn up,
And places with no carpet on the floor!
Bare.
But all the time
I'se been a-climbin' on,
And reachin' landin's,
And turnin' corners,
And sometimes goin' in the dark
Where there ain't been no light.
So, boy, don't you turn back.
Don't you set down on the steps.
'Cause you finds it's kinder hard.
Don't you fall now!
For I'se still goin', honey,
I'se still climbin',
And life for me ain't been no crystal stair."
~
This simple little quote exemplifies what it means to be a mother – knowing their child better then anyone else.  This would be perfect quote for a son to recite at his mother's funeral or memorial service.
A Mother Understands
Jewish proverb
"A mother understands
what a child does not say."
~

Additional Resources
If you have lost a Mom, or know a daughter or son grieving the loss of their mother, here are more collections on Love Lives On that may offer you further assistance:
It Helps to Share…
If you found this post on 21+ of the most beautiful 'Remembering Mom' quotes helpful, we'd appreciate a Facebook like.
Also check out our Pinterest Board for stunning images (with quotes) that you can keep and share online with family and friends. We made them for you and all our readers to enjoy.
Use the comment box below to let us know if you have any suggestions for quotes to remember a Mother that we should add to this post.  At Love Lives On, we're always listening.