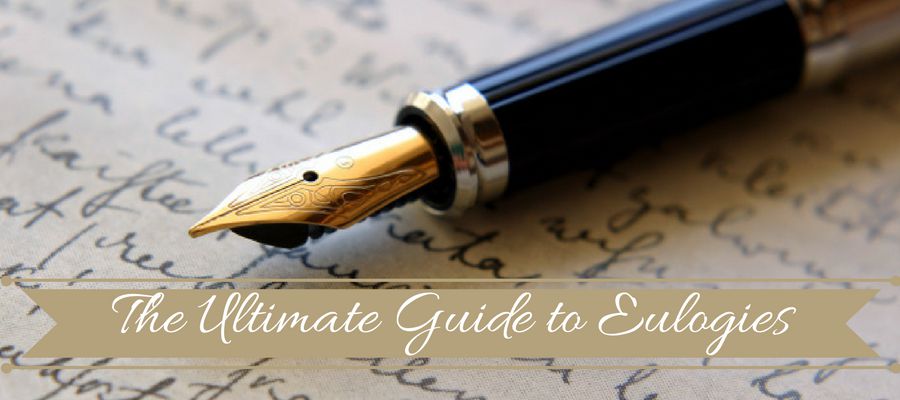 If you have been asked to write and give a loved one's eulogy—a speech honouring their life—at a funeral or memorial service, you probably have mixed emotions about it.  
While part of you is honoured by the request, another part of you is nervous or overwhelmed with how to accomplish the task.  
All of these emotions are perfectly normal, especially if you aren't an experienced writer or public speaker.  But don't worry—we've got you covered.
The first step is to consider whether it might be a good idea to hire an hire an affordable and professional eulogy writer – it's more affordable than you think!
If you are keen to try writing the eulogy on your own, we also cover:

How to Hire an Affordable and Professional Eulogy Writer (if Writing Feels Too Hard)
Does writing a eulogy just feel too hard?  You are not alone!  Many people feel exactly the same as you do.
Between the grief, the time it takes to plan for a funeral, and the fact that most people aren't eulogy writing experts, writing a eulogy can feel like an overwhelming task.
But not to worry.  There is a solution!
Do yourself a favour and hire eulogy writing expert, Steven Schafer, founder of The Eulogy Writers.
Let him bear the responsibility of crafting a meaningful eulogy!
Not only does he have 30+ years of eulogy writing experience, he truly cares about helping people during this most difficult time.
Here is what a few clients who have used his services had to say:
I want to thank you, Steve, and your staff of writers. I couldn't have done it without you. You made it possible for me to deliver a speech that everyone enjoyed. Some even cried. I will definitely recommend this website to my friends if they would ever need a eulogy writing service in the future. ~ Byron C.
 I can't thank you enough for your help in preparing the eulogy for my Mom. You took my scattered thoughts and memories and composed the most beautifully written eulogy that really captured her essence. I'm so happy I found your website. Many blessings to you. ~ Edie M.
am so impressed by how you were able to take all the "stuff" I gave you and write the story. I am sure, doing this as you do for many others, it is impossible to put in all of the memories that flood one's heart upon the death of a loved one, yet you were able to take the important points and see the whole story. This was done wonderfully well. Thank you very very much. ~ Paula D.
Many people mistakenly assume that hiring a professional eulogy writer like Steven is unaffordable.
They're surprised (but delighted!) to learn that it's ONLY $245 for a beautiful and highly-personalized eulogy.
Not only it this half the priceof other eulogy writing companies you'll find on the web, there are no extra fees and no hidden charges.
For example, unlike other eulogy writers, Steven does not charge extra for revisions or for getting the work done within 24 hours.
To quote Carl H., another satisfied client: "Amazing! An awesome eulogy — and done by the next day!  I'd have gladly paid twice what you charge."
You won't find a better eulogy writer or a more lovely human being than Steven Schafer.
If you are ready to offload the overwhelming task of writing a eulogy, you can contact him a number of different ways:
E-mail [email protected]
Phone (734) 846-3072.  (Don't forget to add the country code for the USA to the beginning of the phone number if you are calling from another country.)
Contact form on his website
Steven is now accepting new clients in the USA and from overseas, so contact him today!  You'll be so glad that you did.
Writing a Eulogy Yourself?  Let's Start With the Basics…
If you've never attended a funeral, or are not particularly knowledgeable about eulogies, here are the basics.
How Long Should a Eulogy Be?
A good length for a eulogy is 3 to 5 minutes (10 minutes max). With a longer speech you risk loosing your audience's attention. Instead, focus on making a couple of key points about the person that passed away and what they meant to you.
How to Write a Eulogy?
Find biographical information about the deceased (e.g. important dates and places). Ask family and friends about special memories. Draft a eulogy that presents events in chronological order. Include stories that illuminate the character of the deceased. End the eulogy with what he/she meant to you. Finally, say goodbye.
Can You Give Me an Example of a Eulogy?
No problem.  Here's a short eulogy example to inspire you to get started with writing a eulogy today:
"Good afternoon, everyone.  We are gathered here today to celebrate the life of Maria Elizabeth Rickley.  For anyone who doesn't know me, my name is Hannah Rickley and Maria was my grandmother, or Nona as we all called her.
My Nona was an incredible woman.  She was adored by her husband, Paul, as well as her three children and six grandchildren.  Her hard work, her caring nature, her humour and her love of life are some of the many traits that characterized this amazing and loving person.
My Nona was born on July 19, 1935 on a small farm in Caserta, Italy.  Her childhood can be best described as humble, but full of adventure.  Working with her family on their family farm in Italy, Maria learned how to sheer sheep, milk cows, and the secret recipe of the Depetrillo tomato sauce that has been in our family for generations – and is better than any restaurant or family recipe I have ever tasted.  She enjoyed walking the fields with her mother, Liza, moving the cattle from pasture to pasture, and sharing stories – stories that my Nona would later tell me while I sat cuddling in her lap.
When she was 14 years old, my Nona, her little brother, Ricco, and her parents, Liza and Antonio, moved from their small farm town in Italy to Canada.  Her family made a home in Sault Ste. Marie, Ontario, where she attended Korah High School.  In her third year at Korah High, my Nona met Jonathan Rickley.  She was a cheerleader for the high school football team and he was a running back. 
The two met after my Jonathan caught the winning touchdown in their championship game. My grandfather says to this day that she was the most beautiful woman he has ever laid eyes on and that it was love at first sight.  The two high school sweethearts married four years later after their fateful meeting.
After Maria graduated from teacher's college, she began teaching the third grade at St. Joseph's Elementary School.  Before long, Maria and Jonathan gave birth to their first child, Sarah.  In short succession, Maria and Jonathan had two more children: Daniel and Anthony.  Maria continued to teach at St. Joseph's until her retirement at the age of 60, at which time she received a lifetime achievement award from the school board, which she proudly hung in the kitchen.
My Nona was the definition of "young at heart".  Nothing gave her more joy than a good joke or a funny prank.  I remember one sleepover I had at my Nona's.  It was April Fool's Day and I woke up and walked out of my bedroom and saw that all of the photos hanging on the walls of the house were turned upside-down and all of the cupboards and drawers were open.  I burst into laughter as she came out of the kitchen acting like this sight was completely normal.  Nothing put a smile on her face like seeing her grandkids laugh.
My Nona was not only funny, she was exceptionally bright.  She was always seen doing a crossword or Sudoku puzzle.  If I ever needed help with my homework, she always knew the answers.  However, she never just gave me the answers.  Instead, she helped me to find the answers myself.   She had a special way of bringing out the best in people and making them believe in themselves.
I love my Nona very much and will miss her dearly.  Her life touched so many people and I will continue to live my life the way that she taught me to, to work hard, to be kind to others, and to not take myself too seriously.  Her humour, kindness and selflessness will continue to inspire those who were lucky enough to know her and be loved by her.  Rest in peace, my sweet Nona."
If you are looking for more eulogy examples, please see our companion post you will find 30+ beautiful examples of eulogies that you can use today.
How to Give a Eulogy?
Practice your eulogy often beforehand. Time how long it is (shouldn't be longer than 10 mins). Get feedback from someone you trust. At the funeral, do vocal cord warm-up exercises and deep breathing. Speak slowly, don't rush. Make eye contact with the congregation. Be yourself.

How to Write a Eulogy in 6 Easy Steps
Writing a eulogy can feel very overwhelming, which is why we've created this easy-to-follow step-by-step guide to get you started.
1. Brainstorm Ideas for the Eulogy
Before you start writing a eulogy, brainstorm ideas for points to include in your speech and get organized.
Gather Material and Stories that You Might be Able to Use in the Eulogy
Gather biographical information about the deceased.  (For example: date and place of birth; name of relatives; date of marriage; career achievements; etc.)
Speak with family members and friends that knew the deceased well for stories or insights about the deceased.  They will be happy to be included in the process.
All the various stories that you hear might help you create a central theme in the eulogy (for example, the deceased's constant kindness).
Organize Your Ideas
The eulogy should have a logical flow to it.
Organize the information and stories you gathered using the order outlined in the eulogy template below.
Write a checklist of all the points you wish to make within each section of the eulogy template.
Consider How Much Humour is Appropriate to Use in the Eulogy
Decide on how serious or high-spirited you want the eulogy to be.
If done tastefully, adding a bit of humour to a eulogy can help convey the personality of the deceased.
You should note, however, that the amount of humour that is appropriate ultimately depend on the circumstances surrounding the death of the deceased.
If a child met an untimely death, the eulogy should take on a more serious tone than if you are giving a eulogy about a grandparent or parent who lived a long and happy life.
Review Examples of Eulogies
Reading eulogy examples may inspire you when writing the eulogy for your loved one.  You might find lines and phrases that resonate with you and that you can borrow.
Eulogy examples is also useful in helping you understand how the information that you present should flow.
2. Write the Eulogy's Introduction
 Use this template for writing the 1st paragraph of the eulogy.
In the opening statement, acknowledge why everybody is gathered—i.e. to celebrate the life of the deceased and to say goodbye.
For example:
"We are here today to celebrate the life of John Doe, and to say goodbye to a wonderful man." OR
"We are gathered here today to remember the life of John Doe, and celebrate what he meant to us all."
In the next line, introduce yourself and explain your relationship to the deceased.  
For example:
"For those of you whom I haven't yet had the pleasure of meeting, I am Paul Doe, the youngest brother of John." OR
"For anybody that doesn't know me, my name is Todd Smith. 

 

I was John's best friend for over thirty years."
Next, thank the funeral guests for attending the service.  You might make a special mention of anybody who travelled from far away.  
For example:
"I would like to thank you all for coming here today to mourn the loss of John with me and his family." OR
"I would like to thank you all for coming here today to mourn the loss of John, with special thanks to the Glenn family who travelled all the way from their home in New Zealand."
3. Write a Short Biography of the Deceased's Life
For paragraphs 2 to 5 of the eulogy, give the funeral guests a short overview about the deceased's life by using this template:
First discuss when and where the deceased was born, who was in his or her birth family, significant family events, and any other interesting family details. 

For example:
"John was born on December 12, 1952, in the small town of Smithville, Idaho. 

 

His parents, Wilma and Fred Smith, settled in the town in 1939 and were corn farmers. 

 

John was the oldest of five boys, Fred, Lincoln, Garry and Paul. 

 

The family suffered a devastating loss in 1960 when Lincoln died from polio."
"Jane was born in Auckland, New Zealand, on June 12, 1972.  She was the youngest of three children.  Her older sisters, Mary and Ann, travelled from New Zealand to be with us here today.  Their parents, Mike and Hannah, moved to New Zealand in 1962 when Mike was offered a promotion with the electrical company."
Next, mention other birth family members that the deceased was particularly close to, and any special memories.  
For example:
"John was especially close to his grandfather, Brian Doe. 

 

He always spoke fondly of all the weekends they would spend fishing together on the Chelsea river. 

 

His grandfather also bought him his first car, a red Chevy, which he proudly drove around town, until the night when he and his three buddies crashed it into a tree. 

 

His grandfather's only comment was: 

 

"Better the tree go than your skull."
"Jane was especially close to her cousin, Ashley, as they were the same age and virtually next door neighbours.  They spent many happy hours in their tree house and riding their horse, Marigold."
Next, if the deceased was married at the time of his or her death, talk about his or her spouse.  Also mention any children and grandchildren.  
For example:
"John first met Linda at university in 1969 where they were both enrolled in the teaching program.  

 

I had the privilege of being a groomsman at their wedding a year later. 

 

John always said that marrying Linda was the best decision he ever made. 

 

Together, they had three beautiful children, Rowen, Alexis and Holly."
"Jane was happily married to Graeme for 10 years.  They were thrilled to welcome twin girls Sally and Jessica four years ago.  Jane's death has left a huge void in all of their lives, and they miss her very much."
4. Include Special Memories, Stories, and Qualities of the Deceased in the Eulogy
For paragraphs 6 to 9 of the eulogy, share special memories and stories about the deceased.  Use this template to cover these topics:
After you have covered biographical information about the deceased is the time to delve into  any special memories or stories.
You can use some humour here, if you wish.  But be careful to use humour that is appropriate for the occasion and that others will find tasteful.
For example:
"My dad would always volunteer to be the coach for our football team.  We loved going camping and fishing with him on the weekends, though we spent more time joking around than actually catching any fish.  Family was the most important thing to my dad.  He would always say, "Family will always be there to watch your back, so be nice to your brothers!"
"My sister Jane was a huge animal lover.  She had many pets and volunteered her time at the local animal shelter.  We would always joke that she can never wear black without being covered by cat hair."
"My favourite memory of James is the time we took a road trip across the country together.  Our goal was to get across the country within one week.  However, the trip ended up taking two weeks because John had brought with him an out-of-date map, and we ended up taking the longest route possible.  Or, as James liked to put it, the "scenic" route.  James was always a positive person and found the best in every situation."
Next, talk about the deceased's life achievements, talents, hobbies and passions.
For example:
"Mary was a pediatric doctor for over 30 years.  She was a wonderful mentor for many students, many of whom I see sitting in the congregation today.  Many people don't know that Mary would volunteer her time and energy working with inner city kids on weekends.  Mary was generous and selfless, which was reflected in all that she did."
"Steve owned his own mechanic's business for over 20 years with loyal customers.  He was known as a trust-worthy business man and a fair boss.  When he wasn't at the shop, he liked to fix classic cars and show them off at car shows."
Finally, discuss the special qualities of the deceased—e.g. kind, funny, smart, selfless, generous, out-going.
For example:
"Anyone who knew Sandra knew that she never took life too seriously. 

 

She was always pulling pranks and cracking jokes. 

 

April Fool's Day was her favourite day of the year. 

 

I will never forget the time that Sandra flipped all the photos hanging in my house upside-down – every single one! 

 

Months later we were still finding random photos that were still hanging upside-down."
"Andrea had the kindest heart.  She could never walk past a homeless person on the street without given the person a couple of dollars and a few words of encouragement.  Her friends and family would turn to her in times of trouble because she knew how to make you feel supported."
The best eulogies tell lots of stories as stories are the way that we remember loved ones and keep their memories alive even after they are gone.
Audiences connect with stories more than facts and figures. Stories will help the congregation relate to the person being honoured and gives them greater insight into the kind of person they were.
Use stories that everybody can appreciate, rather than stories than involve some type of inside joke between a few people, or a "you had to be there" kind of story.
When preparing your eulogy, you should talk to family members and friends about their special memories of the deceased.  They may also have some interesting or funny stories that you could use in the eulogy.
Even if you can't use all of the suggestions from family and friends, (as a eulogy should be 10 minutes at most), sharing stories helps the grieving process.
It is okay to use some gentle humour in your eulogy.  Funny anecdotes can offer insight into the character of the person that passed away, and help the audience reflect on the good times.
However, it is critical that you choose the right anecdotes.  We cannot stress this point enough!  As a general rule of thumb, do not attempt to be funny about:
The situation:  For example:  "The only time we get to see you folks is when another old timer in our family has died."  Trust us, nobody is going to find this remark funny, only uncomfortable.
Aspects of the deceased's life that he/she was embarrassed about or that aren't flattering:  For example:  "We had to get a bigger hall for this funeral service because we couldn't fit in all of Tammy's ex-husbands."  It's not a great idea to poke fun at the deceased.
How the person died:  In case this one isn't obvious to you, it's a terrible idea to mention how the person died at all your eulogy, let alone make light of it.  Any mention of the manner of death is likely to send an already emotional situation into overdrive.
For any funny anecdotes you plan to use, it would be wise to run them pass a couple of trusted family members or friends first.
You want to check, and double check, that your stories don't cause shame or distress for your loved ones.
It would be a shame to ruin the whole eulogy with one, ill-conceived story that went too far.
5. Close the Eulogy With Words of Comfort and a Final Goodbye
For paragraph 10 of the eulogy—the final paragraph—give the congregation some words of comfort to dwell on using template.
Talk about the lessons that the deceased taught you and how he or she impacted your life.   
For example:
"Emily taught me to work hard, be kind to others, and never take life too seriously. 

 

Her humour, selflessness and kindness will continue to inspire those who had the privilege of knowing her."
"Greg taught me that a loyal friend is worth more than anything in the world.  He was always there for us, not matter what. We were all so lucky to have such a great guy in our corner."
Then close your eulogy by saying goodbye to the deceased.  
You could address your comments either to the audience, or to the deceased.  
For example:
"We all loved Mary very much and will miss her dearly. 

 

She touched so many lives.  

 

Because of Mary, I will live my life the way that she taught me to, to work hard, to be kind to others, and to not take myself too seriously. 

 

Her humour, kindness and selflessness will continue to forever inspire those of us who were lucky enough to know her." 

 

OR
"Goodbye, dear sweet Mary. 

 

We all loved you very much and will miss you tremendously. 

 

You touched so many lives.  

 

Because of you, I will live my life the way that you taught me to, to work hard, to be kind to others, and and to not take myself too seriously. 

 

Your humour, kindness and selflessness will continue to inspire us forever. 

 

Rest in peace, darling Mary."
6. Proofread the Eulogy
You need to proofread your eulogy a couple of times to ensure that all the information is correct and that it strikes the right tone.
It would be best to have a trusted family member or friend check it for you also to ensure that the facts are correct, that your humour is not too much, and that it is well written.

Infographic on How to Write a Eulogy
We know that this is a lot of information to remember so we've created a super easy to follow infographic summarizing the key points for each step of writing a heartfelt eulogy for your loved one.

(Click Infographic to enlarge)

Like our infographic? Use it on your site by copying this embed code:
If you found this infographic helpful, feel free to share it on Pinterest and check out our Infographics Board.
How to Properly Practice a Eulogy
Here are 3 super-practical tips for how to practice your funeral speech before the big day so that you can walk up to the rostrum with confidence.
1. Read the Eulogy Aloud as Many Times as Possible
You will most likely have butterflies in your stomach when it's your turn to stand up and deliver the eulogy.  This is only natural.  
But you will feel more confident once you're up there if you had practiced your speech many times beforehand.
You are likely to be very emotional while you are speaking.  The loss is so fresh, and the memories so powerful.  Under such circumstances, it is easy to lose track of your thoughts.
Practicing your eulogy several times beforehand will help you remember the general points you wanted to make, even if you forget the exact order you wanted to make them in or a specific joke you wanted to tell.
Rehearsing your eulogy over and over is a highly effective public speaking tip.   Repetition will help you memorize your speech, which will really help you when the nerves on the day set in.
You should have some notes to fall back on in case your mind goes momentarily blank.  
Keep in mind, though, that your eulogy will come across as more genuine and heartfelt if you are not reading it word-for-word off a piece of paper.
Reading the eulogy out loud to yourself in the days leading up to the service will help you recognize which parts are likely to make you emotional.  Being forewarned might make it easier to get through those parts on the day.
Reading the eulogy aloud is also an effective way to improve the flow of your speech.  Words sound differently when read aloud than when you are reading them.  Through this process you will be able to improve your eulogy.
2. 
 

Read Your Eulogy Aloud to a Family Member

In addition to reading the eulogy aloud to yourself, in order to work out the kinks and to memorize it, you should also read it aloud to a trusted family member or friend in order to get constructive feedback.

Everything might sound great to you, but others might find that one of your jokes is a little inappropriate or that your wording is a little awkward or confusing.  

It can be really helpful to get a second opinion from someone whose feedback you value.  This will only make your eulogy better.

Lastly, family members and friends might also be able to give you ideas or stories that you could incorporate into your eulogy.  As the old saying goes: "Many hands make light work."
3. 
 

Time Your Eulogy

Once you have a final draft of your eulogy, it is important to time how long it takes to say out loud.   A good length for a eulogy is 3 to 5 minutes (10 minutes maximum).

You might feel as if 10 minutes is not enough to talk about all the things you want to. With a longer speech you run the risk of loosing your audience's attention.

The reality is that you won't be able to cover everything; there will never be enough time.  You should focus on making a couple of key points in your eulogy instead.

How to Speak Confidently
By the day of the funeral or memorial service you will have practiced, practiced, practiced!
But it's still natural to have some butterflies when it's crunch time.  So here are 5 tips to help you give the eulogy like a seasoned public speaker.
1. 
 

Do a Deep Breathing Exercise Before You Speak

One of the most effective public speaking tips there is involves doing a deep breathing exercise before you get up and speak.

For the best result, breathe in slowly through your nose (for about 4 seconds), hold the breath for about 7 seconds, then slowly exhale out for (exhaling should take around 8 seconds).   Try and focus solely on your breath, and let go of other thoughts while you do the exercise.

The exercise will definitely help you to steady your nerves and clear your mind.

Once you are at the podium ready to give your eulogy, take a few deep breathes before you start.  (They won't be as long and deep as the ones you did in the exercise beforehand.)

If at any point during your eulogy you find your nervousness returning, remind yourself that everyone there is there to support you and to join you in celebrating and remembering the life of your loved one.  You are there to speak from the heart, and are not in a public speaking contest.

Another good tip is to ensure that there is a glass of water at the podium.  Having a sip of water will help if your mouth becomes dry during your eulogy, (a common symptom of nervousness).  It will also help if you become overly emotional during your speech.  You can simply take a few sips of water and give yourself a few moments to recover.
2. 
 

Don't Expect the Eulogy to be Perfect

Remember that you are speaking in front of family members and close friends who are grieving the same loss as you are, so they don't expect you to be perfect! Everyone will be grateful that you have undertaken the task that many would be unable to face.

Everyone who is there and listening to you speak are there to remember the person who has passed away, not to judge your public speaking skills.  It's not as if they are keeping a mental score of how well you are doing or how effective your speaking abilities are.

What is the worst that could happen?  You lose track of your train of thought, or you get choked up and need to pause and take a few deep breaths.  No one in attendance is judging you.  This is an incredibly emotional time for everybody, so people will understand if you are struggling to deliver the eulogy.  In fact, they are most likely admiring your strength in doing such a difficult task.
3. 
 

Be Yourself

As we said at the outset, there is a reason that you were chosen to the deliver the eulogy.  You likely had a very close relationship with the deceased.  It is that relationship, and what that relationship meant to you, that should shine through in your eulogy.

Authenticity matters a great deal more than speaking perfectly.  Don't try to speak to the congregation in a formal public speaking tone.  A good tip is to talk to the audience like you would talk to your friends.  Be yourself and your speech will come across as genuine and heartfelt.
4. 
 

Connect With the Congregation through Eye Contact

In addition to being yourself and using a conversational style of talking during your eulogy, you can connect with the congregation through eye contact.

Eye contact will make everyone in attendance feel as though you are talking to each and everyone of them individually.  

They will connect far more with you and your words if your eyes are scanning the room throughout your eulogy instead of staring down at your notes the whole time.
5. 
 

Don't Rush

The last of our top 10 effective public speaking tips is to speak slowly.

It is natural when you are nervous to speak faster than normal, in an attempt to get through it as quickly as possible.   Phrases will lose impact because you are rushing.  The audience won't have the necessary time to absorb and digest your key points.

Slowing down will make you seem far more poised and confident.  It will also give you time to gather your thoughts, and present your speech in a clear manner.

At the top of any notes you might take to the podium, write yourself a reminder to:

S-L-O-W   D-O-W-N!

Video Interview with Renowned Public Speaking Coach, Jay Miller
Jay Miller is a public speaking expert and a professional voice coach, and is the founder of Jay Miller Voice & Speech, a company based in Toronto.  
He has additional—and invaluable—practical tips to help you prepare and deliver a wonderful eulogy.
The most common mistake that people make when they are not used to public speaking is that they underprepare and under-rehearse the eulogy.
"So the best thing that someone can do is make sure that you get working on the speech as soon as you find out that you have been selected to deliver a eulogy.  
"Get your notes prepared as quickly as possible and give yourself time to run through the speech, out loud, several times before you have to deliver it," states Miller.
Another very common mistake is that people over-rely on their notes when delivering the eulogy.  This hinders, rather than helps, their performance.  
Extensive notes are better suited for reading than they are for speaking.  The notes you take to the podium or pulpit should list the main points you wish to make during the eulogy, and not the whole speech, word-for-word.
With your notes, make sure that they are easy to read.  "Make sure you're using at least 14 point font or larger, and make sure that there is plenty of white space on the page so that the text is not squished together too much," advises Miller.
The third big mistake people make when giving a eulogy is that they do not take their time when they speak.  "This puts a lot of pressure on yourself, which then creates a lot of anxiety and nervousness," says Miller.
The final big mistake is that people are too quiet and reserved when delivering the eulogy.  "They are working with a level of voice and a level of energy that is appropriate for private conversation, but is not suitable for public speech," says Miller.
Make sure you start preparing the eulogy right away.  "Do not wait until the night before to start writing the eulogy because you need time to rehearse," warns Miller.  
The sooner you get the eulogy ready, and the more time you have to rehearse, the better the eulogy will be.
The best way to practice the eulogy is to stand and deliver the eulogy in the same manner that you will do at the actual funeral or memorial service.  
"Reading over your speech while sitting on your couch does not count as rehearsal," advises Miller.  "You need to get on your feet and practice going through it out loud."
Although this seems like a really obvious part of preparation, it is actually quite frequently overlooked. "No car company would introduce a new model of car without extensive testing," says Miller.  
"The same thing goes with a speech.  Why would you want the first time going through your speech to be in front of the listeners?  You wouldn't."
It is important to give yourself as much as possible to rehearse the eulogy beforehand.  Repeated rehearsals will help you identify which parts of the eulogy are easy to get through, and which parts of the eulogy might be more challenging.
You should also time how long it takes you to give the eulogy.  Most people are told the amount of time they have been allotted at the funeral or memorial service to speak.  If you don't time your eulogy, you won't have an accurate idea of how long it is.
"What might look like the right amount of time on paper can easily go over," warns Miller.  When you go the time that was allotted to you for giving the eulogy, it is a sure sign that you have not prepared and have not rehearsed.
"At the risk of sounding too blunt, it is also disrespectful to the family and the organizers if you go over time," says Miller.  
Therefore, when you are rehearsing the eulogy, make sure you time it.  If the eulogy is too long, make sure you edit it so that it fits within the time that you have been allotted.
You should warm up your vocal cords with some breathing and vocal exercises.  (YouTube has plenty of vocal warm up exercises that you can follow.)
You should also arrive early at the place where you are going to be delivering the eulogy so that you can familiarize yourself with the room and the podium or pulpit.  
In fact, you should stand behind the podium or pulpit so that you can have a preview of what the room will look like from that perspective.
Miller also suggests that you check that there is adequate lighting at the podium or pulpit.  
"One time, I remember I was giving a speech where I rehearsed during the day, but the event was at night and the light was so dim that I might as well have had a candle as my only source of light to refer to my notes," recalls Miller.  
"You don't want to get caught in a situation like that."
You should also test the microphone system beforehand to ensure that it is working properly and to ensure that you are not shocked by the sound of your voice over the sound system.  
Does the position of the microphone need to be adjusted? What is the best way to adjust the microphone at the beginning of the eulogy?
In the minutes leading up to the eulogy, Miller suggests that the best way to calm your nerves it to focus on the task at hand.  Don't think about how nervous you are.  Think about the words you are going to speak.
"The person who is most composed is not necessarily the most effective speaker," states Miller.  
This is especially the case during a eulogy where one might expect to see some feeling.  If there are some tears, or if your voice quivers, no one is going to fault you.  Emotion is to be expected.
However, you don't want to be so overwhelmed by your emotions that you are unable to give the eulogy.  Again, rehearsing the eulogy is key.
Miller advises:  "It is in your rehearsal that you start to process the feelings that are attached to what you are going to say."  
"It's not just about making things sound good or getting everything in the right order, because it's in the rehearsal that you give yourself permission to feel the sadness, the loss, to feel the bittersweet moments you might be talking about, or the gratitude and humour." 
"Give yourself permission to feel those emotions every time that you rehearse so that that when you get up in front of your audience, you've already been through it."
A technique you can use when you are giving the eulogy to keep your emotions in check is to be aware of the connection between your feet and the ground underneath.  
"When you are aware of having both feet planted on the ground, it tends to keep you in your body and in the room, present and not off somewhere with your feelings," advises Miller.
One final piece of advice Miller has on this subject is that it is important to understand that emotions may come up, and if they do, just let them flow.  
He states:  "Give those emotions away as you speak.  Do not try to ignore them, control them, or put a lid on them, because I guarantee that your emotions are stronger than you are. Emotion needs to flow.  So imagine it flowing through you and through your voice."
In Miller's expert opinion, if your notes are too dense, it could result in you loosing your place while delivering the eulogy.  
On the other hand, if you don't have enough notes, you could loose your train of thought.  (Just like the baby bear in Goldilocks, you need notes that are "just right" in terms of the amount of detail.)
With that being said, if you do happen to loose your place or train of thought, simply pause, take a deep breath, and gather yourself.
"No one is sitting there judging you.  Pauses are actually good to have in a speech.  It gives the audience time to digest what you are saying.  So if you loose your place or train of thought, just pause, regroup, and continue," advises Miller.
He also advises that you format your notes in a simple way to decrease the risk of loosing your place, as well as make it easier to recover if you do.
Miller emphasizes the fact that effective public speaking is all about relationships.  It's about having a conversation and connecting with your listeners.  
Eye contact is one of the most basic things you can do to start establishing a connection with the audience.
"I'm not a fan of advice that says 'look at the tops of people's heads,' or 'look at the back wall just above the last row,' because this is not making a connection with your listeners," he says.  
"Eye contact has to be real.  If you are afraid that making eye contact with certain people might bring up too much feeling for you, there are plenty of other people you can make eye contact with"
Miller has two final pieces of expert advice for people preparing a eulogy.
First, remind yourself that a eulogy is not about you.
Miller explains:  "Yes, you are at the front of the room and everyone is watching and listening to you."  
However, at the end of the day, it is not about you.  It is about the deceased, the family, the experience of the people gathered there.  
You are there to serve them.  You are there to give a gift.  You have a job to do.  
If you go up to speak expecting that people are going to be judging you and what you are doing, you go into defensive mode.  
If you keep in mind that you have a job to do, to get this message to those people as effectively as you can, you stay in 'giving mode.'  And this is so much more conducive to giving a great eulogy."
Second, you don't need to be perfect.
"You are not aiming for perfection, but for authenticity," says Miller.  "Let us see who you are.  Be sincere and speak from the heart.  If you do, no one will pay any attention to mistakes you have made.  It's not about perfection.  It's about authenticity."

Summary of Our Eulogy Tips
Well before the day of the funeral service, you need to:
Practice your eulogy as much as possible;
Read it to a trust family member or friend and get some feedback;
Time how long the eulogy is.  It should be 5 to 10 minutes in length.
Immediately before you get up to the pulpit to speak, you should:
Get a glass of water to take with you to the pulpit.
While you are getting the glass of water, do the deep breathing exercise for 5 minutes.
When you are at the podium or pulpit, you should:
Take a couple of deep breaths or a sip water before getting started.
Speak slowly – don't rush.
Speak authentically – be yourself.
Gaze around the audience – don't stare down at your notes the whole time.
Tell stories about the deceased, but avoid stories that would be embarrassing for the deceased or their family.
Relax – nobody expects you or your eulogy to be perfect.
We'd Love to Hear From You
If you found our post on how to write and give a eulogy helpful, we would appreciate a Facebook Like.
You can also follow our Pinterest board for more eulogy examples and inspiration.
Remember, if writing a eulogy just feels too hard, you can hire a professional eulogy writer like Steven Schafter at The Eulogy Writers.
Let us know your thoughts in the comments section below—we're always listening.