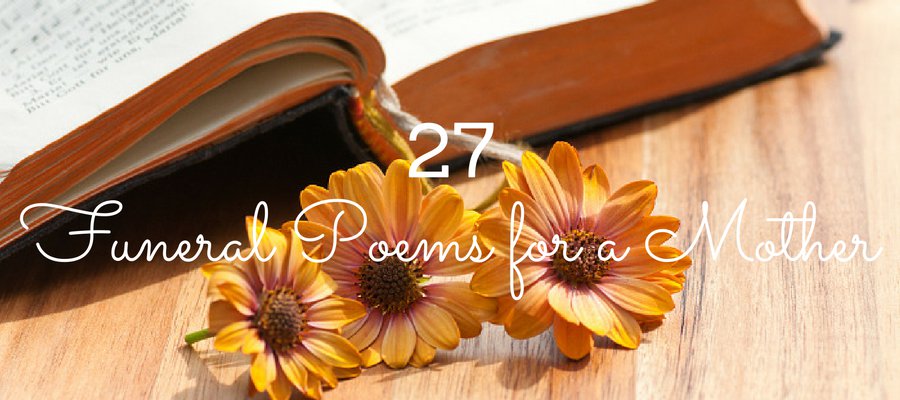 We have assembled a collection of the most beautiful funeral poems for Mom to help you celebrate her life and her enduring love.
~
This first funeral poem is very popular, even though it is simple, because it perfectly captures how much we love our Mom, even after her passing.
It would be an appropriate poem to read at a funeral or memorial service, and even a celebration of life ceremony.
If Roses Grow in Heaven
By Dolores M. Garcia
If roses grow in heaven,
Lord please pick a bunch for me,
Place them in my Mother's arms
and tell her they're from me.
Tell her I love her and miss her,
and when she turns to smile,
place a kiss upon her cheek
and hold her for awhile.
Because remembering her is easy,
I do it every day,
but there's an ache within my heart
that will never go away.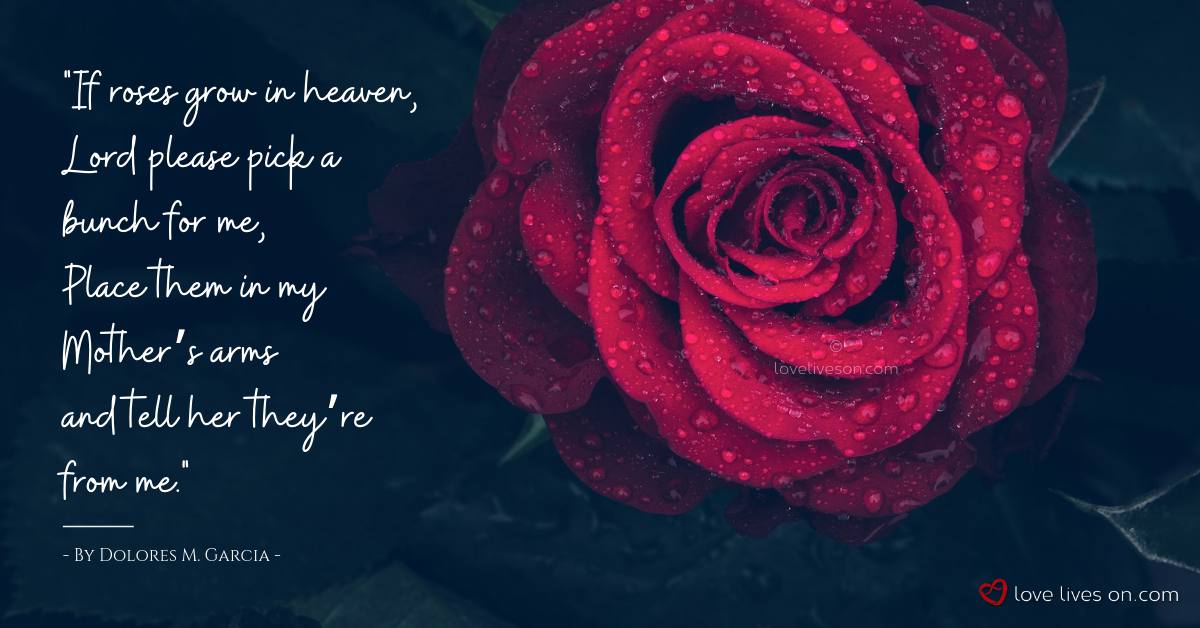 ~
We love this funeral poem because we all know that a Mom is an angel in disguise, protecting us always.  It is one of our favourite poems for a meaningful funeral service.
I Never Saw Your Wings
By an Unknown Author
How is it that I never saw your wings
when you were here with me?
When you closed your eyes and soared
to the Heavens I could hear the
faint flutter of you wings as you left.
Your body no longer on this side
your spirit here eternally I see your halo shine.
I close my eyes and see the multi-colored wings
surround me in my saddest moments and my happiest times.
Mother my angel God has given you your assignment
always my mother forever my angel.
You fly into my dreams and when I am asleep
I feel your wings brush against my face wiping away
the tears I shed since I can no longer hold
you in my arms but in my heart.
You earned those wings dear mother
and you will always be me angel eternal.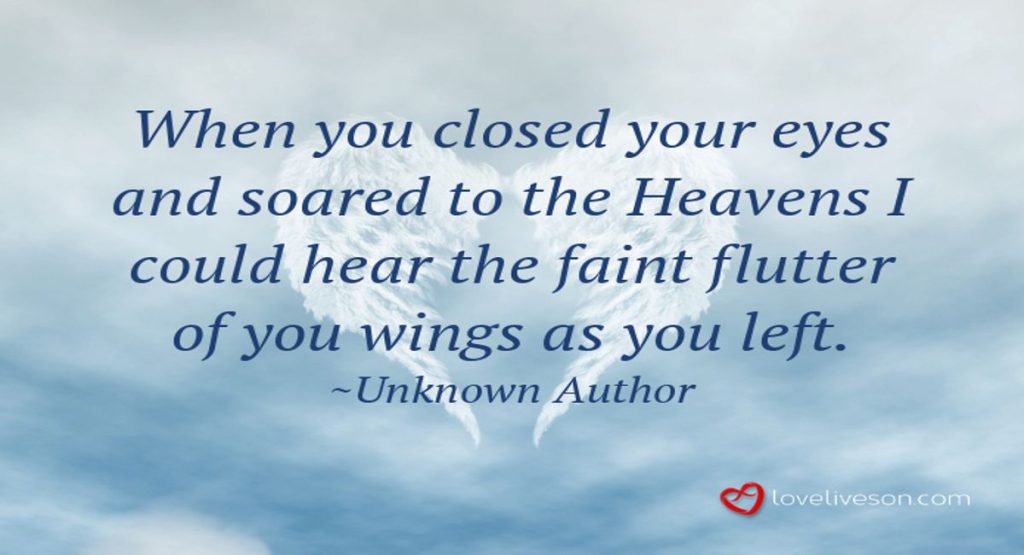 ~
Each Mom is the most special and unique person in our world.  This funeral poem beautifully captures this sentiment.
Only One Mother
By an Unknown Author
Hundreds of stars in the pretty sky,
Hundreds of shells on the shore together,
Hundreds of birds that go singing by,
Hundreds of birds in the sunny weather.
Hundreds of dewdrops to greet the dawn,
Hundreds of bees in the purple clover,
Hundreds of butterflies on the lawn,
But only one mother the wide world over.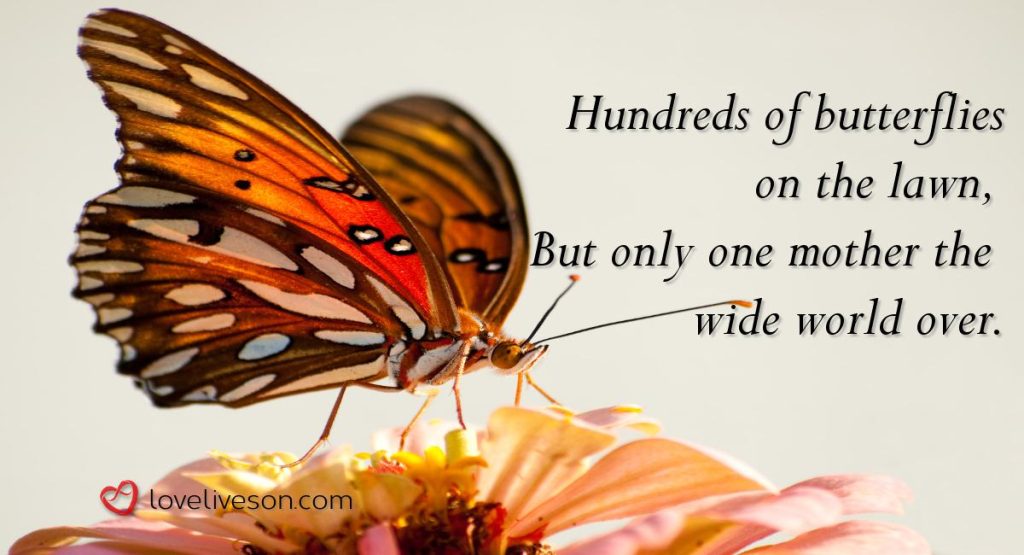 ~
*NEW* Or share this poem as a video meme (click on the arrow at top right for share options).
~
When we become adults, we see our Mom more fully as a person with her own hopes and dreams, and as a friend.  This funeral poem will move all who hear it spoken.
A Poem for Mother
By Dick Underwood
(Modified to read "mother" instead of grandma.)
Mother, you were just a girl,
So many years ago.
You had your loves and had your dreams,
You watched us come and go.
You watched us make the same mistakes,
That you had made before,
But that just made you hold us tight,
And love us all the more.
We haven't always thought about
The things that you have seen.
To us you've just been 'Mother',
No thought of who you've been.
But we remember now in love,
Your life from start to end,
And we're just glad we knew you,
As Mother, and as Friend.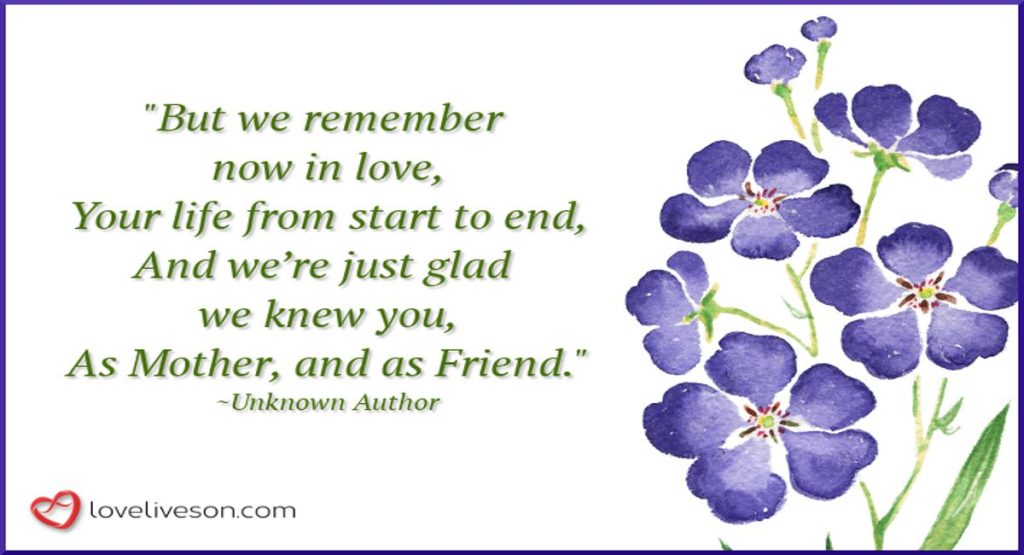 ~
Many of us have fond memories of our Mom reading to us.  We explored the world through books, while snuggling close to our Mom. 
This is an easy funeral poem to learn to recite.  It would be an appropriate funeral poem for a child who wants to be involved in the funeral service.
Richer Then Gold
By Strickland Gillilan
You may have tangible wealth untold;
Caskets of jewels and coffers of gold.
Richer than I you can never be –
I had a mother who read to me.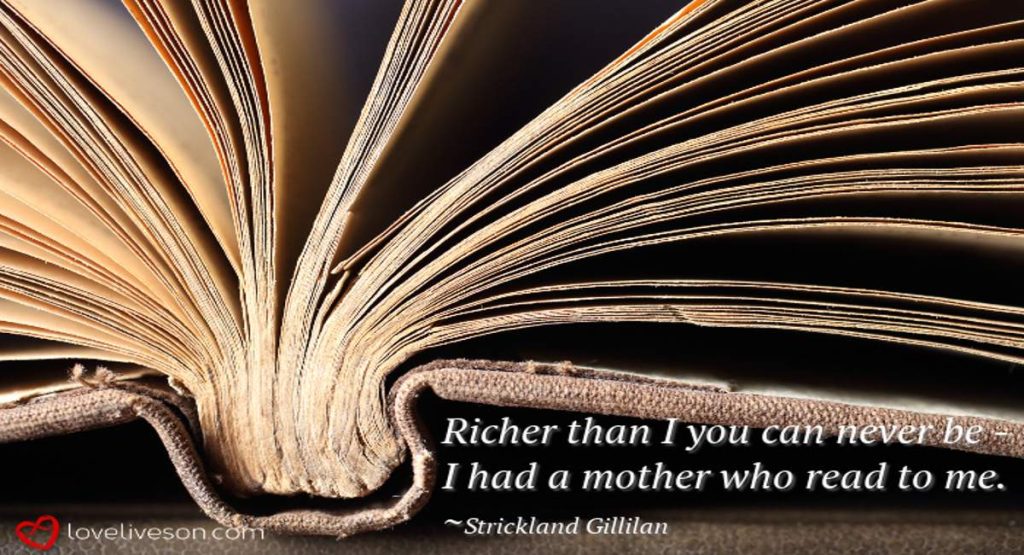 ~
The famous poet E.E. Cummings admired his mother, Rebecca Haswell Clarke Cummings, immensely.  He said:  "Never have I encountered anyone more joyous, anyone healthier in body and mind, anyone so quite incapable of remembering a wrong or anyone so completely and humanly and unaffectedly generous." (Norman, 1958, pg. 18.)
He immortalized his esteem for his beloved Mother and Father in this following poem:
If There are Any Heavens My Mother Will
By E. E. Cummings
If there are any heavens my mother will (all by herself) have one.
It will not be a pansy heaven nor
a fragile heaven of lilies-of-the-valley but
it will be a heaven of black red roses my father will be
(deep like a rose tall like a rose)
standing near my (swaying over her silent) with eyes which are really petals and see
nothing with the face of a poet really which
is a flower and not a face with hands which whisper
This is my beloved my
(suddenly in sunlight he will bow,
and the whole garden will bow)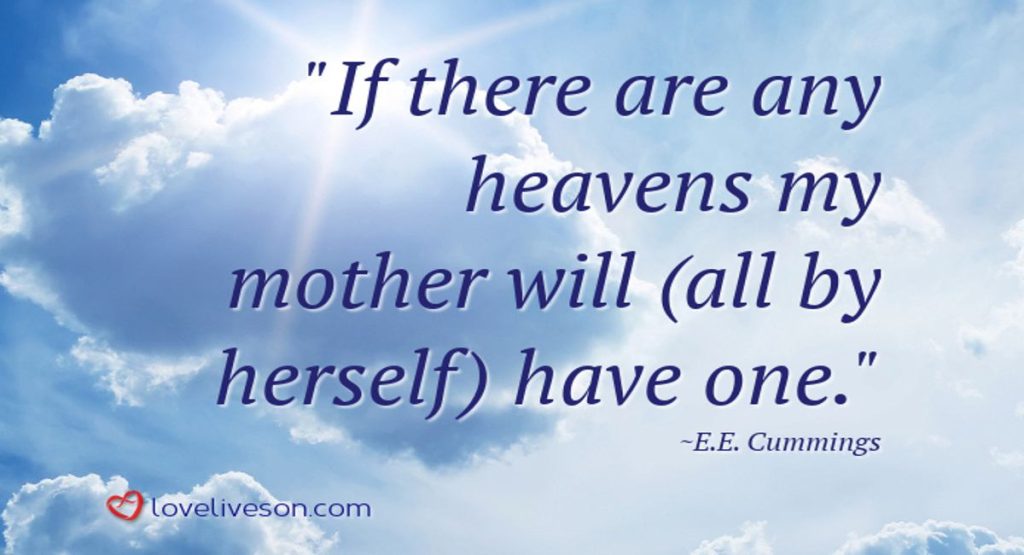 ~
It gives us comfort to think of our Moms enjoying a beautiful, garden-like dreamland after their passing.  This touching funeral poem is filled with vivid imagery.
Child and Mother
By Eugene Field
O mother-my-love, if you'll give me your hand,
And go where I ask you to wander,
I will lead you away to a beautiful land,–
The Dreamland that's waiting out yonder.
We'll walk in a sweet posie-garden out there,
Where moonlight and starlight are streaming,
And the flowers and the birds are filling the air
With the fragrance and music of dreaming.
There'll be no little tired-out boy to undress,
No questions or cares to perplex you,
There'll be no little bruises or bumps to caress,
Nor patching of stockings to vex you;
For I'll rock you away on a silver-dew stream
And sing you asleep when you're weary,
And no one shall know of our beautiful dream
But you and your own little dearie.
And when I am tired I'll nestle my head
In the bosom that's soothed me so often,
And the wide-awake stars shall sing, in my stead,
A song which our dreaming shall soften.
So, Mother-my-Love, let me take your dear hand,
And away through the starlight we'll wander,–
Away through the mist to the beautiful land,–
The Dreamland that's waiting out yonder.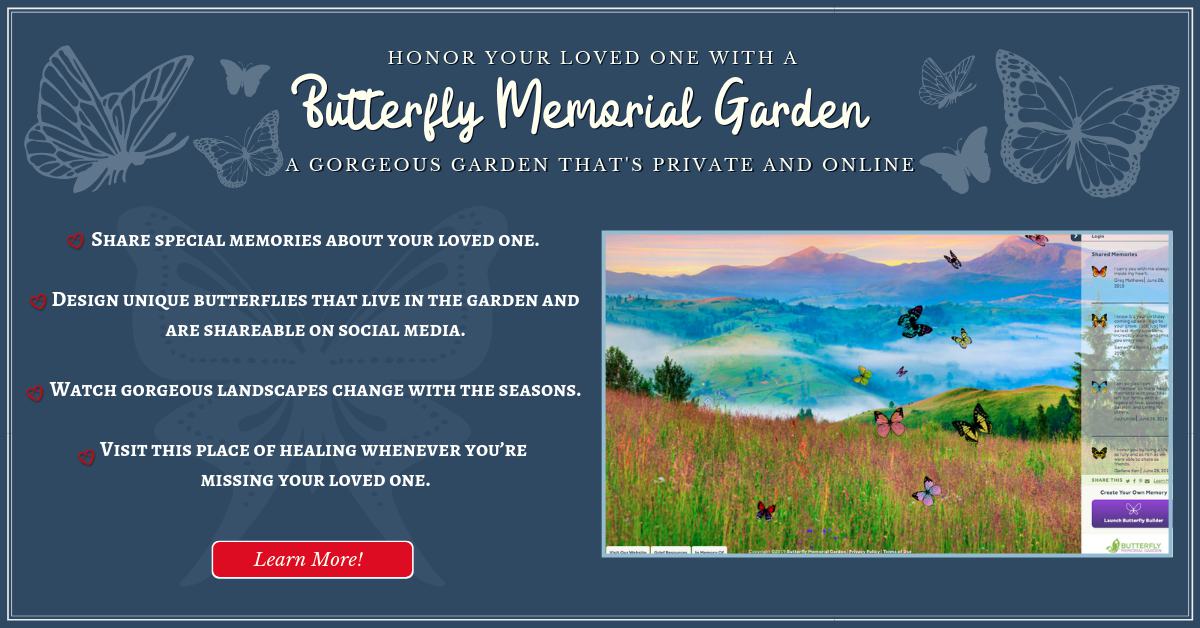 ~
This poem is perfect for the funeral of a Mom who had a hard life, but who preserved and overcame many obstacles.
Mother to Son
By Langston Hughes
Well, son, I'll tell you:
Life for me ain't been no crystal stair.
It's had tacks in it,
And splinters,
And boards torn up,
And places with no carpet on the floor
Bare.
But all the time
I'se been a-climbin' on,
And reachin' landin's,
And turnin' corners,
And sometimes goin' in the dark
Where there ain't been no light.
So, boy, don't you turn back.
Don't you set down on the steps.
'Cause you finds it's kinder hard.
Don't you fall now
For I'se still goin', honey,
I'se still climbin',
And life for me ain't been no crystal stair.

Related Articles

This funeral poem is a moving tribute to his beloved Mother by the great Irish writer, Patrick Kavanagh. 
It foregoes the typical motifs and rituals associated with funerals, and focuses instead on calming imagery of pastoral settings.  It is the perfect poem to read at the funeral of a Mom who loved the countryside.
In Memory of My Mother
By Patrick Kavanagh
I do not think of you lying in the wet clay
Of a Monaghan graveyard; I see
You walking down a lane among the poplars
On your way to the station, or happily
Going to second Mass on a summer Sunday–
You meet me and you say:
'Don't forget to see about the cattle–'
Among your earthiest words the angels stray.
And I think of you walking along a headland
Of green oats in June,
So full of repose, so rich with life–
And I see us meeting at the end of a town
On a fair day by accident, after
The bargains are all made and we can walk
Together through the shops and stalls and markets
Free in the oriental streets of thought.
O you are not lying in the wet clay,
For it is harvest evening now and we
Are piling up the ricks against the moonlight
And you smile up at us — eternally.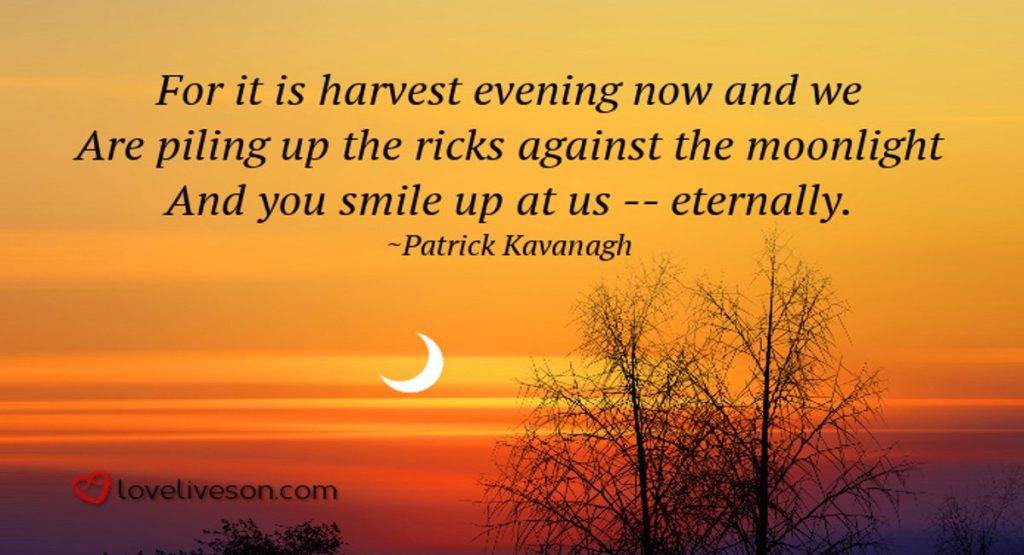 ~
This stark funeral poem by the famous writer, Rudyard Kipling, captures the raw emotion that follows loosing a Mom.
Kipling loved his Mother very much, and wrote the following tribute to her:
Mother o' Mine
By Rudyard Kipling
"When my spirit came back I heard her whisper in my ear, 'Whether you live or die, or are made different, I am your Mother'.  I was very glad.  She was glad too.  Neither of us wished to lose the other.  There is only the one Mother for the one son."  ("The Knife and the Naked Chalk," Rewards and Fairies, p. 138, line 11.)
If I were hanged on the highest hill,
Mother o' mine, O mother o' mine!
I know whose love would follow me still,
Mother o' mine, O mother o' mine!
If I were drowned in the deepest sea,
Mother o' mine, O mother o' mine!
I know whose tears would come down to me,
Mother o' mine, O mother o' mine!
If I were damned of body and soul,
I know whose prayers would make me whole,
Mother o' mine, O mother o' mine!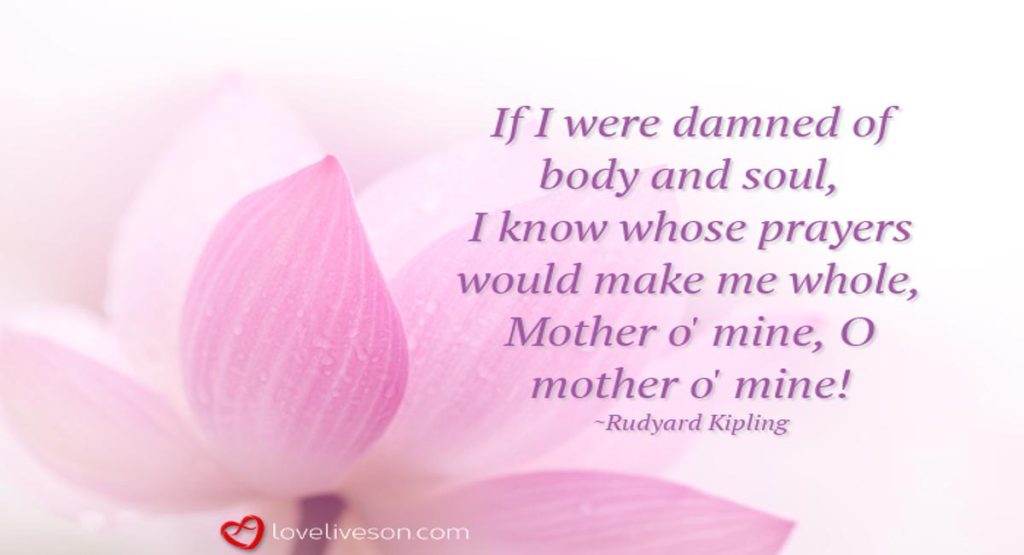 ~
This Jamaican writer shows the deep love he has for his Mom. 
His Mother's death distresses him and shakes him to the core.  But despite the grief, everyday life continues.  This funeral poem captures the reality that the world doesn't stop when our lives have been shattered by our Mom's passing.
My Mother
By Claude McKay
I
Reg wished me to go with him to the field,
I paused because I did not want to go;
But in her quiet way she made me yield
Reluctantly, for she was breathing low.
Her hand she slowly lifted from her lap
And, smiling sadly in the old sweet way,
She pointed to the nail where hung my cap.
Her eyes said: I shall last another day.
But scarcely had we reached the distant place,
When o'er the hills we heard a faint bell ringing;
A boy came running up with frightened face;
We knew the fatal news that he was bringing.
I heard him listlessly, without a moan,
Although the only one I loved was gone.
II
The dawn departs, the morning is begun,
The trades come whispering from off the seas,
The fields of corn are golden in the sun,
The dark-brown tassels fluttering in the breeze;
The bell is sounding and the children pass,
Frog-leaping, skipping, shouting, laughing shrill,
Down the red road, over the pasture-grass,
Up to the school-house crumbling on the hill.
The older folk are at their peaceful toil,
Some pulling up the weeds, some plucking corn,
And others breaking up the sun-baked soil.
Float, faintly-scented breeze, at early morn
Over the earth where mortals sow and reap–
Beneath its breast my mother lies asleep.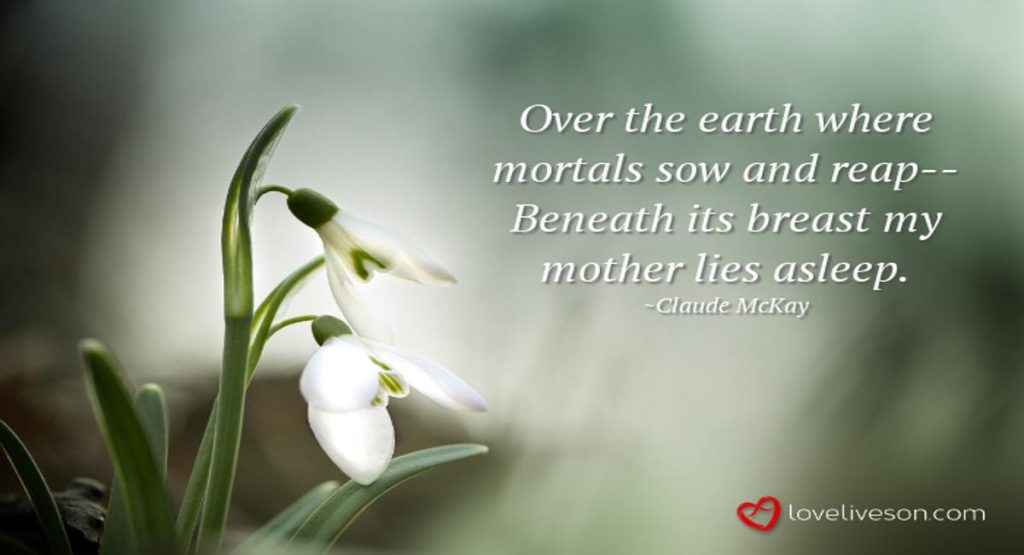 ~
This simple funeral poem celebrates how lucky we feel to have been given the best Mom in the world.
Wonderful Mother
By Patrick O'Reilly
God made a wonderful mother,
A mother who never grows old;
He made her smile of the sunshine.
And He moulded her heart of pure gold;
In her eyes He placed bright shining stars,
In her cheeks fair roses you see;
God made a wonderful mother,
And He gave that dear mother to me.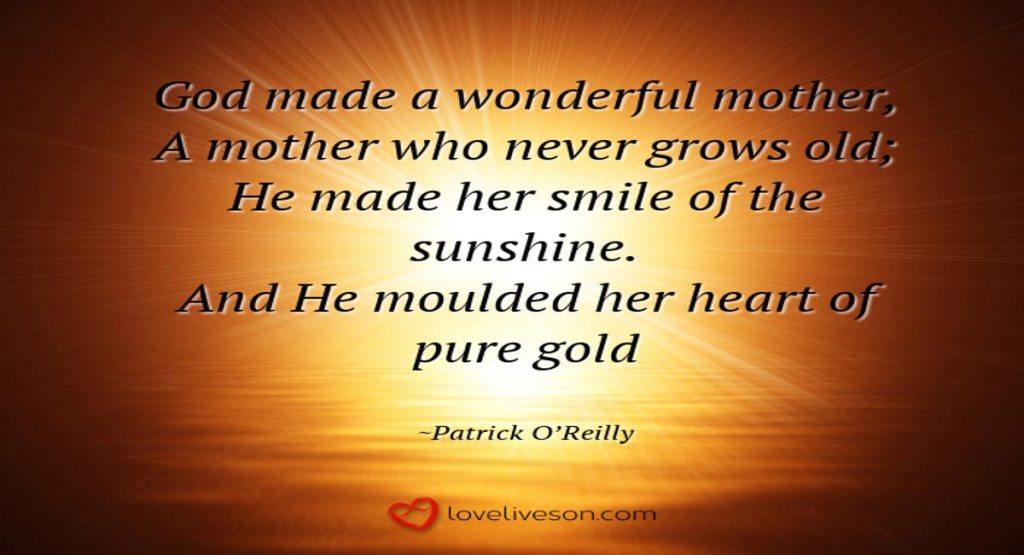 ~
These bible verses from the New International Version (NIV) honours Mothers and wives and have a poem-like quality.  They are beautiful verses to read at a Christian funeral service.
She Shall be Praised
Proverbs 31: 10 and 25-31
A wife of noble character who can find? She is worth far more than rubies.
She is clothed with strength and dignity; she can laugh at the days to come.
She speaks with wisdom, and faithful instruction is on her tongue.
She watches over the affairs of her household and does not eat the bread of idleness.
Her children arise and call her blessed; her husband also, and he praises her:
"Many women do noble things, but you surpass them all."
Charm is deceptive, and beauty is fleeting; but a woman who fears the Lord is to be praised.
Honour her for all that her hands have done, and let her works bring her praise at the city gate.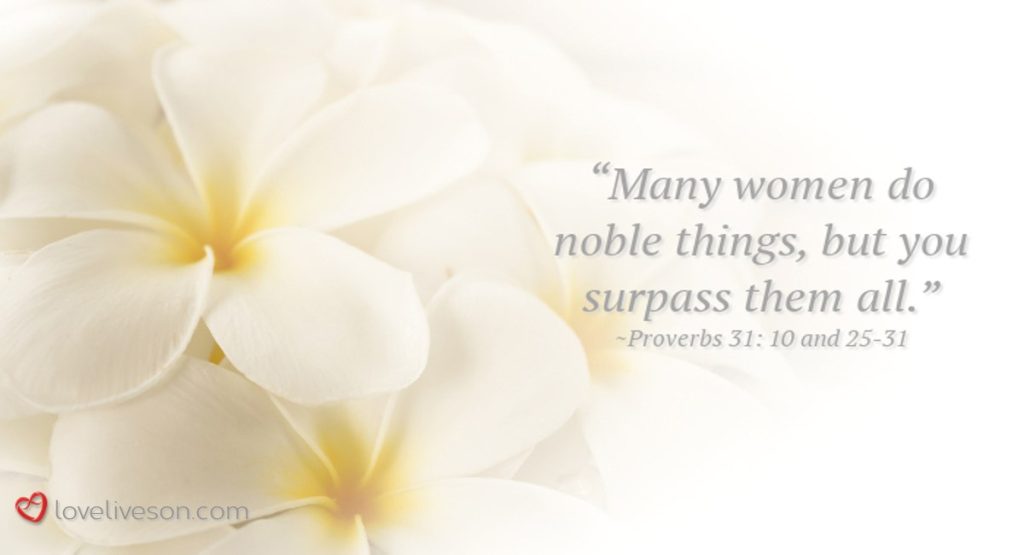 ~
A simple, but heartfelt tribute to a Mom.  This would be the perfect poem for a young person to recite or read at a funeral service.
Mom and Me
By an Unknown Author
Best friends forever mom and me
picking flowers and climbing trees.
a shoulder to cry on secrets to share
Warm hearts and hands that really care.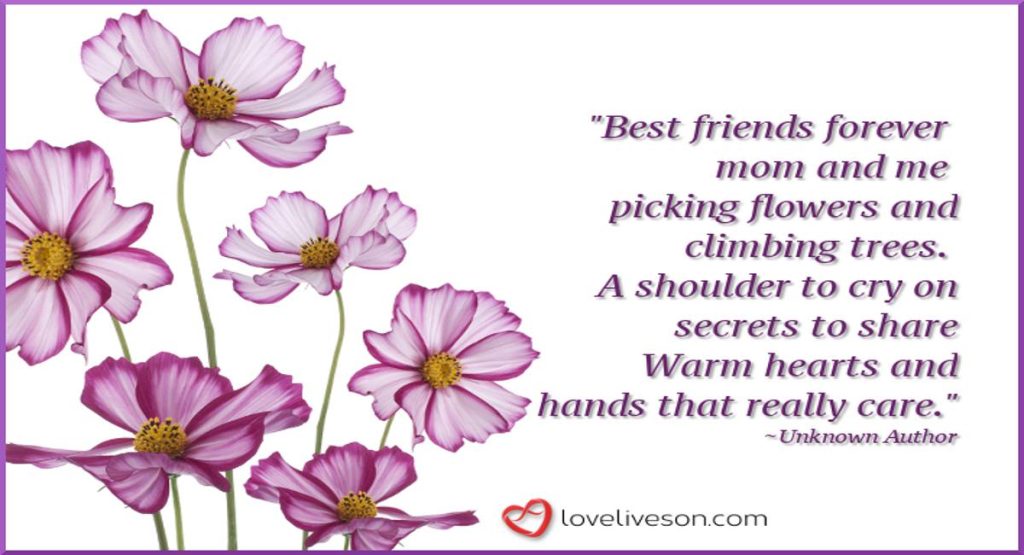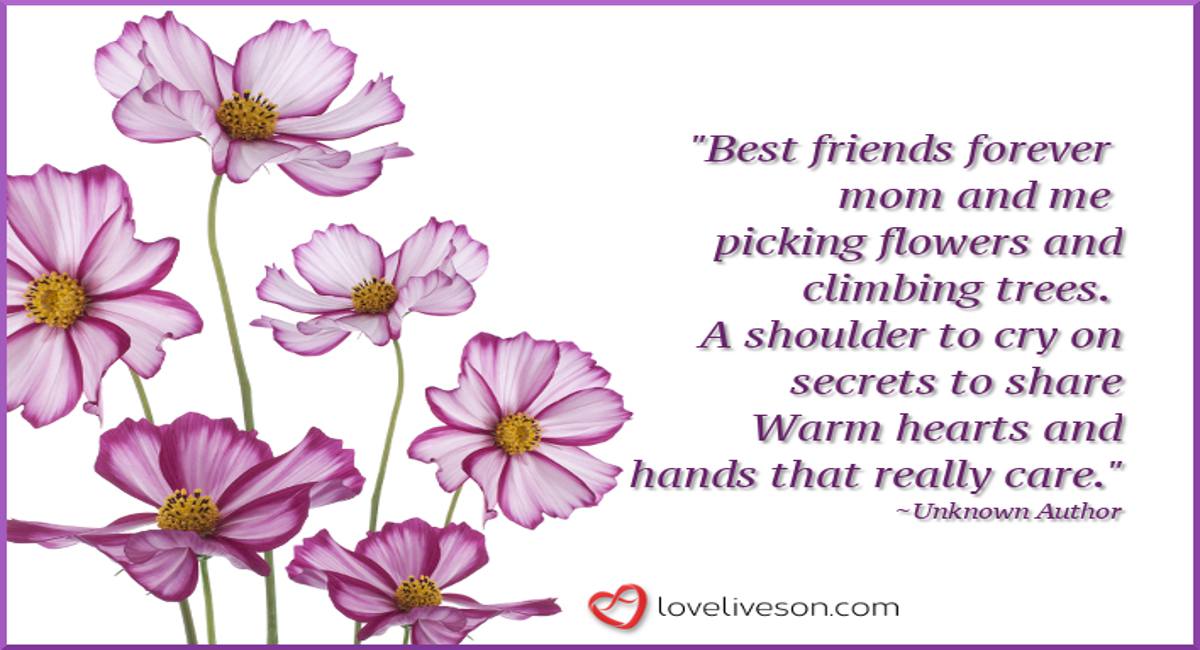 ~
Words that succinctly capture how wonderful each Mom is.
When God Thought of Mother
By Henry Ward Beecher
When God thought of mother,
He must have laughed with satisfaction,
and framed it quickly –
so rich, so deep, so divine,
so full of soul, power, and beauty,
was the conception.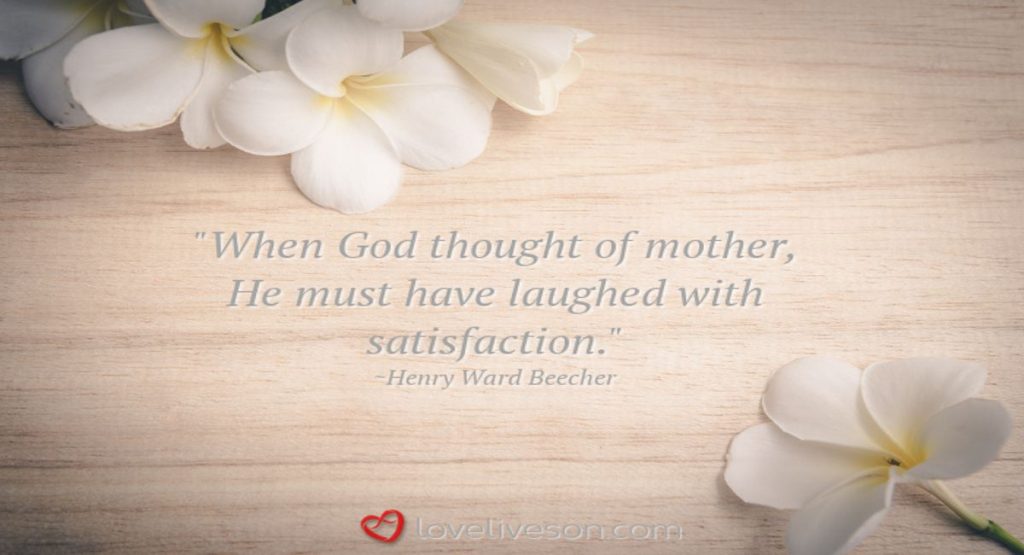 ~
This funeral poem inspires us to continue living our lives in a way that would make our amazing Mom proud.
We Had a Wonderful Mother
By an Unknown Author
(Modified to read "mother" instead of grandmother)
We had a wonderful mother,
One who never really grew old;
Her smile was made of sunshine,
And her heart was solid gold;
Her eyes were as bright as shining stars,
And in her cheeks fair roses you see.
We had a wonderful mother,
And that's the way it will always be.
But take heed, because
She's still keeping an eye on all of us,
So let's make sure
She will like what she sees.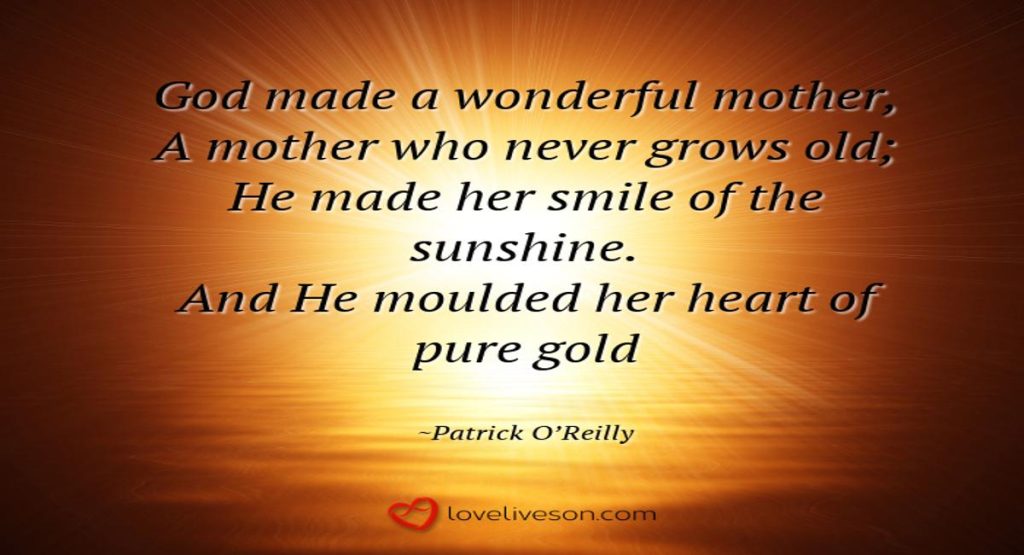 ~
This poem is appropriate for all types of funeral services for a Mom, from tradition, religious ceremonies to celebrations of life.
Weep Not For Me
By an Unknown Author
Weep not for me though I have gone
Into that gentle night
Grieve if you will, but not for long
Upon my soul's sweet flight
I am at peace, my soul's at rest
There is no need for tears
For with your love I was so blessed
For all those many years
There is no pain, I suffer not
The fear is now all gone
Put now these things out of your thoughts
In your memory I live on
Remember not my fight for breath
Remember not the strife
Please do not dwell upon my death
But celebrate my life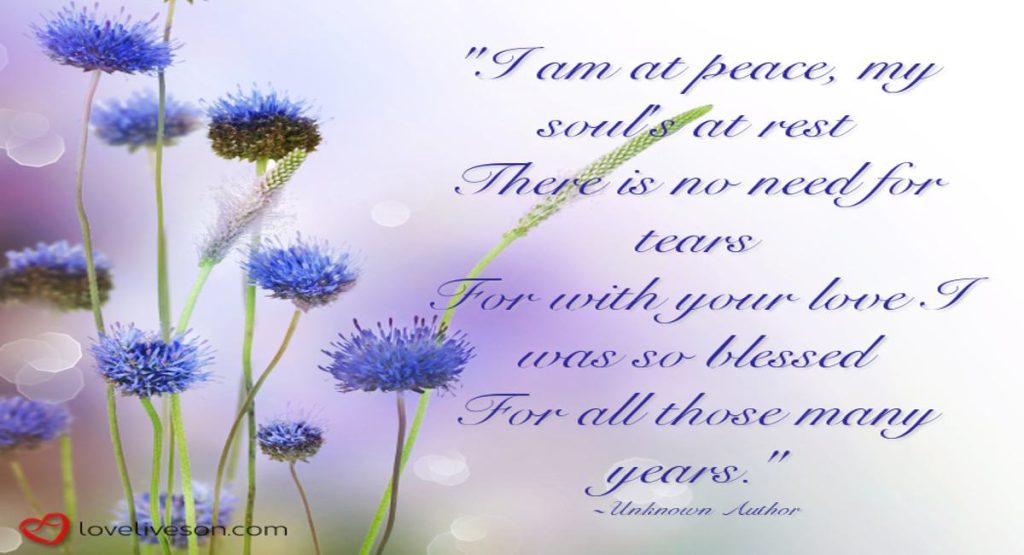 ~
*NEW* Or share this poem as a video meme (click on the arrow at top right for share options).
~
This funeral poem honours how much our Mom did for us. 
She was there when we took our first steps, she helped us grow, and she provided unconditional love.  Our Mom will always be with us in spirit.
You Were There
By an Unknown Author
You were there when we took our first steps,
And went unsteadily across the floor.
You pushed and prodded: encouraged and guided,
Until our steps took us out the door…
You worry now "Are they ok?"
Is there more you could have done?
As we walk the paths of our unknown
You wonder "Where have my children gone?"
Where we are is where you have led us,
With your special love you showed us a way,
To believe in ourselves and the decisions we make.
Taking on the challenge of life day-to-day.
And where we go you can be sure,
In spirit you shall never be alone.
For where you are is what matters most to us,
Because to us that will always be home…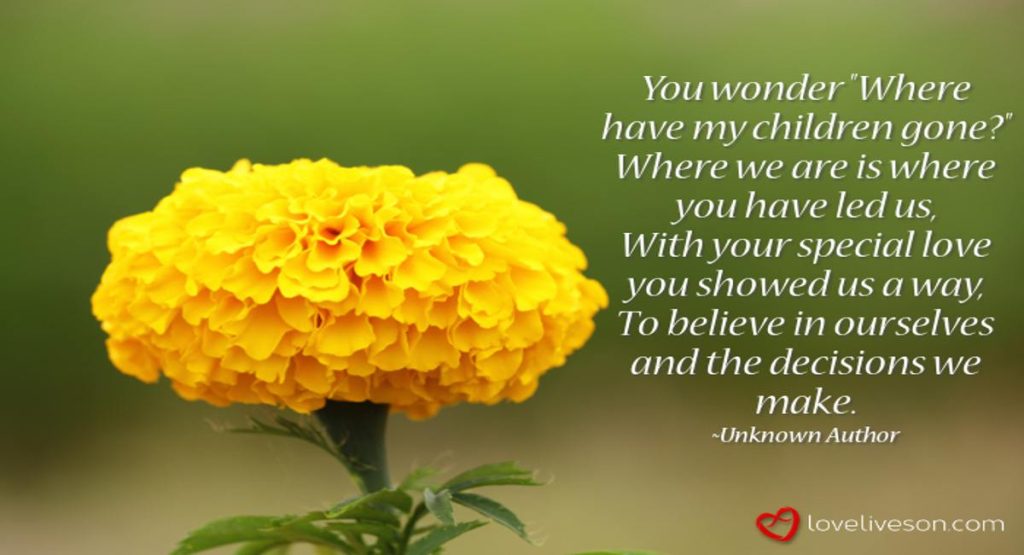 ~
This funeral poem perfectly expresses the feeling that our Mom is forever with us.  She will live in our hearts forever.
Your Mother Is Always With You
By an Unknown Author
Your mother is always with you…
She's the whisper of the leaves
as you walk down the street.
She's the smell of bleach in
your freshly laundered socks.
She's the cool hand on your
brow when you're not well.
Your mother lives inside
your laughter. She's crystallized
in every tear drop…
She's the place you came from,
your first home.. She's the map you
follow with every step that you take.
She's your first love and your first heart
break….and nothing on earth can separate you.
Not time, Not space…
Not even death….
will ever separate you
from your mother….
You carry her inside of you….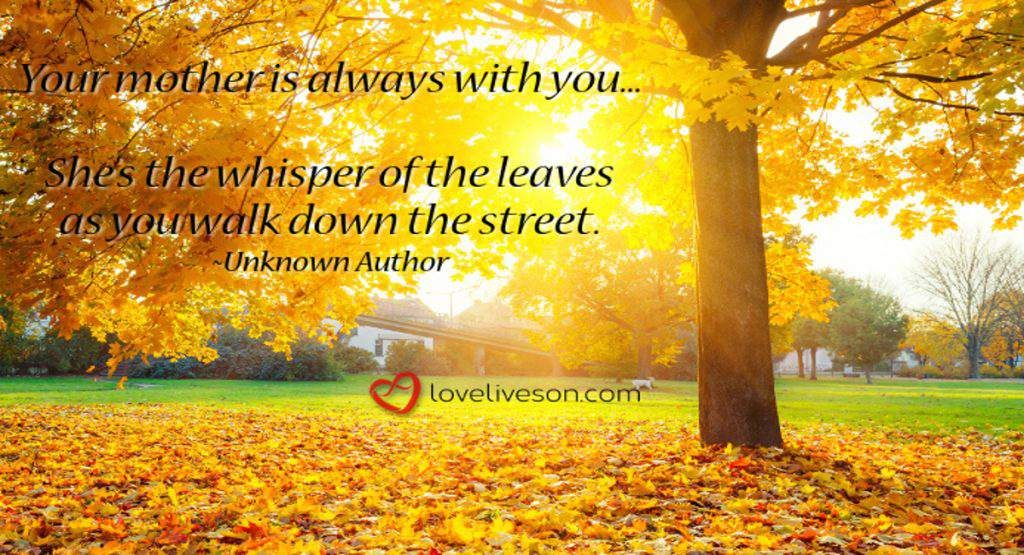 ~
This funeral poem celebrates the pure love of a Mom.  While we may have teased her for always hovering nearby, the truth is that we her constant presence made us feel safe and loved.
The Watcher
By Margaret Widdemer
She always leaned to watch for us
Anxious if we were late,
In winter by the window,
In summer by the gate.
And though we mocked her tenderly
Who had such foolish care,
The long way home would seem more safe,
Because she waited there.
Her thoughts were all so full of us,
She never could forget,
And so I think that where she is
She must be watching yet.
Waiting 'til we come home to her
Anxious if we are late
Watching from Heaven's window
Leaning from Heaven's gate.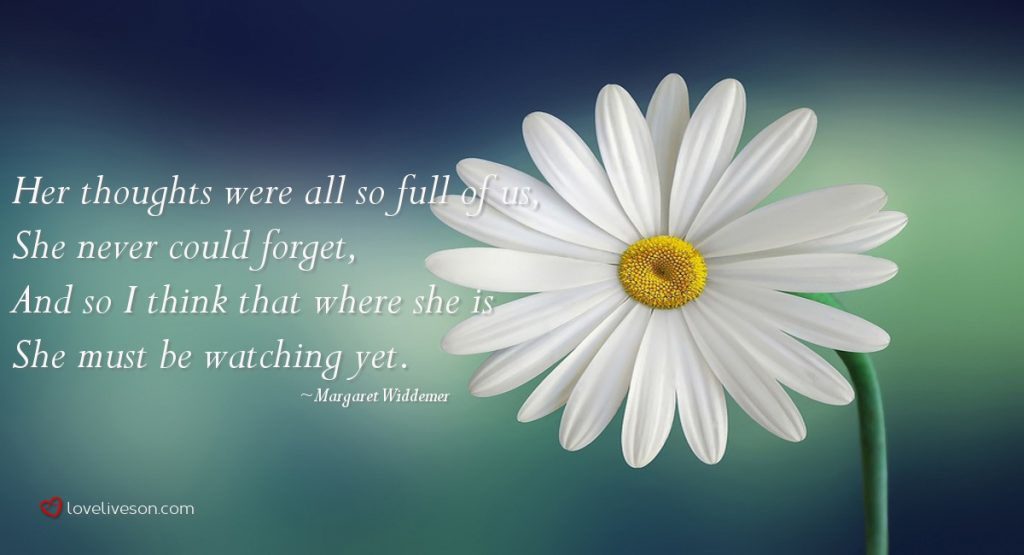 ~
This funeral poem perfectly articulate how difficult it is to accept that our Mom has passed away.  A life without her is incomprehensible.
Away
By James Whitcomb Riley
I cannot say and I will not say
That she is dead, she is just away.
With a cheery smile and a wave of hand
She has wandered into an unknown land;
And left us dreaming how very fair
Its needs must be, since she lingers there.
And you-oh you, who the wildest yearn
From the old-time step and the glad return-
Think of her faring on, as dear
In the love of there, as the love of here
Think of her still the same way, I say;
She is not dead, she is just away.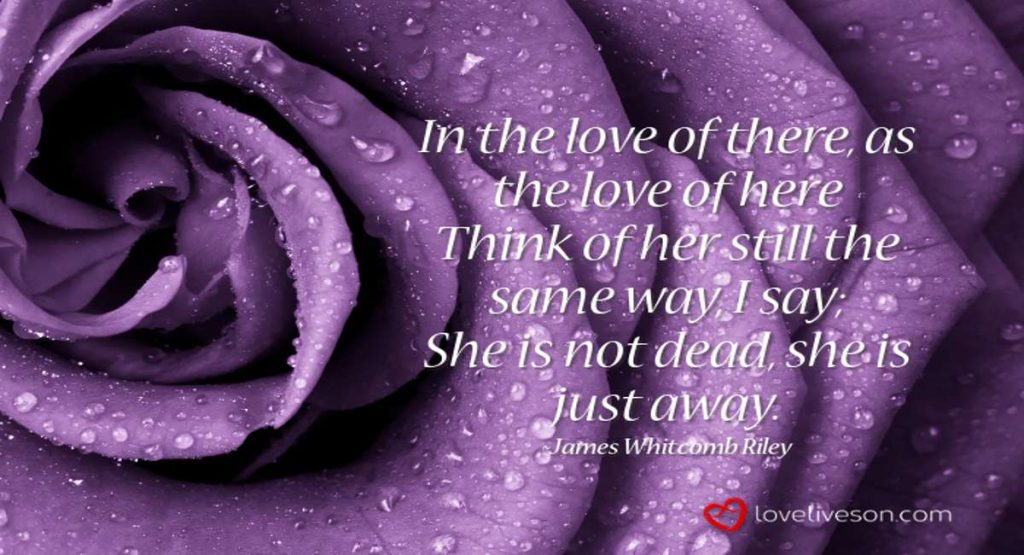 ~
This beautiful poem sheds light on all the wonderful things your mother did for you over the course of your life and how each of those are 'jewels' that make up a 'mother's crown.'
A Mother's Crown
By an Unknown Author
Heaven lit up with a mighty presence,
as the Angels all looked down.
Today the Lord was placing the jewels
Into my mother's crown.
He held up a golden crown,
as my darling mother looked on.
He said in His gentle voice,
'I will now explain each one.'
'The first gem,' He said, 'is a Ruby,
and it's for endurance alone,
for all the nights you waited up
for your children to come home.'
'For all the nights by their bedside,
you stayed till the fever went down.
For nursing every little wound,
I add this ruby to your crown.'
'An emerald, I'll place by the ruby,
for leading your child in the right way.
For teaching them the lessons,
That made them who they are today.'
'For always being right there,
through all life's important events.
I give you a sapphire stone,
for the time and love you spent.'
'For untying the strings that held them,
when they grew up and left home.
I give you this one for courage.'
Then the Lord added a garnet stone.
'I'll place a stone of amethyst,' He said.
'For all the times you spent on your knees,
when you asked if I'd take care of your children,
and then for having faith in Me.'
'I have a pearl for every little sacrifice
that you made without them knowing.
For all the times you went without,
to keep them happy, healthy and growing.'
'And last of all I have a diamond,
the greatest one of all,
for sharing unconditional love
whether they were big or small.'
'It was your love that helped them grow
Feeling safe and happy and proud
A love so strong and pure
It could shift the darkest cloud.'
After the Lord placed the last jewel in,
He said, 'Your crown is now complete,
You've earned your place in Heaven
With your children at your feet.'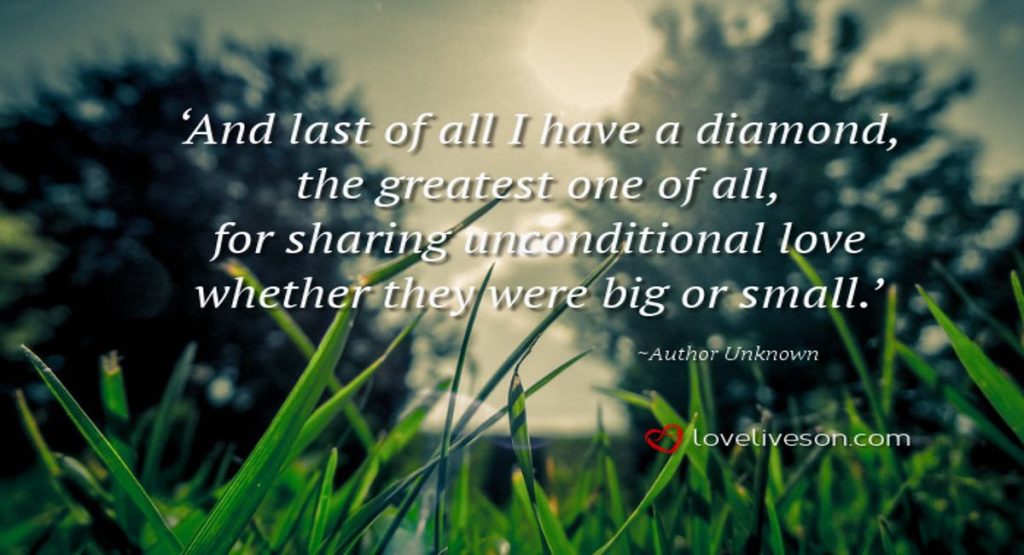 ~
If you are one of those lucky people who were fortunate enough to consider your mother as your best friend, this beautiful poem is the perfect tribute for her funeral or memorial service.
Farewell Dear Mother
By an Unknown Author
Somewhere in my heart beneath all my grief and pain,
Is a smile I still wear at the sound of your dear name.
The precious word is 'MOTHER', she was my world you see,
But now my heart is breaking cause she's no longer here with me.
God chose her for His angel to watch me from above,
To guide me and advise me and know that I'm still loved.
The day she had to leave me when her life on earth was through,
God had better plans for her, for this, I surely knew.
When I think of her kind heart and all those loving years,
My memories surround me and I can't hold back the tears.
She truly was my best friend, someone I could confide in,
She always had a tender touch and a warm and gentle grin.
I want to thank you Mother for teaching me so well,
And though the time has come that I must bid you this farewell.
I'll remember all you've taught me and make you proud you'll see.
Thank you my Dear Mother for all the love you showed me.
Although you've left this earth and now you've taken flight,
I know that you are here with me each morning, noon and night.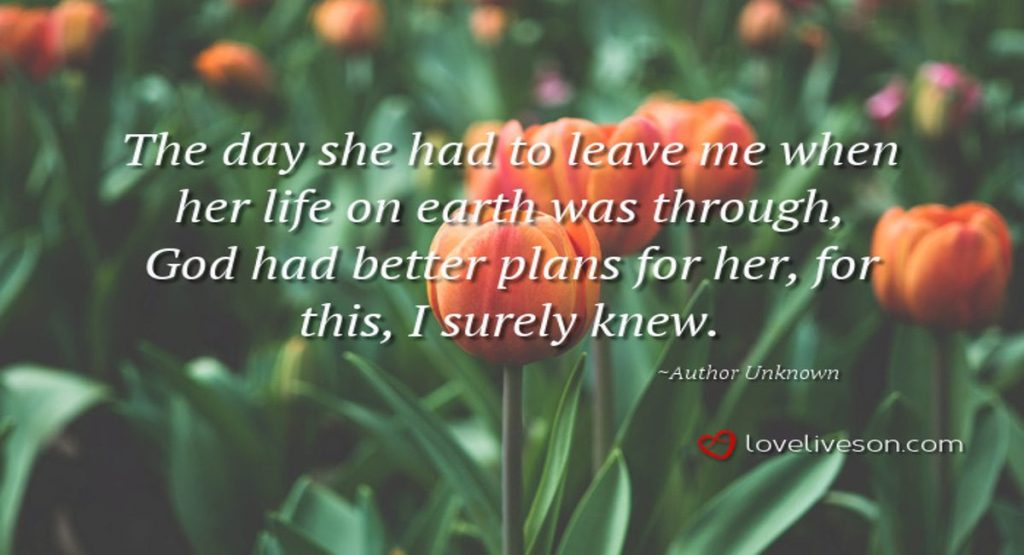 ~
If your Mom suffered from an illness that left her in pain before her passing, this beautiful poem offers comfort to loved ones in knowing that she is no longer in any pain and is in God's loving arms.
Dearest Mum
By an Unknown Author
Memories unfold as we think of you,
A real mum, through and through.
You suffered in silence everyday,
An illness that would not go away.
But now you have no more pain
For God's loving arms have healed you again.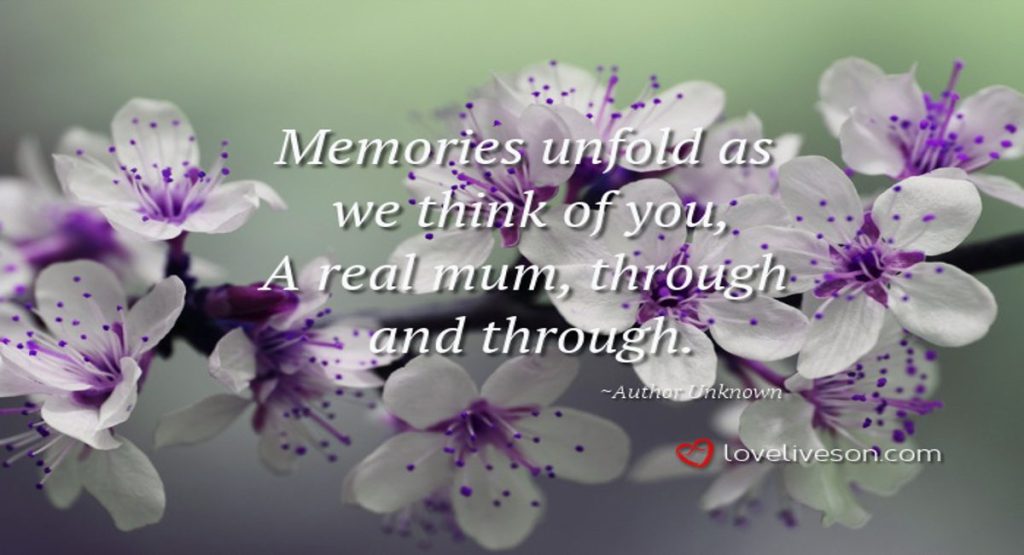 ~
This poem is absolutely beautiful and talks about all the love that can be felt by a mother's hands from rocking your cradle as a baby to caressing you when troubles came your way.
Mother's Hands
By Marian Jones
Hands that rocked the cradle
From the moment of my birth,
Their tender touch remembered
By those still here on Earth.
Soft as silk those hands
That taught me how to pray,
Banishing childhood fears;
They soothed each one away.
When I grew much older
And troubles came my way,
Those hands caressing mine
Did more than words could say.
Mother's hands were gentle,
They're missed so very much,
I'd give the world to feel once more
Their warm and tender touch.
Those hands were full of comfort
Now they lie at rest,
But memories hold them close
To the ones they served the best.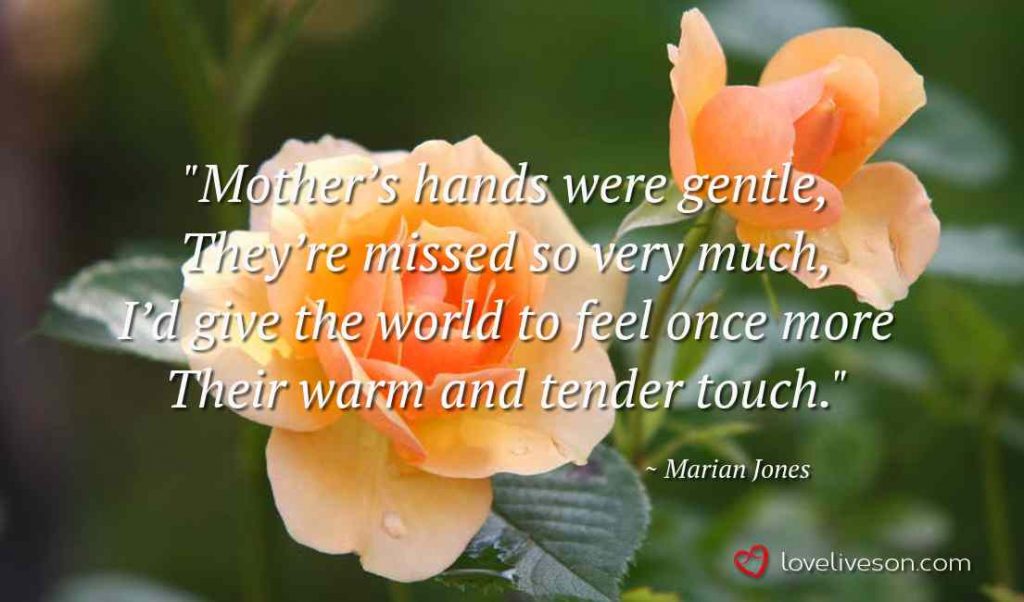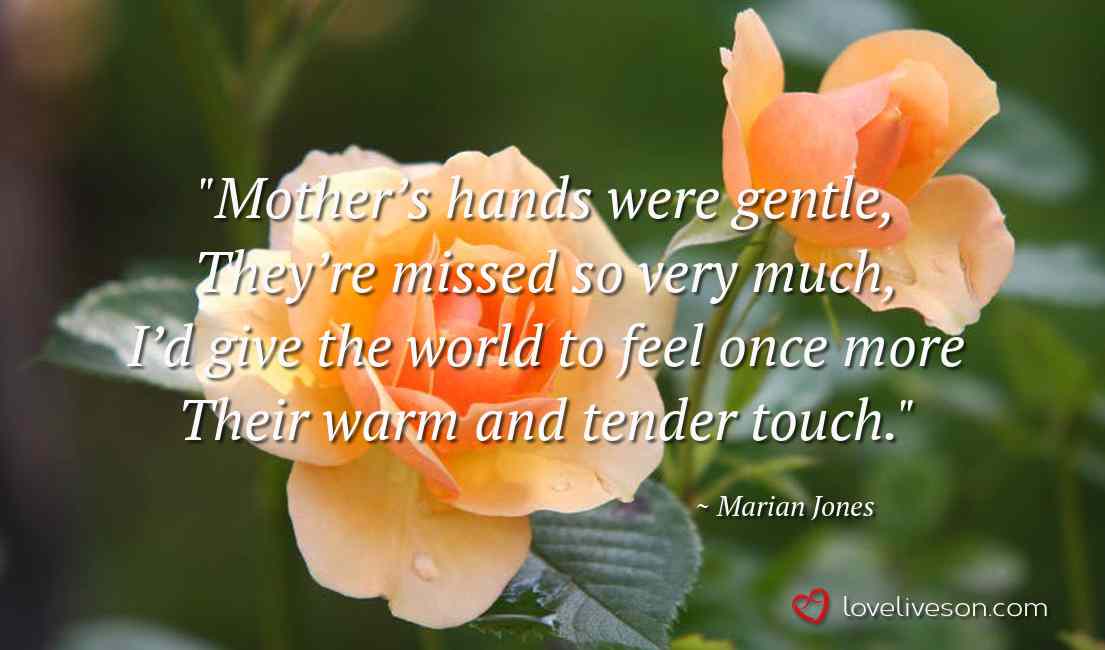 ~
If your mother was an angel on Earth, a woman who loved life, cherished her family and was kind beyond words, this is the perfect poem to honour her at her funeral or memorial service.
An Angel
By an Unknown Author
An angel lived among us,
A gift from God above.
She showered us with kindness
And shared with us her love.
She cherished every moment
With the man who was her life;
Walking hand in hand together,
Facing life with all its strife.
She loved her children dearly,
Each one a different way,
Nestled close within her heart.
Though, now, she's far away.
She's gone to live with Jesus.
But, she's here with us, today,
Smiling down on every one of us,
And telling us she's O.K.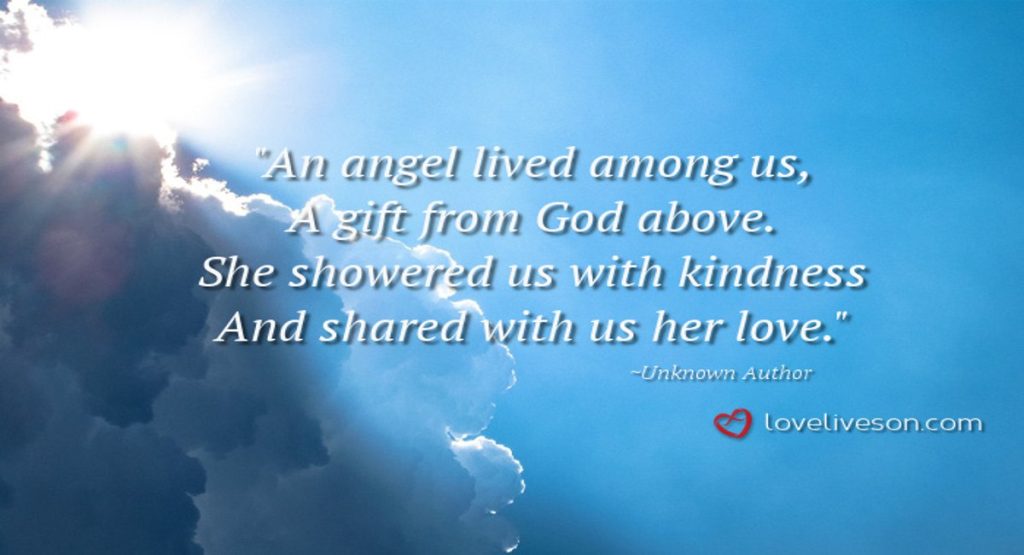 ~
~
This gorgeous poems provides us with comfort when mourning the passing of a beloved mother. Although a mother's journey on Earth might be over, this is just one part of her journey.
Her Journey's Just Begun
By an Unknown Author
Don't think of her as gone away
her journey's just begun
life holds so many facets
this earth is only one.
Just think of her as resting
from the sorrows and the tears
in a place of warmth and comfort
where there are no days or years.
Think how she must be wishing
that we could know today
how nothing but our sadness
can really pass away.
And think of her as living
in the hearts of those she touched
for nothing loved is ever lost
and she was loved so much.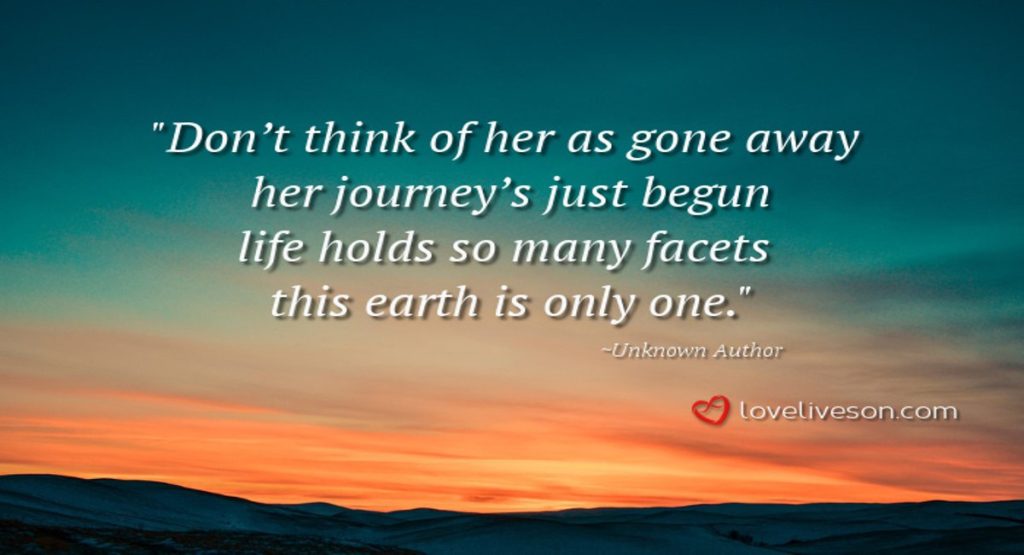 ~
Are You There Momma?
By Katherine Gallagher
All it takes is one picture, one memory, one song
Ever since you left us everything seems wrong
The sadness can hit me and knock me on the floor
They say it gets easier but it's hurting so much more
I still can hear your voice and I visualize your face
But all I want is to have you right back in your place
Can you hear me momma, in my dreams I call for you
And I try so hard to get to you but I don't know what to do
Can you see me momma, are you watching over me?
Is Heaven all they say it is, are you healthy and happy?
Your family is hurting, it's so hard since you've been gone
I'm crying so much now, but I once was very strong
Losing you has changed me, made me someone new
I know you want me happy so I'll try to be that for you
Please watch over us all, from your perch up in the sky
And every time I think of you I'll try hard not to cry
Can you hear me momma, calling out your name
I feel you all around me, but it'll never be the same
Can you see me momma, as you look down from your cloud?
I hope and pray with all my might that I still make you proud.
~
Last Journey
By Timothy Coote
There is a train at the station
With a seat reserved just for me
I'm excited about its destination
As I've heard it sets you free
The trials and tribulations
The pain and stress we breathe
Don't exist were I am going
Only happiness I believe
I hope that you will be there
To wish me on my way
It's not a journey you can join in
It's not your time today
There'll be many destinations
Some are happy, some are sad
Each one a brief reminder
Of the great times that we've had
Many friends I know are waiting
Who took an earlier train
To greet and reassure me
That nothing has really changed
We'll take the time together
To catch up on the past
To build a new beginning
One that will always last
One day you'll take your journey
On the train just like me
And i promise that I'll be there
At the station and you will see
That Life is just a journey
Enriched by those you meet
No one can take that from you
It's always yours to keep'
But now as no seat is vacant
You will have to muddle through
Make sure you fulfill your ambitions
As you know I'll be watching you
And if there's an occasion
To mention who you knew
Speak kindly of that person
As one day it will be you
Now i can't except this ending
And as it's time for me to leave
Please make haste to the reception
To enjoy my drinks, they're free!
~
Are There More Funeral Poems for Mom That We Should Add?
Do you have suggestion of poems to add to our list of funeral poems for Moms?
We would love to hear your suggestions in the comments box below.
You can also follow our Pinterest board for more funeral quotes for Mom set to stunning imagery you can share on social media.