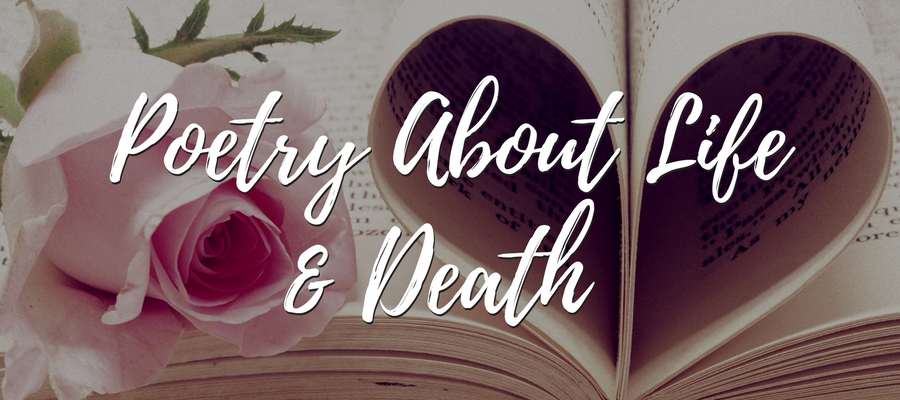 Looking for poems about death to read at a funeral, memorial service, or a celebration of life ceremony?
Or perhaps you're searching for death poems as inspiration for writing an epitaph, a sympathy card, or a eulogy?
Whatever your need, we have assembled 100+ poems about death to make your search easier.  For ease of reference, we have organized this collection by themes:
We hope that you find our ultimate collection of death poetry helpful.

Famous Poems About Death
You may be familiar with some of these iconic death poem written by the greatest poets of all time.
These famous poems about death reflect the poet's unique thoughts and feelings about what happens to us after we die.  They also share their insights into how we should remember our loved ones after they are gone.
Death Be Not Proud
By John Donne
Death, be not proud, though some have called thee
Mighty and dreadful, for thou art not so;
For those whom thou think'st thou dost overthrow
Die not, poor Death, nor yet canst thou kill me.
From rest and sleep, which but thy pictures be,
Much pleasure; then from thee much more must flow,
And soonest our best men with thee do go,
Rest of their bones, and soul's delivery.
Thou art slave to fate, chance, kings, and desperate men,
And dost with poison, war, and sickness dwell,
And poppy or charms can make us sleep as well
And better than thy stroke; why swell'st thou then?
One short sleep past, we wake eternally
And death shall be no more; Death, thou shalt die.
~
Because I Could Not Stop For Death
By Emily Dickinson
Because I could not stop for Death –
He kindly stopped for me –
The Carriage held but just Ourselves –
And Immortality.
We slowly drove – He knew no haste
And I had put away
My labor and my leisure too,
For His Civility –
We passed the School, where Children strove
At Recess – in the Ring –
We passed the Fields of Gazing Grain –
We passed the Setting Sun –
Or rather – He passed us –
The Dews drew quivering and chill –
For only Gossamer, my Gown –
My Tippet – only Tulle –
We paused before a House that seemed
A Swelling of the Ground –
The Roof was scarcely visible –
The Cornice – in the Ground –
Since then – 'tis Centuries – and yet
Feels shorter than the Day
I first surmised the Horses' Heads
Were toward Eternity –
~
Do Not Stand at My Grave and Weep
By Mary Elizabeth Frye
Do not stand at my grave and weep
I am not there; I do not sleep.
I am a thousand winds that blow,
I am the diamond glints on snow,
I am the sun on ripened grain,
I am the gentle autumn rain.
When you awaken in the morning's hush
I am the swift uplifting rush
Of quiet birds in circled flight.
I am the soft stars that shine at night.
Do not stand at my grave and cry,
I am not there; I did not die.
~
Do Not Go Gentle Into That Good Night
By Dylan Thomas
Do not go gentle into that good night,
Old age should burn and rave at close of day;
Rage, rage against the dying of the light.
Though wise men at their end know dark is right,
Because their words had forked no lightning they
Do not go gentle into that good night.
Good men, the last wave by, crying how bright
Their frail deeds might have danced in a green bay,
Rage, rage against the dying of the light.
Wild men who caught and sang the sun in flight,
And learn, too late, they grieved it on its way,
Do not go gentle into that good night.
Grave men, near death, who see with blinding sight
Blind eyes could blaze like meteors and be gay,
Rage, rage against the dying of the light.
And you, my father, there on the sad height,
Curse, bless, me now with your fierce tears, I pray.
Do not go gentle into that good night.
Rage, rage against the dying of the light.
~
An Irish Airman Foresees His Death
By W.B. Yeats
I know that I shall meet my fate
Somewhere among the clouds above;
Those that I fight I do not hate
Those that I guard I do not love;
My country is Kiltartan Cross,
My countrymen Kiltartan's poor,
No likely end could bring them loss
Or leave them happier than before.
Nor law, nor duty bade me fight,
Nor public man, nor cheering crowds,
A lonely impulse of delight
Drove to this tumult in the clouds;
I balanced all, brought all to mind,
The years to come seemed waste of breath,
A waste of breath the years behind
In balance with this life, this death.
~
And Death Shall Have No Dominion
By Dylan Thomas
And death shall have no dominion.
Dead man naked they shall be one
With the man in the wind and the west moon;
When their bones are picked clean and the clean bones gone,
They shall have stars at elbow and foot;
Though they go mad they shall be sane,
Though they sink through the sea they shall rise again;
Though lovers be lost love shall not;
And death shall have no dominion.
And death shall have no dominion.
Under the windings of the sea
They lying long shall not die windily;
Twisting on racks when sinews give way,
Strapped to a wheel, yet they shall not break;
Faith in their hands shall snap in two,
And the unicorn evils run them through;
Split all ends up they shan't crack;
And death shall have no dominion.
And death shall have no dominion.
No more may gulls cry at their ears
Or waves break loud on the seashores;
Where blew a flower may a flower no more
Lift its head to the blows of the rain;
Though they be mad and dead as nails,
Heads of the characters hammer through daisies;
Break in the sun till the sun breaks down,
And death shall have no dominion.
~
The Death of the Ball Turrett-Gunner
By Randall Jarrell
From my mother's sleep I fell into the State,
And I hunched in its belly till my wet fur froze.
Six miles from earth, loosed from its dream of life,
I woke to black flak and the nightmare fighters.
When I died they washed me out of the turret with a hose.
~
Crossing the Bar
By Alfred Tennyson
Sunset and evening star,
And one clear call for me!
And may there be no moaning of the bar,
When I put out to sea,
But such a tide as moving seems asleep,
Too full for sound and foam,
When that which drew from out the boundless deep
Turns again home.
Twilight and evening bell,
And after that the dark!
And may there be no sadness of farewell,
When I embark;
For tho' from out our bourne of Time and Place
The flood may bear me far,
I hope to see my Pilot face to face
When I have crost the bar.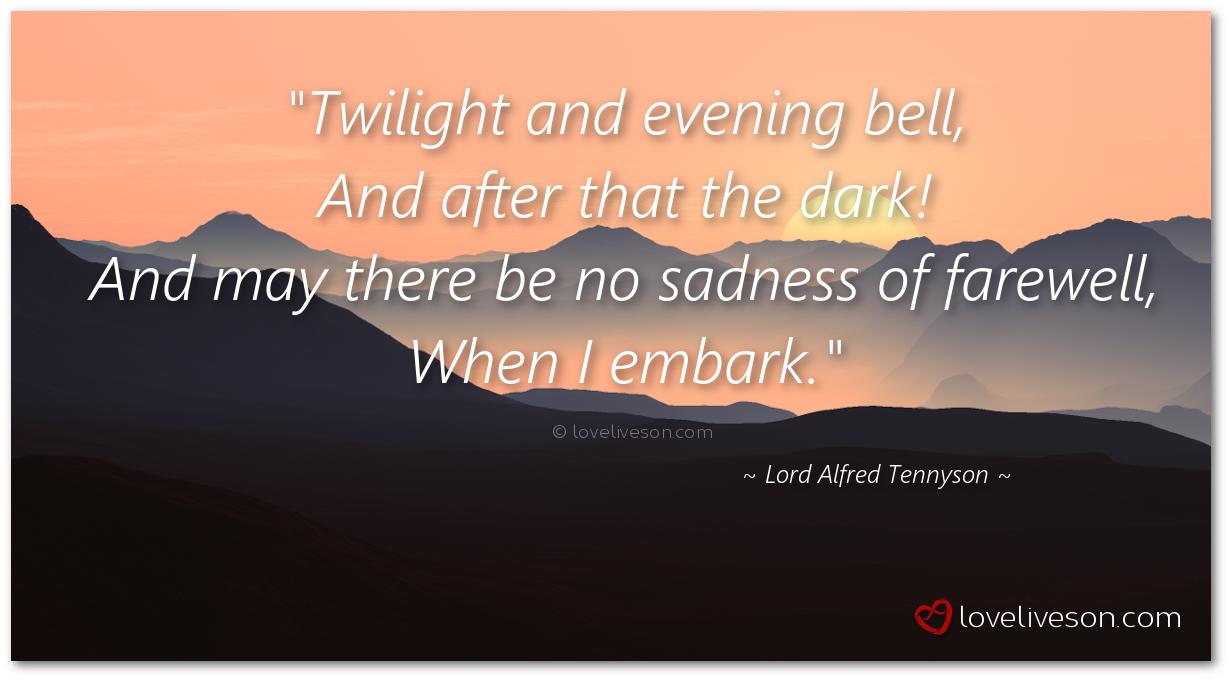 ~
I Heard a Fly Buzz — When I Died
By Emily Dickinson
I heard a Fly buzz — when I died —
The Stillness in the Room
Was like the Stillness in the Air —
Between the Heaves of Storm —
The Eyes around — had wrung them dry —
And Breaths were gathering firm
For that last Onset — when the King
Be witnessed — in the Room —
I willed my Keepsakes — Signed away
What portion of me be
Assignable — and then it was
There interposed a Fly —
With Blue — uncertain — stumbling Buzz —
Between the light — and me —
And then the Windows failed — and then
I could not see to see —
~
Lenore
By Edgar Allan Poe
Ah broken is the golden bowl! the spirit flown forever!
Let the bell toll! — a saintly soul floats on the Stygian river;
And, Guy De Vere, hast thou no tear? — weep now or never more!
See! on yon drear and rigid bier low lies thy love, Lenore!
Come! let the burial rite be read — the funeral song be sung! —
An anthem for the queenliest dead that ever died so young —
A dirge for her the doubly dead in that she died so young.
"Wretches! ye loved her for her wealth and hated her for her pride,
"And when she fell in feeble health, ye blessed her — that she died!
"How shall the ritual, then, be read? — the requiem how be sung
"By you — by yours, the evil eye, — by yours, the slanderous tongue
"That did to death the innocent that died, and died so young?"
Peccavimus; but rave not thus! and let a Sabbath song
Go up to God so solemnly the dead may feel so wrong!
The sweet Lenore hath "gone before," with Hope, that flew beside
Leaving thee wild for the dear child that should have been thy bride —
For her, the fair and debonair, that now so lowly lies,
The life upon her yellow hair but not within her eyes —
The life still there, upon her hair — the death upon her eyes.
"Avaunt! to-night my heart is light. No dirge will I upraise,
"But waft the angel on her flight with a Pæan of old days!
"Let no bell toll! — lest her sweet soul, amid its hallowed mirth,
"Should catch the note, as it doth float up from the damnéd Earth.
"To friends above, from fiends below, the indignant ghost is riven —
"From Hell unto a high estate far up within the Heaven —
"From grief and groan, to a golden throne, beside the King of Heaven."
~
When I Have Fears That I May Cease to Be
By John Keats
When I have fears that I may cease to be
Before my pen has gleaned my teeming brain,
Before high-piled books, in charactery,
Hold like rich garners the full ripened grain;
When I behold, upon the night's starred face,
Huge cloudy symbols of a high romance,
And think that I may never live to trace
Their shadows with the magic hand of chance;
And when I feel, fair creature of an hour,
That I shall never look upon thee more,
Never have relish in the faery power
Of unreflecting love — then on the shore
Of the wide world I stand alone, and think
Till love and fame to nothingness do sink.
~
Sonnet 71
By William Shakespeare
No longer mourn for me when I am dead
Then you shall hear the surly sullen bell
Give warning to the world that I am fled
From this vile world, with vilest worms to dwell:
Nay, if you read this line, remember not
The hand that writ it; for I love you so
That I in your sweet thoughts would be forgot
If thinking on me then should make you woe.
O, if, I say, you look upon this verse
When I perhaps compounded am with clay,
Do not so much as my poor name rehearse.
But let your love even with my life decay,
Lest the wise world should look into your moan
And mock you with me after I am gone.
~
Funeral Blues
By W.H Auden
Stop all the clocks, cut off the telephone,
Prevent the dog from barking with a juicy bone,
Silence the pianos and with muffled drum
Bring out the coffin, let the mourners come.
Let aeroplanes circle moaning overhead
Scribbling on the sky the message 'He is Dead'.
Put crepe bows round the white necks of the public doves,
Let the traffic policemen wear black cotton gloves.
He was my North, my South, my East and West,
My working week and my Sunday rest,
My noon, my midnight, my talk, my song;
I thought that love would last forever: I was wrong.
The stars are not wanted now; put out every one,
Pack up the moon and dismantle the sun,
Pour away the ocean and sweep up the wood;
For nothing now can ever come to any good.
~
The Darkling Thrush
By Thomas Hardy
I leant upon a coppice gate
When Frost was spectre-grey,
And Winter's dregs made desolate
The weakening eye of day.
The tangled bine-stems scored the sky
Like strings of broken lyres,
And all mankind that haunted nigh
Had sought their household fires.
The land's sharp features seemed to be
The Century's corpse outleant,
His crypt the cloudy canopy,
The wind his death-lament.
The ancient pulse of germ and birth
Was shrunken hard and dry,
And every spirit upon earth
Seemed fervourless as I.
At once a voice arose among
The bleak twigs overhead
In a full-hearted evensong
Of joy illimited;
An aged thrush, frail, gaunt, and small,
In blast-beruffled plume,
Had chosen thus to fling his soul
Upon the growing gloom.
So little cause for carolings
Of such ecstatic sound
Was written on terrestrial things
Afar or nigh around,
That I could think there trembled through
His happy good-night air
Some blessed Hope, whereof he knew
And I was unaware.
~
Sonnet 23:
Methought I Saw My Late Espoused Saint
By John Milton
Methought I saw my late espoused saint
Brought to me, like Alcestis, from the grave,
Whom Jove's great son to her glad husband gave,
Rescu'd from death by force, though pale and faint.
Mine, as whom wash'd from spot of child-bed taint
Purification in the old Law did save,
And such as yet once more I trust to have
Full sight of her in Heaven without restraint,
Came vested all in white, pure as her mind;
Her face was veil'd, yet to my fancied sight
Love, sweetness, goodness, in her person shin'd
So clear as in no face with more delight.
But Oh! as to embrace me she inclin'd,
I wak'd, she fled, and day brought back my night.
~
Annabel Lee
By Edgar Allan Poe
It was many and many a year ago,
In a kingdom by the sea,
That a maiden there lived whom you may know
By the name of Annabel Lee;
And this maiden she lived with no other thought
Than to love and be loved by me.
I was a child and she was a child,
In this kingdom by the sea,
But we loved with a love that was more than love —
I and my Annabel Lee —
With a love that the wingèd seraphs of Heaven
Coveted her and me.
And this was the reason that, long ago,
In this kingdom by the sea,
A wind blew out of a cloud, chilling
My beautiful Annabel Lee;
So that her highborn kinsmen came
And bore her away from me,
To shut her up in a sepulchre
In this kingdom by the sea.
The angels, not half so happy in Heaven,
Went envying her and me —
Yes! — that was the reason (as all men know,
In this kingdom by the sea)
That the wind came out of the cloud by night,
Chilling and killing my Annabel Lee.
But our love it was stronger by far than the love
Of those who were older than we —
Of many far wiser than we —
And neither the angels in Heaven above
Nor the demons down under the sea
Can ever dissever my soul from the soul
Of the beautiful Annabel Lee;
For the moon never beams, without bringing me dreams
Of the beautiful Annabel Lee;
And the stars never rise, but I feel the bright eyes
Of the beautiful Annabel Lee;
And so, all the night-tide, I lie down by the side
Of my darling — my darling — my life and my bride,
In her sepulchre there by the sea —
In her tomb by the sounding sea.
~
O Captain! My Captain!
By Walt Whitman
O Captain! my Captain! our fearful trip is done,
The ship has weather'd every rack, the prize we sought is won,
The port is near, the bells I hear, the people all exulting,
While follow eyes the steady keel, the vessel grim and daring;
But O heart! heart! heart!
O the bleeding drops of red,
Where on the deck my Captain lies,
Fallen cold and dead.
O Captain! my Captain! rise up and hear the bells;
Rise up — for you the flag is flung — for you the bugle trills,
For you bouquets and ribbon'd wreaths — for you the shores a-crowding,
For you they call, the swaying mass, their eager faces turning;
Here Captain! dear father!
This arm beneath your head!
It is some dream that on the deck,
You've fallen cold and dead.
My Captain does not answer, his lips are pale and still,
My father does not feel my arm, he has no pulse nor will,
The ship is anchor'd safe and sound, its voyage closed and done,
From fearful trip the victor ship comes in with object won;
Exult O shores, and ring O bells!
But I with mournful tread,
Walk the deck my Captain lies,
Fallen cold and dead.
~
Thanatopsis
By William Cullen Bryant
To him who in the love of Nature holds
Communion with her visible forms, she speaks
A various language; for his gayer hours
She has a voice of gladness, and a smile
And eloquence of beauty, and she glides
Into his darker musings, with a mild
And healing sympathy, that steals away
Their sharpness, ere he is aware. When thoughts
Of the last bitter hour come like a blight
Over thy spirit, and sad images
Of the stern agony, and shroud, and pall,
And breathless darkness, and the narrow house,
Make thee to shudder, and grow sick at heart; —
Go forth, under the open sky, and list
To Nature's teachings, while from all around —
Earth and her waters, and the depths of air —
Comes a still voice —
Yet a few days, and thee
The all-beholding sun shall see no more
In all his course; nor yet in the cold ground,
Where thy pale form was laid, with many tears,
Nor in the embrace of ocean, shall exist
Thy image. Earth, that nourished thee, shall claim
Thy growth, to be resolved to earth again,
And, lost each human trace, surrendering up
Thine individual being, shalt thou go
To mix for ever with the elements,
To be a brother to the insensible rock
And to the sluggish clod, which the rude swain
Turns with his share, and treads upon. The oak
Shall send his roots abroad, and pierce thy mould.
Yet not to thine eternal resting-place
Shalt thou retire alone, nor couldst thou wish
Couch more magnificent. Thou shalt lie down
With patriarchs of the infant world — with kings,
The powerful of the earth, the wise, the good,
Fair forms, and hoary seers of ages past,
All in one mighty sepulchre.   The hills
Rock-ribbed and ancient as the sun, the vales
Stretching in pensive quietness between;
The venerable woods — rivers that move
In majesty, and the complaining brooks
That make the meadows green; and, poured round all,
Old Ocean's gray and melancholy waste,—
Are but the solemn decorations all
Of the great tomb of man. The golden sun,
The planets, all the infinite host of heaven,
Are shining on the sad abodes of death,
Through the still lapse of ages. All that tread
The globe are but a handful to the tribes
That slumber in its bosom.  Take the wings
Of morning, pierce the Barcan wilderness,
Or lose thyself in the continuous woods
Where rolls the Oregon, and hears no sound,
Save his own dashings — yet the dead are there:
And millions in those solitudes, since first
The flight of years began, have laid them down
In their last sleep — the dead reign there alone.
So shalt thou rest, and what if thou withdraw
In silence from the living, and no friend
Take note of thy departure? All that breathe
Will share thy destiny. The gay will laugh
When thou art gone, the solemn brood of care
Plod on, and each one as before will chase
His favorite phantom; yet all these shall leave
Their mirth and their employments, and shall come
And make their bed with thee. As the long train
Of ages glide away, the sons of men,
The youth in life's green spring, and he who goes
In the full strength of years, matron and maid,
The speechless babe, and the gray-headed man —
Shall one by one be gathered to thy side,
By those, who in their turn shall follow them.
So live, that when thy summons comes to join
The innumerable caravan, which moves
To that mysterious realm, where each shall take
His chamber in the silent halls of death,
Thou go not, like the quarry-slave at night,
Scourged to his dungeon, but, sustained and soothed
By an unfaltering trust, approach thy grave,
Like one who wraps the drapery of his couch
About him, and lies down to pleasant dreams.
~
Let Me Die a Youngman's Death
By Roger McGough
Let me die a youngman's death
not a clean and inbetween
the sheets holywater death
not a famous-last-words
peaceful out of breath death
When I'm 73
and in constant good tumour
may I be mown down at dawn
by a bright red sports car
on my way home
from an allnight party
Or when I'm 91
with silver hair
and sitting in a barber's chair
may rival gangsters
with hamfisted tommyguns burst in
and give me a short back and insides
Or when I'm 104
and banned from the Cavern
may my mistress
catching me in bed with her daughter
and fearing for her son
cut me up into little pieces
and throw away every piece but one
Let me die a youngman's death
not a free from sin tiptoe in
candle wax and waning death
not a curtains drawn by angels borne
'what a nice way to go' death
~
I Have a Rendezvous With Death
By Alan Seeger
I have a rendezvous with Death
At some disputed barricade,
When Spring comes back with rustling shade
And apple-blossoms fill the air
I have a rendezvous with Death
When Spring brings back blue days and fair.
It may be he shall take my hand
And lead me into his dark land
And close my eyes and quench my breath"
It may be I shall pass him still.
I have a rendezvous with Death
On some scarred slope of battered hill
When Spring comes round again this year
And the first meadow-flowers appear.
God knows 'twere better to be deep
Pillowed in silk and scented down,
Where Love throbs out in blissful sleep,
Pulse nigh to pulse, and breath to breath,
Where hushed awakenings are dear…
But I've a rendezvous with Death
At midnight in some flaming town,
When Spring trips north again this year,
And I to my pledged word am true,
I shall not fail that rendezvous.
~
Death
By Emily Bronte
Death! that struck when I was most confiding
In my certain faith of joy to be —
Strike again, Time's withered branch dividing
From the fresh root of Eternity!
Leaves, upon Time's branch, were growing brightly,
Full of sap, and full of silver dew;
Birds beneath its shelter gathered nightly;
Daily round its flowers the wild bees flew.
Sorrow passed, and plucked the golden blossom;
Guilt stripped off the foliage in its pride;
But, within its parent's kindly bosom,
Flowed for ever Life's restoring-tide.
Little mourned I for the parted gladness,
For the vacant nest and silent song —
Hope was there, and laughed me out of sadness;
Whispering, " Winter will not linger long!"
And, behold! with tenfold increase blessing,
Spring adorned the beauty-burdened spray;
Wind and rain and fervent heat, caressing,
Lavished glory on that second May!
High it rose — no winged grief could sweep it;
Sin was scared to distance with its shine;
Love, and its own life, had power to keep it
From all wrong — from every blight but thine!
Cruel Death! The young leaves droop and languish;
Evening's gentle air may still restore —
No! the morning sunshine mocks my anguish —
Time, for me, must never blossom more!
Strike it down, that other boughs may flourish
Where that perished sapling used to be;
Thus, at least, its mouldering corpse will nourish
That from which it sprung — Eternity.

Short Poems About Death
In these short poems about death, poets articulated complex emotions in a few short, yet sweet lines of prose.
You may find that one of these short death poems would make a great addition to a sympathy card or condolence message for someone grieving the loss of a loved one.
I Will Love Death
By Sri Chinmoy
I know I will love death.
Why?
Because death too
Is God's creation
And because death reminds me
Of the existence of her sister:
Infinity's Life immortal.
~
Death
By Rainer Maria Rilke
Before us great Death stands
Our fate held close within his quiet hands.
When with proud joy we lift Life's red wine
To drink deep of the mystic shining cup
And ecstasy through all our being leaps —
Death bows his head and weeps.
~
For Katrina's Sun Dial
By Henry Van Dyke
Time is too slow for those who wait,
Too swift for those who fear,
Too long for those who grieve,
Too short for those who rejoice,
But for those who love, time is
Eternity.
~
A Parting Guest
By James Whitcomb Riley
What delightful guests are they
Life and Love!
Lingering I turn away,
This late hour, yet glad enough
They have not witheld from me
Their high hospitality.
So with face lit with delight
And all gratitude, I stay
Yet to press their hands and say,
"Thanks. So fine a time! Goodnight.
~
Turn Again to Life
By Mary Lee Hall
If I should die and leave you here a while,
be not like others sore undone,
who keep long vigil by the silent dust.
For my sake turn again to life and smile,
nerving thy heart and trembling hand
to do something to comfort other hearts than mine.
Complete these dear unfinished tasks of mine
and I perchance may therein comfort you.
~
How Wonderful is Death
From Queen Mab, Percy Byssche Shelley
How wonderful is Death,
Death, and his brother Sleep!
One, pale as yonder waning moon
With lips of lurid blue;
The other, rosy as the morn
When throned on ocean's wave
It blushes o'er the world;
Yet both so passing wonderful!
~
If I Should Go
By Joyce Grenfell
If I should go before the rest of you
Break not a flower nor inscribe a stone
Nor when I'm gone speak in a Sunday voice
But be the usual selves that I have known
Weep if you must
Parting is hell
But life goes on
So sing as well.
~
All Nature Has a Feeling
By John Clare
All nature has a feeling: woods, fields, brooks
Are life eternal: and in silence they
Speak happiness beyond the reach of books;
There's nothing mortal in them; their decay
Is the green life of change; to pass away
And come again in blooms revivified.
Its birth was heaven, eternal it its stay,
And with the sun and moon shall still abide
Beneath their day and night and heaven wide.
~
Inside Our Dreams
By Jeanne Willis
Where do people go to when they die?
Somewhere down below or in the sky?
'I can't be sure,' said Grandad, 'but it seems
They simply set up home inside our dreams.'
~
Farewell
By Anne Bronte
Farewell to Thee! But not farewell
To all my fondest thoughts of Thee;
Within my heart they still shall dwell
And they shall cheer and comfort me.
Life seems more sweet that Thou didst live
And men more true Thou wert one;
Nothing is lost that Thou didst give,
Nothing destroyed that Thou hast done.
~
He That Is Down Needs Fear No Fall
By John Bunyan
He that is down needs fear no fall,
He that is low, no pride;
He that is humble ever shall
Have God to be his guide.
I am content with what I have,
Little be it or much;
And, Lord, contentment will I crave,
Because Thou savest such.
Fullness to such a burden is
That go on pilgrimage:
Here little, and hereafter bliss,
Is best from age to age.
~
If Only
Author Unknown
If only we could see the splendour of the land
To which our loved ones are called from you and me
We'd understand
If only we could hear the welcome they receive
From old familiar voices all so dear
We would not grieve
If only we could know the reason why they went
We'd smile and wipe away the tears that flow
And wait content.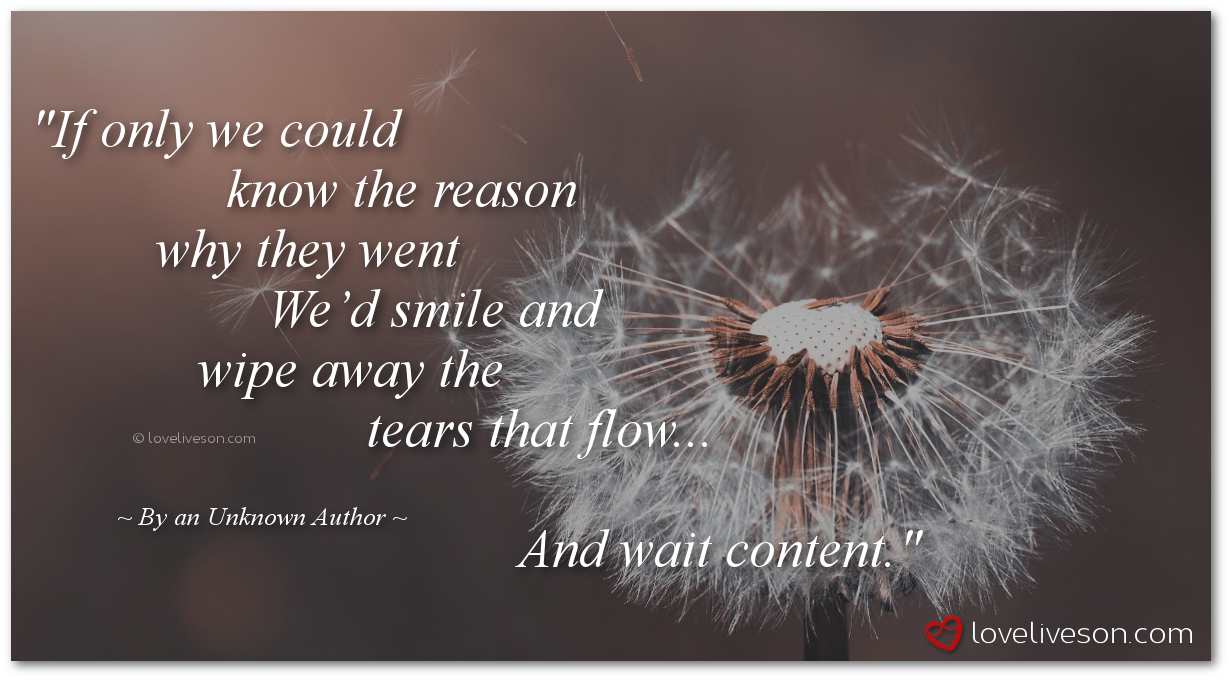 ~
I Fall Asleep
By Samuel Butler
I fall asleep in the full and certain hope
That my slumber shall not be broken;
And that though I be all-forgetting,
Yet shall I not be forgotten,
But continue that life in the thoughts and deeds
of those I loved.
~
If I Should Go Tomorrow
Author Unknown
If I should go tomorrow
It would never be goodbye,
For I have left my heart with you,
So don't you ever cry.
The love that's deep within me,
Shall reach you from the stars,
You'll feel it from the heavens,
And it will heal the scars.
~
Light
By Francis Bourdillon
The night has a thousand eyes.
And the day but one;
Yet the light of the bright world dies
With the dying sun.
The mind has a thousand eyes.
And the heart but one:
Yet the light of a whole life dies
When love is done.
~
No Night Without You
By Helen Steiner Rice
There is no night without a dawning
No winter without a spring
And beyond the dark horizon
Our hearts will once more sing…
For those who leave us for a while
Have only gone away
Out of a restless, care worn world
Into a brighter day.
~
Peace My Heart
By Rabindranath Tagore
Peace, my heart, let the time for the parting be sweet.
Let it not be a death but completeness.
Let love melt into memory and pain into songs.
Let the flight through the sky end in the folding of the wings over the nest.
Let the last touch of your hands be gentle like the flower of the night.
Stand still, O Beautiful End, for a moment, and say your last words in silence.
I bow to you and hold up my lamp to light your way.
~
Songs of the Death of Children
By Friedrich Ruckert
You must not shut the night inside you,
But endlessly in light the dark immerse.
A tiny lamp has gone out in my tent –
I bless the flame that warms the universe.
~
Silent Tear
Author Unknown
Each night we shed a silent tear,
As we speak to you in prayer.
To let you know we love you,
And just how much we care.
Take our million teardrops,
Wrap them up in love,
Then ask the wind to carry them,
To you in heaven above.
~
The New Life's Salutation
By Anna Barabauld
Life, we've been long together
Through pleasant and through cloudy weather;
'Tis hard to part when friends are dear,
Perhaps 'twill cost a sigh, a tear;
Then steal away, give little warning,
Choose thine own time:
Say not "Good night," but in some brighter clime
Bid me "Good morning."

Related Articles


Inspirational Poems About Death
Beautiful poetry can provide comfort, solace, hope and even inspiration following the death of a loved one.
Here, you'll find a collection of inspirational poems about death that remind us that although death may be the end of life on Earth, it is not the end of love.
You may also find lines from these inspirational death poems that would be fitting to include when writing a eulogy or to use in a condolence message to comfort someone who's grieving.
There is No Death
Author Unknown
There is a plan far greater than the plan you know;
There is a landscape broader than the one you see.
There is a haven where storm-tossed souls may go —
You call it death — we, immortality.
You call it death — this seemingly endless sleep;
We call it birth — the soul at last set free.
'Tis hampered not by time or space — you weep.
Why weep at death? 'Tis immortality.
Farewell, dear Voyageur — 'twill not be long.
Your work is done — now may peace rest with thee.
Your kindly thoughts and deeds — they will live on.
This is not death — 'tis immortality.
Farewell, dear voyageur — the river winds and turns;
The cadence of your song wafts near to me,
And now you know the thing that all men learn:
There is no death — there's immortality.
~
Time Will Ease the Hurt
By Bruce Wilmer
The sadness of the present days
Is locked and set in time,
And moving to the future
Is a slow and painful climb.
But all the feelings that are now
So vivid and so real
Can't hold their fresh intensity
As time begins to heal.
No wound so deep will ever go
Entirely away;
Yet every hurt becomes
A little less from day to day.
Nothing else can erase the painful
Imprints on your mind;
But there are softer memories
That time will let you find.
Though your heart won't let the sadness
Simply slide away,
The echoes will diminish
Even though the memories stay.
~
When At Heart You Should Be Sad
By Sir Walter Raleigh
When at heart you should be sad,
Pondering the joys we had,
Listen and keep very still.
If the lowing from the hill
Or the toiling of a bell
Do not serve to break the spell,
Listen: you may be allowed
To hear my laughter from a cloud.
~
When I Must Leave
Author Unknown
When I must leave you for a while
Please do not grieve and shed wild tears
And hug your sorrow to you through the years
But start out bravely with a gallant smile
And for my sake and in my name
Live on and do all the things the same
Feed not your loneliness on empty days
But fill each working hour in useful ways
Reach out your hand in comfort and in cheer
And I in turn will comfort you and hold you near
And never, never be afraid to die
For I am waiting for you in the sky.
~
I Am Not Gone
By Injete Chesoni
I am not gone
I remain here beside you
Just in a different form
Look for me in your heart
And there you will find me
in our love which forever lives on
In those moments when you feel alone
Look for me in your thoughts
And there you will find me
in sweet memories that burn strong
Every time a tear
Forms in your beautiful eyes
Look up to the heavens
And there you will see me
Smiling down from God's glorious skies
~
The Soldier
By Rupert Brooke
If I should die, think only this of me:
That there's some corner of a foreign field
That is forever England. There shall be
In that rich earth a richer dust concealed;
A dust that England bore, shaped, made aware,
Gave, once, her flowers to love, her ways to roam,
A body of England's, breathing English air,
Washed by the rivers, blest by the suns of home.
And think, this heart, all evil shed away,
A pulse in the eternal mind, no less
Gives somewhere back the thoughts of England given;
Her sights and sounds; dreams happy as her day;
And laughter, learnt of friends; and gentleness,
In hearts at peace, under an English heaven.
~
They That Love Beyond the World
By William Penn
They that love beyond the world cannot be separated by it,
death cannot kill what never dies.
Nor can spirits ever be divided that love
and live in the same divine principle,
the root and record of their friendship.
If absence be not death, neither is theirs.
Death is but crossing the world, as friends do the seas;
they live in one another still.
For they must needs be present,
that love and live in that which is ominipresent.
In this divine glass, they see face to face;
and their converse is free as well as pure.
This is the comfort of friends,
that though they may be said to die,
yet their friendship and society are,
in the best sense, ever present, because immortal.
~
To Those I Love
By Isla Paschal Richardson
If I should ever leave you whom I love
To go along the Silent Way, grieve not,
Nor speak of me with tears, but laugh and talk
Of me as if I were beside you there,
(I'd come… I'd come, could I but find a way!
But would not tears and grief be barriers?)
And when you hear a song or see a bird I loved,
Please do not let the thought of me be sad…
For I am loving you just as I always have…
You were so good to me!
There are so many things I wanted still to do…
So many things to say to you…
Remember that I did not fear…
It was just leaving you that was so hard to face…
We cannot see Beyond… But this I know;
I loved you so…
'Twas heaven here with you!
~
The Clock of Life is Wound But Once
By Robert H Smith
The clock of life is wound but once
And no man has the power
To tell just when the hands will stop
At late or early hour.
To lose one's wealth is sad indeed
To lose one's health is more,
To lose one's soul is such a loss
That no man can restore.
The present is our own,
So live love, toil with a will
Place no faith in "tomorrow,"
For the clock may then be still.
~
She Is Gone
By David Harkins
You can shed tears that she is gone
Or you can smile because she has lived
You can close your eyes and pray that she will come back
Or you can open your eyes and see all that she has left
Your heart can be empty because you can't see her
Or you can be full of the love that you shared
You can turn your back on tomorrow and live yesterday
Or you can be happy for tomorrow because of yesterday
You can remember her and only that she is gone
Or you can cherish her memory and let it live on
You can cry and close your mind, be empty and turn your back
Or you can do what she would want: smile, open your eyes, love and go on.
~
Let Me Go
Author Unknown
We've known lots of pleasure,
At times endured pain,
We've lived in the sunshine
And walked in the rain.
But now we're separated
And for a time apart,
But I am not alone
You're forever in my heart.
Death always seems so sudden,
And it is always sure,
But what is oft' forgotten
It is not without a cure.
There may be times you miss me,
I sort of hope you do,
But smile when you think of me,
For I'll be waiting for you.
Now there's many things for you to,
And lots of ways to grow,
So get busy, be happy, and live your life,
Miss me, but let me go.
~
Life
By Charlotte Bronte
Life, believe, is not a dream
So dark as sages say;
Oft a little morning rain
Foretells a pleasant day.
Sometimes there are clouds of gloom,
But these are transient all;
If the shower will make the roses bloom,
O why lament its fall?Rapidly, merrily
Life's sunny hours flit by,
Gratefully, cheerily,
Enjoy them as they fly! What though Death at times steps in
And calls our best away?
What though sorrow seems to win,
O'er hope, a heavy sway?
Yet hope again elastic springs,
Unconquered, though she fell;
Still buoyant are her golden wings,
Still strong to bear us well.
Manfully, fearlessly,
The day of trial bear,
For gloriously, victoriously,
Can courage quell fear!
~
I Felt An Angel
Author Unknown
I felt an angel near today, though one I could not see
I felt an angel oh so close, sent to comfort me
I felt an angel's kiss, soft upon my cheek
And oh, without a single word of caring did it speak
I felt an angel's loving touch, soft upon my heart
And with that touch, I felt the pain and hurt within depart
I felt an angel's tepid tears, fall softly next to mine
And knew that as those tears did dry a new day would be mine
I felt an angel's silken wings enfold me with pure love
And felt a strength within me grow, a strength sent from above
I felt an angel oh so close, though one I could not see
I felt an angel near today, sent to comfort me.
~
His Journey
By Ellen Brenneman
Don't think of him as gone away
his journey's just begun,
life holds so many facets
this earth is only one.
Just think of him as resting
from the sorrows and the tears
in a place of warmth and comfort
where there are no days and years.
Think how he must be wishing
that we could know today
how nothing but our sadness
can really pass away.
And think of him as living
in the hearts of those he touched…
for nothing loved is ever lost
and he was loved so much.
~
High Flight
By John Gillespie McGee Jr.
Oh! I have slipped the surly bonds of earth
And danced the skies on laughter-silvered wings;
Sunward I've climbed, and joined the tumbling mirth
Of sun-split clouds – and done a hundred things
You have not dreamed of – wheeled and soared and swung
High in the sunlit silence. Ho'ring there,
I've chased the shouting wind along, and flung
My eager craft through the footless halls of air.
Up, up the long, delirious burning blue
I've topped the windswept heights with easy grace
Where never lark, or even eagle flew.
And, while with silent, lifting mind I've trod
The high untrespassed sanctity of space,
Put out my hand, and touched the face of God.
~
Farewell My Friends
By Gitanjali Ghei
It was beautiful as long as it lasted
The journey of my life.
I have no regrets whatsoever
Save the pain I'll leave behind.
Those dear hearts who love and care…
And the strings pulling at the heart and soul…
The strong arms that held me up
When my own strength let me down.
At every turning of my life I came across good friends,
Friends who stood by me,
Even when the time raced me by.
Farewell, farewell, my friends
I smile and bid you goodbye.
No, shed no tears for I need them not
All I need is your smile.
If you feel sad do think of me
For that's what I'll like when you live in the hearts
Of those you love, remember then
You never die.
~
Family o' Mine: I Should Like to Send You a Sunbeam
Author Unknown
Family o' mine:
I should like to send you a sunbeam, or the twinkle of some bright star,
or a tiny piece of the downy fleece that clings to a cloud afar.
I should like to send you the essence of a myriad sun-kissed flowers,
or the lilting song as it floats along, of a brook through fairy bowers.
I should like to send you the dew-drops that glisten at break of day,
and then at night the eerie light that mantles the Milky Way.
I should like to send you the power that nothing can overflow –
the power to smile and laugh the while a-journeying through life you go.
But these are mere fanciful wishes; I'll send you a Godspeed instead,
and I'll clasp your hand – then you'll understand all the things I have left unsaid.
~
Feel No Guilt in Laughter, He'd Know How Much You Care
Author Unknown
Feel no guilt in laughter, he'd know how much you care.
Feel no sorrow in a smile that he is not here to share.
You cannot grieve forever; he would not want you to.
He'd hope that you could carry on the way you always do.
So, talk about the good times and the way you showed you cared,
The days you spent together, all the happiness you shared.
Let memories surround you, a word someone may say
Will suddenly recapture a time, an hour, a day,
That brings him back as clearly as though he were still here,
And fills you with the feeling that he is always near.
For if you keep those moments, you will never be apart
And he will live forever locked safely within your heart.
~
Death is Nothing At All
By Canon Henry Scott-Holland
Death is nothing at all
I have only slipped away into the next room
I am I and you are you
Whatever we were to each other
That we are still
Call me by my own familiar name
Speak to me in the easy way you always used
Put no difference into your tone
Wear no forced air of solemnity or sorrow
Laugh as we always laughed
At the little jokes we always enjoyed together
Play, smile, think of me, pray for me
Let my name be ever the household word that it always was
Let it be spoken without effort
Without the ghost of a shadow in it
Life means all that it ever was
There is absolute unbroken continuity
What is death but a negligible accident?
Why should I be out of mind
Because I am out of sight?
I am waiting for you for an interval
Somewhere very near
Just around the corner
All is well.
Nothing is past; nothing is lost
One brief moment and all will be as it was before
How we shall laugh at the trouble of parting when we meet again!
~
Afterglow
Author Unknown
Death is nothing at all
I have only slipped away into the next room
I am I and you are you
Whatever we were to each other
That we are still
Call me by my own familiar name
Speak to me in the easy way you always used
Put no difference into your tone
Wear no forced air of solemnity or sorrow
Laugh as we always laughed
At the little jokes we always enjoyed together
Play, smile, think of me, pray for me
Let my name be ever the household word that it always was
Let it be spoken without effort
Without the ghost of a shadow in it
Life means all that it ever was
There is absolute unbroken continuity
What is death but a negligible accident?
Why should I be out of mind
Because I am out of sight?
I am waiting for you for an interval
Somewhere very near
Just around the corner
All is well.
Nothing is past; nothing is lost
One brief moment and all will be as it was before
How we shall laugh at the trouble of parting when we meet again!

Sad Poems About Death
It's only natural to feel heartbroken when someone you care about passes away, which is why we included this section of sad poems about death.
When we're grieving, we might not want to hear "it's all going to be okay" because it just doesn't feel that way.
Sometimes we are just plain sad and you know what — we're allowed to be sad.  Instead of trying to keep the grief we're experiencing at bay, it's healthier to allow yourself to fully feel and release your deepest, saddest emotions.
These sad death poems capture pain, loss, anger, depression, hopelessness, and loneliness — all very real emotions that we experience when we're grieving.
The Tide Rises, The Tide Falls
By Henry Wadsworth Longfellow
The tide rises, the tide falls,
The twilight darkens, the curlew calls;
Along the sea-sands damp and brown
The traveler hastens toward the town,
And the tide rises, the tide falls.
Darkness settles on roofs and walls,
But the sea, the sea in the darkness calls;
The little waves, with their soft, white hands,
Efface the footprints in the sands,
And the tide rises, the tide falls.
The morning breaks; the steeds in their stalls
Stamp and neigh, as the hostler calls;
The day returns, but nevermore
Returns the traveler to the shore,
And the tide rises, the tide falls.
~
To Daffodils
By Robert Herrick
Fair daffodils, we weep to see
You haste away so soon;
As yet the early-rising sun
Has not attain'd his noon.
Stay, stay
Until the hasting day
Has run
But to the evensong;
And having pray'd together, we
Will go with you along.
We have short time to stay, as you,
We have as short a spring;
As quick a growth to meet decay,
As you, or anything.
We die
As your hours do, and dry
Away
Like to the summer's rain;
Or as the pearls of morning's dew,
Ne'er to be found again.
~
After the Funeral
By Kelly Roper
The funeral is over,
And everyone has gone home.
It's just me and my thoughts now,
And I'm sitting here alone.
The house seems so quiet,
and I'm not sure what to do.
I can't remember how I lived
Before the day that I met you.
Maybe I should just stop thinking.
And take myself to bed.
I'll crawl beneath the covers,
And lay down my weary head.
Tomorrow is a new day,
The first of many that I'll face
Without you here beside me,
Without your strength, your wit, your grace.
I'll try to carry on
Or at least I'll try to exist.
Until one day you reach for me,
And guide me into death's mist.
~
When Tomorrow Starts Without Me
By David M. Romano
When tomorrow starts without me, and I am not here to see
If the sun should rise and find your eyes all filled with tears for me,
I know how much you love me as much as I love you,
And each time you think of me I know you'll miss me too.
But when tomorrow starts without me please try to understand,
That Jesus came and called my name and took me by the hand.
He said that my place is ready in heaven far above,
And that I have to leave behind all those I dearly love.
But as I turned to walk away a tear fell from my eye,
For all my life I'd always thought it wasn't my time to die.
I had so much to live for and so much yet to do,
It seems almost impossible that I was leaving you.
I thought of all the yesterdays the good ones and the bad,
I thought of all the love we shared and all the fun we had.
If I could have stayed for just a while,
I'd say goodbye and kiss you and maybe see you smile.
But then I fully realise that this could never be,
For emptiness and memories would take the place of me.
And when I thought of wordly things that I would miss tomorrow,
I thought of you and when I did my heart was filled with sorrow.
But when I walked through heaven's gate and felt so much at home,
As God looked down and smiled at me from his great golden throne.
He said "This is eternity, and all I've promised you,
Today your life on earth is past, but here it starts anew."
"I promise no tomorrow but today will always last,
And since each day's the same here there's no longing for the past."
So when tomorrow starts without me don't think we're far apart,
For every time you think of me I'm right here in your heart.
~
I Was Left Diminished
By Paul Curtis
I was left diminished
When your light went out
It left a shadow on my soul
And my heart was left
As an empty vessel
By your absence
You now walk
In heavens light
Surrounded by Gods love
With angels song
On the scented air
As I sit cold and alone
In the home we shared
A place full of memories
Where once I felt so at home
Now I wish to be there no more
Reminded every waking moment
Of my cruel loss
So I sit alone and crave
The moment of my own passing
So our souls will be reunited
And we can be together once more
~
Like The Dying Flower II
By Francisco D.H.
Like the drooping flower
I begin to sag thirsty for some water
Like the drying flower
I begin to crumble under your distant touch
Like the dying flower
I begin to darken and depart from your world.
~
Grief
By Stephen Dobyns
Trying to remember you is like carrying water
in my hands a long distance across sand.
Somewhere people are waiting.
They have drunk nothing for days.
Your name was the food I lived on;
now my mouth is full of dirt and ash.
To say your name was to be surrounded by feathers and silk;
now, reaching out, I touch glass and barbed wire.
Your name was the thread connecting my life;
now I am fragments on a tailor's floor.
I was dancing when I learned of your death;
may my feet be severed from my body.
~
Surprised By Joy
By William Wordsworth
Surprised by joy — impatient as the Wind
I turned to share the transport — Oh! with whom
But Thee, long buried in the silent Tomb,
That spot which no vicissitude can find?
Love, faithful love, recalled thee to my mind —
But how could I forget thee? — Through what power,
Even for the least division of an hour,
Have I been so beguiled as to be blind
To my most grievous loss! — That thought's return
Was the worst pang that sorrow ever bore,
Save one, one only, when I stood forlorn,
Knowing my heart's best treasure was no more;
That neither present time, nor years unborn
Could to my sight that heavenly face restore.
~
Time Does Not Bring Relief
By Edna St. Vincent Millay
Time does not bring relief; you all have lied
Who told me time would ease me of my pain!
I miss him in the weeping of the rain;
I want him at the shrinking of the tide;
The old snows melt from every mountain-side,
And last year's leaves are smoke in every lane;
But last year's bitter loving must remain
Heaped on my heart, and my old thoughts abide.
There are a hundred places where I fear
To go – so with his memory they brim.
And entering with relief some quiet place
Where never fell his foot or shone his face I say,
'There is no memory of him here!'
And so stand stricken, so remembering him.
~
Do Not Go Gentle In that Good Night
By Dylan Thomas
Do not go gentle into that good night,
Old age should burn and rage at close of day;
Rage, rage against the dying of the light.
Though wise men at their end know dark is right,
Because their words had forked no lightning they
Do not go gentle into that good night.
Good men, the last wave by, crying how bright
Their frail deeds might have danced in a green bay,
Rage, rage against the dying of the light.
Wild men who caught and sang the sun in flight,
And learn, too late, they grieved it on its way,
Do not go gentle into that good night.
Grave men, near death, who see with blinding sight
Blind eyes could blaze like meteors and be gay,
Rage, rage against the dying of the light.
And you, my father, there on the sad height,
Curse, bless me now with your fierce tears, I pray.
Do not go gentle into that good night.
Rage, rage against the dying of the light.
~
Bustle in a House
By Emily Dickinson
The bustle in a house
The morning after death
Is solemnest of industries
Enacted upon earth.
The sweeping up the heart
And putting love away
We shall not want to use again
Until eternity.
~
If We Could Bring You Back Again
By Joanna Fuchs
If we could bring you back again,
For one more hour or day,
We'd express all our unspoken love;
We'd have countless things to say.
If we could bring you back again,
We'd say we treasured you,
And that your presence in our lives
Meant more than we ever knew.
If we could bring you back again,
To tell you what we should,
You'd know how much we miss you now,
And if we could, we would.
~
Unwelcome News
By Paul Curtis
At once she understood
When she heard the words
Their meaning clear
And in that instant
Her voice broke
And then in her throat
A lump formed
Behind her eyes
She felt the stinging
And a tear formed
Then rolled down her cheek
Followed by another
Then another
The salt taste was in her mouth
Her shoulders shook
Uncontrollably
And her mouth opened wide
But know sound escaped
Tears continued down her cheeks
And her nose
Then her legs buckled
And she fell to her knees
In total despair
Now the sound came
Uncontrollable
With her love lost
Her heart was broken
With her love betrayed
Her heart was discarded
But with all the weeping
She knew inside
That all her tears
Would never extinguish her love
~
You Never Said Goodbye
Author Unknown
You never said I'm leaving
You never said goodbye.
You were gone before I knew it,
And only God knew why.
A million times I needed you,
A million times I cried.
If love alone could have saved you,
You never would have died.
In life I loved you dearly,
In death I love you still.
In my heart you hold a place,
That no one could ever fill.
It broke my heart to lose you,
But you didn't go alone
For part of me went with you,
The day God took you home.
~
Seasons Of Grief
By Belinda Stotler
Shall I wither and fall like an autumn leaf,
From this deep sorrow – from this painful grief?
How can I go on or find a way to be strong?
Will I ever again enjoy life's sweet song?
Sometimes a warm memory sheds light in the dark
And eases the pain like the song of a Meadow Lark.
Then it flits away on silent wings and I'm alone;
Hungering for more of the light it had shone.
Shall grief's bitter cold sadness consume me,
Like a winter storm on the vast angry sea?
How can I fill the void and deep desperate need
To replant my heart with hope's lovely seed?
Then I look at a photo of your playful smiling face
And for a moment I escape to a serene happy place;
Remembering the laughter and all you would do,
Cherishing the honest, caring, loving spirit of you.
Shall spring's cheerful flowers bring life anew
And allow me to forget the agony of missing you?
Will spring's burst of new life bring fresh hope
And teach my grieving soul how to cope?
Sometimes I'll read a treasured card you had given me
And each word's special meaning makes me see,
The precious gift of love I was fortunate to receive,
And I realize you'd never want to see me grieve.
Shall summer's warm brilliant sun bring new light,
And free my anguished mind of its terrible plight?
Will its gentle breezes chase grief's dark clouds away,
And show me a clear path towards a better day?
When I visit the grave where you lie in eternal peace,
I know that death and heaven brought you release;
I try to envision your joy on that shore across the sea,
And, until I join you, that'll have to be enough for me.
For all the remaining seasons of my life on earth,
There'll be days I'll miss your merriment and mirth,
And sometimes I'll sadly long for all the yesterdays;
Missing our chats and your gentle understanding ways.
Yet, the lessons of kindness and love you taught me,
And the good things in life you've helped me to see;
Linger as lasting gifts that comfort and will sustain,
Until I journey to that peaceful shore and see you again.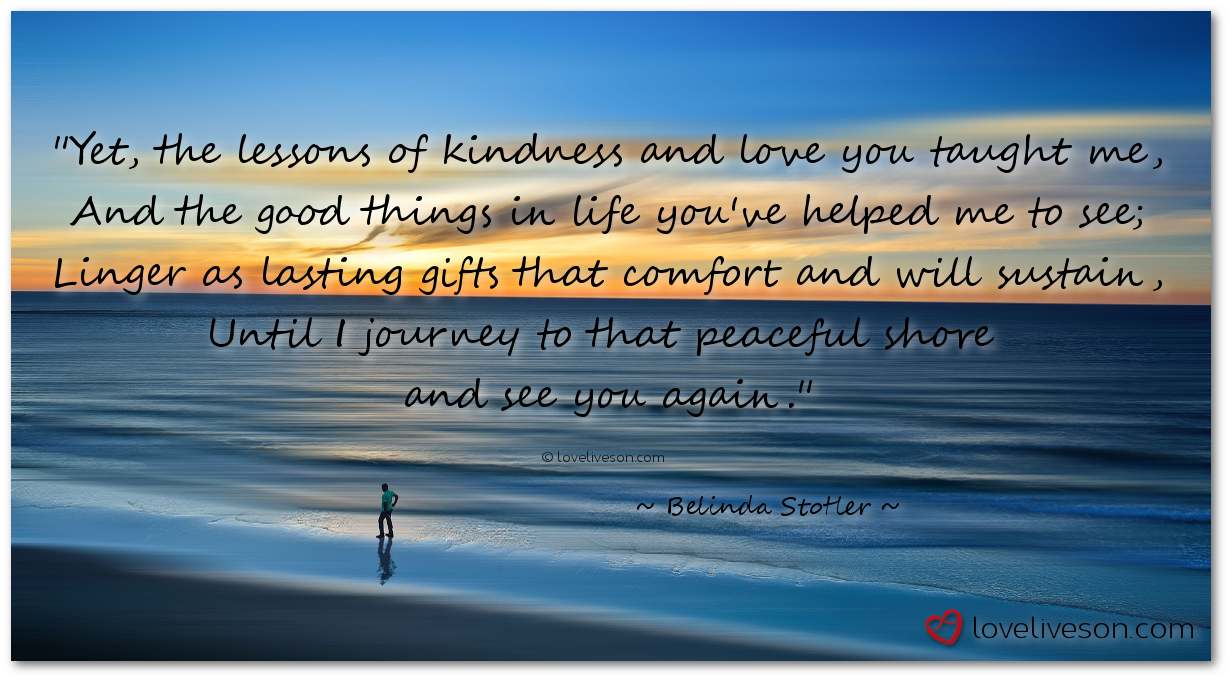 ~
Ebb
By Edna St. Vincent Millay
I know what my heart is like
Since your love died:
It is like a hollow ledge
Holding a little pool
Left there by the tide,
A little tepid pool,
Drying inward from the edge.
~
At the Gate
By Henrik Norbrandt
1.
In the dream
at the gate to your grave
you stopped me
with the same words
I had spoken in a dream
where I died before you
so now I can no longer dream
2.
Rusty, and on squeaky hinges
all the gates I have ever
seen, heard, or described
close one by one
under a grey sky.
That is all there was
in my mind, earth.
3.
What can I say about the world
in which your ashes sit in an urn
other than that?
4.
On every trip you stay ahead of me.
On platforms I see your footprints in fresh snow.
When the train starts to move
you jump out of the black carriage
to reach the next station ahead of me.
5.
Outside the small towns with their sleep street lights;
stadiums bright as capitols.
The light glinted off your glasses.
Where else should you look for the ring
which, the night the power went out,
rolled under the bed and was gone?
6.
"I miss you, too"
were my last words
on the telephone
when you said you missed me.
I miss you too, Forever!
7.
You are gone.
Three words.
And not one of them
exists now in any
other context.
~
I Measure Every Grief I Meet
By Emily Dickinson
I measure every Grief I meet
With narrow, probing, eyes –
I wonder if It weighs like Mine –
Or has an Easier size.
I wonder if They bore it long –
Or did it just begin –
I could not tell the Date of Mine –
It feels so old a pain –
I wonder if it hurts to live –
And if They have to try –
And whether – could They choose between –
It would not be – to die –
I note that Some – gone patient long –
At length, renew their smile –
An imitation of a Light That has so little Oil –
I wonder if when Years have piled –
Some Thousands – on the Harm –
That hurt them early – such a lapse
Could give them any Balm –
Or would they go on aching still
Through Centuries of Nerve –
Enlightened to a larger Pain –
In Contrast with the Love –
The Grieved – are many – I am told –
There is the various Cause –
Death – is but one – and comes but once –
And only nails the eyes –
There's Grief of Want – and grief of Cold –
A sort they call "Despair" –
There's Banishment from native Eyes –
In sight of Native Air –
And though I may not guess the kind –
Correctly – yet to me
A piercing Comfort it affords
In passing Calvary –
To note the fashions – of the Cross –
And how they're mostly worn –
Still fascinated to presume
That Some – are like my own –
~
My Precious Son
By Pamela Davies
Unendingly I mourn my precious son
Too early yet this earthly home he left,
Perfidious sleep confounded nature's order
To leave his loves perpetually bereft.
Those golden dreams and aspirations,
The seed of yesterday a withered bloom,
Those baubles which are cause to celebrate
In death now mock us gently from his tomb.
How treacherous death does steal on youth's exuberance,
To wreak such havoc from the ecstasy of life,
Where once was only joy and future promise
Tormented hearts endure eternal strife.
~
Sometimes I Bring You Back
By Sarah Spang
Sometimes beneath close eyelids
I quest to bring you back
As if you were driftwood floating
Downstream on your back.
I dip my hands beneath the veil
And dry away the death
And from my parting, weeping lips
I give you back your breath —
Just like the rising sunset burning
In the summer sky
Paints and saints the mountaintops
And casts their colors bright.
~
A Dying Candle
By Meghan H.
The way a candle dies amazes me
A strong tier of wax
Simple
With only a string within it
Dies slowly
As it gives off light
Melting wax
Drips and drips
Until all that's left is a puddle
It amazes me how
Something that gave off so much light
In times of darkness
Ended up finding itself
Sitting in the same darkness
It had tried so hard to enlighten.

Beautiful Poems About Death
This last section of beautiful poems about death illustrate the incredible comforting and healing power of language.
These poets use stunning imagery and descriptive language in their death poems to illustrate that death is not all ugliness.
It's also a final flight, a peaceful release from sorrow, suffering and illness, and a reunion with loved ones who've passed before us.
These beautiful death poems remind us that death is a part of life and there is some beauty in death, just like there's beauty in life.
God Saw You Getting Tired
Author Unknown
When God saw you getting tired
And a cure was not to be
He put his arms around you
And whispered come to me
He didn't like what you went through
And he gave you rest
His garden must be beautiful
He only takes the best
And when we saw you sleeping
So peaceful and free from pain
We wouldn't wish you back
To suffer that again
Today we say goodbye
And as you take your final rest
That garden must be beautiful
Because you are one of the best.
~
I'll Wait For You…
By Stephen O'Brien
I will wait for you…
Though we never had a chance to say goodbye,
Remember me…
When winter snows are falling through a quiet sky
I'll remember you
When, in our darkest hour,
You held my hand and prayed I wouldn't go,
But a silent voice called out to me;
My time had come, and I had to travel Home…
Since then, I know your life has never been the same,
For I visit you each day:
So many times I've felt your pain:
I've watched you cry:
And I've heard you call my name…
But now, further along life's road I stand
In a timeless world, just beyond your sight,
Waiting for the day when I can take your hand and bring you across
to this land of Golden Light…
Till then, remember me, you understand — and try not to cry.
But if you do:
Let your tears fall
For the happiness and joy we knew,
And for the special love we shared,
For love can never die.
~
If I Should Die
By Emily Dickinson
If I should die,
And you should live,
And time should gurgle on,
And morn should beam,
And noon should burn,
As it has usual done;
If birds should build as early,
And bees as bustling go,—
One might depart at option
From enterprise below!
'T is sweet to know that stocks will stand
When we with daisies lie,
That commerce will continue,
And trades as briskly fly.
It makes the parting tranquil
And keeps the soul serene,
That gentlemen so sprightly
Conduct the pleasing scene!
~
On Pain
By Khalil Gibran
Your pain is the breaking of the shell that encloses
your understanding.
Even as the stone of the fruit must break, that its
heart may stand in the sun, so must you know pain.
And could you keep your heart in wonder at the
daily miracles of your life, your pain would not seem
less wondrous than your joy;
And you would accept the seasons of your heart,
even as you have always accepted the seasons that
pass over your fields.
And you would watch with serenity through the
winters of your grief.
Much of your pain is self-chosen.
It is the bitter potion by which the physician within
you heals your sick self.
Therefore trust the physician, and drink his remedy
in silence and tranquillity:
For his hand, though heavy and hard, is guided by
the tender hand of the Unseen,
And the cup he brings, though it burn your lips, has
been fashioned of the clay which the Potter has
moistened with His own sacred tears.
~
A Dying Swan
By Chloé Meghan
I see a dying swan
Resting on the marshes of the bank
Her feathers white as snow
Her wings like that of a silk
I hear a dying swan
whispering softly to the river
While she rests and sleeps
the river answers back with a song
A song of life and death
Graping onto her graceful neck
breath took her away
And now she sleeps and never comes back
I know a dying swan
she's like a mother
and the river a home
though her eyes told me no story anymore
I still believe her, that dying swan
~
So Go and Run Free
Author Unknown
So go and run free with the angels
Dance around the golden clouds
For the lord has chosen you to be with him
And we should feel nothing but proud
Although he has taken you from us
And our pain a lifetime will last
Your memory will never escape us
But make us glad for the time we did have
Your face will always be hidden
Deep inside our hearts
Each precious moment you gave us
Shall never, ever depart
So go and run free with the angels
As they sing so tenderly
And please be sure to tell them
To take good care of you for me
~
A Song of Living
By Amelia Josephine Burr
Because I have loved life,
I shall have no sorrow to die.
I have sent up my gladness on wings,
to be lost in the blue of the sky.
I have run and leaped with the rain,
I have taken the wind to my breast.
My cheek like a drowsy child
to the face of the earth I have pressed.
Because I have loved life,
I shall have no sorrow to die.
~
Away
By James Whitcomb Riley
I cannot say and I will not say
That she is dead, she is just away.
With a cheery smile and a wave of hand
She has wandered into an unknown land;
And left us dreaming how very fair
Its needs must be, since she lingers there.
And you — oh you, who the wildest yearn
From the old-time step and the glad return —
Think of her faring on, as dear
In the love of there, as the love of here
Think of her still the same way, I say;
She is not dead, she is just away.
~
I Will Be There
By Paul Curtis
Do not grieve for me
Do not mourn my passing
Remember me with a smile
Don't think of me as gone
Remember what we had
Think of our life like a favourite book
Do not close it and put it on the shelf
Never to be read again
Just because you hate the ending
Start to write the next chapter
Enjoy it like all the others
And don't be sad
I will be there with you always
I will be there when the wild flowers
Dance in the spring meadow
When the summer breeze moves through
A field of ripening wheat
When the morning mist of autumn
Softens the landscape
And when the winter sun
Sparkles and glints on the snow
And I will be by your side
Through your loneliest hours
I will be there in the dawn
Rising with the sun
You will see me again
When the sun sets at the days end
And in the twilight hours
I will be that gentle breeze
That caress's your cheek
On a warm summer evening
And I will be that tingle on your skin
As you lie in the quiet hours
I will be there when you retrace our steps
And when you stand on the lake shore
My reflection will not be on the water
By I am still with you
When you walk in the autumn
Through the golden carpet
I will be in the dancing leaves
And when the snow lays
Though I will leave no foot prints
I am there for these moments that were ours
I will be there in the quietness of winter
Among the falling snowflakes
I will be in the dew drops
On the grassy meadow
I will be there in the warm sunlight
Of a summer's day
I will be with you when the storm
Quickens your heartbeat
And you will feel me on your skin
And in the April showers
~
You'll Never Walk Alone
By Oscar Hammerstein II
When you walk through the storm
Hold your head up high,
And don't be afraid of the dark.
At the end of the storm
Is a golden sky
And the sweet silver song of a lark.
Walk on through the wind,
Walk on through the rain,
Though your dreams be tossed and blown.
Walk on, walk on with hope in your heart
And you'll never walk alone.
You'll never walk alone.
~
Peace My Heart
By Rabindranath Tagore
Peace, my heart, let the time for the parting be sweet.
Let it not be a death but completeness.
Let love melt into memory and pain into songs.
Let the flight through the sky end in the folding of the wings over the nest.
Let the last touch of your hands be gentle like the flower of the night.
Stand still, O Beautiful End, for a moment, and say your last words in silence.
I bow to you and hold up my lamp to light your way.
~
Don't Cry for Me
Author Unknown
Don't cry for me now I have died,
for I'm still here I'm by your side,
My body's gone but my soul's is here,
please don't shed another tear,
I am still here I'm all around,
only my body lies in the ground.
I am the snowflake that kisses your nose,
I am the frost, that nips your toes.
I am the sun, bringing you light,
I am the star, shining so bright.
I am the rain, refreshing the earth,
I am the laughter, I am the mirth.
I am the bird, up in the sky,
I am the cloud, that's drifting by.
I am the thoughts, inside your head,
While I'm still there, I can't be dead.
~
Because I Have Loved Life
By Amelia Burr
Because I have loved life, I shall have no sorrow to die.
I have sent up my gladness on wings, to be lost in the blue of the sky.
I have run and leaped with the rain, I have taken the wind to my breast.
My cheeks like a drowsy child to the face of the earth I have pressed.
Because I have loved life, I shall have no sorrow to die.
I have kissed young love on the lips, I have heard his song to the end,
I have struck my hand like a seal in the loyal hand of a friend.
I have known the peace of heaven, the comfort of work done well.
I have longed for death in the darkness and risen alive out of hell.
Because I have loved life, I shall have no sorrow to die.
I gave a share of my soul to the world, when and where my course is run.
I know that another shall finish the task I surely must leave undone.
I know that no flower, nor flint was in vain on the path I trod.
As one looks on a face through a window, through life I have looked on God,
Because I have loved life, I shall have no sorrow to die.
~
At That Hour
By James Joyce
At that hour when all things have repose,
O lonely watcher of the skies,
Do you hear the night wind and the sighs
Of harps playing unto Love to unclose
The pale gates of sunrise?
When all things repose, do you alone
Awake to hear the sweet harps play
To Love before him on his way,
And the night wind answering in antiphon
Till night is overgone?
Play on, invisible harps, unto Love,
Whose way in heaven is aglow
At that hour when soft lights come and go,
Soft sweet music in the air above
And in the earth below.
~
Remember
By Christina Rossetti
The funeral is over,
And everyone has gone home.
It's just me and my thoughts now,
And I'm sitting here alone.
The house seems so quiet,
and I'm not sure what to do.
I can't remember how I lived
Before the day that I met you.
Maybe I should just stop thinking.
And take myself to bed.
I'll crawl beneath the covers,
And lay down my weary head.
Tomorrow is a new day,
The first of many that I'll face
Without you here beside me,
Without your strength, your wit, your grace.
I'll try to carry on
Or at least I'll try to exist.
Until one day you reach for me,
And guide me into death's mist.
~
Where Do They Go To
By Kevin F.
Where do they go to, the people who leave?
Are they around us, in the cool evening breeze?
Do they still hear us, and watch us each day?
I'd like you to think of them with us that way.
Where do they go to, when no longer here?
I think that they stay with us, calming our fear
Loving us always, holding our hands
Walking beside us, on grass or on sand.
Where do they go to, well it's my belief
They watch us and help us to cope with our grief
They comfort and stay with us, through each of our days
Guiding us always through life's mortal maze.
~
When I'm Gone
By Lyman Hancock
When I come to the end of my journey
And I travel my last weary mile
Just forget if you can, that I ever frowned
And remember only the smile
Forget unkind words I have spoken
Remember some good I have done
Forget that I ever had heartache
And remember I've had loads of fun
Forget that I've stumbled and blundered
And sometimes fell by the way
Remember I have fought some hard battles
And won, ere the close of the day
Then forget to grieve for my going
I would not have you sad for a day
But in summer just gather some flowers
And remember the place where I lay
And come in the shade of evening
When the sun paints the sky in the west
Stand for a few moments beside me
And remember only my best
~
When Great Trees Fall
By Maya Angelou
When great trees fall,
rocks on distant hills shudder,
lions hunker down
in tall grasses,
and even elephants
lumber after safety.
When great trees fall
in forests,
small things recoil into silence,
their senses
eroded beyond fear.
When great souls die,
the air around us becomes
light, rare, sterile.
We breathe, briefly.
Our eyes, briefly,
see with
a hurtful clarity.
Our memory, suddenly sharpened,
examines,
gnaws on kind words
unsaid,
promised walks
never taken.
Great souls die and
our reality, bound to
them, takes leave of us.
Our souls,
dependent upon their
nurture,
now shrink, wizened.
Our minds, formed
and informed by their
radiance,
fall away.
We are not so much maddened
as reduced to the unutterable ignorance
of dark, cold
caves.
And when great souls die,
after a period peace blooms,
slowly and always
irregularly.  Spaces fill
with a kind of
soothing electric vibration.
Our senses, restored, never
to be the same, whisper to us.
They existed.  They existed.
We can be.  Be and be
better.  For they existed.
~
Change of Address
By Dónall Dempsey
You didn't die, you just changed shape
became invisible to the naked eye
became this grief
It's sharpness more real
than your presence was
before you were separate to me
entire to yourself now
you are a part of me
you are inside my self
I call you by your new name
'Grief…Grief!'
although I still call you 'Love.'
~
Last Journey
By Timothy Coote
There is a train at the station
With a seat reserved just for me
I'm excited about its destination
As I've heard it sets you free
The trials and tribulations
The pain and stress we breathe
Don't exist were I am going
Only happiness I believe
I hope that you will be there
To wish me on my way
It's not a journey you can join in
It's not your time today
There'll be many destinations
Some are happy, some are sad
Each one a brief reminder
Of the great times that we've had
Many friends I know are waiting
Who took an earlier train
To greet and reassure me
That nothing has really changed
We'll take the time together
To catch up on the past
To build a new beginning
One that will always last
One day you'll take your journey
On the train just like me
And i promise that I'll be there
At the station and you will see
That Life is just a journey
Enriched by those you meet
No one can take that from you
It's always yours to keep'
But now as no seat is vacant
You will have to muddle through
Make sure you fulfill your ambitions
As you know I'll be watching you
And if there's an occasion
To mention who you knew
Speak kindly of that person
As one day it will be you
Now i can't except this ending
And as it's time for me to leave
Please make haste to the reception
To enjoy my drinks, they're free!
~

Additional Resources
Did you know that Love Lives On has a comprehensive library of articles on funeral planning, grieving, and celebrating your loved one's life in unique ways?
Here are some other popular posts on our website:
It Helps to Share…
If you found this post on 100+ poems about death helpful, check out our Pinterest Board for stunning images (with quotes) that you can keep and share online with family and friends.  We made them for you and all our readers to enjoy.
Use the comment box below to let us know if you have a suggestion of funeral poems we should add to this post.  At Love Lives On, we're always listening.