If you are grieving the loss of a brother, we hope you find comfort in our collection of 21+ best funeral poems for brother.
Our poems would be perfect to use as a reading at a funeral service, memorial service, or a celebration of life ceremony, as a tribute to a brother who has passed away.  Alternatively, one of our poems about brothers can be incorporated into a eulogy speech, or written in a sympathy card.
Our collection of funeral poems for a brother is organized into the following sections to help you easily find the type of poem you are looking for:
If you read to the end of the post, you will find a link that takes you to our Pinterest boards where you can find many beautiful images with heartfelt quotes.  Feel free to share them to your social media channels, as we created these memes to help you express how you are feeling.

Inspirational Funeral Poems: Tribute to a Brother Who Passed Away
This first funeral poem reminds us that a brother is always with us, even after he has passed away.  Every beautiful thing that we see and experience will remind us of his love.  We will also accept all of life's challenges because our brother wisely taught us that they help us grow stronger.
Your Spirit
By Tram-Tiara T. Von Reichenbach
I know that no matter what
You will always be with me.
When life separates us
I'll know it is only your soul
Saying goodbye to your body
But your spirit will be with me always.
When I see a bird chirping on a nearby branch
I will know it is you singing to me.
When a butterfly brushes gently by me so care freely
I will know it is you assuring me you are free from pain.
When the gentle fragrance of a flower catches my attention
I will know it is you reminding me
To appreciate the simple things in life.
When the sun shining through my window awakens me
I will feel the warmth of your love.
When I hear the rain pitter patter against my window sill
I will hear your words of wisdom
And will remember what you taught me so well'
That without rain trees cannot grow
Without rain flowers cannot bloom
Without life's challenges I cannot grow strong.
When I look out to the sea
I will think of your endless love for your family.
When I think of mountains, their majesty and magnificence
I will think of your courage for your country.
No matter where I am
Your spirit will be beside me
For I know that no matter what
You will always be with me.
~
While losing a brother is painful, this funeral poem reminds us that although his journey on earth is over, his journey is just beginning…
His Journey's Just Begun
By Ellen Brenneman
Don't think of him as gone away
his journey's just begun,
life holds so many facets
this earth is only one.
Just think of him as resting
from the sorrows and the tears
in a place of warmth and comfort
where there are no days and years.
Think how he must be wishing
that we could know today
how nothing but our sadness
can really pass away.
And think of him as living
in the hearts of those he touched…
for nothing loved is ever lost
and he was loved so much.
~
This consoling funeral poem written by Mary Elizabeth Frye in the 1930s is one of the most famous funeral poems.  It is appropriate for all types of funeral services, from a traditional, religious funeral, to a less formal, celebration of life ceremony.
Do Not Stand By My Grave and Weep
By Mary Elizabeth Frye
Do not stand at my grave and weep,
I am not there, I do not sleep.
I am in a thousand winds that blow,
I am the softly falling snow.
I am the gentle showers of rain,
I am the fields of ripening grain.
I am in the morning hush,
I am in the graceful rush
Of beautiful birds in circling flight,
I am the starshine of the night.
I am in the flowers that bloom,
I am in a quiet room.
I am in the birds that sing,
I am in each lovely thing.
Do not stand at my grave and cry,
I am not there. I did not die.
~
This simple poem provides comfort to those grieving the loss of a brother.  It is written as if your brother is speaking directly to you.  The message is short and sweet: life goes on, and while it is natural to cry, don't forget to be grateful as well.
Life Goes On
By Joyce Grenfell
If I should go before the rest of you
Break not a flower
Nor inscribe a stone
Nor when I am gone
Speak in a Sunday voice
But be the usual selves
That I have known
Weep if you must
Parting is hell
But life goes on
So…sing as well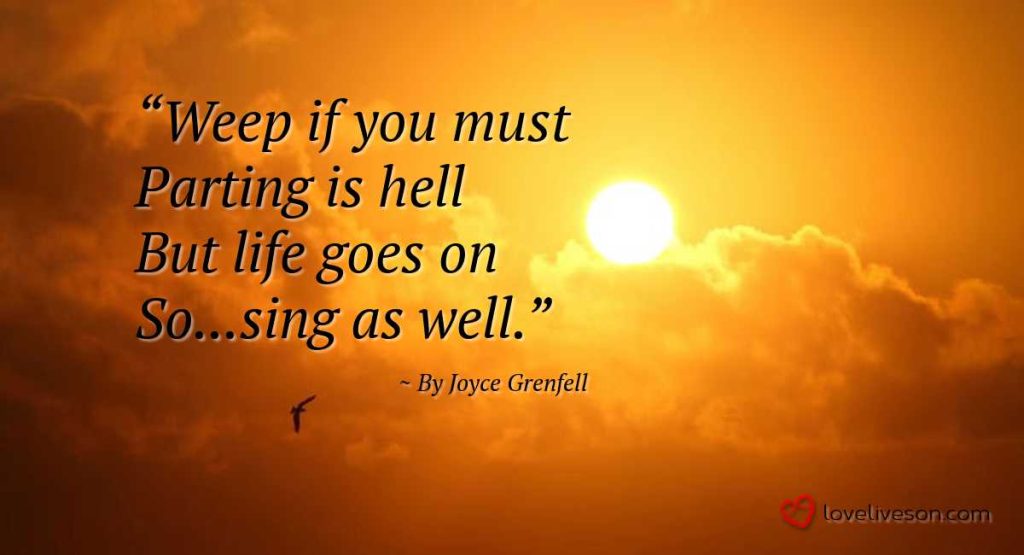 ~
In our collection of brother poems, this one is a favourite.  We can weep inconsolably for a lost brother, but we can also celebrate the joy he brought to our lives.  This poem is perfect for a celebration of life service.
He is Gone (Remember Me)
By David Harkins
You can shed tears that he is gone,
Or you can smile because he lived,
You can close your eyes and pray that he will come back,
Or you can open your eyes and see all that he has left.
Your heart can be empty because you can't see him
Or you can be full of the love that you shared,
You can turn your back on tomorrow and live yesterday,
Or you can be happy for tomorrow because of yesterday.
You can remember him and only that he is gone
Or you can cherish his memory and let it live on,
You can cry and close your mind be empty and turn your back,
Or you can do what he would want: smile, open your eyes,
love and go on.
~
This funeral poem is sweet and simple, and would be perfect for a young child to recite at a service for a beloved brother.
Love Lives On
By an Unknown Author
You went away so suddenly
We did not say goodbye
But brothers can never be parted
Precious memories never die.
~
It gives us comfort to think of a brother who has passed away as enjoying a beautiful, garden-like dreamland after his passing. This touching tribute is filled with vivid imagery.
In My Mind
By Jenn Farrell
Somewhere in my dreams tonight
I'll see you standing there
You look at me with a smile
"Life isn't always fair"
You say you were chosen for his garden
His preciously hand picked bouquet
"God really needed me,
That's why I couldn't stay"
It's said to be that angels
Are sent from above
I've always had my angel
My brother – whose heart was filled with love
Wherever the ocean meets the sky
There will be memories of you and I
When I look up at the sky so blue
All I see are visions of you
"While there's a heart in me, you'll be a part of me."
~
We  love this next funeral poem.  It eloquently conveys what our loved one would say to us after he is gone, if he could.  The death of a brother should not led us to be consumed by grief.  We should focus on how he enriched our lives.
Miss Me But Let Me Go
By an Unknown Author
When I come to the end of the road
And the sun has set for me,
I want no rites in a gloom-filled room,
Why cry for a soul set free!
Miss me a little – but not for long
And not with your head bowed low.
Remember the love that we once shared,
Miss me, but let me go.
For this journey that we all must take
And each must go alone;
It's all a part of the Master's plan
A step on the road to home.
When you are lonely and sick at heart
Go to the friends we know,
And bury your sorrows in doing good deeds.
Miss me, but let me go.
~

Comforting Funeral Poems:  RIP Brother
This popular poem is appropriate for all types of funeral services for a dear brother, from a traditional, religious ceremony to a unique celebration of life gathering.  Our favourite line is: "In your memory I live on."
Weep Not For Me
By an Unknown Author
Weep not for me though I have gone
Into that gentle night
Grieve if you will, but not for long
Upon my soul's sweet flight
I am at peace, my soul's at rest
There is no need for tears
For with your love I was so blessed
For all those many years
There is no pain, I suffer not
The fear is now all gone
Put now these things out of your thoughts
In your memory I live on
Remember not my fight for breath
Remember not the strife
Please do not dwell upon my death
But celebrate my life
~
If your brother suffered from an illness that left him in pain before his passing, this beautiful poem offers hope and comfort to friends and family.
His Peaceful Grave
By an Unknown Author
Our brother lives with us in memory
Before our eyes he grew weaker every day
Doing all we could to save him
Until God took him away
Never shall his memory fade
Our sweetest love lingers
Forever round his peaceful grave.
~
This next funeral poem uses beautiful imagery to describe a lost brother's journey to heaven.  It is comforting to think of our special brother being welcomed into heaven by adoring angels.
The White Chariot
By Julie Johnson
During your journey on your final flight home.
White wings will carry you and you will be flown.
To the pearly gates of Heaven, where they will usher you in.
To the feet of your Lord, your Saviour, and your friend.
He will hold you in his arms and the angels will sing.
As another one of His children is delivered by white wings.
~
If your brother suffered from an illness or depression before he passed away, this beautiful funeral poem offers comfort to the bereaved.  He is now in God's garden, a place where there is no pain, sadness, or suffering.
God's Garden
By Melissa Shreve
God looked around his garden and found an empty place
He then looked down upon the Earth and saw your tired face
He put his arms around you and lifted you to rest
With the help of his angels they flew you to your heavenly place
Gods garden must be beautiful, he always takes the best
He knew you were suffering, he knew you were in pain
He knew that you would never get well on Earth again
He saw the road was getting rough and the hills too hard to climb
He closed your weary eyelids and whispered "Peace be Thine"
It broke our hearts to lose you but you didn't go alone
For part of us went with you the day God called you home.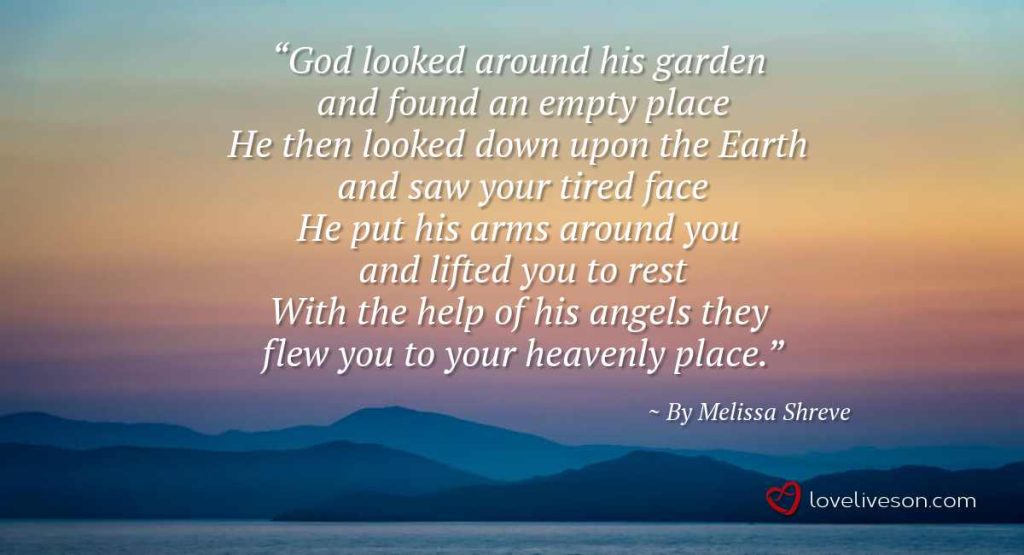 ~
If your brother passed away too young, this is an appropriate funeral poem.  It focuses on celebrating and reflecting on the beautiful life of your brother, instead of focusing on the pain of his death.  "Perhaps my time seemed all too brief, don't lengthen it now with undue grief."
The Final Flight
By an Unknown Author
Don't grieve for me, for now I'm free,
I'm following the path God laid for me.
I took his hand when I heard his call,
I turned my back and left it all.
I could not stay another day,
To laugh, to love, to work, to play.
Tasks left undone must stay that way,
I've found that peace at the end of the day.
If my parting has left a void,
Then fill it with remembered joy.
A friendship shared, a laugh, a kiss,
Ah, yes, these things too I will miss.
Be not burdened with times of sorrow,
I wish you the sunshine of tomorrow.
My Life's been full, I savoured much,
Good friends, good times, a loved one' touch.
Perhaps my time seemed all too brief,
Don't lengthen it now with undue grief.
Lift up your heart and share with me,
God wanted me now, He set me free.
~
This funeral poem was originally written for a sister.  Since the words are so touching and meaningful, we have modified it so that it applies to a brother's death as well.
Sleep, My Brother (Modified)
By T. Hutchinson
I wish you sweet sleep, my brother dear.
Although there's so much that you've left bare
I hate that you had to endure such pain
On my mind, your saddened eyes have left a stain.
I want to know what crossed your mind
Unspoken words you've left behind
Undone things we'll never do
No sharing thoughts you never knew.
A peace has fallen upon your head
A taste of sorrow we have been fed
It really is like a hole in our lives
One swiftly dug but carved out by knives.
But I have hope that those sleeping will rise
The Bible says that God will open their eyes.
No suffering, sickness, yes not even pain,
Those who did good, eternal life they'll gain.
So… sleep on my brother, sleep tight
For now with you the sky is night.
But after night will come daybreak
Therefore I will wait hoping to see you awake.
~
This uplifting funeral poem is written in the voice of the person who has died.  He asks us to remember him with happiness, love and joy in our hearts.
After Glow
By an Unknown Author
I'd like the memory of me
to be a happy one.
I'd like to leave an after glow
of smiles when life is done.
I'd like to leave an echo
whispering softly down the ways,
Of happy times and laughing times
and bright and sunny days.
I'd like the tears of those who grieve,
to dry before the sun
of happy memories
that I leave when life is done
~

Related Articles

This comforting funeral poem inspires you to live your life fully in memory of a brother, as he will be watching over you until you meet again one day.
When I Must Leave You
By Helen Steiner Rice
When I must leave you
For a little while-
Please do not grieve
And shed wild tears
And hug your sorrow to you
Through the years,
But start out bravely
With a gallant smile;
And for my sake
And for my name
Live on and do
all things the same,
Feed not your loneliness
On empty days,
But fill each waking hour
In useful ways,
Reach out your hand
In comfort and in cheer
And I in turn will comfort you
And hold you near;
And never, never
Be afraid to die
For I am waiting for you in the sky!
~
This next gorgeous poem was submitted to us by an Love Lives On reader and we absolutely love it. It was written in memory of his first wife who passed away from Lupus but is applicable to anyone grieving the loss of a brother.
Last Journey
By Timothy Coote
There is a train at the station
With a seat reserved just for me
I'm excited about its destination
As I've heard it sets you free
The trials and tribulations
The pain and stress we breathe
Don't exist were I am going
Only happiness I believe
I hope that you will be there
To wish me on my way
It's not a journey you can join in
It's not your time today
There'll be many destinations
Some are happy, some are sad
Each one a brief reminder
Of the great times that we've had
Many friends I know are waiting
Who took an earlier train
To greet and reassure me
That nothing has really changed
We'll take the time together
To catch up on the past
To build a new beginning
One that will always last
One day you'll take your journey
On the train just like me
And i promise that I'll be there
At the station and you will see
That Life is just a journey
Enriched by those you meet
No one can take that from you
It's always yours to keep'
But now as no seat is vacant
You will have to muddle through
Make sure you fulfill your ambitions
As you know I'll be watching you
And if there's an occasion
To mention who you knew
Speak kindly of that person
As one day it will be you
Now i can't except this ending
And as it's time for me to leave
Please make haste to the reception
To enjoy my drinks, they're free!
~

"I Miss You" Poems (After the Death of a Brother)
The bond you share with a brother will always be special.  This beautiful poem is the perfect tribute to a brother who passed away.  He will live in your heart forever until you meet again one day.
Dear Brother Your Memory Will Never Fade
By an Unknown Author
My dear Brother now that you are gone
You're no longer here to share
The bond we had together –
A bond of love and care.
Yet, somehow something tells me
You are watching over me –
Now that from Worldly cares
You finally are free.
I miss you so very much,
And my tears I cannot hide
Yet, within my heart, I feel
You are always by my side.
Ever since you went away
Life has never been the same
Yet, it comforts me to know
That one day we'll meet again.
~
This poem speaks of all the wonderful attributes that makes your sibling special and says: "I miss you brother."
Miss You Brother
By an Unknown Author
Your actions were always kind
A generous hand and an active mind
Anxious to please and loath to offend
A loving brother and faithful friend
We'll all miss you very much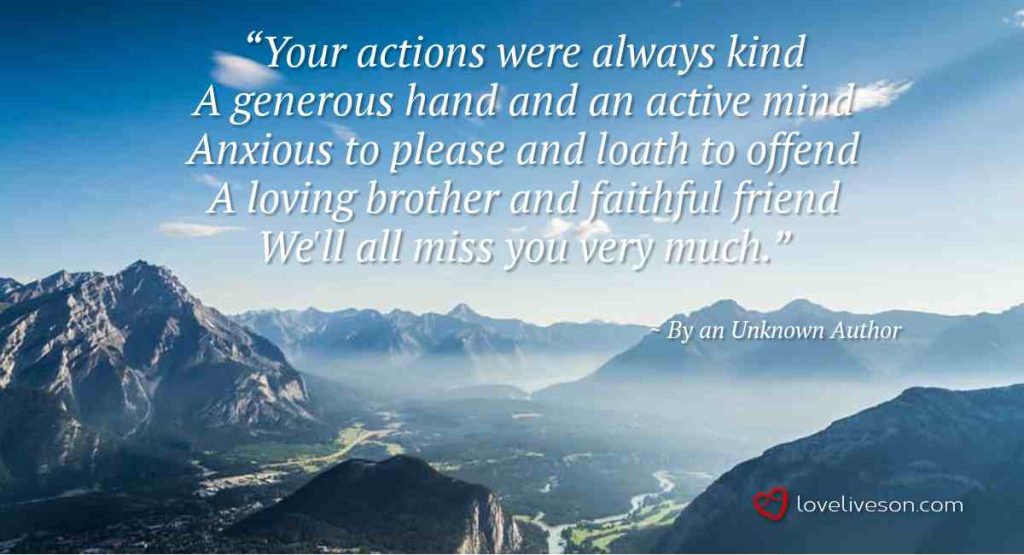 ~
This funeral poem speaks about the deep grief we fell when a loved one dies, and our resolve to keep his memories alive forever.
In Our Minds
By an Unknown Author
We stand motionless,
consumed in grief.
Sorrow has arrived,
with smiles thief.
We're gathered here,
to mourn and cry.
Our questions pointing,
at the clear blue sky.
Why did you go,
why did you leave,
Life without you,
is so hard to conceive.
Our hearts are damaged,
and scarred severely.
We shall miss you,
much more than dearly.
For having you in our lives,
we've all been blessed.
But now the time has arrived,
for you to rest.
We promise to cherish,
our memories of you.
You shall live in our minds,
and all that we do.
~
We love this next poem.  It is simple, but says so much.  You could also use this poem as inspiration to pen your own original poem about the loss of a brother.
I Miss
I miss you,
I miss the loud music coming
from your room,
I miss the warmth of knowing
You're just a call away,
I miss the way we fought and
played,
I miss seeing your big bright
smile,
I miss getting kicked out of
your room,
I miss seeing you here and
there,
I miss cooking you breakfast
lunch and dinner,
I miss hearing you come in
at night,
I miss making you wear your
seat belt,
I miss holding your hand to
pray,
I miss your smell,
I miss you with all my might,
I miss the way we would fight,
I miss my brother,
I miss my friend,
I miss you, I love you and that's
THE END!
~

Special Funeral Poems for Brother (From Sister or From Brother)
When a beloved brother passes away, let us think of him as watching over us forever.  This next poem expresses this sentiment eloquently.
It Will Never Be Goodbye…
By an Unknown Author
If I should go tomorrow
It would never be goodbye,
For I have left my heart with you,
So don't you ever cry.
The love that's deep within me,
Shall reach you from the stars,
You'll feel it from the heavens,
And it will heal the scars.
~
The death of a brother leaves a whole in our hearts and in our lives.  We have not only lost a brother, we have lost our best friend.
My Beloved Brother
By an Unknown Author
From day one all we did was fight,
now all I do is fight back my tears.
I wanted to do everything you did,
because I wanted to be just like you.
Now I sit here wondering what to do,
because there's no one to replace you.
I never did tell you all the things I felt,
like how much I really did love you.
I wish we could go back and start over again.
I don't want to be alone. I need my brother,
I need my best friend.
When you think of me
while your up in heaven,
Think of how much you meant to me.
Its sad that you left
without saying goodbye,
But just remember we all love you
as you began to fly.
You did so much for me,
as I didn't do much for you.
I hope you will forgive me,
for all the things I didn't do
You were my brother
and my best friend.
I will always love you
no matter how long its been,
since your life came to an end.
~
This touching funeral poem is a beautiful tribute to a special brother and reflects on all the happy and wonderful memories you shared.  This poem is perfect for a memorial service or celebration of life ceremony.
In Memory of a Special Brother
By an Unknown Author
Today is full of memories
of a brother laid to rest
and every single one of them
is filled with happiness.
For you were someone special
always such a joy to know
and there was so much pain
when it was time to let you go
That's why this special message
is sent to heaven above
for the angels to take care of you
and give you all my love
~
"Broken Chain" is a funeral poem that would be appropriate for a religious service.  This poem describes the passing of a loved one as a break in your family chain.  Although your family may feel broken after the passing of a brother, this poem reassures you that God will mend your family one day when you are all reunited in heaven.
The Broken Chain
By Ron Tranmer
We little knew the day that
God was going to call your name.
In life we loved you dearly,
In death we do the same.
It broke our hearts to lose you
But you didn't go alone.
For part of us went with you
The day God called you home.
You left us peaceful memories.
Your love is still our guide,
And though we cannot see you
You are always at our side.
Our family chain is broken
and nothing seems the same,
but as God calls us one by one
the chain will link again.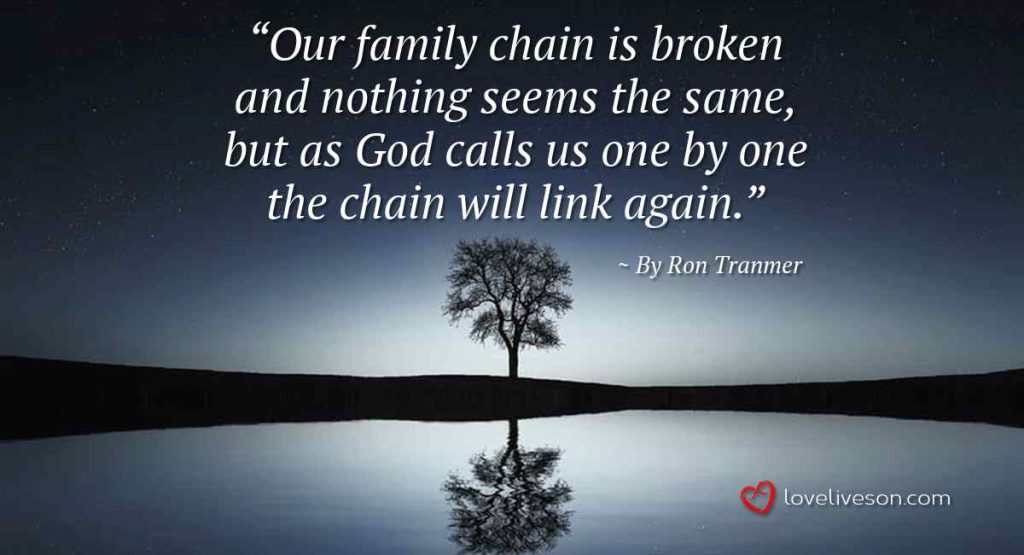 ~
When it comes to poems about brothers, this one is favourite.  It gives tribute to the richness of our relationship with our brother; we fought, we laughed, we cried together, and shared our hopes and dreams.
My Brother
By an Unknown Author
As kids, we lived together
We fought, we laughed, we cried.
We did not always show the love,
that we both had inside.
We shared our dreams and plans,
and some secrets too.
All the memories we share,
Is what bonds me now to you.
We grew to find we have a love
that is very strong today.
It's a love shared by our family,
that will never fade away.
You are my brother not by choice,
but by the nature of our birth
I could not have chosen a better one
you were the best on earth.
~
This is the perfect funeral poem for a special brother to honour the legacy he left behind and to thank him for the impact that he had on all the lives he touched.
In Memory of a Wonderful Brother
By an Unknown Author
I hold onto our memories
The ones that are so dear
To try to keep you always close
Now you are not here
You were called, it was your time
But it is so true
You have left a legacy
There was no one like you
You were very special
And I want to say
I feel lost in many ways
You are not here today
But I will never forget you
And I know I have been blessed
To have you for my Brother
Because you were the best…
~
This funeral poem honours the life of a little brother that passed away at a young age.  "To us you were so precious."
Precious…
By an Unknown Author
Two smiling eyes stopped smiling,
A golden heart stood still,
We don't know why God took you,
And guess we never will.
He only lent you to us,
Then came and took you back,
To us you were so precious,
Your life was full of fun,
A caring, loving brother,
A darling little son.
~
Here is another poem about a little brother's death.  While he missed out on growing up, he didn't miss out on having an abundance of love.
Too Soon
By Mary Yarnall
This was a life
that had hardly begun
No time to find
your place in the sun
No time to do
all you could have done
But we loved you enough for a lifetime
No time to enjoy
the world and its wealth
No time to take life
down off the shelf
No time to sing
the song of yourself
Though you had enough love for a lifetime
Those who live long
endure sadness and tears
But you'll never suffer
the sorrowing years
No betrayal, no anger
No hatred, no fear
Just love – only love – in your lifetime
~
It Helps to Share…
If you found this post on 27+ best funeral poems for brother helpful, follow our Pinterest board for more stunning images (with quotes) that you can keep and share online with family and friends.  We made them for you and all our readers to enjoy.
Use the comment box below to let us know if you have a suggestion of brother poems we should add to this post.  At Love Lives On, we're always listening.