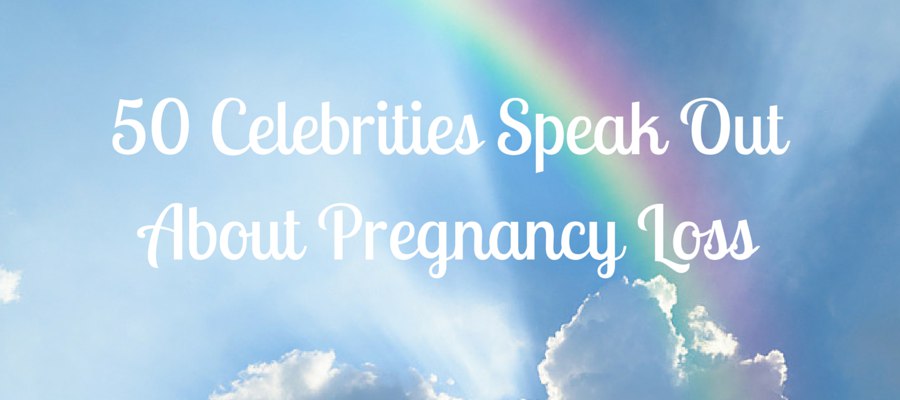 According to estimates from the Mayo Clinic and the American College of Obstetricians, up to 1 in 5 pregnancies end in miscarriage (or up to 20% of all pregnancies).
However, a recent survey found that 55% of participants believe that miscarriage is "uncommon".
The study also showed that 40% of those who have experienced a pregnancy loss feel very alone in their grief.
These disturbing findings highlight the fact that talking about miscarriage largely remains a taboo and private subject.
Many celebrity parents, however, have opened up about their miscarriages.
They have done so because they believe that sharing their experiences and insights may help others facing grief after a pregnancy loss.
The healing value of having open conversations about miscarriage cannot be overstated.
Here are 50 celebrities who have bravely opened up about their miscarriages and given miscarriage quotes that you might find some comfort in.
We've also summarized 5 facts about miscarriage that everyone should know in a helpful infographic that you can save to your Pinterest page or share on social media to help encourage conversations about miscarriage so that we as a society are better equipped to support.
1. Beyonce Knowles-Carter
In January of 2012, Beyonce Knowles-Carter and  'Jay Z' Carter, the most iconic celebrity couple in hip-hop music, welcomed their first child into the world.
However, little did the public know that they had suffered a miscarriage prior to the birth of their daughter, Blue Ivy.
In Carter's heartfelt tribute song, "Glory," which was released two days after Blue Ivy's birth, he revealed the couple's struggle with miscarriage for the first time.
"Last time the miscarriage was so tragic / We was afraid you'd disappear/ But nah baby, you magic," rapped Jay-Z.
Knowles-Carter also opened up about the miscarriage the couple suffered in her documentary: Beyonce: Life is But a Dream.
The documentary shared some deeply personal, unreleased lyrics Knowles-Carter wrote about her miscarriage.
"I guess love just wasn't enough for us to survive. I swear, I swear, I swear I tried. You took the life right out of me. I'm so unlucky I can't breathe. You took the life right out of me. I'm longing for your heartbeat, heartbeat," she sang.
"And I heard the heartbeat, which was the most beautiful music I ever heard in my life. I picked out names. I envisioned what my child would look like…I was feeling very maternal. I flew back to New York to get my check up – and no heartbeat. Literally the week before I went to the doctor, everything was fine, but there was no heartbeat," she recalled in the documentary.
Knowles-Carter's miscarriage quotes poignantly capture how devastating a pregnancy loss can be.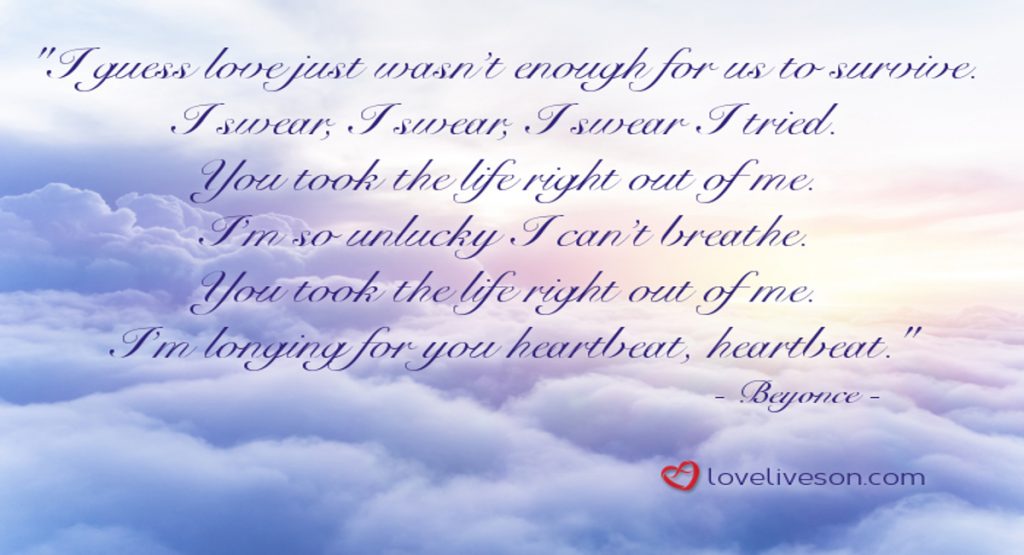 2. Bethenny Frankel
In an interview with Glamour magazine in June 2012, reality show celebrity Bethenny Frankel was ready to really open up about her miscarriage.
When Frankel discovered that she was expecting her second baby with hubby Jason Hoppy, she was shocked.
At 41 years of age, she was told that her pregnancy was "high risk" and that she needed to take it easy.
"So I took it so easy," says Frankel.
At 8 weeks along in the pregnancy, Frankel was sitting in the makeup chair getting ready to film her TV show, Bethenny Ever After.
"I started bleeding. Really bleeding," says Frankel sadly.
Frankel went to her doctor's office straight away. When an ultrasound was done, a heartbeat could not be found. 
Frankel was devastated and immediately questioned whether the miscarriage was her fault.
"I launched into it. Is it because I'm busy? My lifestyle? Is this my fault?" asks Frankel.
"Absolutely not," the doctor replied. "You're 41. You had bleeding, there is nothing that could have been done."
    Yet, I blamed myself—of course I did."
 When asked about her miscarriage by Today host Savannah Guthrie, Frankel revealed that she struggled emotionally after the miscarriage.
"You go through a roller coaster of emotions about it," Frankel tells Guthrie. It led to her questioning her relationship with her partner.
"About your age, about being a woman, about can you have another baby, about are you a failure to your partner, about what if my husband married someone younger, you go through a million different things," says Frankel.
Frankel pointed out that though she feels incredibly lucky to have her "perfect" 21-month-old daughter Bryn, she wasn't sure if another child would be in the cards.
"I'm 41, and I don't know. It's not really my choice. It's not really my option. The window is closing," confides Frankel.
Frankel's miscarriage quotes reflect what a lot of women who have suffered miscarriages feel—which is guilt and self-blame—and that these emotions can take a toll on their relationships.
3. Lisa Ling
The former co-host of The View returned to the show in December 2010 to reveal a secret that she had been keeping.
Six months earlier, she and oncologist-husband Paul Song had suffered a sudden miscarriage when she was 7 weeks pregnant.
Ling states that before she learned about the miscarriage, she had taken a carefree attitude towards pregnancy.
However, "When I heard the doctor say there was no heartbeat it was like—bam—like a knife through the heart," confides Ling.
The accomplished TV reporter, who now hosts OWN's Our America with Lisa Ling, said that the miscarriage left her feeling "more like a failure than I had in a long time."
Despite her devastation, Ling wanted to share her story in order to encourage conversations about miscarriage, which will hopefully remove its stigma.
Her experience led 38 year-old TV personality to launch a website: The Secret Society of Women.
Ling's website provides a platform for women to anonymously share their personal and private experiences, including the pain and loss of miscarriage.
This celebrity's miscarriage quotes reveal what what many women who have suffered a pregnancy loss feel—namely, they feel like failures—even when they have accomplished a lot in life.

4. Giuliana Rancic
The E! News host and her Apprentice-winning husband Bill Rancic have documented their emotional roller coaster ride with infertility for 5 seasons on their reality TV show, Giuliana & Bill.
The celebrity couple's first IVF attempt in 2010 resulted in a pregnancy.
However, 9 weeks later they received the devastating news that Rancic had miscarried their child.
Rancic struggled emotionally with the loss and was plagued with self-doubt.
"I thought, 'Does Bill wish he'd married a 25-year-old-girl with younger eggs?' 'Is he disappointed in me?'" shares Rancic when interviewed by People magazine on October 11, 2010.
Upon sharing the news with her mother and sister-in-law, both women revealed that they had suffered miscarriages as well.
"It's amazing how much people hide it," states Rancic.
"They feel like, 'What did I do wrong?' But in so many cases you didn't do anything at all."
After their pregnancy loss, the couple continued with IVF treatments.
While undergoing a third round of IVF, the couple received more devastating news. Doctors had discovered lumps in Rancic's breasts during a routine mammogram.
After the breast cancer diagnosis, Rancic underwent a double mastectomy.
Despite the setback, the couple was determined to continue their quest to have a family.
Happily, the Rancics welcomed a healthy baby boy via a surrogate in 2012. They named their precious son Duke.
After Duke's birth, the Rancics had 3 remaining embryos.
Two were successfully implanted in their surrogate in 2014. But sadly, their surrogate miscarried 2 weeks later.
This pregnancy loss "was the toughest blow" says Rancic. "It was a really hard time."
However, Rancic says, "I have to remind myself that I'm very fortunate to have what I have."
The couple remains hopeful about growing their family. "We're fighters!" states Rancic.
Ranic is hopeful that her miscarriage quotes will help us have more open conversations about miscarriage and pregnancy loss, thereby eliminating the "taboo" surrounding these subjects.
5. Lily Allen 
The talented British pop singer Lily Allen has shared with the public that she suffered 2 pregnancy losses over the course of 3 years.
The first pregnancy loss was due to a miscarriage.
The second loss occurred when she was 6 months pregnant with a son. (Since the loss happened after the 20th week of pregnancy, it is considered a pre-term delivery, or stillbirth.)
The second pregnancy loss was the result of contracting a viral infection. Allen was left fighting for her life due to blood poisoning or septicaemia.
After her harrowing ordeal, this celebrity publicly opened up about the loss of her son.
In an interview with The Sun newspaper, Allen shares: "I nearly died [because of the septicaemia]. But I was so numb and I didn't care.
"I'd just lost my baby and that is how numb I was.
"I held my child and it was really horrific and painful—one of the hardest things that can happen to a person.
She later told the Mirror Online: "I think even though what happened to us is beyond devastating, it's made me realize what I have got, which I don't think I ever really did before."
Allen also revealed that in sharing her personal pain, her goal was to help others going through the same thing.
Allen subsequently married Sam Cooper, and they had 2 beautiful daughters— Ethel and Marnie.
Daughter Ethel was born exactly 1 year after the devastating loss of Allen's son.
Allen's pregnancy loss quotes are raw emotion because nothing is more painful than losing a baby.
6. Pink
Grammy-award-winning artist Pink first announced that she was expecting her first child with her motocross-star husband, Carey Hart, on The Ellen DeGeneres Show.
She also explained why she had been reluctant to open up about her latest pregnancy: "I was just really nervous. I have had a miscarriage before."
However, their journey had a happy ending when the couple welcomed daughter, Willow Sage, in June 2011.
Pink's miscarriage quotes are unsurprising, given that many women are hesitant to share news about a pregnancy when they have had a previous miscarriage.
7. Mariah Carey
Mariah Carey and her former husband Nick Cannon have revealed that they suffered a miscarriage in 2008.
In an interview with Access Hollywood, Carey shared: "It was really sad. We really had to absorb this. We really learned a lot as people.
Even Carey was surprised by her decision to openly share her miscarriage experience.
"I've never really been a very forthcoming person about my personal stuff. It's just not my thing.
"But, honestly, to me, this type of thing is like, 'Ew weird! Why do I have to talk about this in front of the world?'
"It's even strange for me to talk to the people I know about it, because I just never did.
   But it kind of shook us both and took us to a place that was really dark and difficult."
After the miscarriage, Carey underwent various fertility treatments and changed her lifestyle in order to become pregnant again.
The celebrity couple were thrilled to when Cary became pregnant with twins. They welcomed the birth of their children—Moroccan and Monroe— in April 2011.
Cary's miscarriage quotes show that even the most private of people might feel the need to talk about what they have been through.
8. Nicole Kidman
Oscar-winning actress, Nicole Kidman, has been open about her struggles with infertility.
Early on in her marriage to Tom Cruise, Kidman suffered 2 miscarriages. This led the celebrity couple to consider adoption.
"We lost a baby early on, so that was really very traumatic. And that's when it came that we would adopt Bella," reveals Kidman in an interview with Vanity Fair.
After her divorce from Cruise, Kidman went on to find happiness with country music star, Keith Urban.
After their marriage, Kidman successfully conceived a daughter, Sunday Rose, at the age of 41.
After Sunday Rose's birth, Kidman and Urban yearned to grow their family.   "But I couldn't get pregnant and we wanted another baby," reveals Kidman.
So the couple asked for help from a gestational surrogate.
Happily, the family was able to welcome another daughter, Faith Margaret, into their nest.
Kidman's miscarriage quotes reveal that pregnancy loss can lead to deep grief.
9. Celine Dion
The French-Canadian songstress and her husband, Rene Angelil, struggled with infertility for 6 years before finally conceiving their first son, Rene-Charles, via IVF.
Over the next 9 years, Dion underwent another 6 rounds of IVF and also suffered a miscarriage.
"They said that I was pregnant, and a couple of days after, [my husband and I] were not pregnant again," reveals Dion to Oprah Winfrey on her talk show.
"We didn't want to feel like we were playing yo-yo. I'm pregnant. I'm not pregnant. I'm pregnant. I'm not pregnant.
"So we didn't want to do this thing. But we did have a miscarriage.
"I never gave up. But I can tell you that it was physically and emotionally exhausting," states Dion.
Their struggle to have more children finally ended in 2010 after twin boys, Eddy and Nelson, were born.
Dion's miscarriage quotes highlight the fact that multiple rounds of fertility treatments and pregnancy loss takes a toll on a woman's physical and emotional health.
10. Courteney Cox 
Just like her character on Friends, Courteney Cox has struggled with infertility.
Cox and then-husband David Arquette went through years of IVF attempts and suffered several miscarriages in the process.
"I get pregnant pretty easily, but I have a hard time keeping them," the actress revealed to People magazine in October 2003.
Her miscarriage quote to People was heavily tinged with disappointed and sadness.
The celebrity couple finally welcomed daughter, Coco, into the world in June 2004. Cox was 40 years old at the time.
The couple reportedly tried to have another baby so that Coco would have a sibling, but experienced several more miscarriages.
11. Brooke Shields
After marrying television writer Chris Henchy in 2001, Shields and Henchy started trying to have a baby right away.
Shields knew that this would be difficult due to previously having pre-cancerous cells removed from her cervix. This procedure left scarring that affected her ability to become pregnant.
"Wanting to start a family is a dream that you hope will come true," Shields tells Fertility Today.
The couple turned to IVF after 6 months of trying to conceive naturally, and suffered a miscarriage a few months later.
"We were crushed," Shields told People magazine. "Up till then, I thought simply because it was time and I wanted to have a baby, it would work out."
"Everyone around me was getting pregnant. I was starting to feel bitter," said Shields to Fertility Today.
Despite the emotional toll of IVF, Shields never gave up on her dream of parenthood. She reveals: "I told myself, if it can happen once, it can happen again."
She and her husband were thrilled when daughter Rowan was born in 2003. They were doubly blessed with a second daughter, Grier, in 2006.
Shield's miscarriage quotes reflect the bitterness that many women feel when they have suffered miscarriages, and how hard it can be to see other women have successful pregnancies.
12. Gwyneth Paltrow
Gwyneth Paltrow opened up about suffering a miscarriage while trying for a third child with then-rockstar-husband Chris Martin.
The celebrity couple were trying for a younger sibling for daughter, Apple, and son, Moses.
"My children ask me to have a baby all the time," says Paltrow to The Mail.
"But I had a really bad experience when I was pregnant with my third.
"It didn't work out and I nearly died.
"So I am like, "Are we good here or should we go back and try again?"
She also confessed to still "missing" the baby that she didn't carry to term.
And while she would love to have more children, now that she is in her 40's, she feels she has "missed the window" for becoming a mother again.
Since the miscarriage that nearly claimed her life, Paltrow and Martin have divorced. However, they remain on good terms as they co-parent their two children.
Paltrow's miscarriage quotes shows that you can miss a child that you lost forever.
13. Audrey Hepburn
The timeless beauty Audrey Hepburn is remembered for her elegance, grace, and impeccable sense of style.
Her poise, however, concealed her heartbreak. This iconic celebrity had suffered 4 miscarriages in her lifetime.
One of these miscarriages was the result of a serious fall from a horse.
Despite her loss and grief, Hepburn was determined to have children. She eventually gave birth to two healthy boys, Sean and Luca.
Hepburn got pregnant again after the birth of her sons, but unfortunately, this pregnancy also ended in a miscarriage.
14. Oprah Winfrey
In 2011, talk show queen Oprah Winfrey, opened up about a miscarriage that she had at 14 years of age.
Appearing as Piers Morgan's first guest on his new talk show Tonight, Oprah spoke candidly about her unwanted pregnancy and the feelings of relief that she felt when she miscarried.
"I knew then that when I lost that baby, for whom I had no connection to whatsoever… I was 14 years old and felt nothing, but just, 'OK'.
"[I was] relieved because I thought before the baby, 'I'm gonna have to kill myself,'" reveals Winfrey.
Winfrey's miscarriage quotes is representative of many women that have unplanned pregnancies and are very young.
15. Courtney Love
In 2001, musician and actress, Courtney Love, suffered a miscarriage while on the set of 24 Hours, a movie she was filming.
According to media reports, the miscarriage happened very early on in the pregnancy.
This celebrity was reportedly heartbroken about the end of her pregnancy, but chose to keep her pain private and not give any miscarriage quotes to the media.
Love now has a daughter, Frances Bean, with late husband and Nirvana frontman, Kurt Cobain.
16. Sharon Stone
Actress and former model, Sharon Stone, has very candidly shared her struggles with getting pregnant. A lupus-related condition made it difficult for Stone to be able to carry a baby.
She reveals that she has suffered 3 miscarriages, which were devastating.
"The last time I lost the baby, I went into 36 hours of labor," Stone says emotionally to AARP magazine.
Stone was determined to have a family and has always been open to the idea of adoption.
"I always wanted to adopt," says Stone. "Even when I was young, I used to look up 'how to adopt'."
Stone adopted her first son, Roan, in 2000 with then-husband Phil Bronstein. She then went on to adopt two more sons, Laird and Quinn, as a single mother.
"I'm loving raising my kids," gushes Stone.
Stone's miscarriage quotes show that even with multiple pregnancies losses, there may still be a happy ending.
17. Christie Brinkley
In a 1998 interview with Good Housekeeping, former Cover Girl and model, Christie Brinkley, opened up about 3 miscarriages with her former husband, architect Peter Cook.
"After the first miscarriage, I tried to take the attitude that it was my body's way of telling me that this pregnancy wasn't meant to be, and that it was better for everybody," says Brinkley.
"But after the second one, it was really devastating.
"Four months is a lot of living with that little life in you—thinking about it, eating right for it, nurturing it—and all of a sudden, it dies," shares Brinkley.
Brinkley eventually did give birth to a healthy baby girl, Sailor Lee, at 44 years of age. She and Cook were ecstatic about their birth of their daughter.
She also has two older children—daughter, Alexa Ray, with former husband Billy Joel, and son, Jack, with real estate developer Rick Taubman.
Brinkley's miscarriage quotes reflect what many women feel—that to no longer have a life growing inside of you is a profound loss.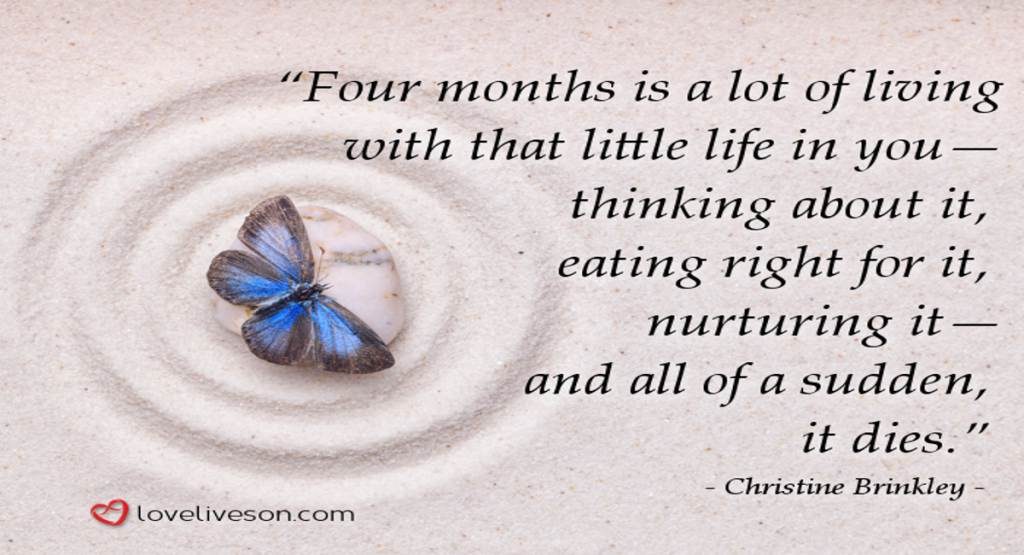 18. Marilyn Monroe
When we think of America's blonde bombshell, actress Marilyn Monroe, we think of a film and beauty icon.
We don't remember her as a symbol of those who have struggled with infertility and pregnancy loss.
The truth is that this iconic celebrity suffered from endometriosis that caused severe menstrual pain her entire adult life, and she struggled to conceive.
In addition to fertility issues, Monroe also suffered several pregnancy losses after becoming pregnant with husband Arthur Miller.
Her first miscarriage occurred in 1956 while she was filming The Prince and the Showgirl in England.
The next year she suffered an ectopic pregnancy requiring emergency surgery.
(An ectopic pregnancy is when the foetus develops outside of the uterus, typically in the fallopian tube.)
In 1959, Monroe grieved another miscarriage. It occurred shortly after she had finished filming the iconic movie Some Like it Hot.
Unfortunately, Monroe was not given a choice about whether or not to keep her struggles private, as the press hounded her at every turn for miscarriage quotes.
Her pregnancy losses are said to have contributed to Monroe's struggles with depression.
In 1962, she reportedly said to George Barris: "What do I want more than anything else in the world? I want a baby! I want to have children!"
Sadly, Monroe was denied what she wanted most.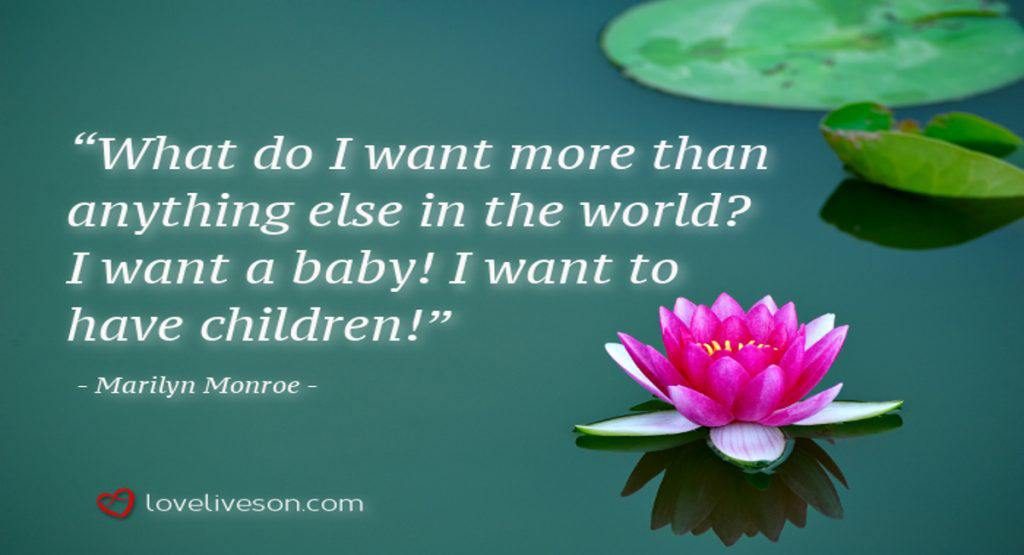 19. Elizabeth Banks
Actress Elizabeth Banks has spoken publicly about her fertility issues with husband Max Hendelman.
"It's a womb issue for me. Embryos wouldn't implant," she told Lucky magazine.
"The one true hurdle I've faced in life is that I have a broken belly."
After numerous failed attempts with IVF, Banks and Hendelman sought a gestational surrogate to carry their baby.
"We made a 'baby cake' and baked it in another woman's oven," she says smiling.
Through surrogacy, Banks and Hendelman welcomed son, Felix, into the world in 2011.
They were blessed with another child in 2012, son Magnus, who was also carried by a gestational surrogate.
Banks has given miscarriage quotes infused with humour.
As Veronica Roth once famously said: "Sometimes crying or laughing are the only options left, and laughing feels better right now."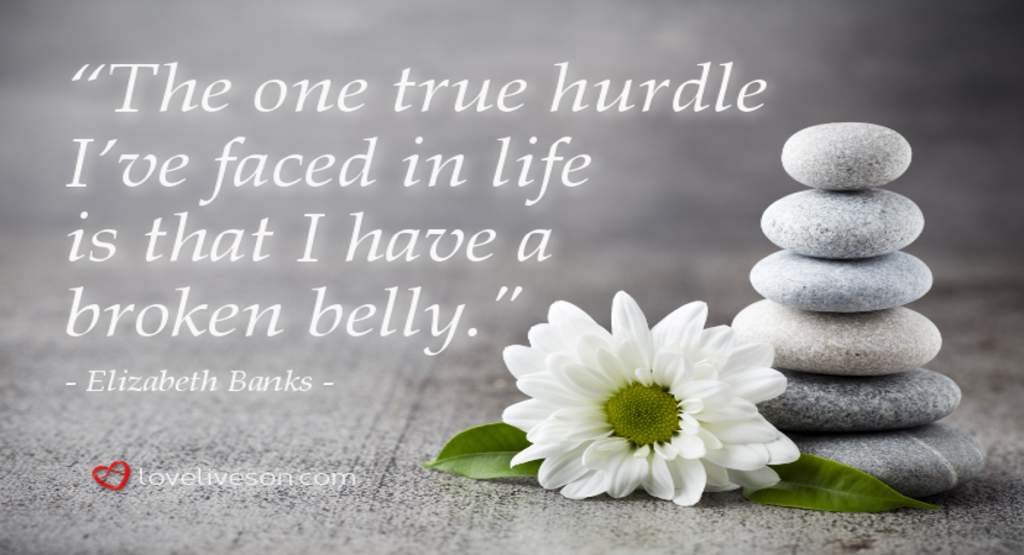 20. Pamela Anderson
Former Baywatch babe, Pamela Anderson, suffered a miscarriage in late 2006 with then husband Kid Rock while shooting the movie Blonde and Blonder in Vancouver.
Like Courtney Love, Anderson refused to give any miscarriage quotes to the media, preferring to keep the matter private.
Anderson has two sons, Brandon and Dylan, from her former marriage to Tommy Lee.
21. Barbara Walters
Talk show host Barbara Walters has spoken publicly about her miscarriages and the joys of adoption.
After suffering three miscarriages, Walters said she was: "thrilled to finally get a daughter" through adoption.
Walters adopted daughter, Jacqueline Danforth, with second husband Lee Guber and says that the "child was born in my heart instead of my womb".
In her later years, this celebrity opened up about how she wishes she had adopted more children.
"I would have loved to have had a bigger family," she shares with Piers Morgan on Tonight.

Related Articles

22. Kirstie Alley
Kirstie Alley opened up about the miscarriage she experienced with then-husband Parker Stevenson in: How to Lose Your Ass & Regain Your Life: Reluctant Confessions of a Big-Butted Star.
In this book, published in 2005, Alley wrote: "When the baby was gone, I just didn't really get over it. Neither did my body.
"I so thoroughly convinced my body that it was still pregnant after 9 months that I had milk coming from my breasts.
"I was still fat, I was still grieving, and I had just been told it was very possible I would never be able to have children.
"Fat, childless, with little hope for any future children … that's when I began to get fat," explains Alley.
In an interview with People magazine, Alley revealed: "I wasn't far enough along to feel the baby kick.
"In those few weeks you mock up an entire life—who the baby is going to look like, where it's going to go to college. That's the loss we suffered," shares Alley.
Alley was finally able to have a family, thanks to adoption. She now has two children—son, William True, and daughter, Lillie. 
Alley's miscarriage quotes reveals the physical and emotional turmoil that a pregnancy loss can have.

 23. Valerie Bertinelli
American actress, Valerie Bertinelli, has opened up about suffering a miscarriage with musician Eddy Van Halen in 1987. The celebrity couple had been trying to start a family.
"It wasn't the easiest thing to deal with. But nobody knew I was pregnant, so nobody knew I had a miscarriage," says Bertinelli.
She later gave birth to a son, Wolfgang Van Halen, in 1991.
24. Yoko Ono
Yoko Ono and her husband, Beatles legend John Lennon, suffered a miscarriage in 1986.   They named their unborn child John Ono Lennon II.
The iconic celebrity couple chose to honour the baby they had lost by including the sound recording of their baby's heartbeat in their 1969 album: Life With the Lions. They had taken the sound recording prior to the miscarriage.
The sound of the baby's heartbeat on the album was then followed by 2 minutes of silence.
Ono later gave birth to a son with Lennon, Sean. She also has a daughter, Kyoko Chan Cox, from a previous marriage.
25. Vivien Leigh
Timeless beauty, Vivien Leigh, gave us her Oscar-winning performance as Scarlett O'Hara in Gone With The Wind. She famously beat nearly 1,500 other actresses for the part, and was the first British woman to win an Oscar.
She was also infamous for leaving her husband and child for screen legend Laurence Olivier, whom she later married.
During her marriage to Olivier, who she considered to be the love of her life, she experienced two miscarriages.
After years of battling repeated tuberculosis infections and bipolar disorder, Leigh died in 1967 from tuberculosis at 53 years of age.
26. Mary Tyler Moore
The popular star of the hit television show, The Mary Tyler Moore Show, has not been immune to pregnancy loss and grief.
When Moore and her second husband, Grant Tinker, were expecting a child they could not wait to share the news with the rest of the show's cast.
"Grant and I set about the fun of telling anyone who'd listen that we were embarking on a 'production' of another sort," writes Moore in her memoir Growing Up Again.
"In about six weeks' time the promise was broken. This growing expression of us both ended in its beginning.
"And the loss took my heart with it as well," writes Moore.
Upon learning about the miscarriage, Moore underwent a medical procedure to clear her uterus (called a Dilation and Curettage, or "D&C").
During the D&C, her doctor discovered that Moore had juvenile diabetes and her blood sugar levels were off the chart.
Her response to the doctor was: "Juvenile? Diabetes?! What?!—I'm not that childish! And I'm not that special!" she laughs.
Moore had one son, Richard Jr., from a previous marriage. He tragically died at 24 years of age after accidentally shooting himself.
Moore's miscarriage quotes show that while a pregnancy loss can have lasting emotional consequences, it's okay to give yourself permission to laugh when life seems unbearable.
27. Lisa Marie Presley
Daughter of world-famous Elvis Presley, and a singer-songwriter and actress in her own right, Lisa Marie Presley, had always wanted children.
Sadly, Presley suffered numerous miscarriages over the span of 2 years while trying for a family.
"My blood was too think and would clot, which caused several miscarriages," Presley revealed to People magazine.
"I really wanted these babies," she shares.
Presley was prescribed blood-thinning medication, which had a profound effect. "The moment I took blood thinners, I got pregnant," says Presley.
Presley now has 4 children—twin girls, Finley and Harper, with husband Michael Lockwood—and daughter, Danielle Riley, and son, Benjamin Storm, with former partner Danny Keough.
Presley's miscarriage quotes highlight that no one is immune to pregnancy loss, even world-famous celebrities.
28. Liza Minnelli
Entertainer, singer, and Oscar-winning actress, Liza Minnelli, suffered 3 miscarriages in her lifetime.
The first miscarriage was with her second husband, Jack Henley Jr.
The second and third miscarriage occurred when she was married to her third husband, Mark Gero.
The third miscarriage was a particularly painful loss, as it happened the middle of her second trimester. Sadly, it occurred on New Years Eve, 1981.
Minnelli revealed in an interview with The Guardian on April 12, 2008, that she is filled with "great sadness" and "regret" at not having children.
She also states that she has been able to overcome the losses in her life by adjusting her perspective on the situation.
   I think that's the greatest gift one can have: point of view. You know? I've come to believe that if you have a bad memory of something, change it."
Minnelli's positive attitude, reflect in her miscarriage quotes, did not happen overnight.  But she proves that it is possible to recover from great sadness and regret.
29. Jane Seymour
In 2007, actress and timeless beauty, Jane Seymour, has opened up about having 2 miscarriages, one of which occurred on live television.
Seymour told Entertainment Tonight: "I actually lost a pregnancy live on television, announcing the Rose Parade, but nobody knew at the time."
She admitted that this traumatic experience led her to shy away from appearing on live television for a long time.  We don't blame her.
Seymour says she is blessed to have 4 wonderful children: Katherine, Sean, Johnny and Kris.
30. Tori Amos
Singer Tori Amos has shared her miscarriage experiences with fans.
Opening up to Now Magazine, Amos revealed: "Going through this horror, I was humbled by what it was to be a woman.
"I could be a female icon and successful breadwinner, but my body couldn't carry a child."
Amos suffered a total of 3 miscarriages before the birth of her daughter, Natashya, in 2000.
According to Amos, her miscarriages led her to decide against trying for more children after Natashya arrived.
"I wanted more children, but miscarried a few times before Tash, so after we had her we though, 'that's it'," she told The Guardian in a September 15, 2013 article.
Amos' miscarriage quotes succinctly capture how frustrating it is not have control over a pregnancy, like you do with other aspects of your life.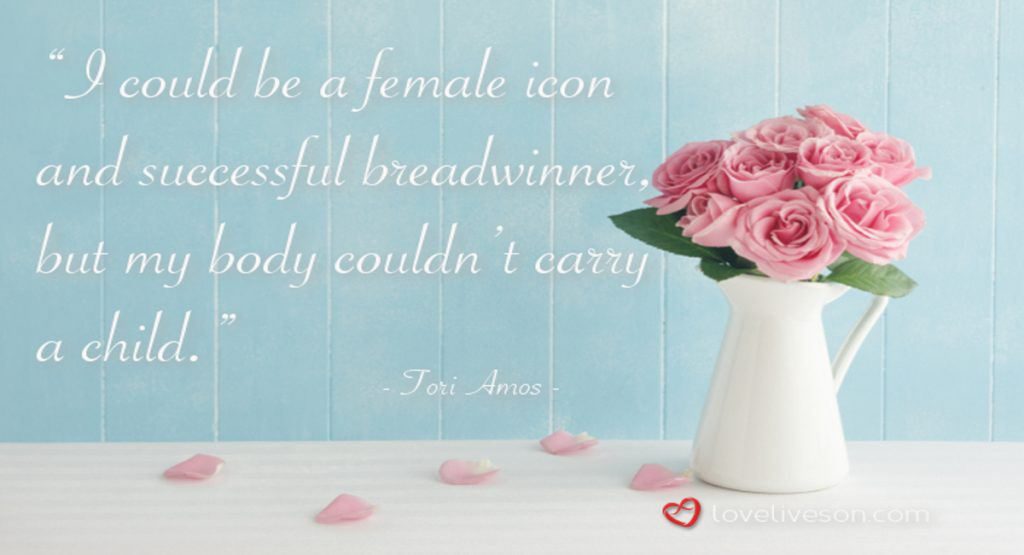 31. Emma Thompson
British actress, comedian, and writer Emma Thompson has experienced 4 miscarriages.
Finally, with the help of IVF, daughter Gaia was born in 1999.
Thompson and her partner Greg Wise continued with IVF for 3 years in order to give Gaia a sibling. They were not successful.
Thompson suffers from Polycystic Ovary Syndrome ("PCOS") and was eventually told by doctors that she would be unable to have another baby.
"It's very tricky," she shared with The Daily Mail.
"I think of all the privileges I have, and I think about what some people in Africa go through, but for me, not being able to get pregnant and have another child really, really hurts."
She also shared that her partner, Wise, suffered depression after the IVF failed and needed psychiatric treatment to help cope with the devastating news.
Wise advises readers of The Daily Mail who are also facing fertility issues to: "To talk to someone if necessary. [The grief] comes in cycles and it isn't anybody's fault."
Happily, Thompson met 16-year-old Rwandan orphan and former child soldier Tindyebwa Agaba at a refuge council event.
Thompson and Wise adopted him soon after.
"He's a remarkable boy," Wise said of his son to The Daily Mail.
"He's had more misery than hopefully any of us will have to put up with. That's given him an incredible drive for trying to make people's lives better."
Thompson's miscarriage quotes shine light on the fact that pregnancy loss can be devastating to men as well.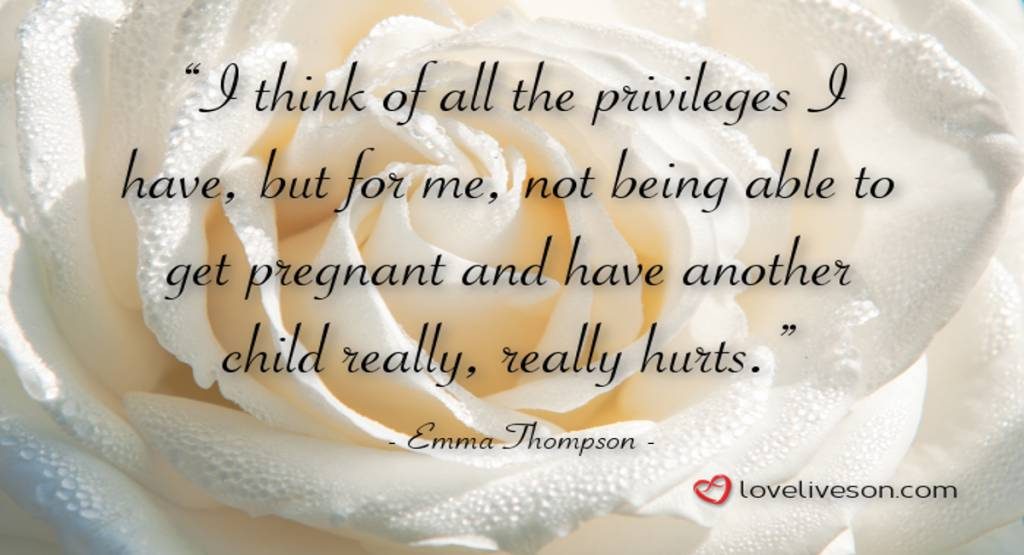 32. Lucy Lawless
Warrior Princess, Lucy Lawless, opened up about her miscarriage on Entertainment Tonight.
Lawless told ET that her miscarriage happened right after she had filmed the very last episode of her hit television show: Xena: Warrior Princess.
Before her miscarriage, Lawless had a daughter at the age of 19 with then-husband, Garth Lawless.
Lawless went on to have two more children, sons Julius and Judah, with husband Robert Tapert. 
33. Wendy Williams
In a PBS special titled American Masters: The Women's List, talk show host Wendy Williams opens up about multiple miscarriages she endured before giving birth to her only child, Kevin Jr.
"I fought tooth and nail to be a Mother," says Williams.
"I suffered several miscarriages, including two at five-months. That's when you have the clothes already picked out, the nursery is already painted.
"They ask you, 'Do you want a funeral or do you want cremation?'" she shares with PBS viewers.
On her successful talk show, The Wendy Williams Show, she had some sage advice for a woman in her audience who had a miscarriage a few years ago and is afraid to try again.
"I was scared," says Williams. "I had 3 miscarriages before having little Kev.
"The first one was at 6 or 7 weeks, it was a 'lima bean,' but nevertheless, it hurt.
"The second one was at 5 months. The name was picked out. The nursery was set up. We had purchased clothes. I was out in public and talking about it on the radio. …
"But the baby died.
"So after 3 [miscarriages], my husband and I were married, but I was ready to divorce him in the name of love.
"Because I felt like there was something wrong with me, and, 'Why should I make him suffer?' …
"And I tried again because getting pregnant was never my problem. And I had the support of my parents.
"I was also not going out in public because I was on bed-rest. It was also a lot easier when people weren't looking at my stomach or people all around saying, 'How do you feel?' How do you feel?' 'How do you feel?'
"So like you, I am strong. But like you, we can be broken down. But like you, I wanted a baby bad!
"And you will go on and try this again. And you'll take all the precautions your doctors say, plus more." …
"I wish you well!" says Williams to her viewer.
We thank Williams for her candid miscarriage quotes because her sentiments are common, but not often publicly expressed.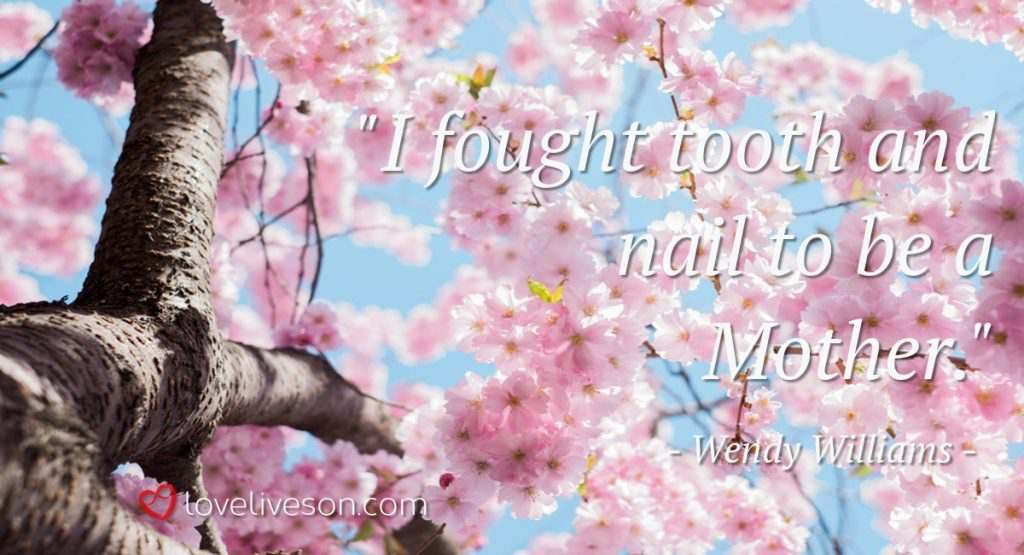 34. Kimberly McCullough
General Hospital actress Kimberly McCullough revealed the emotional news of her late-term miscarriage via a blog post.
She had been thrilled when she learned from doctors that she was expecting a baby girl. But sadly, she miscarried soon thereafter.
"My heart was so full and then it broke.
"I'm still processing, still healing, but anyone who has gone through it know, losing a baby at 22 weeks is tragic," shares McCullough
"One thing I am proud of however was that I allowed myself to be happy and to relish the moment.
"I sat in all that goodness and I can recall those feelings (when I'm having different ones) and hope that it can be like that again," she writes.
This baby would have been McCullough's first child.
McCullough's miscarriage quotes show how complicated grief can be after the loss of a pregnancy.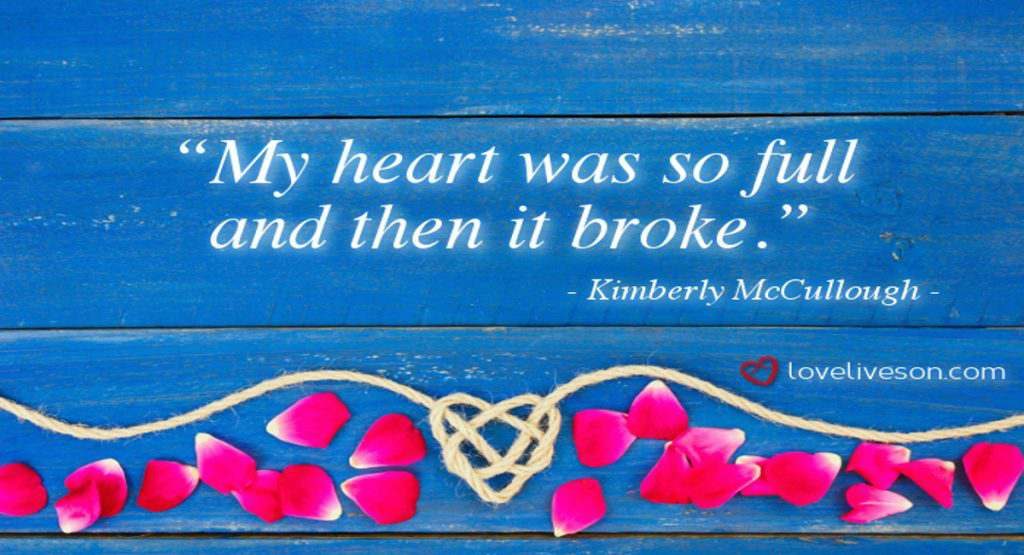 35. Joan Rivers
The late comedian, Joan Rivers, shared her personal regrets about not having a large family.
"I wish I'd had more children, but I had two miscarriages," she had told The Daily Mail.
Joan had one daughter, Melissa Rivers, who is also in show business as a television host, producer and actress.
36. Melissa Rivers
Melissa Rivers, like her famous mother, has also openly discussed her pregnancy struggles.
"I had a very difficult pregnancy and I had a very hard time getting pregnant the first time," she revealed to CBS.
"And then I had a miscarriage and then another six months before I got pregnant with Cooper.
"Then I was on and off of bed rest for my entire pregnancy," said Rivers in a press quote.
37. Kathie Lee Gifford
Kathie Lee Gifford announced on the talk show that she hosted that she had recently suffered a miscarriage.
Stumbling over her words, she said: "Frank and I were planning our second baby to be…to come…this fall…this spring…. 
"I just wanted to tell everybody myself.
 "Until you experience a miscarriage yourself, you really don't understand the heartbreak of it," she shared on Live with Regis & Kathie Lee.
It was a rare moment of private sorrow expressed publicly, and a poignant miscarriage quote.
Gifford, 39, later reassured her fans that she hadn't given up on trying to expand her family.
"It hasn't discouraged me. We're going to try for a while longer—if Frank would just stay in town! I don't think it's my last chance."
Gifford and her late-husband Frank have two children— Cody and Cassidy.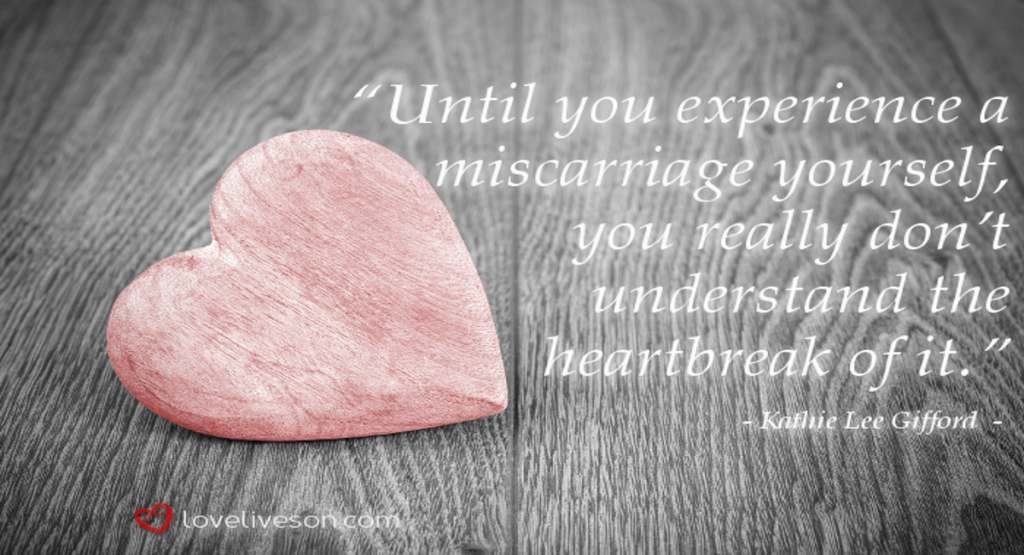 38. Gladys Knight
In her book, Gladys Knight: Between Each Line of Pain and Glory, singer Gladys Knight is open about traumatic experiences she has had, including a miscarriage at 16 years of age.
Knight tells Chicago Tribune that she has been open with fans about her past because: "God has given me a blessing.
"My thing is to bring His joy, His word, my songs and all of that, to you.
"So I don't bring my life, I don't bring my woes, my troubles to you when I come into your space or your life.
"I want to be uplifting you."
Since her teenage pregnancy and miscarriage, Knight went on to have three children—Kenya, James, and Shanga.
39. Barbara Bush
Barbara Bush's son, President George W. Bush, reveals in his memoir, Decision Points, that she had suffered a miscarriage when he was in his teens.
He claims that his mother asked doctors to save the dead baby and preserve it in a jar, and that she later showed it to him.
The astonishing episode had a profound effect on the future President.
'There's no question that affected me, a philosophy that we should respect life," he said.
"There was a human life, a little brother or sister."
George W. Bush's miscarriage quote shows that all members of a family can be profoundly changed by the loss of a pregnancy.
40. Susan Lucci
In her tell-all book, All My Life: A Memoir, famed soap celebrity Susan Lucci shares her personal journey.
One of the revelations is that she had a miscarriage around the time a controversial abortion story line was being done on All My Children.
Lucci felt that it was important to share painful experiences, like her miscarriage, because "there are things in my life that people will identify with". 
41. Elisabetta Canalis
Elisabetta Canalis, a stunning Italian model (and former girlfriend of famed celebrity George Clooney), tragically lost her unborn baby to a miscarriage.
She posted the news on WhoSay in the hopes of offering support to other women who are going through the same experience.
"Unfortunately life gives you … a reality that you do not expect, and that is very hard to accept, even if you think you are strong enough and prepared," shares Canalis.
"You're never really ready to be told that there is no more beating [heartbeat] and it had already stopped long ago.
"I just want to say to all those women who are going through it to stay strong because life goes on and it is nobody's fault and nature acts in incomprehensible ways.
"We can only accept it. I just want to say that I feel you close, if you are suffering as I am doing. We can't deny it, it's like an incessant sorrow you can't get rid of," reveals Canalis.
Canalis' miscarriage quotes show bravery in the face of great heartbreak.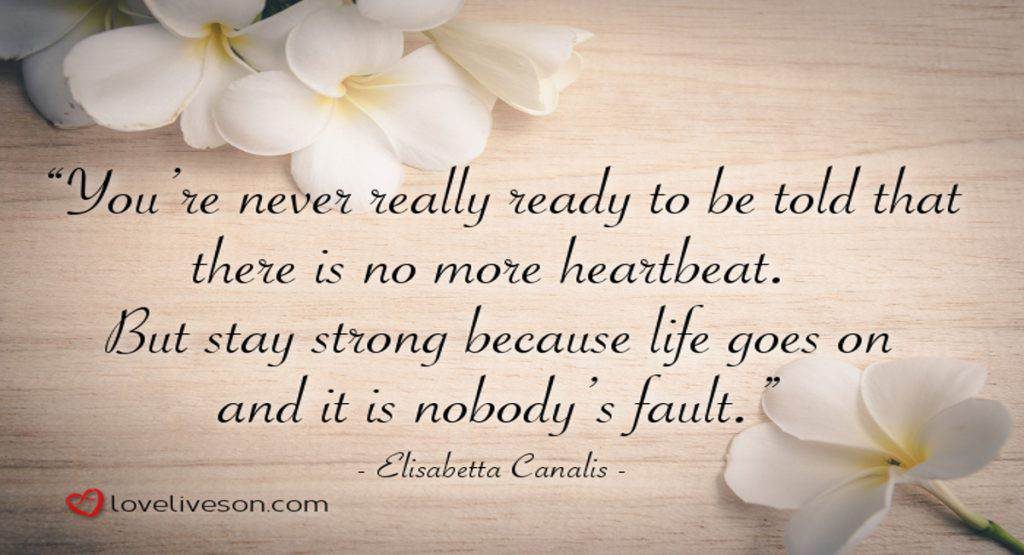 42. Deborra-Lee Furness 
Deborra-Lee Furness and her actor-husband Hugh Jackman have experienced multiple miscarriages.
In an emotional interview with Katie Couric, Jackman spoke about their struggles with infertility and miscarriage.
"We did IVF and Deb had a couple of miscarriage," he shares.
"I'll never forget it, the miscarriage thing…
"It happens to 1 in 3pregnancies. But it's very, very rarely talked about. It's almost secretive.
"It's a good thing to talk about. It's more common and it is tough. There's a grieving you have to go through," reveals Jackman.
Furness and Jackman did not give up their hope of having a family. They adopted two children—Oscar and Ava.
The couple have also become vocal advocates for adoption reform to reduce unnecessary barriers for other families wanting to adopt.
Jackman's miscarriage quotes show that fathers are also emotionally affected by pregnancy loss.
43. Eva Amurri Martino
Eva Amurri Martino, actress and daughter of famous mom Susan Sarandon, suffered a miscarriage at the 9-week mark in her pregnancy.
"This one little angel … has slipped away," shares Amurri Martino in her blog, Happily Eva After.
Amurri Martino and her husband, Kyle Martino, had been hoping to have a sibling for their daughter, Marlowe.
But, "just like that, it was all over," writes Amurri Martino.
"I am sharing in the hopes that we can be a light for people going through similar circumstances and to remind myself and others that there is no shame in voicing our heartbreaks and allowing others to comfort us.
"To anybody enduring similar heartache, I will tell you what I'm feeling and processing as a result of this loss.
"A lot of confusion, some anger, deep sadness, and also an immense amount of gratitude.
I have realized in the past forty-eight hours how incredibly grateful I am for the magic that I have in my life.
"I have so much. Of course, what I don't have, and what I never will have, is this one little angel who has slipped away from me.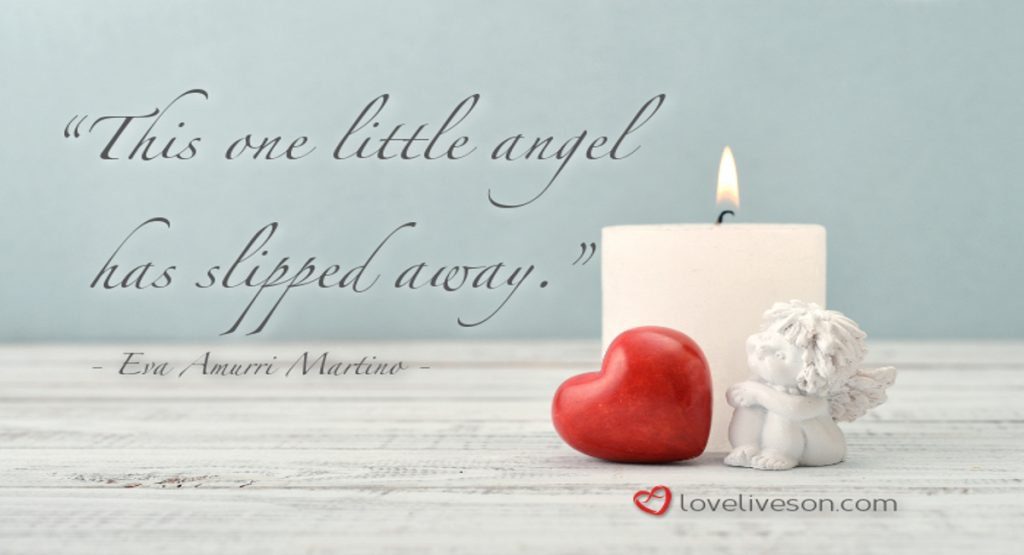 "And while it will take time for me to make peace with that fact, it gives me a lot of solace knowing that I told—that I have shared its existence with you, that it mattered, and that we loved it," blogs Amurri Martino.
Amurri Martino's miscarriage quotes will resonate with many women who have also suffered pregnancy loss.
44. Sophia Loren
In her memoir, Yesterday, Today, Tomorrow: My Life, iconic actress Sophia Loren reveals the heartbreak that she felt after suffering 2 miscarriages.
In the book, Loren confesses that by the time she had reached the age of 29, her desire to have children "had become an obsession".
"I simply loved children.
"On the sets of my movies, I'd befriend the child actors and then stay in touch with them long after shooting had finished.
"Recently, the little girl who acted with me in Houseboat in 1957 wrote to say she'd just become a grandmother.
"But in 1963—when 29 was considered old to be a first-time mother—I was wondering if it would ever happen," writes Loren.
While filming in Naples, Loren was told by a doctor that she was pregnant.
"I was desperately happy, happier than I'd ever been before, and couldn't wait to look my own child in the eyes.
"But that's not how it turned out.
   The following days were among the saddest and darkest of my life."
Loren immediately headed to Milan to seek medical help, but lost the baby immediately upon arrival.
"I can still see myself lying on that hospital bed, under strip lighting, surrounded by white walls, and with the smell of disinfectant penetrating my every cell and piercing my heart.
"My most painful recollection of that night was the scornful look on the faces of the nurses—who were nuns. They all seemed to blame me.
"Like the rest of the world, they knew that I wasn't married to my partner, the film producer Carlo Ponti. (His first marriage had broken up years before but divorce was still illegal in Italy.)
"Of course, those nuns thought they knew the real story, but they didn't know anything about me, my desires and my fears.
"They were insensitive, inhumane, devoid of feeling.
"Their gratuitous humiliation of me was spurred by prejudice and ignorance.
"I lost the baby.
"Afterwards, I went straight back to work. But I felt gutted. It was as if the world had been turned off forever.
"I could see nothing to look forward to, nothing that could ever console me.
"My life as a star felt like nothing compared with the happiness of the new mothers I'd glimpsed at the hospital, getting ready to breastfeed their newborn babies," writes Loren.
The actress managed to get pregnant again four years later at the age of 33.
She writes that she was much more cautious this time, forcing herself to rest in bed as much as possible.
"But a little voice inside was telling me that the same thing was happening all over again," writes Loren.
Her intuition was correct, and she miscarried her baby after attending a hospital for a check-up. Afterwards, a doctor coldly informed her that she would never be able to carry a baby to term.
Upon hearing this news, Loren says that she felt "powerless, barren and deeply inadequate" and "such a failure as a woman".
After her second miscarriage, Loren consulted a famous Swedish gynaecologist. After examining her, he reassured her she could carry a baby and recommended that she be giving oestrogen injections.
Loren became pregnant again. Happily, this time the actress gave birth to a healthy baby boy— Carlo Jr.
"[It was} the greatest, sweetest, most indescribable joy I had ever experienced," writes Loren.
"I was completely overcome by emotion when I held him in my arms.
"Afraid that I might wake up from my marvelous dream, I proceeded to shut myself off from the world.
"It was warm in my hospital room, and I felt safe, me and Carlo Jr., alone together, in a soft cocoon of endless gazes and caresses."
Four years later, Loren was blessed with another son, Eduardo.
Loren's miscarriage quotes reveal the profound heartache that follows a pregnancy loss.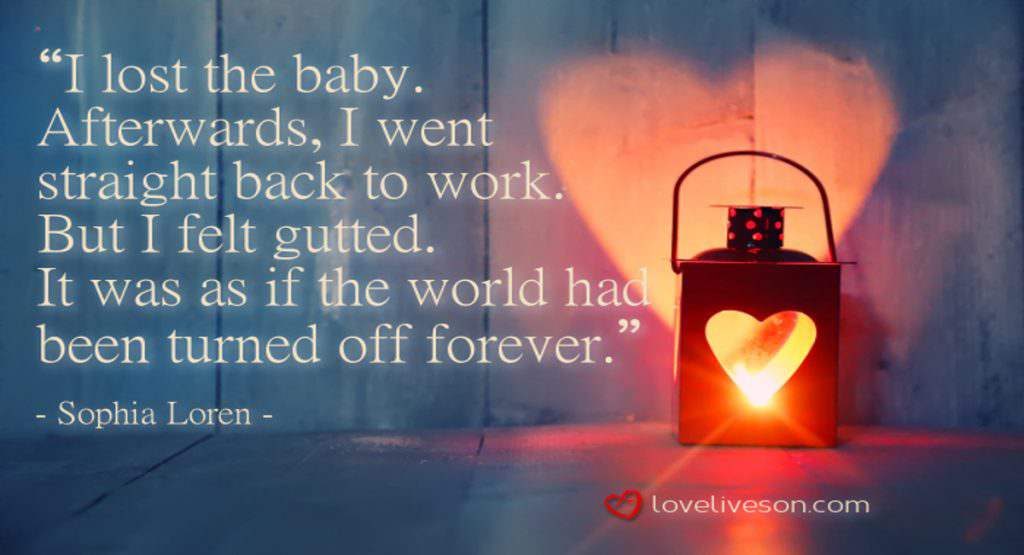 45. Lisa Stelly
In 2013, Jack Osbourne's wife, Lisa Stelly, shared in a blog post the tragic news of her second trimester miscarriage.
To quote Stelly:  "I have been dreading this announcement … I needed some time before being able to say it."
"Jack and I lost our baby boy last week.
"Having a late term miscarriage is by far the hardest thing either of us have ever had to go through," writes Stelly.
She then adds: "It's important to stay hopeful and optimistic through life's toughest moments.
"We never know why things like this happen. All we can do is trust in God and know that he has a plan for our lives."
At the time of the miscarriage, Stelly and Osbourne already had a daughter, Pearl. The couple were blessed with another daughter, Andy Rose, in 2015.
Stella's miscarriage quote shows a resolve to remain positive.
46. Missy Robertson
Duck Dynasty star, Missy Robertson, revealed that she miscarried her child in 2002 and was devastated by the pregnancy loss.
"I was about 8 to 10 weeks along when I miscarried, just enough time to be excited and start telling everyone," the reality TV celebrity shares in an interview with Closer Weekly.
Robertson had suffered an ectopic pregnancy and had to have a medical procedure to remove the foetus after the miscarriage.
"I'd heard of tubal pregnancies for years, but didn't really understand the mental anguish of having someone remove what could've been your child," she confesses.
"It was extremely difficult, and there was a lot of pain and bleeding.
"I was only 30 when that happened and I thought, 'Wait a minute, does this mean it's over for me?'" says Robertson.
The couple, with their two sons, Cole and Reed, pulled together and prayed for a miracle.
Their prayers were answered when Robertson became pregnant with daughter Mia just 3 months later after her miscarriage.
Robertson's miscarriage quotes are candid about the emotional stress that comes with tubal pregnancies.
47. Kayte Walsh
Kayte Walsh and now-husband Kelsey Grammar, star of hit TV show Frasier, confirmed that they had experienced a miscarriage.
In a 2010 statement given to Us Weekly, the couple states: "We lost our unborn child about 6 weeks ago.
"We would like to thank all of those who expressed kindness and concern but we needed a little time to heal, time to find some solace before we publicly acknowledged our loss."
Since the miscarriage, the couple had 2 children—a daughter, Faith, and son, Kelsey.
48. Kelly Brook
Model Kelly Brook opened up about the miscarriages that she suffered with former fiancé, Thom Evans, one of which was while she was 6 months pregnant.
Brook shared the heartache that she felt in her autobiography, Close Up.
"It was the most painful thing.
"I was bedridden for 2 days with enormous boobs, covered in cabbage leaves … Thom and I spent a lot of time crying that week," she shared.
Brook also confesses that she absolutely refused to accept her doctor's diagnosis that she had suffered a stillbirth and not a miscarriage.
She insists on referring to her loss as a 'miscarriage'.
"In my mind, it was a miscarriage. That was how I was going to deal with it.
"But the hospital were insisting otherwise. They kept on asking me for a name. Thom and I had yet to even discuss this. I must give them a name they said.
"Thankfully, my mum was there to give me support. We both said, 'No Name.'"
The hospital also asked Brook if she wanted footprints and handprints made—both of which she continued to refuse.
   Looking back, I was trying to detach myself—with love—for my own sanity."
Brook's frank miscarriage quotes reveal how difficult it can be to accept that you have suffered a pregnancy loss.
49. Amanda Holden
Britain's Got Talent judge Amanda Holden has suffered the trauma of a miscarriage, as well as a stillbirth.
Holden reveals to Mail Online the incredible emotional torment she felt after the stillbirth of her son.
"From somewhere in the hospital, I could hear the most horrendous screams.
"I presumed it was from the labour ward until I realized I could hear my daughter's name, 'Lexi, Lexi, Lexi!' being shouted out animalistically.
"It was me wailing and making the most horrific guttural noises. Everything came tumbling down," shares Holden.
As a result of her ordeal, Holden has decided against trying for more children.
"If I could, I would have more kids," she shared, "but I can't put my family through that again," she states.
While Holden and husband Chris Hughes feel lucky to have 2 beautiful daughters—Lexi and Hollie—they wistfully wish they had met earlier in life so that they could have had more kids.
Holden's miscarriage quotes graphically capture the emotional pain of pregnancy loss.
50. Natalie Pinkham
Sports presenter Natalie Pinkham and her husband Owain Walbyoff had an 11-month old child, Wilf, when they discovered that Pinkham was pregnant again, this time with twins.
Sadly, only one of their twins survived.
"It was a really emotional time," she told Hello! magazine in an exclusive interview.
She also shared that both her mother and great-grandmother were also twins whose siblings did not survive.
"It's nature's way and it is sad. My dad put it in a lovely way and said: 'One has made way for the other'" says Pinkham.
The couple is very much looking forward to the birth of their daughter, the surviving twin, in 2016.
Share Your Thoughts
After reading our article with celebrity miscarriage quotes, we hope you release that you are not alone.  Miscarriage and pregnancy loss is prevalent, and it's completely normal to feel grief and physical discomfort afterwards.
We hope that these stories also encourage you to know that it's okay to try and remain positive, and that this doesn't mean that you didn't love the child that you were carrying.
We've summarized 5 key facts about miscarriage that everyone should know in this helpful infographic that you can save to your Pinterest page or share across social media to help encourage more open conversations.

(Click infographic to enlarge)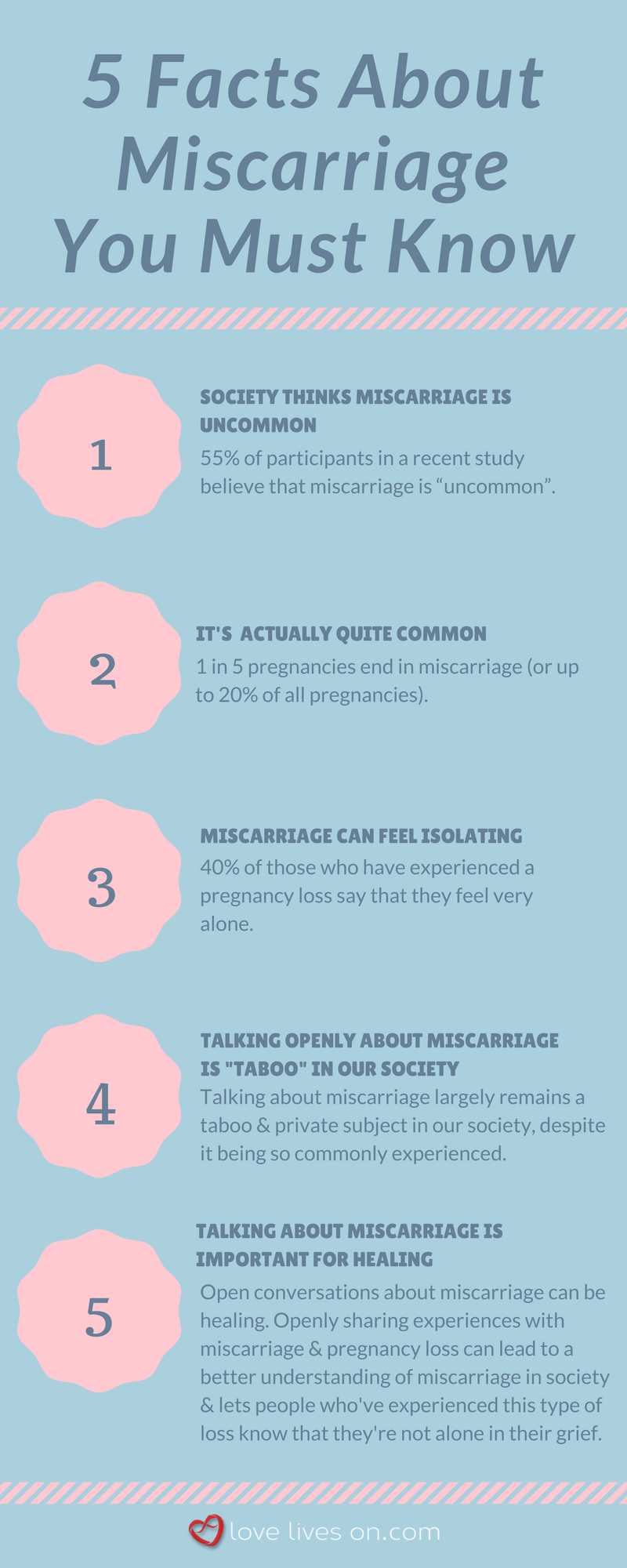 Like our infographic? Use it on your site by copying this code:
If you found this post helpful, we would appreciate a Like on Facebook.
You can also follow our Pinterest board for more quotes from brave men and women who are encouraging open conversations about miscarriage and pregnancy loss that you can share on social media.