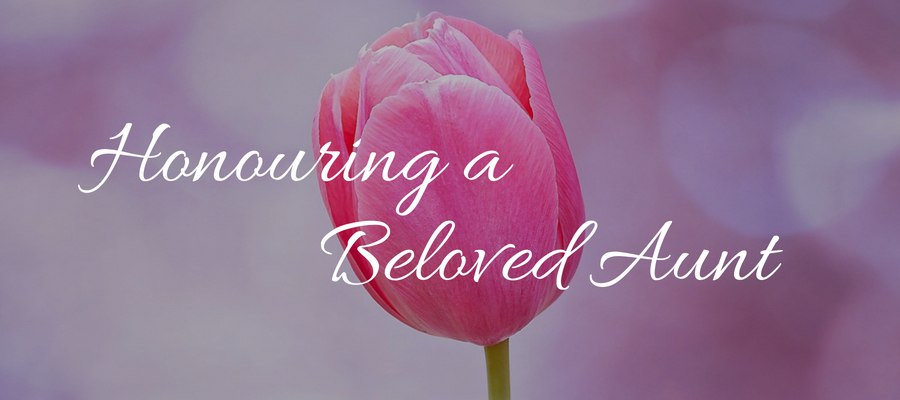 We have assembled a collection of 50+ most beautiful funeral poems for an aunt to help you celebrate her life and her enduring love.
To make it easy to find the sentiment that you are looking for in a poem, we have organized our collection by themes:
At the end of our post, we have links to our Pinterest board and Facebook page where you can find more images with your favourite quotes from funeral poems for aunt, created especially for you.

Classical Funeral Poems for an Aunt
You may be familiar with some of these famous funeral poems written by the greatest poets of all time.  While they weren't specifically written for an aunt, they are, nevertheless, appropriate for remembering her life, legacy and love.
Away
By James Whitcomb Riley
I cannot say and I will not say
That she is dead, she is just away.
With a cheery smile and a wave of hand
She has wandered into an unknown land;
And left us dreaming how very fair
Its needs must be, since she lingers there.
And you-oh you, who the wildest yearn
From the old-time step and the glad return-
Think of her faring on, as dear
In the love of there, as the love of here
Think of her still the same way, I say;
She is not dead, she is just away.
~
Death Be Not Proud
By John Donne
Death, be not proud, though some have called thee
Mighty and dreadful, for thou art not so;
For those whom thou think'st thou dost overthrow
Die not, poor Death, nor yet canst thou kill me.
From rest and sleep, which but thy pictures be,
Much pleasure; then from thee much more must flow,
And soonest our best men with thee do go,
Rest of their bones, and soul's delivery.
Thou art slave to fate, chance, kings, and desperate men,
And dost with poison, war, and sickness dwell,
And poppy or charms can make us sleep as well
And better than thy stroke; why swell'st thou then?
One short sleep past, we wake eternally
And death shall be no more; Death, thou shalt die.
~
Because I Could Not Stop For Death
By Emily Dickinson
Because I could not stop for Death –
He kindly stopped for me –
The Carriage held but just Ourselves –
And Immortality.
We slowly drove – He knew no haste
And I had put away
My labor and my leisure too,
For His Civility –
We passed the School, where Children strove
At Recess – in the Ring –
We passed the Fields of Gazing Grain –
We passed the Setting Sun –
Or rather – He passed us –
The Dews drew quivering and chill –
For only Gossamer, my Gown –
My Tippet – only Tulle –
We paused before a House that seemed
A Swelling of the Ground –
The Roof was scarcely visible –
The Cornice – in the Ground –
Since then – 'tis Centuries – and yet
Feels shorter than the Day
I first surmised the Horses' Heads
Were toward Eternity –
~
Do Not Stand at My Grave and Weep
By Mary Elizabeth Frye
Do not stand at my grave and weep
I am not there; I do not sleep.
I am a thousand winds that blow,
I am the diamond glints on snow,
I am the sun on ripened grain,
I am the gentle autumn rain.
When you awaken in the morning's hush
I am the swift uplifting rush
Of quiet birds in circled flight.
I am the soft stars that shine at night.
Do not stand at my grave and cry,
I am not there; I did not die.
~
And Death Shall Have No Dominion
By Dylan Thomas
And death shall have no dominion.
Dead man naked they shall be one
With the man in the wind and the west moon;
When their bones are picked clean and the clean bones gone,
They shall have stars at elbow and foot;
Though they go mad they shall be sane,
Though they sink through the sea they shall rise again;
Though lovers be lost love shall not;
And death shall have no dominion.
And death shall have no dominion.
Under the windings of the sea
They lying long shall not die windily;
Twisting on racks when sinews give way,
Strapped to a wheel, yet they shall not break;
Faith in their hands shall snap in two,
And the unicorn evils run them through;
Split all ends up they shan't crack;
And death shall have no dominion.
And death shall have no dominion.
No more may gulls cry at their ears
Or waves break loud on the seashores;
Where blew a flower may a flower no more
Lift its head to the blows of the rain;
Though they be mad and dead as nails,
Heads of the characters hammer through daisies;
Break in the sun till the sun breaks down,
And death shall have no dominion.
~
Do Not Go Gentle Into That Good Night
By Dylan Thomas
Do not go gentle into that good night,
Old age should burn and rave at close of day;
Rage, rage against the dying of the light.
Though wise men at their end know dark is right,
Because their words had forked no lightning they
Do not go gentle into that good night.
Good men, the last wave by, crying how bright
Their frail deeds might have danced in a green bay,
Rage, rage against the dying of the light.
Wild men who caught and sang the sun in flight,
And learn, too late, they grieved it on its way,
Do not go gentle into that good night.
Grave men, near death, who see with blinding sight
Blind eyes could blaze like meteors and be gay,
Rage, rage against the dying of the light.
And you, my father, there on the sad height,
Curse, bless, me now with your fierce tears, I pray.
Do not go gentle into that good night.
Rage, rage against the dying of the light.
~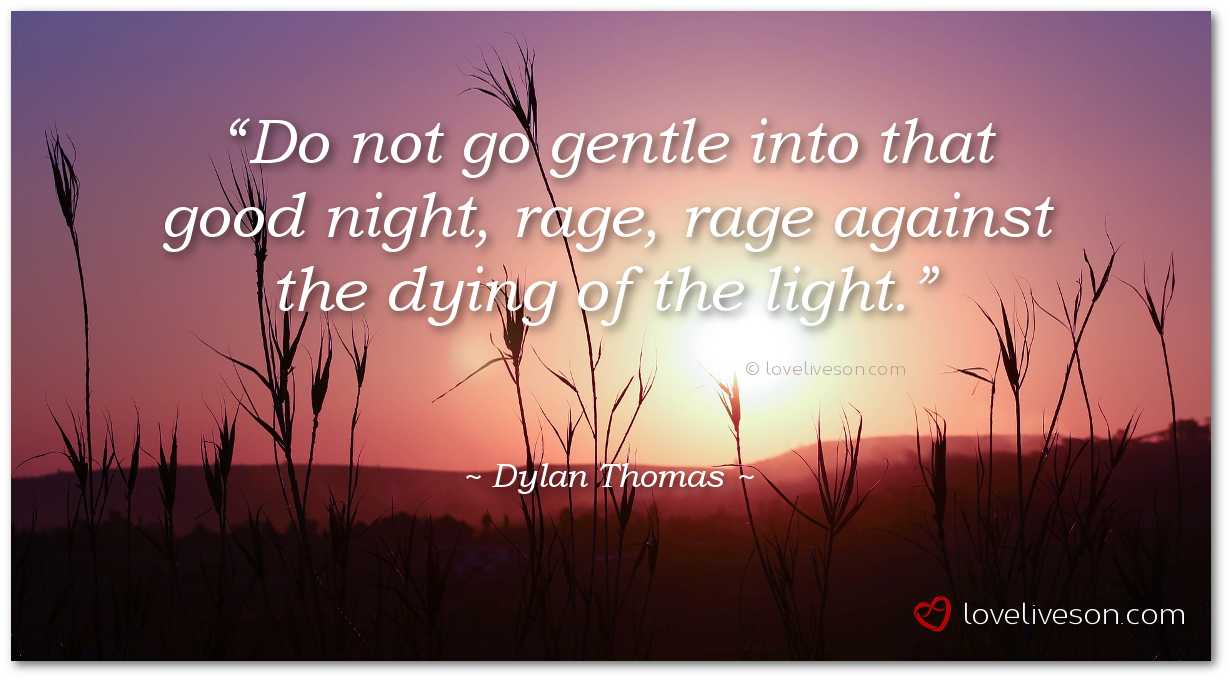 Crossing the Bar
By Alfred Tennyson
Sunset and evening star,
And one clear call for me!
And may there be no moaning of the bar,
When I put out to sea,
But such a tide as moving seems asleep,
Too full for sound and foam,
When that which drew from out the boundless deep
Turns again home.
Twilight and evening bell,
And after that the dark!
And may there be no sadness of farewell,
When I embark;
For tho' from out our bourne of Time and Place
The flood may bear me far,
I hope to see my Pilot face to face
When I have crost the bar.
~
When I Have Fears That I May Cease to Be
By John Keats
When I have fears that I may cease to be
Before my pen has gleaned my teeming brain,
Before high-piled books, in charactery,
Hold like rich garners the full ripened grain;
When I behold, upon the night's starred face,
Huge cloudy symbols of a high romance,
And think that I may never live to trace
Their shadows with the magic hand of chance;
And when I feel, fair creature of an hour,
That I shall never look upon thee more,
Never have relish in the faery power
Of unreflecting love — then on the shore
Of the wide world I stand alone, and think
Till love and fame to nothingness do sink.
~
Sonnet 71
By William Shakespeare
No longer mourn for me when I am dead
Then you shall hear the surly sullen bell
Give warning to the world that I am fled
From this vile world, with vilest worms to dwell:
Nay, if you read this line, remember not
The hand that writ it; for I love you so
That I in your sweet thoughts would be forgot
If thinking on me then should make you woe.
O, if, I say, you look upon this verse
When I perhaps compounded am with clay,
Do not so much as my poor name rehearse.
But let your love even with my life decay,
Lest the wise world should look into your moan
And mock you with me after I am gone.
~
The Darkling Thrush
By Thomas Hardy
I leant upon a coppice gate
When Frost was spectre-grey,
And Winter's dregs made desolate
The weakening eye of day.
The tangled bine-stems scored the sky
Like strings of broken lyres,
And all mankind that haunted nigh
Had sought their household fires.
The land's sharp features seemed to be
The Century's corpse outleant,
His crypt the cloudy canopy,
The wind his death-lament.
The ancient pulse of germ and birth
Was shrunken hard and dry,
And every spirit upon earth
Seemed fervourless as I.
At once a voice arose among
The bleak twigs overhead
In a full-hearted evensong
Of joy illimited;
An aged thrush, frail, gaunt, and small,
In blast-beruffled plume,
Had chosen thus to fling his soul
Upon the growing gloom.
So little cause for carolings
Of such ecstatic sound
Was written on terrestrial things
Afar or nigh around,
That I could think there trembled through
His happy good-night air
Some blessed Hope, whereof he knew
And I was unaware.
~
She Shall be Praised
Proverbs 31: 10, 25-31
Who can find a virtuous woman? for her price is far above rubies.
Strength and honor are her clothing; and she shall rejoice in time to come.
She openeth her mouth with wisdom; and in her tongue is the law of kindness.
She looketh well to the ways of her household, and eateth no the bread of idleness.
Her children arise up, and call her blessed; her husband also, and he praiseth her.
Many daughters have done virtuously, but thou excellest them all.
Favor is deceitful, and beauty is vain: but a woman that feareth the Lord, she shall be praised.
Give her the fruit of her hands; and let her own works praise her in the gates.
~
To Laugh Often and Much
By Ralph Waldo Emerson
To laugh often and much;
to win the respect of the intelligent people
and the affection of children;
to earn the appreciation of honest critics
and endure the betrayal of false friends;
to appreciate beauty;
to find the best in others;
to leave the world a bit better
whether by a healthy child,
a garden patch, or a redeemed social condition;
to know that one life has breathed easier
because you lived here.
This is to have succeeded.
~

Inspiring Funeral Poems for an Aunt
These inspiring funeral poems articulate how lucky we feel to have been given the best aunt in the world.  Let's live our lives in a way that honours her enduring love and legacy.
Any one of these inspirational funeral poems would be a beautiful addition to a funeral or memorial service, or a celebration of life ceremony.
I Thought Of You With Love Today
Author Unknown
I thought of you with love today
but that is nothing new
I thought about you yesterday
and days before that too,
I think of you in silence
I often speak your name
All I have are memories
and your picture in a frame.
Your memory is my keepsake
with which I'll never part
God has you in His keeping
I have you in my heart.
~
Finding You in Beauty
By Walter Rindor
The rays of light filtered through
The sentinels of trees this morning.
I sat in the garden and contemplated.
The serenity and beauty
Of my feelings and surroundings
Completely captivated me.
I thought of you.
I discovered you tucked away
In the shadows of the trees.
Then, rediscovered you
In the smiles of the flowers
As the sun penetrated their petals
In the rhythm of the leaves
Falling in the garden
In the freedom of the birds
As they fly searching as you do.
I'm very happy to have found you,
Now you will never leave me
For I will always find you in the beauty of life.
~
Richer Than Gold
By Strickland Gillilan (modified)
You may have tangible wealth untold;
Caskets of jewels and coffers of gold.
Richer than I you can never be –
I had an aunt who read to me.
~
As We Look Back
By Clare Jones
As we look back over time
We find ourselves wondering …..
Did we remember to thank you enough
For all you have done for us?
For all the times you were by our sides
To help and support us …..
To celebrate our successes
To understand our problems
And accept our defeats?
Or for teaching us by your example,
The value of hard work, good judgment,
Courage and integrity?
We wonder if we ever thanked you
For the sacrifices you made.
To let us have the very best?
And for the simple things
Like laughter, smiles and times we shared?
If we have forgotten to show our
Gratitude enough for all the things you did,
We're thanking you now.
And we are hoping you knew all along,
How much you meant to us.
~
Your Spirit
By Tram-Tiara T. Von Reichenbach
I know that no matter what
You will always be with me.
When life separates us
I'll know it is only your soul
Saying goodbye to your body
But your spirit will be with me always.
When I see a bird chirping on a nearby branch
I will know it is you singing to me.
When a butterfly brushes gently by me so care freely
I will know it is you assuring me you are free from pain.
When the gentle fragrance of a flower catches my attention
I will know it is you reminding me
To appreciate the simple things in life.
When the sun shining through my window awakens me
I will feel the warmth of your love.
When I hear the rain pitter patter against my window sill
I will hear your words of wisdom
And will remember what you taught me so well'
That without rain trees cannot grow
Without rain flowers cannot bloom
Without life's challenges I cannot grow strong.
When I look out to the sea.
~
Author Unknown (modified)
Aunts have no wands or wings,
So they work with wisdom, love, and things.
Having taken on this role,
You loved me right down to my soul.
You offered kindness
And greetings with a hug and kiss,
Each freely out of love which I will miss.
I chose a twinkling star in the sky at night ,
To say a prayer for you to it's bright light.
You're in God's Heavens now and no longer in pain,
In my thoughts, you'll always remain
How lucky I was,
How blessed I've been,
You were more than my Aunt,
You were also my friend.
I love you and miss you Aunty [insert her name]
~
High Flight
By John Gillespie McGee Jr
Oh! I have slipped the surly bonds of earth
And danced the skies on laughter-silvered wings;
Sunward I've climbed, and joined the tumbling mirth
Of sun-split clouds – and done a hundred things
You have not dreamed of – wheeled and soared and swung
High in the sunlit silence. Ho'ring there,
I've chased the shouting wind along, and flung
My eager craft through the footless halls of air.
Up, up the long, delirious burning blue
I've topped the windswept heights with easy grace
Where never lark, or even eagle flew.
And, while with silent, lifting mind I've trod
The high untrespassed sanctity of space,
Put out my hand, and touched the face of God.
~
We Had a Wonderful Aunt
Author Unknown (modified)
We had a wonderful aunt,
One who never really grew old;
Her smile was made of sunshine,
And her heart was solid gold;
Her eyes were as bright as shining stars,
And in her cheeks fair roses you see.
We had a wonderful aunt,
And that's the way it will always be.
But take heed, because
She's still keeping an eye on all of us,
So let's make sure
She will like what she sees.
~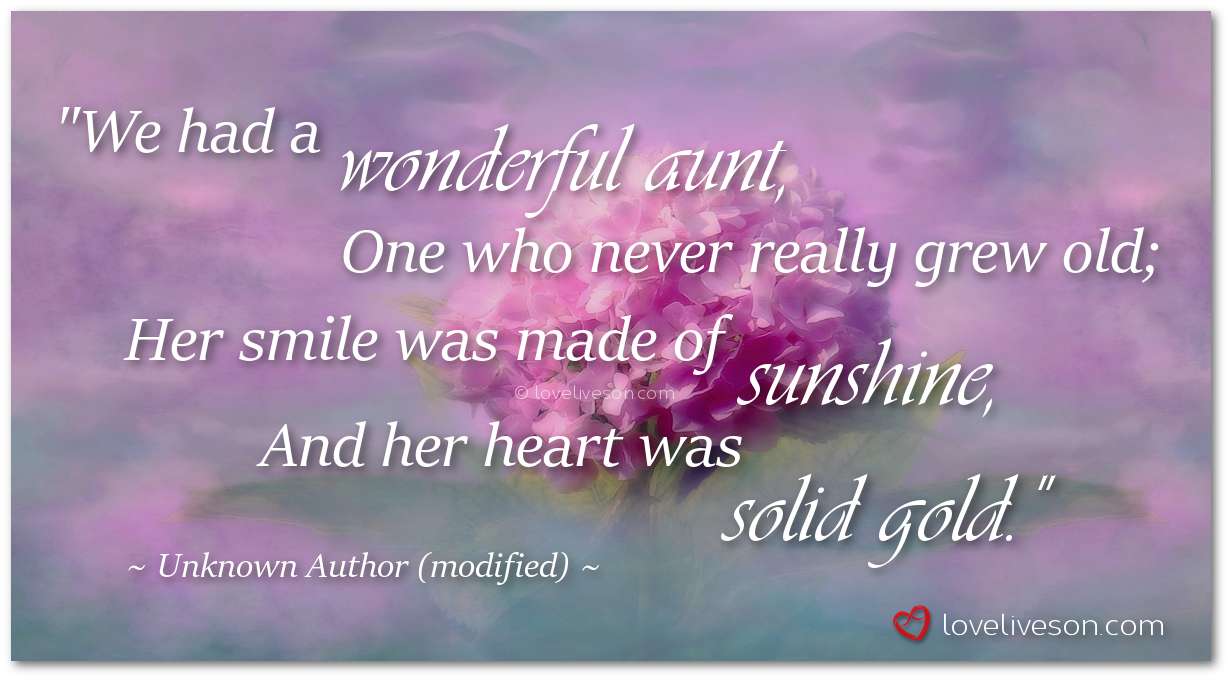 A Love Like No Other
By Paula M. Newman (modified)
From the time I was born
I guess you would know
Ten perfect fingers
Ten little toes
When you first put your finger in my tiny hand that's when I first knew
You were my aunt no one else would do
As I grow older
and reach for the sky
My aunt is still there
to keep that twinkle in my eye
When I need someone to hold me
you never say I'm too big
You pick me up and squeeze me
and whisper, "you're my little friend"
Most other people don't understand me
or maybe just not as well
That's why you're the one I run to
when I have something to tell
I love you aunty
as you can see
I'm so glad
that you're a part of me
~
Weep Not For Me
Author Unknown
Weep not for me though I have gone
Into that gentle night
Grieve if you will, but not for long
Upon my soul's sweet fight
I am at peace, my soul's at rest
There is no need for tears
For with your love I was so blessed
For all those many years
There is no pain, I suffer not
The fear is now all gone
Put now these things out of your thoughts
In your memory I live on
Remember not my fight for breath
Remember not the strife
Please do not dwell upon my death
But celebrate my life
~
She is Gone
By David Harkins (modified)
You can shed tears
that she is gone.
Or you can smile because she lived.
You can close your eyes and
pray that she will come back.
Or you can open your eyes and
see all that she has left.
Your heart can be empty because
you can't see her.
Or you can be full of the love
that you shared,
You can turn your back on
tomorrow and live for yesterday,
Or you can be happy for tomorrow
because of yesterday.
You can remember her and
only that she is gone.
Or you can cherish her
memory and let it live on,
You can cry, close your mind,
be empty, and turn your back.
Or you can do what she would
have wanted, smile, open your
eyes, love and move on.
~
Not How Did She Die, But How Did She Live?
Author Unknown (modified)
Not how did she die, but how did she live?
Not what did she gain, but what did she give?
These are the units to measure the worth
Of a person, regardless of birth.
Not, what was her church, nor what was her creed?
But had she befriended those really in need?
Was she ever ready, with word of good cheer,
To bring back a smile, to banish a tear?
Not what did the sketch in the newspaper say,
But how many were sorry when she passed away.
~
My Aunt 
Author Unknown (modified)
My aunt was a woman who had smiles to brighten your days,
who always made you feel good with her warm words of praise.
And what's more she knew
what to do to make wishes come true.
She was my aunt.
My aunt was someone who always had good stories to tell,
but just as importantly she knew how to be a good listener as well.
She was patient and kind
and the very best friend you could ever hope to find.
She was no ordinary person.
And I'm proud to tell the world that [Your aunt's name here]
Was my aunt.
~
I'll Be There
Author Unknown
There was no time to say goodbye
But this I ask – please do not cry
Remember me as you think best
The happy time – forget the rest.
Look for me and I'll be there
And you will find me everywhere
In the gentle touch of breeze
That cools the skin or swirls the leaves.
In the scent and colour of flowers
That gave to me such happy hours
On sunny days under sunny skies of blue
Just think of me, I'll be with you.
~
Remember
By Christina Rosetti
Remember me when I am gone away,
Gone far away into the silent land;
When you can no more hold me by the hand,
Nor I half turn to go yet turning stay.
Remember me when no more day by day
You tell me of our future that you planned:
Only remember me; you understand
It will be late to counsel then or pray.
Yet if you should forget me for a while
And afterwards remember, do not grieve:
For if the darkness and corruption leave
A vestige of the thoughts that once I had,
Better by far you should forget and smile
Than that you should remember and be sad.
~
Inside Our Dreams
By Jeanne Willis (modified)
Where do people go to when they die?
Somewhere down below or in the sky?
'I can't be sure,' said aunt, 'but it seems
They simply set up home inside our dreams.'
~
Remember Me
Author Unknown
To the living, I am gone,
To the sorrowful, I will never return,
To the angry, I was cheated,
But to the happy, I am at peace,
And to the faithful, I have never left.
I cannot speak, but I can listen.
I cannot be seen, but I can be heard.
So as you stand upon a shore gazing at a beautiful sea,
As you look upon a flower and admire its simplicity,
Remember me.
Remember me in your heart:
Your thoughts, and your memories,
Of the times we loved,
The times we cried,
The times we fought,
The times we laughed.
For if you always think of me, I will never have gone.
~
After Glow
Author Unknown
I'd like the memory of me
to be a happy one.
I'd like to leave an after glow
of smiles when life is done.
I'd like to leave an echo
whispering softly down the ways,
Of happy times and laughing times
and bright and sunny days.
I'd like the tears of those who grieve,
to dry before the sun
of happy memories
that I leave when life is done
~
Last Journey
By Timothy Coote
There is a train at the station
With a seat reserved just for me
I'm excited about its destination
As I've heard it sets you free
The trials and tribulations
The pain and stress we breathe
Don't exist were I am going
Only happiness I believe
I hope that you will be there
To wish me on my way
It's not a journey you can join in
It's not your time today
There'll be many destinations
Some are happy, some are sad
Each one a brief reminder
Of the great times that we've had
Many friends I know are waiting
Who took an earlier train
To greet and reassure me
That nothing has really changed
We'll take the time together
To catch up on the past
To build a new beginning
One that will always last
One day you'll take your journey
On the train just like me
And i promise that I'll be there
At the station and you will see
That Life is just a journey
Enriched by those you meet
No one can take that from you
It's always yours to keep'
But now as no seat is vacant
You will have to muddle through
Make sure you fulfill your ambitions
As you know I'll be watching you
And if there's an occasion
To mention who you knew
Speak kindly of that person
As one day it will be you
Now i can't except this ending
And as it's time for me to leave
Please make haste to the reception
To enjoy my drinks, they're free!
~

Sad Funeral Poems for an Aunt
These sad funeral poems for an aunt express how difficult it is to lose her and how sorely she will be missed.  While she may be gone, she'll never be forgotten.
These sad funeral poems are popular readings for both traditional funeral services, and more informal memorial services and celebration of life gatherings.
As I Look Up to the Skies Above
Author Unknown
As I look up to the skies above,
The stars stretch endlessly–
But somehow all those rays of light
Seem dimmer now to me.
As I watch the morning sun appear,
The shadows still don't fade—
As if the brightest light of all
Was somehow swept away.
Though I see the branches swaying,
And watch their dancing leaves–
The echoes carried on the wind
Don't sound the same to me.
As I listen to the morning birds
Sing softly from afar–
It seems to be a mournful tune
That echoes in my heart.
Another day has come again,
As time moves surely on–
But nothing now seems quite the same,
To know that he is gone.
The days and weeks and months ahead
Will never be the same–
Because a treasure beyond words
Can never be replaced.
The loss cannot be measured now,
The void cannot be filled–
And though someday the grief may fade,
His mark will live on still.
For even with my heavy heart,
I know that I've been blessed
To have been one who's life he touched
With warmth so infinite.
~
When We Lose a Loved One
Irish Blessing – Author Unknown
When we lose a loved one
Our world just falls apart
We think that we cant carry on
With this broken heart
Everything is different now
You're upset and you're annoyed
Your world it seems is shattered
There's such an awful void
There's got to be a reason
And we have to understand
God made us and at any time
Hell reach down for our hand
There might not be a warning
We won't know where or when
The only thing were certain of
Is well meet them once again.
~
You've Just Walked on Ahead of Me
Author Unknown
And I've got to understand
You must release the ones you love
And let go of their hand.
I try and cope the best I can
But I'm missing you so much
If I could only see you
And once more feel your touch.
Yes, you've just walked on ahead of me
Don't worry I'll be fine
But now and then I swear I feel
Your hand slip into mine.
~
Turn Again to Life
By Mary Lee Hall
If I should die and leave you here a while,
be not like others sore undone,
who keep long vigil by the silent dust.
For my sake turn again to life and smile,
nerving thy heart and trembling hand to do
something to comfort other hearts than thine.
Complete these dear unfinished tasks of mine
and I perchance may therein comfort you.
~
Our Aunt
Author Unknown (modified)
It broke our hearts to lose you,
but you never went alone,
for a part of us went with you,
the day God took you home.
A million times we missed you,
A million times we cried,
If love could have saved you,
you never would have died.
To the grave you travel,
Our flowers placed with care,
No-one knows the heartache,
as we turn to leave you there.
If tears could build a stairway,
and memories could make a lane,
we would walk right up to heaven,
and bring you home again.
We love you aunt,
sleep well in heaven with the angels.
~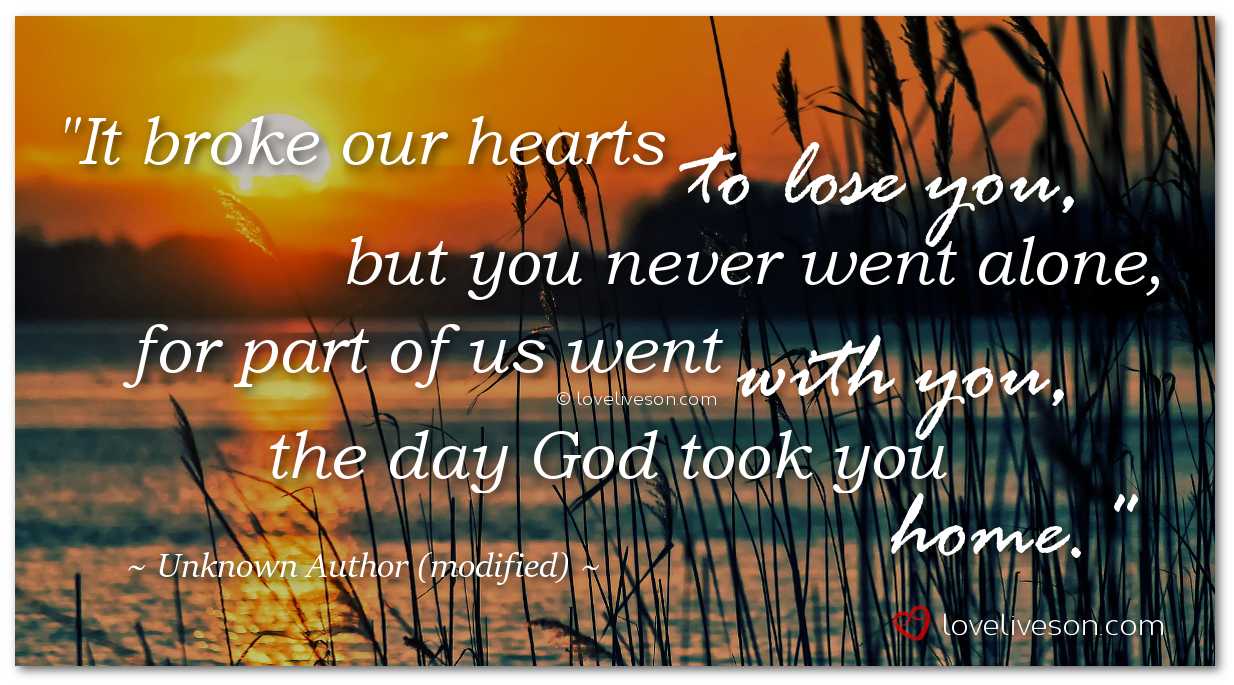 The Tide Rises, The Tide Falls
By Henry Wadsworth Longfellow
The tide rises, the tide falls,
The twilight darkens, the curlew calls;
Along the sea-sands damp and brown
The traveler hastens toward the town,
And the tide rises, the tide falls.
Darkness settles on roofs and walls,
But the sea, the sea in the darkness calls;
The little waves, with their soft, white hands,
Efface the footprints in the sands,
And the tide rises, the tide falls.
The morning breaks; the steeds in their stalls
Stamp and neigh, as the hostler calls;
The day returns, but nevermore
Returns the traveler to the shore,
And the tide rises, the tide falls.
~
To Daffodils
By Robert Herrick
Fair daffodils, we weep to see
You haste away so soon;
As yet the early-rising sun
Has not attain'd his noon.
Stay, stay
Until the hasting day
Has run
But to the evensong;
And having pray'd together, we
Will go with you along.
We have short time to stay, as you,
We have as short a spring;
As quick a growth to meet decay,
As you, or anything.
We die
As your hours do, and dry
Away
Like to the summer's rain;
Or as the pearls of morning's dew,
Ne'er to be found again.
~
If We Could Bring You Back Again
By Joanna Fuchs
If we could bring you back again,
For one more hour or day,
We'd express all our unspoken love;
We'd have countless things to say.
If we could bring you back again,
We'd say we treasured you,
And that your presence in our lives
Meant more than we ever knew.
If we could bring you back again,
To tell you what we should,
You'd know how much we miss you now,
And if we could, we would.
~
My Aunt
By Victoria L. Payne (modified)
In my Rose Garden of memories
I see you standing there
An angel in disguise
Who taught me how to care
I long to hear your voice
for real not in my dreams
I am missing you so much these days
how empty my world seems
People say time heals all wounds
that someday the pain will subside
But Aunt I can tell you
I think they must have lied
The emptiness I am feeling now
is strong and I am weak
These days go by without you
so dreary and so bleak
In my Rose Garden of memories
I know you'll always be
for though you're gone
from this mortal world
In my heart you'll always be
~
Nothing Gold Can Stay
By Robert Frost
Nature's first green is gold,
Her hardest hue to hold.
Her early leaf's a flower;
But only so an hour.
Then leaf subsides to leaf.
So Eden sank to grief,
So dawn goes down to day.
Nothing gold can stay.
~

Related Articles


Christian Funeral Poems for an Aunt
These Christian funeral poems for aunt reassure us that while her life on earth is done, she will be in heaven where there is no more death, suffering, or sadness.
Given the theme of eternal life in these Christian funeral poem, they are appropriate for a religious funeral or memorial service for a beloved aunt.
Her Journey's Just Begun
By Ellen Brenneman (modified)
Don't think of her as gone away
her journey's just begun,
life holds so many facets
this earth is only one.
Just think of her as resting
from the sorrows and the tears
in a place of warmth and comfort
where there are no days and years.
Think how she must be wishing
that we could know today
how nothing but our sadness
can really pass away.
And think of her as living
in the hearts of those she touched…
for nothing loved is ever lost
and she was loved so much.
~
God Saw You Getting Tired
Author Unknown
God saw you getting tired
and a cure was not to be
so he put his arms around you
and whispered,
"Come to Me"
With tearful eyes we watched you
and saw you pass away
and although we love you dearly
we could not make you stay.
A Golden heart stopped beating
hard working hands at rest.
God broke our hearts to prove to us
He only takes the best.
~
I Am Always With You
Author Unknown
When I am gone, release me, let me go.
I have so many things to see and do,
You mustn't tie yourself to me with too many tears,
But be thankful we had so many good years.
I gave you my love, and you can only guess
How much you've given me in happiness.
I thank you for the love that you have shown,
but now it is time I traveled on alone.
So grieve me for a while, if grieve you must
Then let your grief be comforted by trust
That it is only for a while that we must part,
So treasure the memories within your heart.
I won't be far away for life goes on.
And if you need me, call and I will come.
Though you can't see or touch me, I will be near
And if you listen with your heart, you'll hear
All my love around you soft and clear
And then, when you come this way alone,
I'll greet you with a smile and a "Welcome Home".
~
The Comfort and Sweetness of Peace
By Helen Steiner Rice
After the clouds, the sunshine,
after the winter, the spring,
after the shower, the rainbow,
for life is a changeable thing.
After the night, the morning,
bidding all darkness cease,
after life's cares and sorrows,
the comfort and sweetness of peace.
~
When Tomorrow Starts Without Me
By David M. Romano
When tomorrow starts without me and I am not here to see
If the sun should rise and find your eyes all filled with tears for me
I know how much you love me as much as I love you
And each time you think of me I know you'll miss me too.
But when tomorrow starts without me please try to understand
That Jesus came and called my name and took me by the hand.
He said my place is ready in heaven far above
And that I have to leave behind all those I dearly love.
But as I turned to walk away a tear fell from my eye
For all my life I'd always thought it wasn't my time to die.
I had so much to live for and so much yet to do
It seems almost impossible that I was leaving you.
I thought of all the yesterdays the good ones and the bad
I thought of all the love we shared and all the fun we had.
If I could have stayed for just a little while
I'd say goodbye and kiss you and maybe see you smile.
But then I fully realize that this could never be
For emptiness and memories would take the place of me.
And when I thought of worldly things that I'd miss come tomorrow
I thought of you and when I did my heart was filled with sorrow.
But when I walked through Heaven's gate and felt so much at home
As God looked down and smiled at me from his great golden throne.
He said This is eternity And all I've promised you
Today your life on earth is past but here it starts anew.
I promise no tomorrow but today will always last
And since each day's the same here there's no longing for the past.
So when tomorrow starts without me don't think we're far apart,
For every time you think of me I'm right here in your heart.
~
May the Road Rise Up to Meet You
Irish Blessing – Author Unknown
May the road rise up to meet you,
May the wind be always at your back,
May the sun shine warm upon your face,
May the rains fall soft upon fields
And until we meet again
May God hold you in the palm of his hand.
~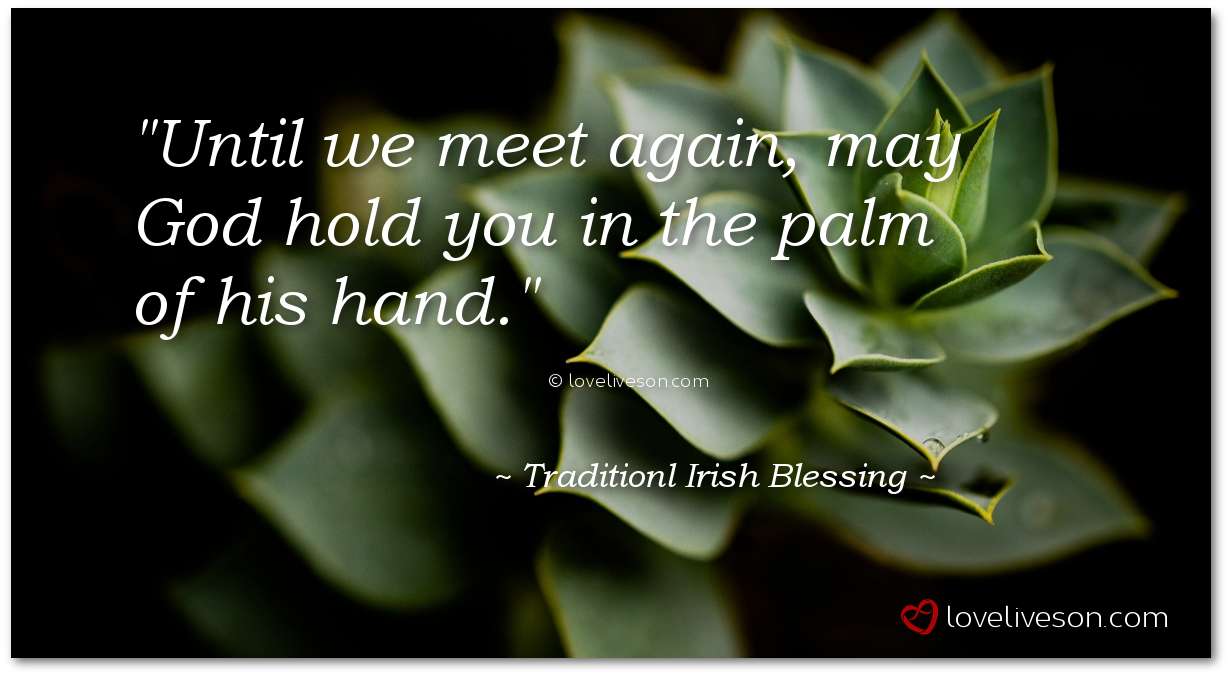 Tis Only We Who Grieve
Irish Blessing – Author Unknown
Tis only we who grieve
They do not leave
They are not gone
They look upon us still
They walk among the valleys now
They stride upon the hill
Their smile is in the summer sky
Their grace is in the breeze
Their memories whisper in the grass
Their calm is in the trees
Their light is in the winter snow
Their tears are in the rain
Their merriment runs in the brook
Their laughter in the lane
Their gentleness is in the flowers
They sigh in autumn leaves
They do not leave
They are not gone
Tis only we who grieve
If only we could see the splendour of the land
To which our loved ones are called from you and me
We'd understand
If only we could hear the welcome they receive
From old familiar voices all so dear
We would not grieve
If only we could know the reason why they went
We'd smile and wipe away the tears that flow
And wait content.
~
Another Leaf Has Fallen
Author Unknown (modified)
Another leaf has fallen,
another soul has gone.
But still we have God's promises,
in every robin's song.
For she is in His heaven,
and though He takes away, He always leaves to mortals,
the bright sun's kindly ray.
He leaves the fragrant blossoms,
and lovely forest, green.
And gives us new found comfort,
when we on Him will lean.
~
Life
Author Unknown (modified)
Life is just a stepping-stone
A pause before we make it home
A simple place to rest and be,
Until we reach eternity.
Everyone has a life journey,
A path to take with lots to see
God guides our steps along the way,
But we were never meant to stay.
Our final destination is a place
Filled with love, His majesty and grace.
Today we celebrate the life of a loved one
Who has gone before us, the race she has won.
Her journey has now ended,
Her spirit has ascended
Claiming the great reward
With Jesus, our Lord.
~
Love Lives On
Author Unknown (modified)
The aunt we love remains with us
for love itself lives on,
and cherished memories never fade
because a loved one's gone.
Those we love can never
be more than a thought apart,
far as long as there is memory,
she'll live on in in heart.
~
In Pastures Green
By H.H. Barry
In pastures green? Not always; sometimes He
Who knoweth best, in kindness leadeth me
In weary ways, where heavy shadows be.
And by still waters? No, not always so;
Oftimes the heavy tempests round me blow,
And o'er my soul the waves and billows go.
But when the storms beat loudest, and I cry
Aloud for help, the Master standeth by,
And whispers to my soul, "Lo, it is I."
So where He leads me I can safely go,
And in the blest hereafter I shall know
Why in His wisdom He hath led me so.
~
Aunt
Author Unknown (modified)
God looked around his garden
and found an empty space.
Then he looked down upon this earth
And saw your tired face.
He put his arms around you
And lifted you to rest.
God's garden must be beautiful
He only takes the best.
~
Eternal Light
Author Unknown
Those we love must someday pass beyond our present sight…
Must leave us and the world we know without their radiant light.
But we know that like a candle their lovely light will surely shine
to brighten up another place more perfect…more divine.
And in the realm of Heaven where they shine so warm and bright.
Our loved ones live forevermore in God's eternal light.
~

Additional Resources
Did you know that Love Lives On has a comprehensive library of articles on funeral planning, grieving, and celebrating your loved one's life in unique ways?
Here are some other popular posts on our website:
It Helps to Share…
If you found this post on 40+ top funeral poems for aunt helpful, follow Love Lives On on Facebook or subscribe to our YouTube channel for more inspiring ideas to help you celebrate her wonderful life and legacy.
You can also check out our funeral poems for an aunt Pinterest Board for more stunning images (with quotes) that you can keep and share online with family and friends.  We made them for you and all our readers to enjoy.
Use the comment box below to let us know if you have a suggestion of funeral poems we should add to this post.  At Love Lives On, we're always listening.