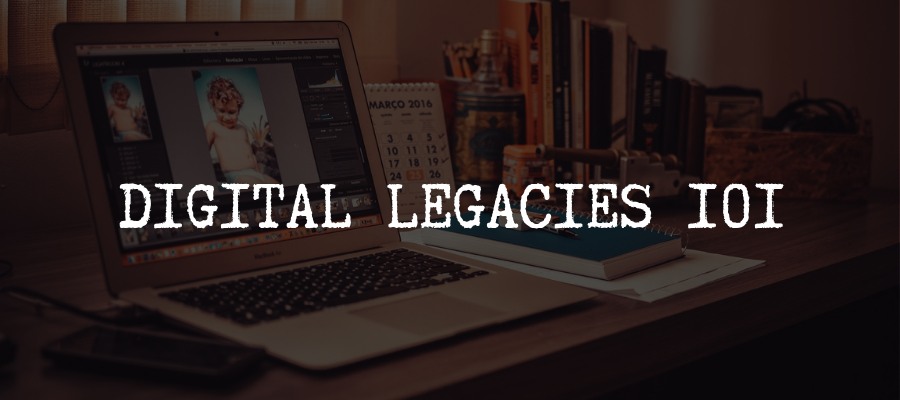 Do you know what your digital legacy is? Have you ever sat down and really thought about how many online accounts you currently maintain and what would happen to them if you were no longer around?
All too often, we come across the subject of digital legacy planning after the fact when a loved one passes away and the process of closing out or maintaining these online accounts raises more questions than answers.
If you are currently trying to put a loved one's digital presence to rest, this article will help you understand the basics behind a digital legacy and how to use digital legacy services.
What is a Digital Legacy?
If you're not familiar with the term digital legacy, you're not alone. While baby boomers might have had email accounts or online photo storage accounts for a few decades, many have not even thought about how to preserve, pass on, or cancel these after death.
Since we live in a digital age in which people are opening new online accounts every day, we must be prepared for how to handle the digital legacy of a loved one when he or she passes away.
Digital legacy services and digital estate planning should become a routine part of settling an estate, but many people are not equipped with the knowledge about how to engage in this process.
As a loved one, you might be playing a key role in the administration of a loved one's estate. Identifying all these online accounts and deciding what to do with them can seem overwhelming. That's why hiring an experienced digital legacy services firm can help you cherish the memories while also protecting your loved one's legacy from being targeted with fraudulent activity.
Think about how many items might fall under your own digital legacy:
Online licenses
Computer and app access accounts like Apple ID
Email accounts
Streaming services
Social media services
Online banking/financial software
Cloud storage
Other media
These online tools have easily become part of the fabric of everyday life, but they are also often forgotten when it comes to the important of protecting that digital legacy.
Whether you want your loved ones to be able to get in and download pictures or whether you want someone to close down your Facebook account immediately after you pass away, there are important questions to be answered when it comes to your online belongings.
If your loved one recently passed and you're trying to close out their digital accounts online, get help from the experts who know how to manage digital legacy services. This leads to the development of a thorough plan to accomplish this process as effectively and as soon as possible.
Components of a Digital Legacy
There are three key components to a digital legacy:
Passwords
Bank accounts and other financial accounts, like brokerage and investment accounts
Social media and email accounts
Each of these should involve a clear strategy that reflects the wishes of the deceased. This means that when conducting estate planning, the creator must determine who he or she wants to access this information and what should be done with them.
Why is it Necessary to Include Digital Legacy in the Estate Administration Process?
In the midst of coping with the loss of a loved one, trying to navigate the legal complexities of a digital estate can seem too complex. If your loved one has already passed away, now is the time to get help from experts who can step in to close out the digital accounts your loved one previously used. To get these accounts fully closed and protected from hackers, you need digital legacy services engaged as soon as possible.
However, the management of digital assets and subscription commitments is a key part of the process of protecting a loved one's property and legacy.
Significant risks can be exposed by failing to be prepared with your own digital legacy or not knowing how to respond when a loved one passes away when substantial digital assets are in the mix.
Some of the most common problems associated with failure to use digital legacy services include:
Failing to stop the automatic debiting of reoccurring monthly payments from the loved one's account
Failing to put security protocols in place that would protect your loved one's identity from being stolen by criminals, such as filing taxes under the loved one's name.
While these repercussions might be severe, there are also emotional considerations supporting the use of digital legacy services as well.
Without a plan in place for addressing digital accounts, other loved ones and friends could be harmed by:
Upsetting social media notifications (e.g. Facebook reminders about your loved one's birthday)
Damage to your loved one's reputation as a result of your loved one's name and image being used by nefarious groups to make fake social media accounts in order to further political agendas, spread misinformation or toxicity online, for commercial gain, or to scam others.
All of these can take a toll on a family that has already suffered enough from the loss of a loved one.
As a family member, you can take action by being prepared in advance and being ready to take action with digital legacy services to carry out the loved one's wishes.
Do We Really Have to Cancel a Loved One's Accounts?
One of the biggest challenges with online accounts or apps is trying to figure out whether there is material inside you want to collect or store.
For example, your family member's social media accounts might have precious pictures that are not backed up elsewhere.
But once you've laid out a plan to access this information and save it, you need to consider closing a loved one's accounts.
Closing an account seems like a very emotional step, since it might feel as though you are erasing someone who was very close to you. But consider that you could expose his or her memory or family members to more serious problems with criminals.
If it feels like too much to handle or if you're not sure how many accounts your family member had, this is when it makes sense to use professional services to close the account down in full so that you have peace of mind this information won't be used by anyone who isn't authorized to get in.
Protecting Your Loved One's Memory from Ghosting
Have you ever heard of ghosting? After losing a loved one, worrying about how to handle the deceased's online accounts is probably one of the last things on your mind as you grieve.
However, neglecting to cancel a loved one's account could carry serious ramifications.
Ghosting is a dangerous practice used by identity thieves to take over the online accounts of a deceased person.
This is most likely to happen when the news of the identity owner's death has not spread widely. More often than not, the identity thief is quite close in age to the deceased.
Criminals look for obituaries to discover a great deal of personal information about the deceased individual that can be used for identity theft.
In 2017, more than 15.4 million people were victims of identity theft, and with the deceased individual no longer around to monitor this risk, someone in the family might need to be aware of the possible problem.
Of those identity theft victims, 800,000 were deceased people. Sometimes this happens randomly when a thief makes up a Social Security number that once belonged to another person. Closing out a loved one's digital legacy could help to curb these numbers.
The only way to avoid the possibility of ghosting is to step in and make a strategic plan to handle all of the family member's online accounts immediately. Making a list and working through these items one-by-one is worth the effort. If you feel like this is too much for you to tackle, consider hiring an expert team to accomplish this for you.
Horror Stories from Families Impacted by Digital Thievery
When it comes to examples of people taking advantage of a personal relationship with a person who has now passed away or the information gleaned from an obituary, there is no shortage of stories about fraud.
In fact, the pace at which this kind of criminal action happens is quickly putting it at the top of the list for the fastest-growing type of identity theft.
Recently, for example, a Florida man was arrested for racking up nearly $10,000 on a dead person's credit card following an anonymous tip that a deceased individual's Social Security benefits were being used illegally.
An unemployed man in New Jersey was also brought up on charges when he attempted to use the identities of multiple deceased people to open credit card lines. A similar story came out of Tempe, AZ, where criminal charges were also filed.
While the rate of fraud is increasing, so too is the knowledge of people taking control with digital legacy services.
These services help to prevent fraud, outline a plan for the passage of digital assets, and make things easier for loved ones.
What Can I Do to Protect a Digital Legacy?
Whether you're helping a loved one or looking to create your own digital legacy protection, the good news is that there are steps you can take to protect yourself.
One of the difficulties with a digital legacy is that Congress passed a 1986 law forbidding any consumer electronic communications business from providing access to content without a government order or the owner's consent.
This means that without digital legacy services, your family members do not automatically get access to your online email accounts, social media accounts, and more.
While some states do have laws on the books regarding digital assets, this practice is not widespread.
As the law over digital assets is still evolving, it's important to take your future into your own hands and plan with digital legacy services.
Trying to figure out how to address all these details is a complicated prospect, and it's also a leading reason why you might consider delegating this to a team of professionals.
Why Choose Us to Handle Your Loved One's Digital Legacy
At Digital Legacy Services, we understand that the loss of a loved one is an incredibly difficult time for you and your family.
Not only is there an emotional toll, there are heavy responsibilities that arise with the death of a loved one.
Your plate is already full with planning his or her funeral and settling the estate. We want to make your life a little easier by handling your loved one's digital legacy for you.
We are experts when it comes to appropriately managing your loved one's digital legacy (and our rates are highly affordable for all families).
Let us help you protect your loved one's financial assets, identity and reputation today.
Practical Tips for Readers with Online Accounts
Apply these tips with your loved ones and consider how they could be used in your own digital legacy planning, too:
 Limit the details shared in obituaries
Report deaths immediately to all financial accounts
Immediately provide death certificate copies to the three major credit unions, the DMV, and the IRS.
Remove the deceased person's name from all joint accounts
Report fake or bot social media accounts trying to use your loved one's name or picture to the site owner immediately
Check the credit report of the person who passed away several weeks after notifying all the major bureaus to ensure no new accounts have been added.
Ignore phone calls from "debt collectors" alleging that the deceased owed money you now need to pay. Never make payments on the phone.
Review copies of your loved one's bank account statements so you can identify recurring charges.
Be aware of other accounts that might not make it clear the deceased is no longer around, such as LinkedIn. Consider posting a message and then closing these down two weeks later.
(Click infographic for full resolution)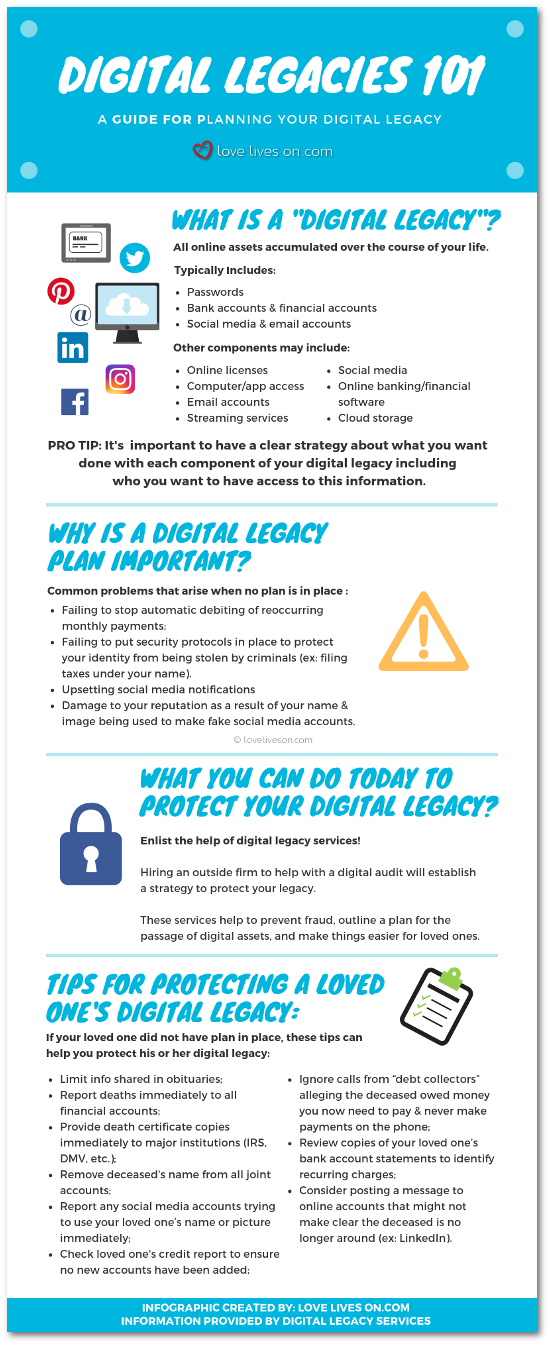 Like our infographic? Use it on your site by copying this code:
Do You Need a Digital Audit for Digital Recovery?
If you haven't been able to accomplish your digital legacy planning and asset protection until this point, hiring an outside firm to help with a digital audit will establish a strategy to protect your legacy. Our digital legacy services give you peace of mind about your online accounts and provide you with the roadmap to protect your materials online.
Make sure you sit down and think about everything you have stored online and what you want to happen to it when you pass away. The more work you do now, the easier it will be on your family. Digital legacy services are about more than passwords, so getting a handle on the big picture is key.
If you want to plan ahead and ensure you're up to date with the rapidly evolving pace of digital legacy services, partner with a team of professionals.
This gives you the confidence that your estate and digital afterlife are fully protected and adaptable based on new accounts, laws, and needs over time. Contact us today to learn more about how we can help you plan ahead.