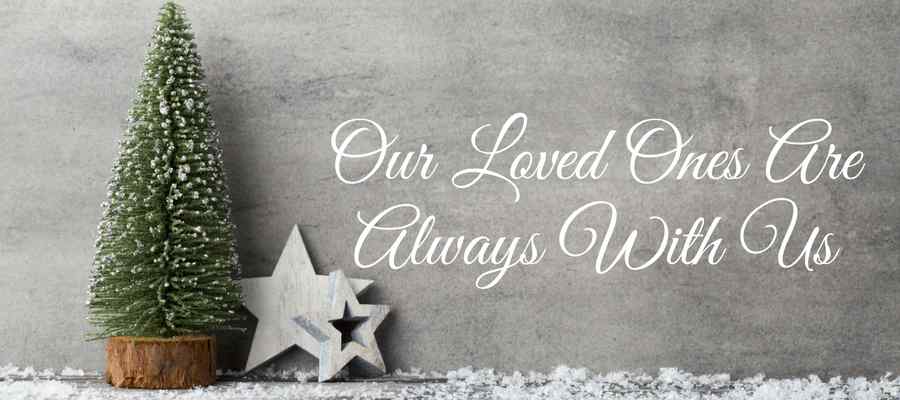 Christmas can be a difficult time when you are missing a special someone.
We have created some memes with beautiful holiday quotes and poems for remembering loved ones at Christmas.  (We have provided the text of our meme poems and quotes in case you want to cut and paste them into a document.)
We hope you enjoy our creations, and that they bring you a small measure of comfort.
Remembering Loved Ones at Christmas with Heartfelt Poems…
Those we love can never be more than a thought away…
for as long as there's a memory, they live in our hearts to stay.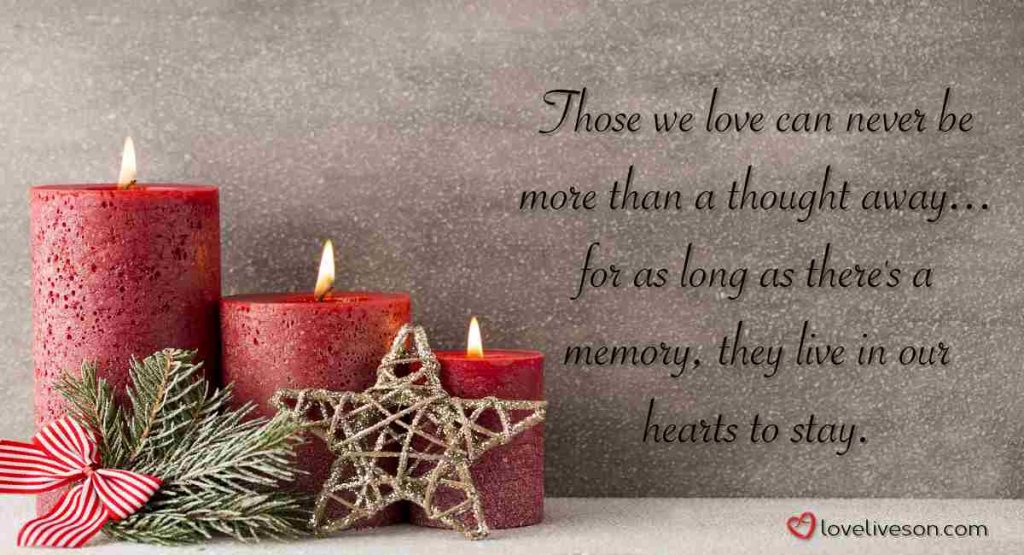 _____
Although it's sad to reminisce on Christmases we knew,
this year I shall celebrate in memory of you.
I'll put aside my sorrow with every unshed tear,
and concentrate on all the joy we shared when you were here.
Our time together taught me what Christmas time is for,
and that's what I'll remember until we meet once more.
Author Unknown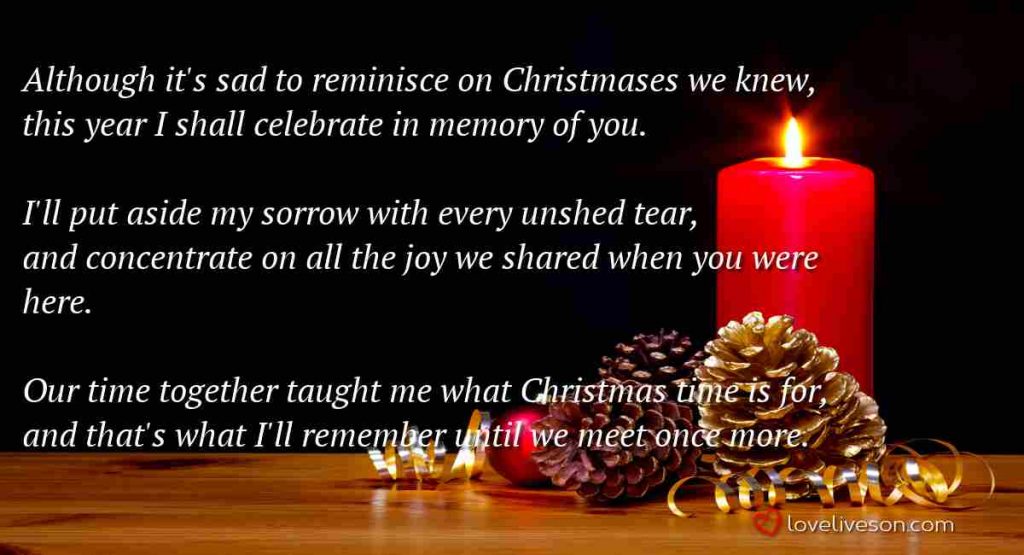 _____
Every day without you since you had to go,
is like a summer without sunshine and Christmas without snow.
I wish that I could talk to you, there's so much I would say.
Life has changed so very much since you went away.
I miss the bond between us and I miss your kind support.
You're in my mind and in my heart and every Christmas thought.
I'll always feel you close to me and though you're far from sight,
I'll search for you among the stars that shine on Christmas night.
Author Unknown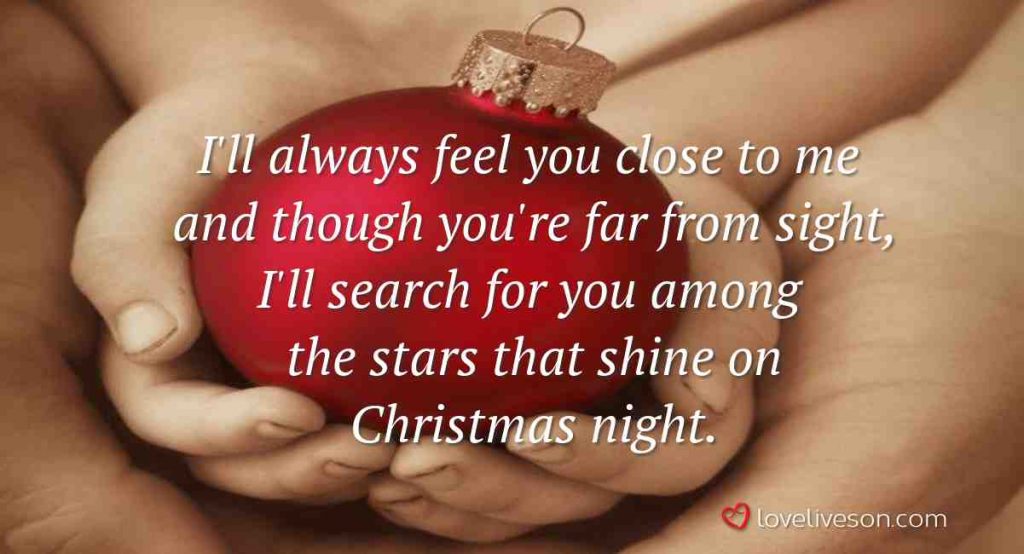 _____
Let this be a loving reminder that someone is missing today.
Someone our hearts still hold on to, as we travel along life's way.
Someone who made life so special, for all those who gather here.
Someone who won't be forgotten, but cherished from year to year.
And now as we pause to remember, let us all fondly recall,
how dearly each of us loved her/him, and oh…how she/he loved us all!
Author Unknown
For Her: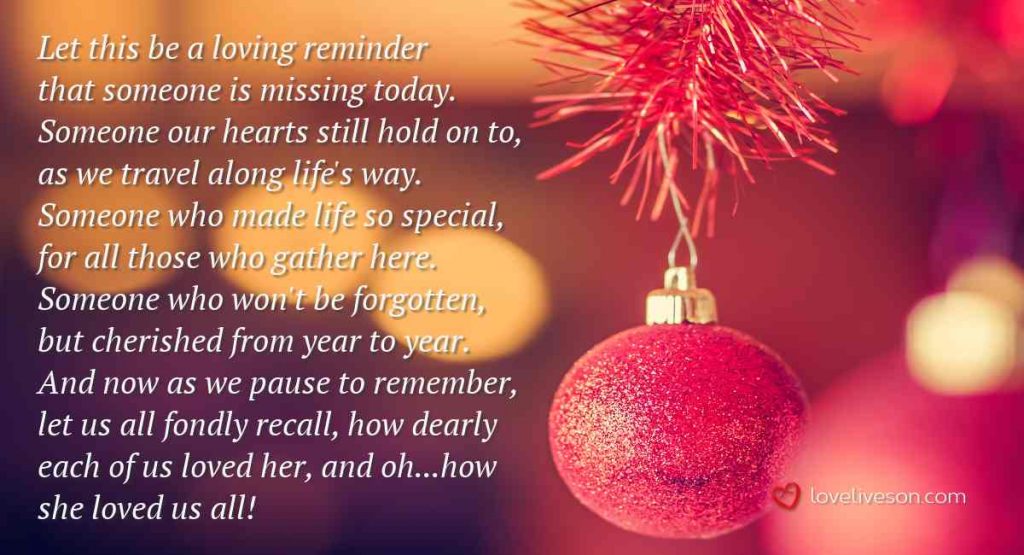 For Him: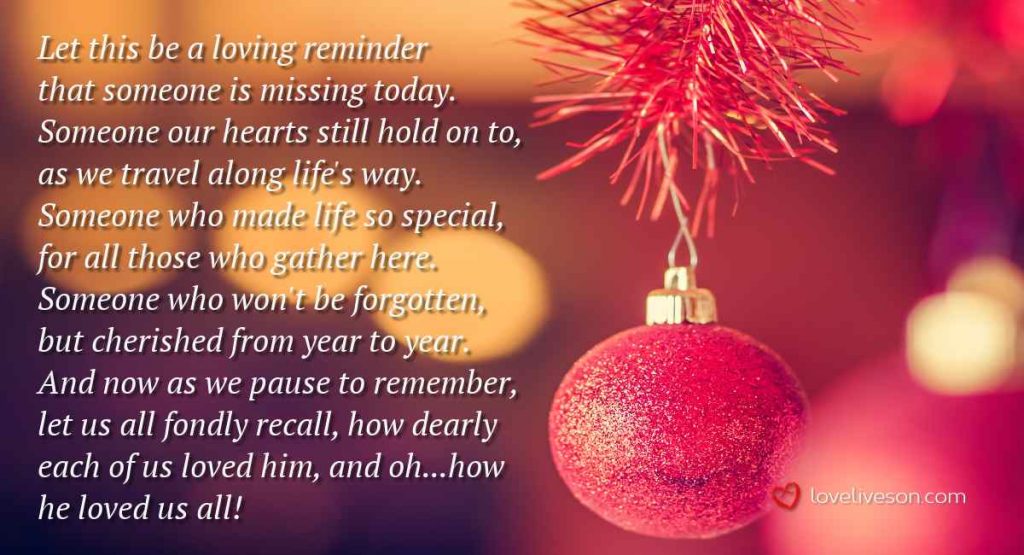 _____
Take our teardrops and wrap them in much love
and ask the wind to carry them to Mum and Dad above.
Miracles are very rare, but for Christmas, one would do,
to hear the doorbell ring and to have you both walk smiling through.
You left us such happy memories, that can make us laugh and cry,
The memories we have together, no money in the world can buy.
There's this place in our hearts no one can fill
Missing you both and always will.
Author Unknown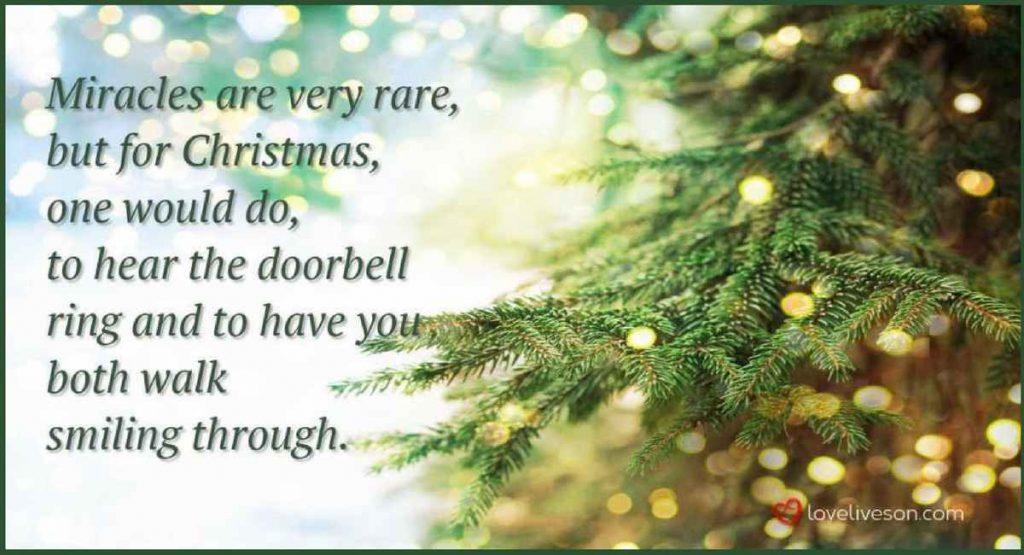 ___
At night when we look to the skies and see a twinkling star
that sparkles brighter than the rest and we know that's where you are.
Because you are in a special place that's not so far away,
a place of peace and endless love where angels dance and play.
Little Angel, you meant everything but heaven made you free
to dance with joy among the clouds for all eternity.
Author Unknown
_____

Related Articles

_____
I thought of you with love today
but that is nothing new
I thought about you yesterday
and days before that too,
I think of you in silence
I often speak your name
All I have are memories
and your picture in a frame
Your memory is my keepsake
with which I'll never part
God has you in His keeping
I have you in my heart.
Author Unknown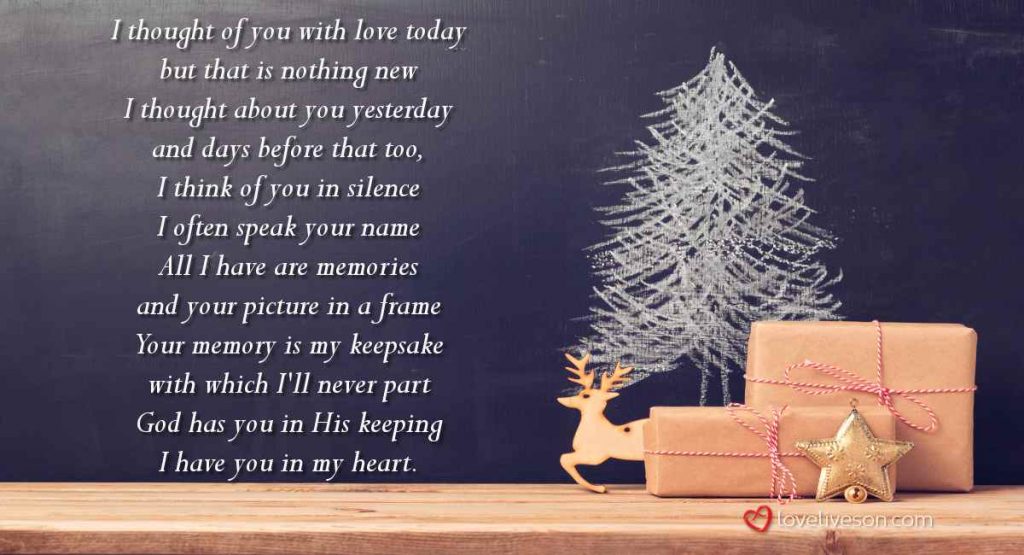 _____
Thinking of you this Christmas and how things just aren't the same.
There's this dull and nagging heartache when someone speaks your name.
Sadly, we can't buy gifts for you, just silent tears that fall,
For this time of year without you is the hardest time of all.
Author Unknown
_____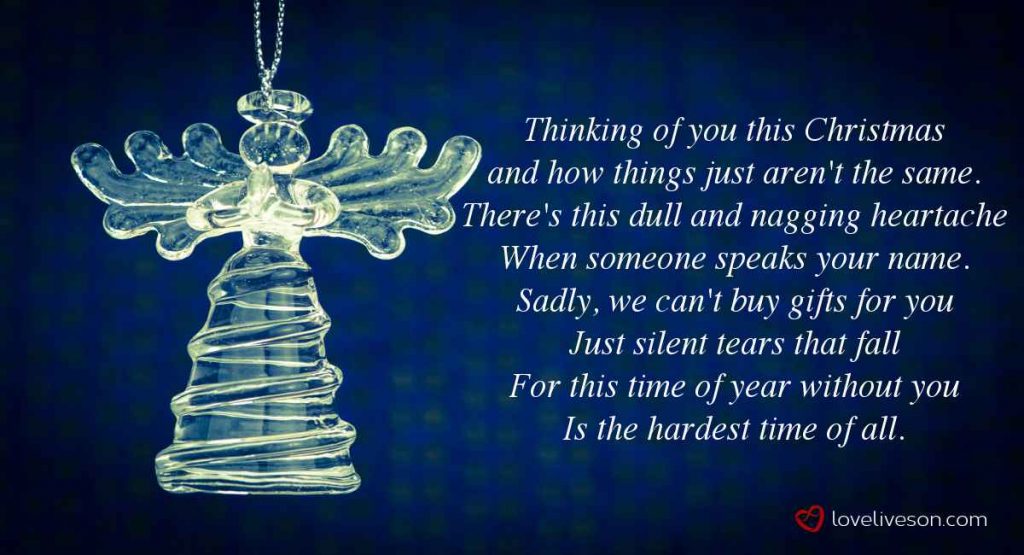 We Wish You Warm Memories While Remembering Loved Ones at Christmas
Please feel free to share these special holiday memes and spread love and support to all those who are missing loved ones this holiday season.
Looking for more inspiring ideas for remembering loved ones at Christmas?  Check out our holiday remembrance Pinterest Board, or our post on unique ways to honour loved ones this holiday season.
Let us know in the comments section below if you have any special traditions for remembering loved ones at Christmas.  We, along with our readers, would love to hear your ideas.
From all of us here at Love Lives On, we wish you a Merry Christmas.